Oliver
Oliver
is a town of about 4900 people (2016) in the
Okanagan
region of
British Columbia
.
Understand
Local industries include grape and fruit production, agri-tourism, wine production, ranching, golfing and recreation, retail and service trades. Some of the largest employers include Osoyoos Indian Band, School District #53, Interior Health and Okanagan Tree Fruit Cooperative
It was named after John Oliver (1856–1927), Premier of British Columbia. "Honest John" and his government brought irrigation water and settlement lots to the area with the South Okanagan Lands Project.
History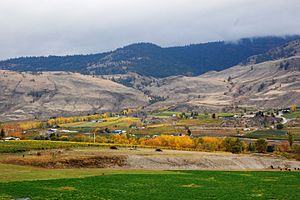 The First Nations of the South Okanagan settled near the river, creeks and valley lakes. The first encroachment from the outside world came circa 1811, when fur traders came to the area with the establishment of Fort Okanagan (now in the US) and first explored the area for trade.
In the 1880s, free gold-bearing quartz was found at Camp McKinney (east of Oliver) which became a busy gold mine, attracting miners, con men, and outlaws. In Fairview (just west of and above Oliver), miners found gold and fueled the growth of a boomtown but it lasted just a few years and no remnants of the town survive today, other than a heritage marker.
Established in 1918, Oliver was a settlement for unemployed veterans of the First World War. A gravity-fed canal was constructed to provide irrigation to the semi-arid area.
On January 30, 1919, the South Okanagan Lands Project (SOLP) began work on the Intake Dam at the base of McIntyre Bluff. Over the next eight years the of the concrete-lined main canal were dug southward to the boundary. SOLP designed it to enable farmers to put nearly a foot of water per month on every acre of bottom land in the southern Valley. To get the canal from the east side of the valley to the benches on the west, the "big siphon"—now concrete, but originally a 1,940-foot (590 m)-long wood-stave pipe of six and a half-foot-diameter—was constructed. It runs directly beneath the centre of Oliver. The offices of the land project and the building that housed the BC Provincial Police built circa 1924 stand today in Oliver as preserved heritage sites.
In 1923 the Kettle Valley Railway (CPR) constructed Oliver station and rails to transport fruit north to Penticton.
Get in
By air
Oliver has a small airport; it is possible to fly directly in to town by private jet from a neighbouring city such as Penticton or Osoyoos.

By car
Highway 97 (a major highway through the Okanagan region) passes directly through the town.

Get around

Oliver is a relatively small town; most, if not all, of everything is within walking distance. Oliver has a private taxi company, but there is no public transportation system except for specialized bus services for seniors or people with disabilities.
The KVR trail (also referred to as the Hike & Bike path) makes its way to Osoyoos and up to OK Falls and Penticton; it is a scenic route along the Okanagan River. Most of the route is paved and well maintained, and even the unpaved (gravel) parts are well looked after with few holes and obstructions. This path is definitely faster, safer and more fun to travel on than the highway, if you plan to bike or walk to any of Oliver's neighbouring cities.

See
Do
Make sure to visit some of the many world-class wineries while in Oliver. Oliver is home to the Golden Mile, and some of the valley's best grapes are grown here.
Across the valley from the Golden Mile is the Black Sage bench, which is home to some of the valley's most acclaimed wineries. It is renowned for its easterly position, heat, and long summer sun exposure, allowing for the production of high-quality red wines. Not all wineries in the area focus on "big red" wines, however. The Black Sage region of the South Okanagan is definitely a worthwhile area to tour during a stay in Oliver.
Oliver Theatre

phone: +1 250-498-2277

address: 36092 97th St.

historic, to take in a modern day flick on a big, old-time screen with old-time prices

Sundance Video

phone: +1 250-498-6560

address: 36023 97 Street

enjoy it on your own terms
Buy
Oliver is home to many unique specialty shops, the likes of which span subjects as diverse as crafts, aesthetics, jewellery and video rental. In the town's core there is a mall, a friendly and informative Visitor Centre, and numerous restaurants to fill your bags, quench your thirst and satiate your hunger.
phone: +1 250-498-6898

address: 35672-97th St.

pick up some jewellery for that extra lustre, or get yourself beautified by one of their many aesthetics treatments.

Quail's Nest Art Gallery

phone: +1 250-485-0088

address: 34274-95th St.

to experience first-hand the contemporary rustic-modern fusion that defines Oliver's artistic ambience.

phone: +1 250-498-4414

address: 11103-354th Ave.

to experience first-hand the contemporary rustic-modern fusion that defines Oliver's artistic ambience.

phone: +1 250 498-2226

address: 7148 Orchard Grove Lane

is a family owned and operated estate winery that focuses on premium Pinot varietals as well as Pinotage, a robust red varietal that is relatively unique in Canada. The Martiniuk family has been growing grapes in the Okanagan since the 1990s.
Eat
Budget
A&W

address: 34651 Highway 97

Tim Horton's

address: 150 34017 Hwy 97

Subway

address: 35609 97th Street

Buy Low Deli

Yum Yum's Pizza & Bistro

address: 35833 97th Street

Pizza 97

address: 34634 97 Street

Almerio's Pizza

address: 5-34836 97th Street

Canteloupe Annie's Deli

address: 34845 97th Street

Enjoy homemade sandwiches, salads, and soups. They also have a great breakfast.

Cock & Bull Cappuccino Bar

address: 34849 97th Street

They have nice desserts as well as great sandwiches and daily specials.

Medici's Gelateria9932 - 350 Ave This place serves up traditional gelato, sorrbetp, paninis, and an assortment of gourmet coffees.

Mr. Spud Fry Truck

address: 34674 97 Street

The fries are made from fresh cut potatoes and fried once you've ordered.

Oliver's Bakery & Deli

address: 34830 97 Street

The best donuts in town, they also have sandwiches and coffee.

Sunshine Cafe34882 Hwy 97 Enjoy a cup of coffee in a nice, quiet, and relaxing atmosphere.
Mid-range
Asia Buffet

address: 35640 97th Street

A lunch and dinner smorgasbord serving Chinese and Canadian cuisine.

Oliver Garden

address: 35617 97 Street

Chinese.

Sizzling Rice

address: 4840 97th Street

Fresh and creative Asian cuisine, you can dine in or take out.

Best of India

address: 36094 97th Street

Enjoy authentic Indian food in the comfortable, bright decor of India.

Sinbad's Fish & Chips

address: 35656 97th Street

Who would've thought you could get great fish & chips with out driving all the way to the coast.

Savvio's Family Restauarnt

phone: +1 250-498-4418

34646-97th Street Enjoy a Mediterranean meal in a family friendly environment.

Covert Farm's Market & Restaurant

address: 38614 Secrest Rd

A great organic meal prepared for you in a farm setting.

Crucetti's Family Restaurant

address: 34651 2451 97th Street

The place to go for a great breakfast, lunch and casual dinner.

Hammer's House of HogThe barbeque sauce is out of this world. This place serves up all your southern BBQ favourites.

Medici's Gelateria & Coffee House

phone: +1 250-498-2228

address: 9932 350th Ave.

Enjoy some authentic gelato with your gourmet lunch
Splurge
Firehall Bistro

phone: +1 250-498-4867

address: 34881-97th Street

It offers good wine choices by the glass and hearty plates with plenty of local ingredients.

phone: +1 250-498-4867

address: 6077 Main St

for a taste of their chic atmosphere and classic cuisine.

Miradoro

address: 32830 Tinhorn Creek Road

Mediterranean-inspired cuisine with a breathtaking view of the valley.

Terrafina

address: Road # 8

Discover the Tuscan-inspired cuisine while enjoying a view of the valley from the patio.
Sonora Room at Burrowing Owl Winery. Freshness and flavour are mixed with an obsession to deliver the very best of the region to ensure unsurpassed quality.

The Grill

phone: +1 250-498-2880

address: 37041 71st Street

Diamondback Grill

phone: +1 250-498-6050

address: 13105 334th Avenue
Drink
Oliver has a bar on Main Street. There is also a bar in the Ghallager Lake area (a bit outside of town on the way to Penticton). There is a provincial liquor store on Main Street. The drinking age in BC is 19.
Ye Olde Welcome Inn

address: 39008 97th Street

This pub has an old English feel to it, inside and out; they'll be serving up your pub favourites.

Murphy's Pub

address: 36041 97 Street

The only bar in town serves up all your favourite pub food, they also have trivia and karaoke nights.
Vineyards & wineries
Oliver, like the Okanagan Valley, is known for it's winemaking:
phone: +12504984756

address: 6094 Blacksage Road Oliver, BC V0H 1T2

Vineyard and winery near Oliver, family owned and operated for many years. Excellent reds.
Sleep
Bed & Breakfast
address: 935 Morningstar Road

A comfortable, friendly accommodation. Located in a quiet neighborhood. Private bathroom with jetted soaker tub and shower.

Above the Orchard B&B

address: 33616-93 Street (Road 4)

address: 11119 348th Ave

address: 924 Morningstar Rd

Burrowing Owl Guest House

address: Burrowing Owl Lane

Elm Tree Farm Bed and Breakfast

address: 307 Park Rill Road

The Villa At Hester Creek

address: 13163-326 St

Morbrook Farms

address: 245 Bettison Rd

Oliver House

address: 7219 Highway 97
Go next
Take Highway 97 to Osoyoos (south) or Penticton (North) to open a wide possibility of other cities in the Okanagan region. Penticton is a 30-minute drive and Osoyoos is about 15-20 minutes.