Ollantaytambo
Ollantaytambo
(called by locals "Ollanta") is a small town of cobblestone streets and buildings built on foundations of Inca stonework, in the
Sacred Valley of the Incas
near
Cusco
in the
Southern Sierra
region of
Peru
. This is where the Incas retreated after the Spanish took Cusco. Much of the town is laid out in the same way as it was in Inca times, and it is surrounded by spectacular green mountains dotted with Inca ruins. A few small canals, reminiscent of the Inca fountains at the ruins nearby, run through the town.
Get in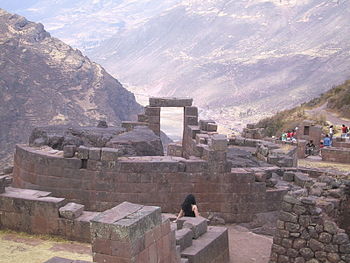 By bus
There are frequent buses to and from
Urubamba
for S/1.50 (
soles
); further connection can be made to
Cusco
there (S/3-6). At 15:50, 16:40 and 17:20, there are direct buses leaving from Av Grau 525 in Cusco (S/5) and there are also direct minibuses (S/10) and shared taxis (S/15) all day from nearby Pavitos in Cusco. In taxi or minibus the trip takes 1½-2 hours.
By rail
Two types of trains arrive at the station. The first is locals only that is heavily monitored to ensure no tourists ride it. There are hefty fines if caught on the locals' train. The second is the tourist train which runs from
Cusco
to Ollantaytambo and
Aguas Calientes
. If you are doing the Inca Trail, you will want to get on the train to Aguas Calientes and get off when the train stops mid-route.
There are three types of tourist trains. Ordered by descending price, they are the Hiram Bingham, Vistadome, and Backpacker trains. Go to
Peru Rail's website
for the current prices and schedule.
If you purchase a ticket from Cusco to Aguas Calientes, you cannot get off at Ollantaytambo for a few hours and then use the same ticket from Ollantaytambo to Aguas Calientes. If you want to spend time in Ollantaytambo, it is more cost effective to take a bus to
Urubamba
from Cusco and then a connecting bus to Ollantaytambo (or a direct minivan).
After trekking to Machu Picchu
Many guide services include a train ride from
Aguas Calientes
to Ollantaytambo
or
all the way to Cusco as a part of the guided services. In the former situation, trekkers are expected to pay for their own bus from Ollantaytambo to Cusco and are informed of this in advance. Taking the bus from Ollantaytambo to Cusco as opposed to the trains full route saves a half hour to an hour. Inquire with your tour operator in advance as to which tickets they purchase. Tickets purchased by the guide services to Ollantaytambo can be changed at the station the day of or the day before depending upon seat availability. Change fees can range from US$0-20 depending upon the class of train that is being changed to. Arrive at least 45 minutes early as there may be a line, for the earliest trains (05:30) the ticket office opens at 05:00.
Travellers and trekkers can make excellent use of the obligatory return trip to Cusco by staying the night in Aguas Calientes or the more attractive Ollantaytambo after visiting
Machu Picchu
and visiting the Ollantaytambo ruins, the salt mines near
Maras
/
Urubamba
, the Incan agricultural lab of
Moray
, or the ruins above
Pisac
the next day (all sites are along the route back to Cusco in that order, with Pisac on one longer route and Maras and Moray diversions from the shorter Chinchero route). Choose two sites and allow a half day for each site for relaxed viewing, transit, and meals. The last buses from Pisac to Cusco leave around 20:00. Be aware of your belongings on busses after dark. Or, stay in Pisac and backtrack to any of the sites the next day. Inquire at Ulrike's cafe in Pisac for lodging recommendations (open until 21:00).
Get around

Walking or cycling is the best idea. Three wheeled moto-taxis and regular taxis are available at the train station but are not necessary. The walk from the train station to the main plaza is approximately a quarter mile (400 m). It can be broken up by various restaurants that line the way even after the busiest sections. It is a 2-minute walk from the main plaza to the ruins.

See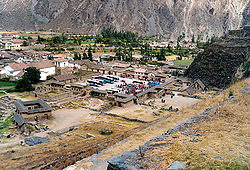 The main square in Ollantaytambo is usually swarming with hikers and porters, but a few blocks away is a vibrant community still living in pre-Columbian dwellings. If you still have a guide, see if he can take you into one of these houses, where alpaca fetuses hang on the walls (to bring fertility), ancestors' skulls watch over the goings-on from niches in the Incan stonework, and dozens of guinea pigs scoot underfoot (the entrée at some future feast).
Ruins of OllantaytamboRuins of largely religious significance, they doubled as the last and largest defensive structures near the plains below where the Incas defeated the Spaniards in battle. Admission with boleto turistico (can be purchased at entrance to ruins, S/130 for 10 days) or S/70 for "boleto turistico parcial" for a 2-day pass to this and other Sacred Valley sites. Local guides can be hired in the market area below the ruins (S/20-100). Or, do it yourself by purchasing the book most of the guides use, ¨Cusco and the sacred valley of the Incas¨(Salazar and Salazar) which has an extensive section on Ollantaytambo. The book can be purchased in the market below the ruins (S/50) or in advance in Cusco (S/35). Neither the guides nor the guidebook discuss the battles, for information on this research on your own in advance. Tours focus largely on the unique architectural significance of the sun's rays on the cad face of the canyon wall and on the temple walls, the still functioning fountains, and the large stone operating table. Even if you're not an archeology buff or ruins fan, these are worth seeing. Beautiful views abound.

PinkullyunaThe hill with Incan storehouses overlooking the town and facing the main ruins. To get to the path up to these ruins, follow the road closest to the base of the hill, Lari Calle (the rightmost one in the town grid when facing Pinkullyuna). You will see a small sign with an arrow pointing to a steep path, which takes you up to a series of ruins and storehouses. Admission is free, and from here you can see some of the most spectacular views of the Ollantaytambo ruins and town and the Urubamba Valley. It's a lovely hike, and can be done in just an hour or two. Some parts of the various path can be a little harrowing, especially the less oft used side paths (all of these also lead to ruins that are less apparent). Go with a friend or at least make sure you let your hosts at the hostel know where you have gone in case something should happen.
Do
Look for houses with red plastic bags hanging outside on posts. These houses are where locals go to drink
chicha
, a local brew made out of corn. It is a great way to experience the local flavor, provided that you speak enough Spanish to communicate with the other chicha drinkers. It is advisable that you look for a place that serves things other than chicha, as some people find the taste unpleasant. However this is an acquired taste and can be overcome easily. Chicha, unlike
masato
made in the rainforest is not made by mixing with saliva as erroneously stated in the entry that this is correcting. Careful with the chicha, however - it is sometimes made under unhygienic conditions and it could make you quite sick.
Visit the Old Town unique in all of Peru, this part of Ollantaytambo was built by the Incas over five hundred years ago is inhabited to date. Entering an Inca cancha or courtyard is like travelling back in time.

KB TamboThough the hostel has gone, KB Tambo and Tours still runs bike tours. Other operators in streets around the plaza also offer bike and horse tours.

Chicha Tours is led by two quirky expats, who will take you to the safest chicherias in the Sacred Valley while teaching you about the history and production process of this unique beverage. A fun and informative way to experience the local culture first hand.

address: Calle Convencion s/n

Awamaki is a small non-profit organization that works to support Quechua women weavers from remote, rural communities in the Patacancha Valley.Awamaki runs a small-scale sustainable tourism initiative to support this project, conducting tours to the Quechua communities where it works, and coordinating workshops in traditional Andean crafts. Tours to the community of Patacancha offer the chance to experience and learn about Andean indigenous culture, while also contributing to its survival and to the well-being of rural indigenous women and their families. Awamaki also works to promote sustainable tourism with families in town. They can arrange homestays in Ollantaytambo or even in the indigenous communities where they work. For bookings and inquiries please email or stop by the Awamaki fair trade store in Ollantaytambo.
Buy
There are several shops, mainly Inca souvenir types. A for tourists sits at the entrance to the ruins, small shops up the hill from the plaza may carry the same items and be more willing to negotiate.
On the way from the ruins to the plaza, look out for the
Awamaki Fair Trade Store
after the bridge on your right hand side. Emphasis is on fairly-traded weavings from the Patacancha valley made with 100% natural fibers and dyes, as well as a select range of books, alpaca yarn and other locally produced artisanal items. The project is non-profit and proceeds from the store are invested into community development projects in the Patacancha Valley.
Eat
There are several restaurants in Ollantaytambo:
El Albergue RestaurantWithin the El Albergue B&B this new restaurant has a first rate open kitchen where you can see your alpaca and trout dinners being prepared. Menu options include homemade fettuccine, sandwiches and great breakfast. In the evening white table cloths are spread, candles are lit, and the restaurant becomes a first rate dining experience.

Cafe MayuOn the Ollantaytambo train station where you can grab a very good espresso or cappuccino, chocolate chip cookies and brownies. You can browse their menu for great breakfast and lunch options.

Kusicoyllor Restaurant Cafe

phone: +51 84 204114

Offers novo andine & international cuisine, provides a good and unique view to the ruins, a candlelit atmosphere for the dinner. Kusicoyllor restaurant is known to have the best coffee in Cusco.

Hearts CafeIs on the main square of Ollantaytambo with views across the plaza onto the Inca temple-fortress. Profits go to children's projects in the Sacred Valley. Pleasant pavement dining, quality coffee, book exchange, and plenty of magazines.

Puka RumiMenu designed by Chef Alejo, a Chilean native who lived in Ollanta for 15 years and left the restaurant to his local staff. Good steak and burritos.

Panaka Grill

phone: +51 84 204047

is on the main plaza. Sit upstairs on their balcony and take in the view of the square while you enjoy the wonderful novoandina and international food. Finish off with a cappuccino and one of their delicious desserts.

Quechua Blues BarThis place is a very laid back spot, just across the river in town. The upstairs has swings and a very relaxed atmosphere, and the food is very good. Meals run about 15 soles, and lots of cool people are around at night.

Mayupata Restaurant

phone: +51 84 204009

address: Next to the bridge

Quality Peruvian dishes and superb pizzas made in a firewood oven and served in a warm atmosphere. Also provides drinks at a bar attend by peruvian owner "Tio Raul". Be ready to enjoy an interesting conversation with someone who knows about the place and local culture.

phone: +51 993 61 7747

address: Calle Principal

Quiet vegetarian restaurant with filling meals: some Peruvian and some international dishes. The restaurant doubles as a wellness center, offering yoga and guided meditation.

phone: +51 974903030

address: Av. Ventiderio 226

Organic restaurant opened in 2018. A small quality buffet with favorites of the Peruvian cuisine. Also a small grill a la carte - with organic meat on skewers.
Drink
The English Pub: Ollanta's first "pub" opened in early 2010. Landlord Porfirio has years of experience bar-tending and knows what a real bar needs. The only place in town with British ales on tap, comfy sofas and satellite TV. Local non-profit Awamaki hosts regular quiz nights, salsa nights and everything-else nights in between.
Hang out at El Ganso with very down-to-earth owner "Acha".

Sleep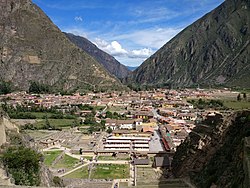 Hostels
Budget
Mid-range
Splurge
Go next