Olympia (Washington)
Olympia
is in the
South Sound
region of
Washington
.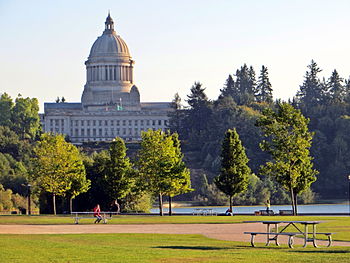 Olympia is the capital of Washington State, and the
Thurston County
seat. The city reflects a diverse economic base and culture. It has a population of 46,478 (2010 Census) and is also home to The Evergreen State College, one of six public four-year schools in Washington.
Olympia's art and music scene is unusually large and active for a town of its size, and its identity as a city remains distinct despite strong influences from
Seattle
,
Tacoma
and
Everett
to the north and from
Portland
/
Vancouver
to the south. Olympia is somewhat of a breeding ground for
Pacific Northwest
alternative culture having spawned or influenced many of the region's better-known personalities.
The city's downtown core has been designated as a National Historic District.
The natural beauty of Olympia is of particular note. From downtown, one can see the Olympic Mountains to the northwest set behind
Puget Sound
's Budd Bay - and towering
Mt. Rainier
to the southeast set next to the state capitol building and Capitol Lake.
Get in
By plane
By car
Olympia is located along
Interstate 5
(I-5), approximately 65 mi south of Seattle (65 min), 100 mi (2 hr) north of Portland and 60mi east from Grays Harbor.
From Interstate 5 (I-5) Olympia is accessed from exits #99 ("93rd Ave SW") through #109 ("Martin Way E") along I-5. Downtown can be accessed from Exit #105 ("State Capitol City Center/Port of Olympia") from both directions. The off ramp comes into town as 14th Ave SE towards the state capitol. From the northbound lanes the off ramp from Exit #105 further splits to #105A which goes into 14th Ave SE or #105B which goes into Plum Ave SE on the east side of the downtown core. Or exit off at Pacific Ave at Exit #107 which comes into downtown as State Ave NE.
US Hwy 101/SR-8 From I-5 US-Hwy 101 is at Exit #103. If going west, the same highway becomes SR-8 after going past the US-Hwy 101 turnoff towards Shelton and Port Angeles.
From Kitsap Peninsula Go south on Hwy 3 and follow signs for "Hwy 3 South Belfair" Continue south along WA-3 through Belfair and Shelton where it ends into US-Hwy 101 south of Shelton. Merges into a freeway continuing east into Olympia as US-Hwy 101 or west to Aberdeen as SR 8.
By bus
13 Frequent local route from the Labor & Industries (L&I) office in Tumwater to the downtown Olympia Transit Center (Bay 'D') along Capitol Way/Capitol Blvd. Transfer to Rural Transit (see below) at Tumwater Square along Cleveland Ave SE & Emerson. (Rt #609 from Tumwater no longer operates)
62a & 62b frequent local route from Lacey to the downtown Transit Center (Bay 'H') via Martin Way. The 612 express bus only make one stop at the Martin Way P&R.
64 local route from Bay 'I' to the Amtrak Station in Lacey via College St. Makes multiple stops to pick up and drop off people on request.
612 Express buses from Bay 'F' to downtown Tacoma & Tacoma Dome via Martin Way P&R and Lakewood (Lakewood Sounder & Lakewood P&R). Transfer to Pierce Transit and Sound Transit buses in downtown Tacoma, Lakewood Sounder Station and/or Lakewood Park & Ride. Transfer to Rt #62a or 62b at Martin Way P&R to reach additional destinations in Lacey.
620 Weekend express bus from downtown Olympia Transit Center (Bay 'M') to Tacoma Mall via Lacey (Martin Way P&R and Lacey Transit Center) & Lakewood. No service to downtown Tacoma or Tacoma Dome.
phone: +1 253 472-7846

Rural Transit (rT) connects the communities of Rochester, Tenino, Bucoda, Rainier and Yelm, and the Confederated Tribes of the Chehalis Reservation to the greater tri-city area of Tumwater, Olympia, and Lacey. In the Olympia area they only go up to Tumwater Square where passengers transfer to Intercity Bus #13 or 68 (Cleveland & Emerson) to continue towards downtown Olympia.
Rt #2 Goes from Tumwater Square along Old Hwy 99 SE to Tenino and east towards Rainier along Sussex Ave E
Rt #3 Goes from Tumwater Square along I-5 and Case Rd Sw to Grand Mound P&R (Exit #88 from I-5) and then west on US Hwy 12 to Rochester and the Chehalis Tribal Center on the Chehalis Indian Reservation.
Rt #4 goes from Centralia to Grand Mount P&R, to Tenino (Tenino Library), Bucoda and back to Centralia from Bucoda.
phone: +1-888-889-6368

ST no longer serves Olympia however you can transfer from a Intercity Express Bus (612, 620) in Lakewood P&R at SR-512, Lakewood Sounder Station or Tacoma Dome Station to the following destinations:
#574 Lakewood, Tacoma Dome Station, Federal Way, 272nd-I-5, Kent Des Moines Highway (SR-516), Seattle-Tacoma International Airport
#594 Lakewood, Downtown Tacoma/UW Tacoma, Tacoma Dome Station, Downtown Seattle
South Sounder Tacoma, Puyallup, Kent and Seattle transfer at Lakewood Station or Tacoma Dome Station
By train
Unlike the other cities where the Amtrak stations are in a downtown location, Amtrak is located in a separate location 7.5mi/12km SE of downtown Olympia. The #64 bus goes from the train station up into downtown Olympia
address: Olympia-Lacey Centennial Station @ 6600 Yelm Hwy Se

The following are the Amtrak routes serving Lacey/Olympia:
Amtrak Cascades... runs between between Seattle and Portland 4x daily serving Tukwila, Tacoma, Lacey (Olympia), Centralia and Kelso in Washington state. They run from Seattle to Vancouver via Everett, Mt Vernon & Bellingham 2x daily and from Portland to Eugene via Oregon City, Salem & Albany 2x daily. Additional service from Seattle to Vancouver and from Portland to Eugene are provided on the Amtrak Thruway Bus.
Amtrak Coast Starlight makes an once daily trip in each direction between Seattle and Los Angeles along the same route with the same stops as the Amtrak Cascades (except Tukwila & Oregon City) between Seattle and Eugene, OR.
Get around
Olympia's numbered streets run East-West, and the city is broken into four quadrants with the center point in downtown. Northwest, Northeast, Southwest and Southeast. These indicators come after any address.
Capitol Way is the main north - south street in the downtown area. Fourth Avenue is the main connector that runs through downtown east - west.
The city's downtown district lies in the middle of what residents refer to as the Westside and the Eastside. Most residents of the city will claim these two areas are distinctively different.
Intercity Transit operates the bus system. $1.25 per trip or $2.50 for a day pass.
See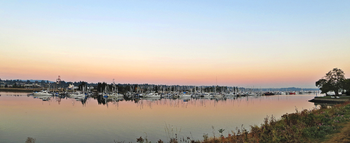 phone: +1 360-753-1215

address: 918 Glass Ave NE

Olympia's oldest surviving home, built in 1850s when Washington was a territory. Oregon Trail Pioneers Daniel and Ann Elizabeth Bigelow were early advocates of women's voting rights, public education and the rule of law. Home to the same family until 2005, it contains original furnishings, photos and documents dating back 150+ years.

phone: +1 360-867-6000

address: 2700 Evergreen Parkway NW

Public baccalaureate liberal arts college, known for alumni such as Kathleen Hanna, Carre Brownstein and Matt Groeing. Beautiful forested campus with miles of secluded hiking trails and beach access.
Olympia Marina
Olympia has a thriving music community, with frequent local performances by rock, jazz, blues, folk, and other bands. Local noncommercial community radio station KAOS at 89.3 FM (which also streams live at ) features tremendous variety of independent artists, often live in their performance studio. The station is on the campus of The Evergreen State College.

Washington State Capitol Building

phone: +1 360 902-8880

address: 416 Sid Snyder Ave

One of the largest free standing masonry domes in the world. Hourly tours
Do
Buy
address: 700 Capital Way N

North End of Capitol Way near the waterfront. One of the largest in the state. The market's schedule is seasonal.

phone: +1 360-786-WORD

address: 111 Cherry St NE

A self-proclaimed "radical, independent bookstore" which deals almost exclusively in used-books, Last Word was started in 2002 by Evergreen College alumni. Crammed with every book you could want (other than current bestsellers, and romance novels) amid ambling, complex shelves which migrate every few months, it is difficult to imagine anywhere less reminiscent of Barnes & Noble. Chat with the cashier, attempt to pet the deaf (?) cat, and wander its weirdness. They also buy books for cash or trade.
Eat
Cebu Restaurant

phone: +1 360 455-9128

address: 9408 Martin Way East

Serves Filipino food in a friendly atmosphere. It's a little bit hard to find - it's in a strip mall next to a gas station. If you're heading east on Martin Way, it's not too far past Marvin Road.

phone: +1-360 456-6547

address: 7210 Martin Way East

A local chain. Norma's won the Best Burger in Washington State for the year 2007, probably for their John Wayne Burger. Also serves breakfast, sandwiches, and seafood.

phone: +1-360 412-0333

address: 10322 Martin Way East

A second location for this local chain.

phone: +1-360 459-8084

address: 4411 Martin Way E

If you like chicken, try the "Breasts and Jos".

Eastside Big Tom Drive Inn:

phone: +1 360 357-4852

address: 2023 4th Ave E

A Big Tom with the works. Milkshakes and crinkle fries are also excellent. Bring cash and a hearty appetite.

Anthony's Homeport

phone: +1 360 357-9700

address: 704 Columbia Street NW

On Olympia waterfront. Upper scale fine dining.

Lemon Grass Restaurant

phone: +1 360 705-1832

address: 212 4th Ave. W

If you love Thai food, this is the place.

phone: +1 360 357-6444

address: 114 4th Ave. E.

The oldest restaurant/bar in town, dating back to the 1930s. Great atmosphere, food and libations.

Vic's Pizzeria

phone: +1 360 943-8044

address: 233 Division St Nw

One of the most popular restaurants in Olympia with excellent and often unusual flavors of pizza. All of them are delicious.

Old School Pizzeria

phone: +1 360 786-9640

address: 108 Franklin St

Olympia, WA. Very similar to Vic's. Movie posters line the walls of this restaurant.

Brewery City Pizza3 locations in Olympia. Another very popular pizzeria.

phone: +1 360 742-3199

address: 212 4th Ave E

A Olympia staple in the heart of downtown; a fun, off-beat but classic dinner. Has everything from burgers and shakes to sesame tofu. Plus there's the bar.
Drink
The lounge at King Solomon's Reef, 212 4th Ave E, 360-357-5552. is the quintessential Olympia dive-bar. Dark, tobacco-stained, with well drinks that bite back and bar food to match, The Reef is where the locals go after shows or just to hang out late at night. A good place to go absorb some drinks while avoiding Oly's meat-market scene.

Jake's on 4th

address: 311 4th Ave E

A dance nightclub with dj dancing Th-Su. Features hot dog stand with walk-up window as Olympia Hot Dog Company

phone: +1 360 754-4414

address: 407 Columbia Street SW

The Mark is the only certified organic restaurant in Washington. Local ingredients are used when possible. Banquet facilities available. Hours are Th-Sa, 5PM – 1AM and M-W by private hire. Reservations recommended.

phone: +1 360-943-3650

address: 515 Jefferson Street SE

phone: +1 360 438-1286

address: 2825 Marvin Rd NE Ste D

A small boutique winery that uses grapes sourced from Eastern Washington. The tasting room has dry whites, off-dry and sweet whites, a pink, Sangiovese plus the bordeaux reds - Merlot, Cabernet Franc, Cabernet Sauvignon, Petite Verdot and a Bordeaux Blend called Othello.

McCoy's Tavern

phone: +1 360 352-0696

address: 418 4th Ave E

The best dive bar in Olympia. Loud music, graffiti, cheap strong drinks and a sweet outdoor patio. "Like hanging out with the roadies after an awesome show"

phone: +1 360-943-5710

address: 404 4th Ave E, Olympia, WA 98501

Arty dive restraunt, lounge and performance venue with a vegan heavy menu, particularly well fried garlic fries. Large diverse international and domestic bottle beer fridge and local/domestics on tap. All-age performance venue till 10, well known for its punk shows.
Sleep
phone: +1 360 570-0555

address: 415 Capitol Way N

phone: +1 360 753-9123

address: 1431 11th Ave SE

A 1887 Queen Anne/Eastlake Victorian Mansion listed on both the city and state historical registers. Located in a quiet neighborhood.
Connect
The Olympia Timberland Library, 313 8th Ave. SE, offers free wireless Internet.

address: 2700 Evergreen Parkway NW

Has open free WiFi on campus
Go next