Omagh
Omagh
is the county town of
County Tyrone
,
Northern Ireland
.
Get in

Hourly buses from Belfast and Derry can take you to Omagh, passing through other towns on their way. For example, the Derry bus stops in Strabane, Sion Mills and Newtownstewart, while the Belfast buses stop in Dungannon and Ballygawley.

Get around

Most of Omagh can be explored on foot. There are no trains or trams, and buses connect most of the suburbs to the town centre, but there's nothing to do there. So walking around is your best bet.

See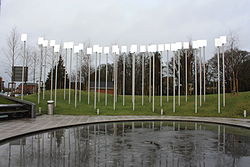 Omagh Bomb MemorialA memorial to the 29 people killed (and 220 injured) by a car bomb on 15 August 1998. The memorial is a set of mirrors and was erected in 2008. There is also a memorial pillar on James street

Ulster American Folk ParkOpen air museum explaining story of emigration from Ulster to North America in 18th and 19th centuries. There is an Old World and New World in site. Sites include the Weaver's Cottage, A Blacksmith's forge, Crop Fields, log cabins, smoke houses, and herb gardens. Museum restaurant available, open daily for snacks and full meals.
Do
No visit to Omagh or the surrounding areas would be complete without dabbling in the local tradition of streetdrinking. This is usually accompanied by copious amounts of Buckfast, a tonic wine produced in Devon, but insanely popular in Scotland and Northern Ireland, as well as the Republic. Popular drinking places include the Grange Park and the Riverbank. Give it a try!
Strule Arts Centrea 400-seat theatre, a 125-seat lecture theatre, a visual arts gallery, dance studio and cafe
Eat
phone: +44 28 8224 3842

address: 8 Campside Road, BT79 0AG

between twelve three in the afternoon, all you can eat lunches for a £6.50, with awesome food.

phone: +44 7563 764615

address: Bridge St.

Diner
Drink
Lots, because there isn't much to do otherwise. Omagh is a pretty expensive town to drink in. It's much cheaper to get a 'carryout' (a local word meaning alcohol bought in a shop), as bars in the town rarely have drink promotions.
If you do decide to venture out, the Embankment and the newly-opened Rue are in fierce competition for the title of "the place to be seen". Other pubs such as Sally O'Brien's or Top of the Town offer the usual Guinness and craic (fun) that you would expect from a bar in Northern Ireland.

Sleep
phone: +44 28 8224 2520

address: 5 Gortin Rd

phone: +44 28 8224 2314

address: Old Mountfield Rd
Go next