Omaha
Omaha
is the largest city in the
US
state of
Nebraska
. It is on the Missouri River border with
Iowa
, along US Interstates 29 and 80.
Understand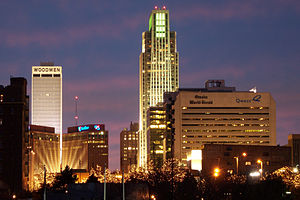 Omaha has some unusual traits, as it has the highest number of millionaires per capita in the nation, and is also home to billionaire Warren Buffett, one of the world's richest and most famous investors. Conversely, it also has one of the highest rates of African Americans living under the poverty line. It is still quite racially divided, with the affluent west side and Midtown being predominantly white, the south side Latino, and the northeast side African American.
Residents are friendly and polite, and Omaha has a well-deserved reputation for hospitality.
Omaha Convention & Visitors Bureau

phone: +1 402-444-7762

address: 1001 Farnam Street

The official resource for events, attractions, hotels, restaurants, transportation, meetings and conventions and the film office. Pick up a copy of the Omaha Visitors Guide.
Get in
By plane
Omaha Eppley AirfieldA medium-sized airport served by all major airlines and some low-cost carriers, and has flights to most major cities in the US, and a daily flight to Toronto. The terminal has on-site rental car services at the baggage claims, and free high-speed wireless internet access. Commercial airlines serving Eppley include Alaska, Allegiant, American, Delta, Frontier, Southwest, and United. The airport is also served by two FBOs for General Aviation services, and at least two charter operations.
Secondary airports
serving the area are Millard Airport (
MIQ
) in West Omaha, Plattsmouth Municipal Airport (KPMV) south, North Omaha Airport(), and Fremont Municipal Airport(FET), and Council Bluffs, Iowa Municipal Airport (CBF) across the Missouri River east.

By train

Amtrak serves Omaha with the California Zephyr, which runs daily between Emeryville (in the San Francisco Bay Area) and Chicago. It has several stops along the way, with connections throughout America. Omaha once had a grand Union Station like Chicago, but it is now retired as a museum. The current is on 1003 South 9th Street.

By bus
The for Burlington Trailways, Express Arrow, Greyhound and Jefferson Lines is south of downtown at 1601 S Jackson St. (Some of these companies also have (additional) stops in other parts of the city.) From here buses typically go west towards Denver on I-80/76; and east towards Chicago along I-80/88. There are other bus services going north & south between Sioux City, SD and Kansas City, MO as well.

There are additional companies offering intrastate transportation out of the airport (see 'By shuttle' in below)

By shuttle
phone: +1 308 234-6066

Formerly Eppley Express. Provides limited shuttle service between Omaha and several Nebraska cities including Kearney, Grand Island, Hastings, Lincoln and York. Two pick-up/drop-off locations are available in Omaha: Eppley Airfield and Holiday Inn at 72nd & Grover just north of I-80. Service is limited to specific days and times depending upon your destination. Reservations available on-line.

phone: +1 402-475-5465

Provides limited shuttle service between Omaha and Lincoln including their respective airports.
Get around
By car
By far the easiest and most convenient way of getting around. The city is a grid and easily navigable, numbered streets run north-south and increase in number as you go west. Parking is plentiful and often free outside of downtown, and traffic jams are rare. All major rental car companies operate in Omaha.
By bus
The
Omaha Metro
has regular bus services serving around Omaha. Fares are $1.25-1.50 for adults, $1 for students, and $.60 for seniors.
By taxi
Taxi service is available, but there is much less than in major cities. Taxis are always available at the airport and train and bus stations, but you won't be able to hail a cab downtown; you must call and arrange for a taxi to pick you up. Rates are fixed by city ordinance and do not vary among companies.
See
Zoo
Omaha's Henry Doorly Zoo & Aquarium

phone: +1 402 733-8401

address: 3701 S 10th St

Arguably the best zoo in the world, it has the largest desert exhibit, the Desert Dome, with several desert habitats, popup domes in the gorilla habitat, and the world's largest nocturnal exhibit.
Museums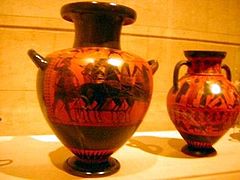 Omaha has quite a few museums and art galleries:
phone: +1 402-342-3300

address: 2200 Dodge St

Has works by El Greco, Degas, Monet and Renoir and an extensive ancient Greek pottery display. The Joslyn also has a glass sclupture by Dale Chihuly hanging in the atrium.

Bemis Center for Contemporary Arts

phone: +1 402 341-7130

address: 724 South 12th St

A nationally recognized artist-in-residence program and art gallery that consists of three galleries in a warehouse-style studio. Tours are available by reservation and parking is free.
Various other Old Market and Benson galleries. Omaha has a "First Friday" gallery crawl through both neighborhoods every first Friday of each month.

phone: +1 402 342-6164

address: 500 S 20th St

An art center, science center, and a mock grocery store.

Durham Western Heritage Museum

phone: +1 402-444-5071

address: 801 S 10th St

A renovated art deco-style train station, it is believed to be the best example of art deco in the country with exhibits such as the Byron Reed Coin and Document Collection, the Trans-Mississippi Exposition Gallery, restored train cars, a teepee, an earth lodge, and more.

phone: +1 402 731-1137

address: 4701 S 25th St

A Latino art, history, and cultural museum. It is the first in the Midwest and one of 11 Latino museums in America.

phone: +1 402 502-5291

address: 2510 N 24th St

Dedicated to the history of jazz, North Omaha, and Preston Love.

Lewis and Clark National Historic Trail Headquarters

phone: +1 402 661-1804

address: 601 Riverfront Dr

The National Park Service regional headquarters contains a small free visitor center about Lewis & Clark on its first floor.
Landmarks
Omaha has many unique landmarks.
address: North Omaha

His home no longer exists, but a marker stands on his former address.

phone: +1 402 595-2199

address: 3902 Davenport St

It is the Scottish-Baronial style home of two of Omaha's most respected citizens and boasts four stories and 35 rooms. Tours are available to the public.

phone: +1 402-453-9372

address: 3215 State St

It has various monuments, including part of the route the Mormons took. The site known as the Winter Quarters marks the pioneers' winter camp of 1846, and 359 Mormons are buried in a nearby cemetery.

Gerald R. Ford Birthsite and Gardens

phone: +1 402-444-5955

address: 3212 Woolworth Ave

It pays homage to the late U.S. president. Twice destroyed by fire, the gardens stand where his house was.

Boys TownSuburb of Omaha. Has a small museum and you can drive through it for free.
Do
Parks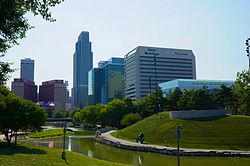 Many parks and recreational areas are scattered throughout Omaha.
Sports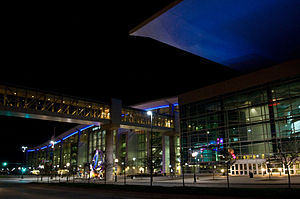 Events and festivals
Omaha hosts many festivals throughout the year.
Theater
Music
Activities
A trip to Omaha is not complete without a trip to the Old Market. The area still retains its brick streets and covered sidewalks, and rides on horse-drawn carriages are available. It is a good area to take a stroll and do some window shopping at the eccentric shops and upscale boutiques found throughout the area. Common sights include street performers, musicians, artists, and other vendors. In the summer, it is home to the Omaha Farmers Market.
Lucky Bucket BreweryOffers tours of the brewery and a tasting room.
Learn
Work
Omaha has a thriving employment market in finance, healthcare, and IT.
Despite its relatively small population, Omaha is home to the headquarters of five Fortune 500 companies: Berkshire Hathaway, Union Pacific, ConAgra Foods, Peter Kiewit & Sons, and Mutual of Omaha Insurance.
Other major employers in the area include TD Ameritrade, First National Bank of Omaha, Blue Cross and Blue Shield of Nebraska, and the University of Nebraska Medical Center.

Buy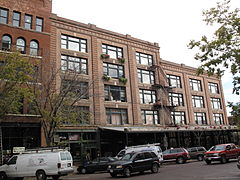 Eat
It's said that Omaha has more restaurants per capita than almost anywhere else in the world. Omaha and much of Nebraska are known for high quality corn-fed beef. All restaurants in Omaha are smoke-free indoors. Smoking on outdoor patios is legal, but rather uncommon. Below are a selection of locations to eat in Omaha.
Budget
Azteca

address: 9429 S 142nd St

An excellent, yet authentic Mexican establishment. Sandwiched conveniently (nay, conspicuously) next to some of the region's finest interstate-side budgetels. Never mind the petrol fumes, this is one gem that can't be missed.

California Tacos

address: 3235 California St

Infamous midtown taqueria featuring "puffy-shell" tacos. Served by rotating shifts of neighborhood deziens, uniformed cops, and snobby bros from nearby Creighton University, it makes for a cheap place to take in some culture. Tables get scarce in the afternoon4PM-5PM is half-off happy hour.

Chopsticks House

phone: +1 402-965-3333

address: 5522 North 103rd Street Omaha.

phone: +1 402-342-9742

address: 2368 S 29th St

phone: +1 402-553-9501

address: 5007 Underwood Ave.

address: 119 S 40th St

Serves home-style Greek food.

King KongMultiple locations. Serves Greek food and is the home of the Triple-Kong burger. Free drinks with a student ID.

Jade Garden

phone: +1 402-498-8833

address: 2068 North 117th.

Los Portales

address: 2614 S 13th St

Authentic Mexican that caters to the more adventurous diners. Examples include steak served with cactus, quail, and tongue burritos.

phone: +1 402-551-0552

address: 5914 Center St

A locally owned American restaurant, serving old time favorites and homemade ice cream. Great burgers and sandwiches, in addition to anything with ice cream.

Pudgy's PizzeriaSouthwest corner of 168th and Harrison. The only pizzeria in Omaha specializing in authentic Chicago-style deep-dish pizza. Also offers thin and original crusts and a few Chicago sandwiches. Family-friendly, and on the weekends offers homemade cheesecake.

Qdoba(chain), Multiple locations. A Mexican grill chain with burritos voted the best of Omaha.

Smoke Pit BBQ & Lounge

address: 230 S 25th St

A BBQ shack that serves ribs among other things and is open until 3AM on Fridays and Saturdays. Reasonable prices and variety of sides.

Spaghetti WorksTwo Omaha-area locations (Old Market, and 84th St in Ralston). All-you-can-eat spaghetti dinners, including garlic bread and salad bar, for under $10. Many choices of sauces and pastas. Full bar.

Ted & Wally's

address: 1120 Jackson St

Homemade ice cream with many unique flavors such as French Toast, Trix, Chai Tea, Dirt, and Guinness. The ice cream flavors are always changing. Voted best ice cream in Omaha.

Valentino'sMultiple locations. Great pizza and pasta for take-out or delivery. Many locations also have great buffets!

Zio's PizzaMultiple locations. Uses natural ingredients and has huge calzones and great pizza.

phone: +1 402 913 2399

address: 3921 Farnam Street

Local artisanal ice cream. Offers both traditional and experimental flavors.

phone: +1 402-342-1220

address: 1611 Farnam Street

Nationally recognised street food. Menu features sandwiches, burgers, and poutine.
Mid-range
address: 5013 Underwood Ave

A Northern Italian restaurant, located in the historic Omaha neighborhood of Dundee.

Ahmad's Persian Cuisine

address: 1006 Howard St

Great, authentic Persian food. All meals are prepared by the restaurant's owner, Ahmad, an Iranian immigrant. Located in the Old Market.

address: 4150 S 144th St

A lively atmosphere with some of Omaha's finest martinis, including the Pelini Martini named after Huskers coaching legend, Bo Pelini. Lush patio environment features breathtaking lakeside view and easy access to live duck sanctuary where restaurant owner Yves Menard gavages the stock. During summer months, patrons can select a duck and enjoy some of the finest foie gras and wine pairings in the Midwest.

address: 17304 Davenport Street Suite 100

The Jimmy Buffet chain with some great food and a laid back, island atmosphere. Although known for their hamburgers, the Island salad and the Chocolate Nachos are what you are after here. If that's not your flavor, then anything with "Island" or "Caribbean" in the menu name is a hit.

Five Guys, Burgers and Fries(chain)

phone: +1 402-496-5366

address: 697 s 132 st.

Serves classic burgers

address: 3655 129th St

Great Japanese restaurant that serves some of Omaha's freshest sushi and sashimi.

address: 10922 Elm St

The city's best East Indian food. Also a unique brewery, try the jalapeno beer.

address: 2202 S 20th St

Family owned for over 70 years, Piccolo's has been serving Omaha since 1933. Menu items include steaks, fish & chicken dishes, and also a few Italian specialties. Like Gorat's, it is one of Warren Buffett's favorite places to eat. Friendly service and an excellent family atmosphere.

phone: +1 402 445 2583

address: 14450 Eagle Run Dr., Ste. 210

Modern sushi with an energetic vibe, offers an extensive menu of raw, non raw, and vegan sushi, all paired with a collection of premium Sake.

phone: +1 402 934 2929

address: 16859 Q Street

Chic breakfast spot located uptown with a fresh take on traditional breakfast foods, featuring a drive through.
Splurge
address: 1110 Jones St

A relative newcomer to Omaha's fine restaurant scene, the Boiler Room is a hidden gem in the south side of the Old Market tucked in the gutted boiler room of an old warehouse. The food is usually sourced locally and has a heavy emphasis on gourmet French-style cooking, especially meat. Try the boar's head or scorpionfish. The menu changes daily.

address: 1722 Saint Marys Ave

Fine new American cuisine in Downtown Omaha. The Flatiron Cafe's staff has been happily serving the theater crowd, business travelers and those celebrating special occasions since 1995.

address: 4917 Center St

Favored by Warren Buffett, a dear friend of the family and a valued customer.

Mahogany Prime Steakhouse(chain). A great restaurant where you can get your fill on prime-grade steaks, Australian lobster, and Alaskan king crab legs. The food is amazing and they have a great wine list to complement whatever you order. Mahogany is year after year awarded with a "Best of Omaha Award" in the steakhouse category despite the abundance of better local, non-chain establishments.

address: 4916 Underwood Ave

Mark's unique environment combines casual dining with a neighborhood feel. A relaxed, casual place with exquisite food, Mark's has a hefty wine list and an eclectic menu.

address: 1022 Howard St

Intimate and romantic ambiance. The menu, which changes weekly, is continental but also offers some innovative culinary creations from a range of cuisine types. Great for special dinners. Located in the Old Market. Famous clientele have included: Bono of U2, local plutocrat Warren Buffet, and Bruce "the Boss" Springsteen.

Spencer's for Steaks and Chops

phone: +1 402-280-8888

address: 102 S. 10th St

Aged, hand cut and seared. Featuring USDA prime beef from Stockyards Beef of Chicago, Spencer's restaurant offers sizzling hot porterhouses, juicy filet mignons and the bone-in ribeye for which Spencer's is named.

phone: +1 402 341 1222

address: 1403 Farnam Street

In the Paxton building downtown, it features an upscale environment, and serves fresh USDA prime steak, paired with wines, bourbons and single malt scotches, and a daily fresh sheet.

phone: +1 402 933 5168

address: 1308 Jackson Street

Hiro 88 is an upscale Pan-Asian restaurant group. With the help of renowned architects like Japan's Nakamura-san, restauranteur Milton Yin has created distinct atmospheres at each location, each inspired by its surrounding neighborhood. Serving Chinese cuisine and some of Omaha's best sushi.

phone: +1 402 763 4447

address: 220 S. 31st Ave Suite 3101

Offers seasonally-driven, contemporary cuisine from locally-grown produce and livestock. Founded by Omaha native and James Beard award nominee Clayton Chapman, the Grey Plume was once deemed the "Greenest Restaurant in the Country". With a purposive menu and progressive initiatives, it has become a cornerstone for the local food movement.
Drink
All restaurants, bars, and coffee shops in Omaha are smoke-free indoors. Smoking on outdoor patios is legal, though rather uncommon. All bars in Omaha must close by 2AM
Bars
The Crescent Moon

address: 3578 Farnam St

Large pub and German bier-hall. Hundreds of micros and import beers on tap, and a great selection of German beer. Sometimes a polka band in the bier hall or karaoke on Saturday nights. Check out the beer boutique next door for bottles and cans to take home.

phone: +1 402-553-9501

address: 5007 Underwood Ave.

Homy Inn

address: 1510 N Saddle Creek Rd

A fun bar with champagne on tap.

Lemon Drop

address: 5423 S 36th St

Offers pool tables and live music.

The Max

address: 1417 Jackson St

Ostensibly the region's largest dance club and gay bar. Two dance floors (electronica on one, hip-hop on the other), three bars, and a huge courtyard. On the weekends it's mostly straight people and expect a $5 cover.

phone: +1 402-951-9393

address: 2615 south 120th St

Touted by management as "the safest, cleanest, and most enjoyable dance venue this side of Omaha."

The Side Door

address: 3530 Leavenworth St

Eclectic bar with unique, quality cocktails. Be prepared to wait a few minutes while the bartenders mix them. Free live music W-Sa. Diverse and agreeable crowd. Before 9PM, order take-out from Mother India just a block west.

address: 514 S 11th St

In the Old Market. Has pool tables and on Wednesday nights $7 pizzas and $2 microbrews are served. Also has a full menu and great food at a reasonable price. Try the sample platter of microbrews and get your favorite in a growler to go.

Starsky's Lounge

address: 4020 S 13th St

Across from Rosenblatt Stadium. Great bar to hang out at after catching a game at the College World Series or a Royals game.
The Bluejay bar is Creighton students favorite Wednesday night destination. A $5 cover gets you %1 shots and beers all night.
Farrel's Sports Bar, located downtown off 9th and Dodge, has a great Thursday night line up, with karaoke, $3 cover, and 50 cent busch or pbr.
Other fun bars include the Old Market Tavern, the Dubliner, Billy Frogs, and Barry O's, all within a few blocks of each other in the Old Market District.
Coffee shops
Blue Line CoffeeResides in a walkable area of Omaha, the Dundee neighborhood. Stop in and get "Green Beret", then walk down the block to 'Great Harvest' for a free slice of bread of your choice. Alternatively, walk west to the Bread Oven, a French bakery featuring traditional French breads.

address: 4524 Farnam St

Popular meeting spot for many clubs and meetings. Near hospitals and colleges. Local art & photography grace the walls, eclectic music plays over the speakers. Decent priced coffee, cool atmosphere. Free wi-fi.

Espresso Yourself

address: 118 N 50th St

One block off of Dodge Street, the only drive through coffee house in Dundee. Muffins, donuts and bagels offered daily. Outdoor seating. Free wi-fi

13th Street Coffee Company

address: 519 S 13th St

In Downtown, it serves a variety of coffee-based drinks. Desserts and sandwiches are also served. Occasionally there is live music on Fridays. Free wi-fi.

ScootersMultiple locations. This fast-growing regional chain seems to have drive-up kiosks on every other corner, a testament to its popularity. Locations with seating offer free wi-fi. Original location is in Bellevue.
Sleep
Stay safe
Omaha is generally a safe city, but still use common sense. Simply using caution and avoiding any situation in which you are uncomfortable will basically keep you out of trouble. The vast majority of violent crime occurs in North Omaha, roughly defined as the area North of Lake St, between 24th and 72nd St. Exercise a bit of additional caution when in this area after dark.
Omaha is in Tornado Alley, so severe weather can erupt between the months of April and August with the main threats being hail, high winds and street flooding, but tornadoes can sometimes be a threat. Tornado alert sirens are located throughout the city. At 11AM on the first Wednesday of the month, the sirens are tested. If in doubt, ask a resident. Local stations KETV Channel 7 (ABC), WOWT Channel 6(NBC) and KMTV Channel 3(CBS) break into programming if a severe weather event is in progress. Radio services 1110AM and 590AM also provide severe weather coverage. Be aware that Omaha is within Douglas County in the state of Nebraska, as meteorologists often point out warnings this way.
During winter months, Omaha often sees cold temperatures as well as snow or ice events. Also, be aware that steep hills do exist within the city, and precaution should be taken during slick driving conditions. Blizzards are often possible, the entire city normally shuts down during one of these.

Cope
Go next
Council Bluffs, Iowa is located just across the Missouri River. Gambling is illegal in Nebraska, so Omaha residents visit Council Bluffs for its casinos. There are also some interesting historic sites here.
The nearby cities of Bellevue, La Vista, Papillion and Ralston have various shopping areas. See Eastern Nebraska for details.
Visit Lincoln (50 miles west on I-80) to explore various museums and shopping there. Or catch a University of Nebraska football game, where every home game has been sold out for over 50 years.
Nebraska City - Has orchards and vineyards (Kimmel Orchard and Vineyard or Arbor Day Farm) about an hour drive from Omaha.