Omsk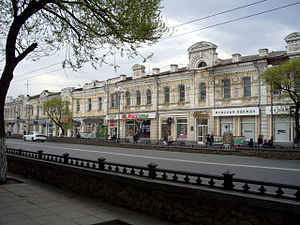 Omsk
(
Russian
: Омск
ohmsk
) is the capital of
Omsk Oblast
,
Siberia
, and is a regional hub for
Western Siberia
and the Altai mountains in
Russia
, as well as northern
Kazakhstan
.
Understand
Founded in 1716 as a fortress on the Imperial Russia's expanding southern frontier, by 1850s Omsk grew to become the capital of Western Siberia and parts of
Central Asia
. The construction of the
Trans-Siberian Railway
in the late 1890s brought a rapid development boom, culminating in an extravagant 1910s World Fair, around the time of which Omsk acquired much of its neoclassical architectural heritage. Largely due to its strategic importance as the gateway to Siberia and the
Russian Far East
, Admiral Kolchak of the anti-Soviet White Army chose Omsk as his base and "capital of Russia" in 1918–1919.
Today, Omsk is Russia's seventh largest city with a population of over 1.5 million. An Omsk visit is one of the highlights of a trip to Siberia for the city's attractive and bustling 19th century center, and its numerous cultural opportunities. Literature lovers will find a special interest in Omsk, as it was Dostoevsky's home during the majority of his exile from
Saint Petersburg
.
Get in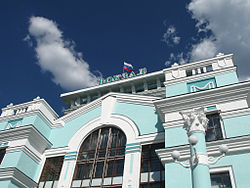 By plane
When taking a taxi from the airport, be sure to negotiate the price in advance and take a legal taxi.
By train
The southern and northern branches of the
Trans-Siberian Railway
converge at Omsk. Trains arrive from
Moscow
(40 h) and the
Russian Far East
(4-5 days) daily.
The railway station is south of city centre. Buses and trolley-buses run to the centre up Bolshoi Marxa Prospekt, fare approx , the conductors issue tickets on board and give change within reason.
Get around
By foot
The city center around Lyubinsky prospekt is easily walkable and is best explored on foot. In autumn 2017 Lenin St south of the River Om is being dug up and is difficult to walk along, but businesses there and the cathedral remain open.
By public transport
Public transport operates from 06:00 to 23:00 and will take you to most places you need to go. Route maps are available
online
. A ticket for a bus, trolleybus, or tram costs and a ride in a marshrutka costs .
Trolley N4 & N7, and buses N50, 60 and 69 are particularly useful.
By taxi
Taxis are plentiful and there are several taxi companies operating in Omsk.
See
The historical part of town is centered on Lyubinsky prospekt, near the confluence of the Om and Irtysh rivers. It is lined with century-old buildings of former merchant salons, residences, and larger commercial, government and religious establishments. The area now has some of the poshest shopping and the best nightlife in the city.
Ulica Krasnyh Zor' (aka Nikol'skij prospekt) leads from the Cossacks' cathedral to a few blocks of historical carved-wood houses. This street can give an idea what Omsk and Siberia used to be like for centuries before industrialization. Unfortunately, these houses are not yet protected as cultural heritage landmarks and may eventually be demolished.
Museums
Omsk State Museum of Local History

phone: +7 381 231-47-47

address: ul. Lenina, 23

In the former West Siberian Governor's mansion — look for the ebony Kalmyk throne and the outfits of the local nomads before the Russian colonization. Admiral Kolchak, the head of the White government, lived here in 1918-19, supported by the Western powers and the Russian gold reserves.

Museum Complex of Military Glory of Omsk

phone: +7-3812-23-85-50

address: ul. Taube, 7

Features exhibits on World War II, Afghanistan, and the Chechen conflict.

Omsk Regional M.A. Vrubel Museum of Fine Arts

address: ul. Lenina, 3

In the former bourse building. Houses an interesting collection including a few Rerikhs.

Liberov-Center State Regional Art Museum

phone: +7 381 230-16-45

address: Dumskaya ul. 3

In a historical wooden house.
Religious buildings
St. Nicholas Cossack Cathedral

phone: +7 3812-315748

address: ul. Lenina, 27

Built in 1843, it is one of the oldest churches in Siberia. During communist times, it was used as a cinema and concert hall.

Assumption Cathedral (Uspenskij sobor)

phone: +7 3812249065

address: ul. Internacional'naja, 12

Built in the 1890s, it is one of the largest churches in Siberia.
Do
phone: +7 381 224-40-65

address: ul. Lenina, 8А

An ornate theatre and a city icon, with great performances that always sell out.

Arena-Omsk

phone: +7 381 270-71-27

address: Lukashevicha, 35

A 10,318 seat arena built in 2007. The ice hockey team Omsk "Avangard" is based here.
Buy
Omsk is rich in shopping. There is a big difference between the rich and the poor in the city, and this is visible in its shopping malls. While there are shops with extremely cheap goods, there are also modern, upscale malls where every shop is very expensive; a simple shirt at one of these stores could be £100, for example, and a handbag £200. Nevertheless, Omsk offers some great shops with lots of goods.

Eat
American chains including McDonald's, KFC, Subway, Friday's, and Sbarro have locations in Omsk.
Elki-Palki

address: 10 let Oktyabrya, 40 (Atrium-Kino entertainment center)

phone: +7-3812-252379

address: Karla Libknehta St., 11

A great place to eat and chat.

Irtysh

phone: +7 3812 22-40-14

address: Mira, 62

Kochegarka

phone: +73812-532909

address: Lermontova St., 77

Local flavor and ambiance with a great selection of food and drinks.

address: Lenina St., 20

A great place for a quick bite or beer.

phone: +73812-36-28-59

address: Pushkina St., 112

phone: +73812-30-83-82

address: Lenina St., 7

A great French restaurant.
Drink
Bars
phone: +7-3812-45-99-99

address: Broz Tito str., 2/1

Irish pub. One of the only pubs in Siberia where you can drink Guinness. The beer selection is great, but the food is not.

Pivnaya Biblioteka (Library Brewhouse)

phone: +7-3812-201063

address: Partizanskaya St., 4

A café/bar with a library.

Bar Omskih Bikerov

address: Karla Marksa Av, 36

address: Karla Marksa Av, 5А

Karaoke.
Nightclubs
Angar Kemerovo st., 1/3  8 381 290-57-77

phone: +7 381 278-11-51

address: ul. Lukashevicha, 10В
Sleep
Budget
Hostels
phone: +7 3812 24-65-02

address: pr-kt Karla Marksa 84a,

Hostel is on two (at least) floors, each floor has numerous bathrooms, a large kitchen, laundry facilities, WiFi and computer access. Offers dorms & privates. Mini hotel is located in the center of Omsk near the park of Friendship of Peoples near the stop "Sibzavod". Cheap hotel with economy rooms and suites.
Mid-range
Stay safe
Dangerous areas of the city are Neftyaniki (town of oilmen), Amurskiy posyolok (Amur settlement), Port Arthur, Staryi Kirovsk (Old Kirovsk), and the area of the Omsk tire plant.

Connect
Consulates
Germany

phone: +7 3812 32-38-33

address: 1st Voennaya street, 7, building 2

Kazakhstan

phone: +7 3812 32-5213

address: Chokana Valikhanova street, 9
Go next
Omsk is a convenient hub for several regional attractions. Distances are large and locals will consider a city 700km away to be 'nearby'. However, trains are reliable.
Tobolsk and Tomsk are the oldest cities of Siberia. Because the main transportation arteries originally bypassed them, the towns stayed small, avoiding the typical Soviet development, and retaining their unique picturesque characters. They are reachable by overnight train, or, in the case of Tobolsk, by speed jet boat along the Irtysh River (10-12 hours). Irregular boats also operate to Khanty-Mansiysk and Salekhard, within the Arctic Circle, a 2783 km journey taking six days (see timetable). This is the best way to see the West Siberian terrain, grand rivers, and rural lifestyle. For some towns, this boat is the only access to the outside world.
Barnaul (16 hours by train or a 1½ hour flight) is the gateway to the Altai mountains and national parks.
Kazakhstan is accessible by train - Petropavlovsk (4 hours), Astana (12 hours), or bus - Pavlodar (8 hours).