Opatija
Opatija
is a city in the
Istrian Peninsula
in western
Croatia
and is main tourist city on Liburnia riviera. It is around 13 km southwest of
Rijeka
, one of Croatia's largest cities. Opatija has a population of 7,850 but during summer number of residents and visitors largely increase up to dozen of thousands of people.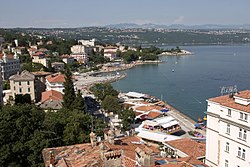 Understand
Considered one of the oldest Croatian tourist destinations, with roots in 19th century when Opatija was popular spot for Austro-Hungarian king and other noblemen. Most of the remarkable hotels and villas are built in period of Austro-Hungarian tourism expansion, from the middle of 19th century until the First World War. Even today Opatija has kept its high profile, often being referred as the "Croatian Cannes".
The foundations of this city lie with the St. Jacob's abbey, which soon evolved into Opatija (Opatija means 'abbey'). St Jacob, the patron saint of travellers, tanners and fruit-growers, is celebrated every year on July 25th, which is also celebrated in the town as the Day of the City of Opatija.
In recent history, however, the city of Opatija (Italian: Abbazia) remained in the clutch of the wealthy Austro-Hungarian families who built their exclusive resort-city with opulence in mind. Their stunning mansions line Opatija's coast and fine examples of architecture from the time fill the town with a certain atmosphere of grandeur. Beautiful parks, postcard-promenades and luxurious hotels are all a result of the 'high society' that occupied this town for over a hundred years.
Notably, this city is built upon a hill which stretches right back from the coast. While this does offer breathtaking views from houses, hotels and apartments, the walk back will prove tiring at the least!

Get in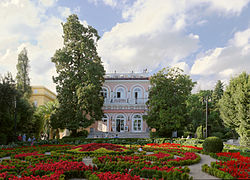 Opatija is 13 km west of
Rijeka
and can be reached by car is easy drive next to the seaside with wonderful views on Kvarner bay.
Local bus 32 from
Rijeka
drives to Opatija and continues to
Lovran
and sometimes
Mošćenička Draga
, covering whole Opatija riviera. Return ticket cost 30 kn (buy it from the Tisak shop instead of bus driver, since it is cheaper than buying tickets in bus). From Rijeka to Opatija is around 20 minutes ride. Check
schedule
.
From Opatija it is possible to get direct ride to
Zagreb
(from 119 kn to 140 kn, three hours, five daily),
Pula
(72 kn, two hours, eight to ten daily) and further. Direct bus from Opatija to
Trieste
cost around (55 kn, two hours).
Train station Opatija Matulji is situated in nearby village Matulji, from where you need to take a bus to center of Opatija. Two times a day Opatija-Matulji station is connected with
Ljubljana
. Further connections to
Vienna
and rest of
Europe
are possible.
Get around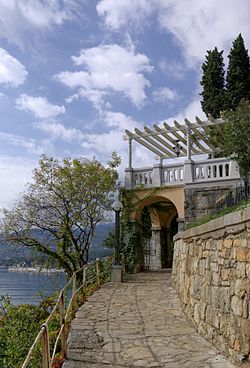 Opatija is small city so best way to get around is on foot. Main promenade, called "Footpath of Franz Joseph", or more casually "Lungo mare", stretches from Opatija towards Lovran and forms beautiful seaside promenade with views on Kvarner bay and mountain Učka in background.
See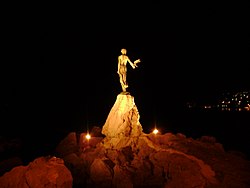 Villa AngiolinaAmazing neo-renaissance Villa Angiolina was first tourist resort in Opatija, built in 1844 by Iginio Scarpa, a rich merchant Rijeka and named after his wife. Inside the villa Angiolina today is situated museum of Croatian tourism, and it is place for major social events, concerts and even some high-class weddings. Beautiful building is followed by very nice garden and is best start for sightseeing Opatija.

Fountain of Helios and SerenaBeautiful Fountain of Helios and Selena is one of the landmarks of Opatija, situated near the church of St. Jacob. Fountain was built by Austrian sculptor Hans Rathausky and is another part of Austrian heritage in Opatija.

SlatinaMain square with the beach of the same name, bus station and beautiful fountain in charming park close to another 19th-century palace-Bellevue hotel. In front of fountain is popular Slatina beach.

Maiden and the seagullSymbol of Opatija is statue of Maiden with the seagull on her right hand, erected in 1956, by Croatian sculptor Zvonko Car. It is located on the rocks overlooking Kvarner bay, right on the "Lungomare" promenade. It is probably most photographed symbol of the city.
Do
Swim on the city beachesMost popular beaches of Opatija are Slatina and Lido beaches, but along promenade there are numerous hidden rocky beaches popular for swimming and enjoying the sun.

Walk "Lungo mare"Walk or run 12 km long seaside promenade from Opatija to Lovran passing beautiful villages Ika and Ičići.

Hike Učka mountainMount Učka is situated right behind Opatija and with its 1496 m altitude, it is challenging hike if you start from the coast. Učka nature park covers most of the mountain and beside hiking offers great MTB and mountain running posibilities. Alternatively, you can come with car to the top of the mountain, Vojak peak and enjoy amazing views on Istria peninsula, Kvarner islands, Rijeka, highlands and even Alps in the distance.

Land Art Trail on Mt. Učka. It is a gallery in nature, 900 m above sea, about 20 km or 25 minutes from Opatija by a car. As you easily walk along 6.5 km long trail through the mountain forests and pastures you will encounter 20 works of land art and rock art, made in 2016 by artist Boris Pecigoš. You will also enjoy beautiful views on Istria from four viewpoints on the cliffs.