Opolskie
Opolskie
is one of the 16 voivodeships (administrative provinces) of Poland. It is in the south of the country. Its name derived from its capital city,
Opole
. The region has been a part of Poland since the early beginnings of the Polish statehood, with many remains of the ancient Polish Piast dynasty to be found to this day, but has found itself at the crossroads of history becoming incorporated to ertswhile Czech Kingdom,
Austria
,
Prussia
and Germany. Reincorporated to Poland after Second World War, the region remains the only one in the country with significant (and legally recognized) German minority, with bilingual signage and German in everyday use in some municipalities.
Cities
— capital at the Odra River with a Gothic Cathedral and a Neo-Renaissance town hall
— medieval town at the Nysa River
— Renaissance town at the Odra River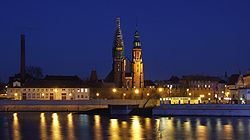 Other destinations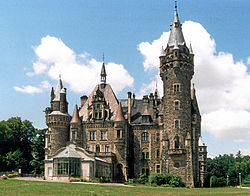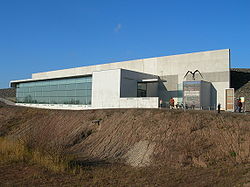 (Pałac w Mosznej) in Moszna
in Krasiejów – Dinosaur themed park built next to active excavations and paleontological museums.
Understand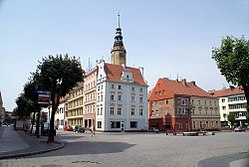 In the early Middle Ages the present voivodeship was part of
Silesia
, which was a part of Poland since the 10th century. When in 1138 the Seniorat of Poland was formed, Silesia was one of the Polish duchies and several Silesian duches were Seniors of Poland until the late 13th century. In the 12th and 13th century Silesia fall apart into several duchies of which
Opole
and
Nysa
are in the present Polish voivodeship. In the 14th century they came under Czech rule. At time the majority of the population was germanized. Bohemia was ruled at this time by the German Luxembourg, later the Polish Jagiellonians and finally by the Austrian Habsburgs. In 1741 Prussia annexed the region from Austria. After World War I and the Silesian Uprisings the inhabitants voted to remain largely a part of Germany but still had a significantly large Polish minority. After World War II the region became part of Poland and most of its German population was expelled. Nowadays it is in the south-west of the country and home to many ethnic minorities including most of Poland's Germans and the Silesians.
Talk
Polish is the first language, as in all of Poland. Therefore, everyone speaks it. German plays a historic role in the region and some towns and cities are bi-lingual because of the German-speaking minority. There are even German language newspapers and schools. Silesian, a slavic minority language is also spoken in most of the Opole/
Upper Silesia
region. English and German may be spoken by the young.
Get in
See
The Moszna Castle was built during different time periods and provides an example of numerous architectural styles. It is now used as a hospice house, hotel, and restaurant. Tourists can walk its grounds free of charge.

Do

Visit Nysa, Opole and the surrounding lakes.

Go next