Oracle
Oracle
is a small town in
South Central Arizona
, about 40 miles north of Tucson.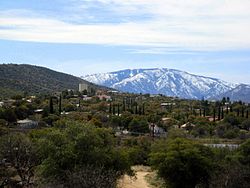 Get in
Drive to Oracle; there is no mass transit nor trains, and the airport closed years ago. It is located 38 miles from downtown Tucson.
Bicycle to Oracle: especially on Saturday mornings, a surprising number of people can be seen bicycling up State Highway 77 from as far as Tucson. Bicycling to Oracle from Tucson involves an uphill slog of 30 or more miles and a climb of about 2000 feet in elevation. It's for serious cyclists only, but there sure are a lot of them!
Hiking to Oracle is more practical than you might expect; Oracle is on the edge of the Coronado National Forest, and the state-spanning Arizona State Trail skims Oracle's outskirts.
Hitchhike to Oracle: sometimes possible.
Get around
Driving is usually easiest.
Bicycling requires the ability to do mild hill climbs and to cover a few miles, even within Oracle itself.
Horses are for some a fun way to travel through Oracle and vicinity.
Walking, if you don't mind covering a few miles on foot.
Hitchhiking is sometimes possible.
See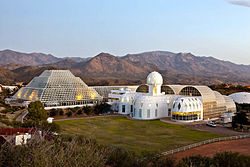 phone: +1 520-838-6139

address: 32540 A Biosphere Rd, Mile marker 96.5

This unique facility was designed as an artificially closed complete ecology, and was the setting for research on human interaction with natural systems. The site is now owned and maintained by the University of Arizona, which conducts tours for the public.

phone: +1 520-896-9609

address: 825 E Mt Lemmon Hwy

Has several exhibits relating to the history and culture of Oracle.
Do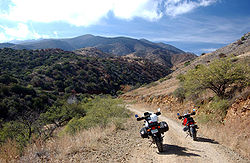 phone: +1 520-896-2425

address: 3820 E Wildlife Dr

A historic 4,000-acre ranch in the northern foothills of the Santa Catalina Mountains. The Kannally ranch now houses the Environmental Learning Center, a small museum. The park offers opportunities for hiking, mountain biking, and horse riding.
Buy
phone: +1 520-896-9200

address: 1015 W American Ave

Antique shop with an open-air gallery of large metal sculptures.
Eat
DeMarco's Pizzeria & Italian Restaurant

phone: +1 520-896-9627

address: 1885 W American Ave

Largest, most diverse menu of any Italian restaurant in Oracle, including some unusual items. Try the eggplant parmesan sub (not a misprint!) Serves American/Mexican breakfast, predominantly Italian lunch & dinner.

Lupe's

phone: +1 520-818-7855

address: 35530 N Hwy 7779

Simple, but tasty Mexican food. If you get the beef, make sure it's the machaco (shredded).

phone: +1 520-896-3522

address: 2161 Rockliffe Blvd

Tasty Italian food (pizza, pasta, calzones) in a casual but attractive setting. Family run, with paintings by the chef/owner on the wall.

Oracle Market

phone: +1 520-896-2232

address: 760 E American Ave

Groceries and deli.

Casa Rivera's Taco Express

phone: +1 520-896-3747

address: 1975 W American Ave

Local family owned Mexican restaurant, very pleasant home-like atmosphere. Friendly staff.
Drink
phone: +1 520-896-7615

address: 270 W American Ave

phone: +1 520-896-2048

address: 1575 W American Ave
Sleep
Chalet Village Motel

phone: +1 520-896-9171

address: 1245 W American Ave

phone: +1 520-896-7651

address: 1170 N Rancho Robles Rd

A historic guest ranch operating since 1923.
Go next
Oracle is a natural gateway to the
Santa Catalina Mountains
and Mount Lemmon, which offer many hiking, mountain biking, and camping opportunities.