Oran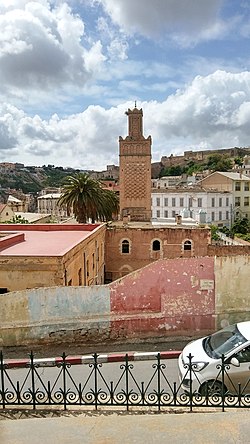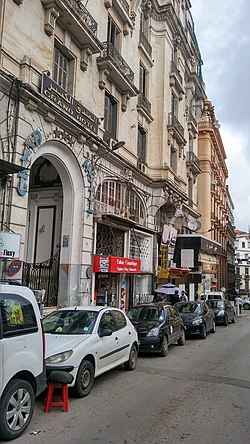 Oran
is a city of more than 600,000 people in
Northwest Algeria
.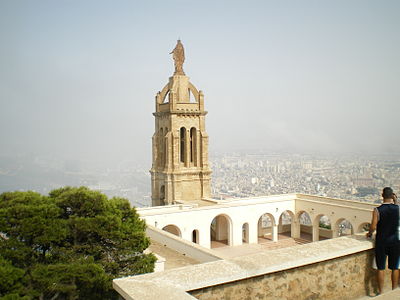 Understand
Oran's beautiful sea shore, constructed under French rule, was inspired by Nice's seafront. It consists of a long boulevard lined with cafés, restaurants, and ice cream shops. The boulevard also offers a splendid view of the sea, the harbour, Santa Cruz and the cliffs ("les Falaises"). It has been renamed "Boulevard de l'ALN" by the government after the independence but it is still called Front de Mer by the locals.

Get in
By plane
Ahmed Ben Bella AirportWhile not as large as Algiers' airport, it is still serviced by several international airlines.
Air Algérie (Adrar, Algiers, Alicante, Annaba, Bechar, Brussels—Seasonal, Casablanca, Constantine, Geneva, Hassi Messaoud, In Amenas, Jeddah, Lyon, Marseille, Paris-Orly, Ouargla, Toulouse)
Tassili Airlines (Algiers, Hassi R'mel)
Tunisair (Tunis)
Vueling (Barcelona)
By train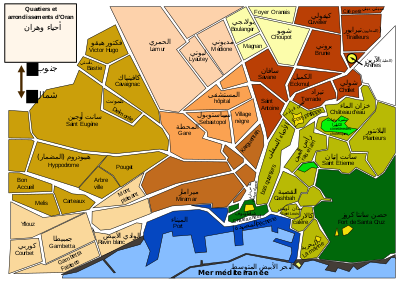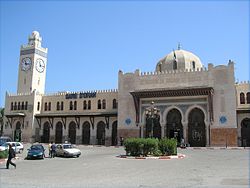 Oran is at the western terminus of the Algerian rail network, operated by
SNTF
. A line continues toward
Morocco
but it has been closed for decades due to political conflict. Trains from the capital
Algiers
are plentiful however with several services daily. Other cities along the Mediterranean coast and in
Northwest Algeria
have trains to Oran. Additional routes include an overnight train from
Bechar
, deep into the Sahara and about halfway from Mauritania.
All long-distance trains terminate at on
Rue Mankour Mahi Michel
.
By boat
One can also reach Oran by ferries from the ports of Marseilles, Sète, Alicante and Almería, via the national company Algérie Ferries.
Get around
By bus
11 Which will take you from the east to west of the city. From Hai El Sabah to Place 1er Novembre
51 From USTO UNIVERSITY to M'Dina Jdida
U From Senia UNIVERSITY to M'Dina Jdida
P1 From City center (Lycée lotfi) to Canastel ( ORAN EAST )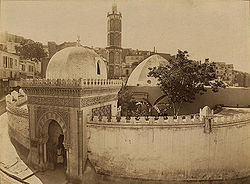 See
historic city centre
district of Sidi El Houari
municipal gardens
Djebel Murdjadjo and Santa Cruz Fortress

Cathédrale du Sacré-Cœur d'OranHousing the public library since 1996, this former cathedral is still a major landmark of the city.

Hassan Basha MosqueA very ornate mosque, built in 1797. It is however in a rather dilapidated state.
Buy
Le Marché de Medina Jedida with art products

Eat
Budget
Wifi Resto Club

phone: +213 41-399663

address: 14 Boulevard Docteur Ban Zerdjeb

Pizzeria and other fast food, offers free WiFi.
Mid-range
Les Ambassadeurs

phone: +213 41-981000

address: 1 Boulevard de la Soummam

Serves Mediterranean cuisine, located at the Royal Hotel.

phone: +213 41-393120

address: 9 Place de la République

Located in the old town.
Splurge
Drink
Oran's nightlife is among the most thriving in the continent. The city has always been the capital of Algeria's parties and music. All night long, plenty of nightclubs, bars and cabarets are opened and offer music, dance and partying in the city area seafront, called La Corncihe which runs from the city's Front de Mer to the neighbouring cities of Aïn El Turk, Bou Sfer and El Ançor. All kinds of nightclubs can be found, from the very posh Atmosphère at the Sheraton Hotel that attracts now international DJs such as David Vendetta to more popular ones in the Corniche. Les Pins d'Or, SunHouse and Le Murdjadjo among others.

Sleep
Budget
phone: +213 41 331431

address: 12 rue Arago Place des victoires

Sarl Hotel El-mansour

phone: +213 41 295590

address: 7 Rue Ozanam

The best among budget hotels in the town. Friendly staff, clean, shared bathroom, hot shower, air conditioning.
Mid-range
Hotel Residence Le Timgad

phone: +213 41 294797

address: 22 Bd Emir Abdelkader

A 4-star hotel in the centre of the town, free wifi, breakfast, nice and big room with western standard facility. the only small problem is the staff speak little English but very friendly, very good in French and Arabic.

phone: +213 41-466162

address: 6 Boulevard Zabour Larbi

Le Meridien Oran Hotel & Convention Center

phone: +213 41 984000

address: Les Genets, Chemin de Wilaya, Route 75

Situated on a high cliff with a stunning view over the Mediterranean Sea and the city centre of Oran. The hotel will form part of a larger complex including an adjacent conference and exhibition centre, and an oceanfront promenade.
Splurge
phone: +213 41-981000

address: 1 Boulevard de la Soummam

Luxorius hotel located in central Oran, not far from the docks. Often rated as great value for money.

phone: +213-41-590100

address: Route Des Falaises Ave

One of the fanciest hotels in Oran with breathtaking views of the ocean from each room. The hotel also features a complimentary airport shuttle, restaurants and a tennis court