Orange (France)
Orange
is a small town in southern
France
famous for its well-preserved Roman theatre and its music festival.
Understand
phone: +33 4 90 34 70 88

address: 5 cours Aristide Briand
Get in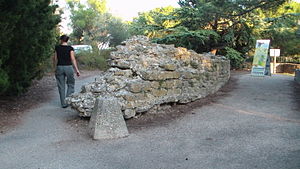 By train
address: Avenue Frédéric Mistral

Orange Station is served by TGV (Train à Grande Vitesse, the French high-speed train) and TER (Transport express régional, the regional train). Throughout the year, two direct TGV Paris-Orange and two direct TGV Paris-Orange (3h20) arrive every day.
By plane
Orange is accessible via the Avignon-Caumont Airport, which is served mostly by low-cost airlines. The two closest airports are
Marseille
Provence Airport and
Nimes
-Garons Airport.
By car
Orange is located near the junction of the A7 and A9 autoroutes. It is situated in the Rhone valley about 100km north west of
Marseille
, 30km north of
Avignon
and 200km south of
Lyon
.
Highway A7 # 20 - Orange Nord
Highway A7 and Highway A9 # 21 - Orange Centre
Highway A7 # 22 - Orange Sud
Get around

Orange is small enough to walk around.

See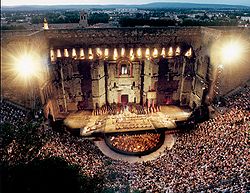 Théâtre AntiqueA UNESCO World Heritage site. It dates from the reign of Emperor Augustus, and is one of the best preserved Roman theatres anywhere. Every July, the Chorégies d'Orange take place in the theatre. It dates from 1860 and is France's oldest festival.

Triumphal archdecorated with reliefs celebrating various Roman victories. This is also part of the World Heritage site.

Musée d'OrangeSince 1933, the Musée d'Orange has been housed in a 17th-century mansion and former residence of Georges Van Cuyl, the Dutch man put in charge of armaments for the château on the hill by the Prince of Orange. The museum includes a collection of art and furniture from ancient Roman times to the 19th century, and also covers the history of Orange. One highlight is the Roman Centaur Mosaic in the Portico Room.

Colline Saint EutropeThis is the hill next to the ancient Theatre. It dominates the city and also the Rhone and Comtadine countryside as far as mont Ventoux, providing a breathtaking panorama. Remnants of the history of the city, particularly those of the castle of the Princes of Nassau, can be seen in this park. The castle was one of the most beautiful fortresses in Europe, fortified by Maurice of Nassau in 1622. It was destroyed on the orders of Louis XIV in 1673. On 29 July 1952, Queen Juliana of the Netherlands planted an oak tree on the hill.
Do
Jazz Festival

address: Place Clémenceau

In June jazz festival during one week. Free concerts on Place Clemenceau.

phone: +33 4 90 34 24 24

address: Théatre Antique

The Choregies Orange is an opera and classical music festival. It takes place every summer in July and August , the ancient theater of Orange. It is frequently broadcast on public television. Chaired by Thierry Mariani and directed since 1982 by Raymond Duffaut the Choregies Orange are one of the meccas of international opera. The program on the site chorégies their website.

L'Elixir

address: 480 boulevard Daladier

Organizing birthdays and theme parties

El Cuba Libre

address: 713 route de Jonquières

Dancing El Cuba Libre, Tea Dancing every Wednesday and Sunday from 14:30. Theme nights every Friday and Saturday from 21h. During salsa and rock. Capacity. Parking and room rental.

phone: +33 4 90 11 45 07

address: 2260 Route du Grès

Since 1952, the initiatives of Orange producers. The competition brought together in 2008 some 3037 samples of wines from various appellations of the Rhone Valley , divided into 154 panels of tasters consisted of French and foreign professionals and amateurs
Eat
Au Petit Patio

address: 58 cours Aristide Briand

All dishes are prepared using fresh products.

Le Garden

address: 6 place de Langes

Restaurant serving traditional and Provençal cuisine.

Festival Café

address: 5 place de la République

La Crémaillère

address: 7 place des Frères Mounet

Provençal setting, fast food.

la Grotte d'Auguste

phone: +33 4 90 60 22 54

address: place Silvain

Cuisine with Provençal flavours.

Le Parvis

phone: +33 4 90 34 82 00

address: 55 cours Pourtoules

Gourmet restaurant, it offers "cuisine bistronomic" (gastronomic bistro food).

Le Forum

address: 3 rue Mazeau

Gourmet restaurant serving traditional cuisine and local specialties.
Drink
Restaurant du Théâtre

address: rue Caristie

Restaurant, salads and ice cream. Friendly atmosphere with vaulted cellar. Concerts and wine tastings.

Billiard Academy

address: 67 cours Pourtoules

Quick restaurant offering a dinner at the American. Billiard room with 9 tables. Young atmosphere.

La Guinguette

address: Colline Saint Eutrope

Pleasant surroundings in the countryside on the Hill. Dance floor. Dance evenings in the summer.
Sleep
address: Rue Agis Rigord, Jonquier Sud

address: 764 avenue Charles de Gaulle

Hôtel Campanil

address: 216 Chemin de la Sauvageonne

Lou Cigaloun

address: 4 rue Caristie

Three-star hotel.

address: 60 avenue Frédéric Mistral

Three-star hotel near the train station.

address: place de Langes

Four-star hotel.

address: 227 route de Caderousse

Three-star hotel.

phone: +33 4 32 81 94 96

address: 1321 Rue Alexis Carrel, Orange, France

Level sites separated by hedges; power available at most sites; showers, washing-up facilities; free WiFi; pool; within walking distance of Roman ruins; restaurant available that serves decent food.
Go next