Orange (New South Wales)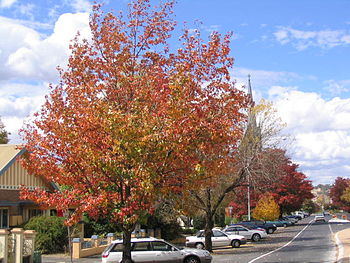 Orange
is a small city in the
Central West
of the
Australian
state of
New South Wales
.
Understand
Orange is not named for the citrus fruit: the area around the town is nowhere near warm enough to grow oranges! (Somewhat amusingly, Orange is instead noted for its apple orchards.) Rather, it was named for Prince William of Orange, later William I of the Netherlands.
Orange has a population of approximately 40,000 people and is one of the older towns in inland New South Wales. The one square mile village of Orange was established in 1841, and grew quickly due to Australia's first payable gold discovery in 1851 in nearby Ophir and later due to agricultural output.
The City of Orange municipality is in the centre of the
Cabonne Shire
. The Cabonne Shire consists of farmland and orchards and calls itself
Australia's Fruit Basket
. Orange and the surrounding area are known for quiet getaways and excellent food and wine. Orange calls itself
Australia's Colour City
due to its large number of European trees and their autumn colours. Late March and April are the best times to visit to see the colours.
Orange has a mild climate, with very comfortable summers (25℃-35℃/80℉-95℉ during the day), cool autumn and spring weather (15℃-25℃/60℉-80℉ during the day, falling as low as -1℃/30℉ at night) and, for Australia, cold winters with severe frost at times (0℃-10℃/35℉-50℉ during the day, falling to -5℃/20℉ overnight). Because of its elevation (862 meters/2 828 feet) it is one of the few areas of mainland Australia other than the
Snowy Mountains
that has relatively frequent snow during winter, and it is one of the very few population centres that gets any significant snowfalls.
Get in
Orange is four hours west of
Sydney
by car. Travellers would take the A32 (Great Western Highway to
Bathurst
and the Mitchell Highway to Orange).
Orange has several public transport links to Sydney operated by
NSW Trainlink Regional
(tel 13 22 32). The Dubbo XPT stops in Orange daily in each direction and several bus services meet trains at
Lithgow
. Train or bus from Sydney usually takes five hours. There are also less frequent NSW Trainlink bus services from
Canberra
. The Broken Hill Xplorer train stops in Orange on it's way from Sydney to Broken Hill on Mondays and on the return trip back to Sydney on Tuesdays.
Orange airport is around 15km from town, and has a nice new terminal facility for arriving and departing passengers. A single airline,
Regional Express
(tel 13 17 13 within Australia or +61 2 6393-5550 outside Australia) operates flights from Sydney to Orange and return. Flight time is approximately 45 to 60 minutes. Charter flights are also available. There is car hire from Avis and Hertz at the airport, but the site isn't permanently staffed. They will drive a car out to meet you if you book in advance. Drop off is just parking the car and dropping the keys in the box (the two car hire companies share a key-drop box). A taxi into town will cost around $40, so a hire car may be cheaper if you're just going into town for the day.
Get around
Public transport in Orange is limited to the town itself, and to links to other towns in the district. Since most tourists will be interested in attractions around the town and in the Cabonne Shire, using a car is the best way to see the Orange area.
==See==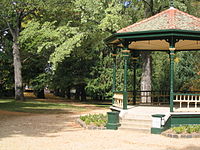 Cook Park, Summer Street. Cook Park is a large park occupying a city block in Orange. It is full of established European trees and is spectacular in early autumn.
Botanic Gardens, Kearney's Drive, northern outskirts of Orange. A 17 hectare garden, the Botanic Gardens have concerts and performances in summer.

Mount CanobolasThe highest point in Australia west of the Great Dividing Range at 1395 meters (4575 feet), is located 20km west of Orange. The view from the summit is excellent and there are many day walks on the slopes. Although Orange itself has only a few snowfalls a year, snow is common on Mount Canobolas however, due to safety concerns it is closed when snow or ice is present.

Orange Regional Art Gallery

phone: +61 2 6393-8136

Civic Sq (off Peisley Street).
Banjo Paterson Memorial Park, Ophir Road. This park is located at the Narambla homestead, birthplace of AB "Banjo" Paterson, Australia's most famous poet and author of the lyrics of "Waltzing Matilda".
==Do==
Picnic at Lake Canobolas, the town's old water supply dam located approximately 15km west of Orange. Lake Canobolas is a recreational area with swimming, walking and a deer park.
Pan for gold at the Ophir Reserve, 25km outside Orange, site of Australia's first payable gold discovery. The reserve also has picnic and barbeque areas.
Let the kids play at the Orange Adventure Playground. Admission is free, the playground is huge, and the kids will love it. There is a small cafe there for coffee for the adults who don't want to play too. Right next to the Botanic Gardens, just out of town.
==Eat==
phone: +61 2 6361-7748

address: 48 Sale Street

LolliRedini has attracted attention from Sydney food critics, regularly rating one hat in the Sydney Morning Herald Good Food Guide.

Highland Heritage Estate

phone: +61 2 6361-3612

address: Mitchell Highway

Highland Heritage Estate specialises in local produce.

phone: +61 2 6361-4441

address: Corner of Sales and Byng Streets

Belgravia @ Union Bank is a wine bar and cafe near the centre of town, and a cellar door for the Belgravia vineyard.

Miss Daisy's Teahouse

phone: +61 2 6365-3227

address: 42 Mount Canobolas Road

Excellent cakes, but really the attraction is the fresh air and the views.

The Parkview Hotel

phone: +61 2 6361-7014

address: 281 Summer Street

The Parkview's bistro (entrance at the side in McNamara Street) serves good quality lunches for $15-$20, table service. Steak, roast and cooked seafood are the main fare. The bistro is quite spacious and quiet.

phone: +61 2 6365-9295

address: Icely Road

The School House is in the Mayfield Vineyard to the east of Orange. The French inspired menu changes monthly based on seasonal produce availability.

Scottys On Summer

phone: +61 2 6362-3838

address: 202a Summer Street

Scottys is a nice little sandwich and cake shop, good bread and fresh fillings. It's a reliable place for a bite if you're in the centre of town. However, locals know this too; it can be hard to get a table.

Provista Wood Fire Pizza

phone: +61 2 6361-2129

address: 129 Summer Street
In autumn, drive out to one of the many apple orchards immediately to the west of the town and buy a bucket of
freshly picked apples
, keeping in mind that it may make it hard for you to eat the year-round supermarket variety in the future.
==Drink==
Hotel Canobolas

phone: +61 2 6362-2444

address: 248 Summer Street

Royal Hotel, Summer Street - located across the road from Hotel Canobolas. Popular with 20 and 30 somethings. This hotel is converted into a club on a Friday and Saturday night.
Like most Australian towns, there is a big drinking culture within Orange, due to the social focus of the local pubs, as well as due to the local wineries.
Wineries
Wineries in Orange and Cabonne open for tasting include:
phone: +61 2 6362-3257

address: 239 Kearneys Drive

phone: +61 2 6365-8689

address: 786 Burrendong Way

phone: +61 2 6365-2626

Corner of Forbes Road and Radnedge Lane, Borenore (next to Hillside Orchard).
==Sleep==
phone: +61 2 6365-3305

Wrights Lane. Reviews describe this small bed and breakfast 17km out of town as aiming for the "Sydney market": that is travellers looking for a weekend away in comfortable surroundings. Rooms have standard amenities including a data port. Weekend rates: $185 per night (standard double), $225 per night (double with spa). Weekday rates: $155 per night (standard double), $175 per night (double with spa).

Best Western Central Caleula Motor Lodge

phone: +61 2 6362-7699

address: 60 Summer Street

This lodge is close to the centre of town and provides high quality standard motel rooms with queen or king sized beds and private bathrooms.

Down Town Motel

phone: +61 2 6362-2877

address: 243 Summer Street

Doubles from $65.

phone: +61 2 6369-1045

Mitchell Highway. This new hotel 5 minutes east of Orange is aimed at conference and business visitors.
Connect

Australian mobile (cell) phone companies provide very good coverage inside the city. Coverage in outlying towns and villages is being progressively improved however it might be patchy traveling between destinations.

Cope
Medical
Orange Health Service, 1502 Forest Road, Orange, NSW 2800, Australia. Phone: +61 2 6369-3000. Public hospital with emergency room.
Community Health Centre, 96 Kite St. tel +61 2 6392-8600.
Supermarkets
Coles Supermarket, 227 - 237 Summer Street. tel +61 2 6361-2666. Open 6AM - midnight M-Su; closed some public holidays.
Woolworths Supermarket, 197 - 203 Anson Street. tel +61 2 6362-4655. fax 02 6361 0906. Open 7AM - 10PM M-Su; closed some public holidays.
SUPA IGA Supermarket, Summer Centre, 82 Summer Street. tel +61 2 6362 0775. Open 7AM - 9PM M-Sa, 8am-8pm Su; closed some public holidays.
Ascroft's Supa IGA & Liquor, 210 Peisley Street. tel +61 2 6362-7233. Open M-Su; closed some public holidays.
==Go next==
The
Indian Pacific transcontinental train
passes through Orange westward to
Perth
.
Dubbo
and
Forbes
further west are the next inland towns.
Cowra
's Japanese Garden and World War II war cemetery are a good day trip.