Orangeville (Ontario)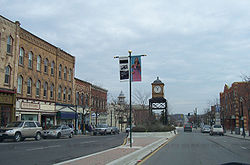 Orangeville
(29,000 inhabitants in 2016) is about an hour's drive north of
Toronto
.
Understand
Orangeville serves as an administrative and commercial hub for Dufferin County, the northern portion of Peel Region and the surrounding area. Orangeville's downtown core is home to several retail stores, and there is a cluster of big-box stores in the Fairgrounds Shopping Centre. Many residents in and around Orangeville also commute to other areas of the Greater Toronto Area for work.
There are a number of manufacturing plants located in the town. Orangeville is also the main banking center for residents in the area.

History
The archeological record in Dufferin County dates indigenous occupation of the area to the "early Paleo-Indian" time period from 9000 to 8400 BCE. What eventually became Orangeville and Dufferin County, was historically the traditional territory of the Tionontati or Petún (Tobaco) People. They lived in the mountains south of Nottawasaga Bay, in what are now Grey and Simcoe counties, and farther south at the source of the Grand River in Dufferin County.
The Petún were decimated by European diseases in the 1630s, going from a population of approximately 8000 to 3000, and were attacked by the Iroquois in December 1649 further reducing their numbers to fewer than 1000. They then fled along with other Huron peoples into the United States, while other Petún sought refuge with their French allies and settled in Quebec.
After the decimation and dispersal of the Huron, Petún, and Neutral people of southern Ontario, Algonkian peoples from northern Ontario moved into the area at the end of the 17th century and the beginning of the 18th century, while members of the Three Fires Confederacy (Chippewa, Odawa, Potawatomi) moved into southern Ontario from Ohio and Michigan in the late 1700s. During the pre-confederation Treaty era, Anishinaabe or Chippewa First Nations signed Treaty #18 in, 1818, which included the Dufferin County area. Today, the descendants of Petún call themselves Wyandotte, and despite the 350 years since their displacement from southern Ontario, and despite the heteroglot and diasporic nature of their contemporary communities (in Oklahoma, Michigan, Kansas, and Quebec), they continue to recognize their shared history and are united through a modern-day Wyandotte Confederacy.
Orangeville was named after Orange Lawrence, a businessman born in Connecticut in 1796 who owned several mills in the village. As a young man, he moved to Canada and settled in Halton County. During Mackenzie's rebellion in 1837, he was a captain in the militia. Lawrence purchased the land that became Orangeville from Robert Hughson. The public library, located at Broadway and Mill Street, was completed in 1908. Andrew Carnegie, well-known businessman and philanthropist, provided financial assistance for its construction.

Get in
By bus
Go Transit provides bus service to Orangeville Monday-Friday, holidays excluded. A trip from Union Station in Toronto would take 2 hours and require a change of bus at the Brampton Bus Terminal.
Get around
The main intersection in the heart of the town is Broadway (formerly Ontario Highway 9) and First Street. Highway 10 runs through Orangeville on its east side.
Orangeville TransitService on three routes throughout Town, meeting at the Fourth Avenue transfer point every half hour at quarter past the hour and quarter to the hour.

Orangeville Airport Limo, +1 647-297-1297
See
phone: +1 519-942-3423 (ext. 2800)

address: 87 Broadway

Theatre for adults and children in the historic 273-seat Orangeville Town Hall Opera House. Wheelchair accessible, equipped with a hearing accessibility system.
Do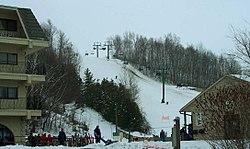 phone: +1 519 942-0754

RR #1, a few km outside Orangeville. Skiing, spa, golf, hotel. Has a good restaurant. From $89 pp, double occupancy for a getaway

phone: +1 888 346-0046

address: 49 Townline

The Orangeville Brampton Railway operates the Credit Valley Explorer, an excursion train, from Orangeville. The train operates only on certain scheduled days and requires booking.

Art Walk of Tree SculpturesTree sculpture art on municipal boulevards-- 54 sculptures. Brochure available online.
Eat
phone: +1 519 940-3108

address: 199 Broadway

Very good food.

phone: +1 519 941-5109

address: 367006 Mono Centre Rd

RR1. Casual and fine dining.

Barb's Country Kitchen

phone: +1 519-938-8282

address: 634041 Highway 10

Diner, burgers.
Drink
phone: +1 519-307-5700

address: 28 Mill St
Sleep
Hockley Valley Resort (see Do) have packages including rooms, dinner, ski-cards or spa, e.g. two summer nights for two with dinner for $101.

Best Western Plus Orangeville Inn & Suites

address: 7 Buena Vista Dr

phone: +1-519-941-8280

address: 316 Broadway Ave
Go next