Orchha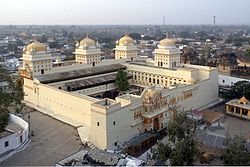 Orchha
is a town in
Madhya Pradesh
near the banks of Betwa river.
The medieval city of Orchha seems to have frozen in time, its palaces and temples still retaining their original grandeur. Orchha had the distinction of being the capital of one of the largest and most powerful kingdoms of Central India. The Bundela Rajput chieftain, Rudra Pratap, founded the city, located by the side of the beautiful Betwa River, in the 16th century.
The word Orchha means 'hidden'. When the Tughlaqs, who were ruling Delhi in the 15th century, pushed the Bundelkhand rajas out of Garkhundar, they retreated to distant Orchha.
Get in
From
Agra
/
Delhi
/
Gwalior
: Take a train to
Jhansi
station, and then you have two options. The easier but more expensive option is you can hire a car or auto-rickshaw to Orchha which is 15KM away. By auto-rickshaw, it takes about 40 minutes; by car, 20 minutes. The listed price at the pre-paid taxi stand was ₹200, however, you'll have to negotiate the price with the driver that you take. A cheaper way is to pile into one of the auto-rickshaws outside the train station which serve as a bus shuttle see if it's going to the bus station, which should only cost ₹10 this way. From the bus station there are other shuttle auto-rickshaws that head to Orchha for ₹20 per person, though you might have to wait a few minutes till it leaves; they only go when full.
You can reach Orchha while returning to
Jhansi
from
Khajuraho
, as a detour. While coming to Jhansi from Khajuraho, when you reach on the outskirts of Jhansi city, take left on the Orchha
Tigaila
(triangle). That road will lead to Orchha.
There is a small railway station at Orchha in which only very few trains stop. Jhansi - Khajuraho Passenger(229A) has stoppage at Orchha. Khajuraho - Jhansi passenger (230A) reaches Orchha by 4:45Pm. Orchha railway station is 5 km away from Orchha town. Hire a rickshaw and pay ₹50 max to get to Orchha.
Get around
The village is small enough that you can walk just about anywhere.

See
Orchha is a tiny farming town dotted with historical sites.
Of note: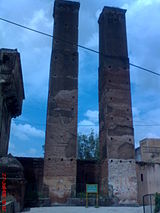 CenotaphsThere are 14 Chhatris or Memorials to the rulers of Orchha, grouped along the Kanchan Ghat of the river Betwa on the south end of town. You can climb up to the roof for views of the river.

Chaturbhuj TempleBuilt upon a massive stone platform and reached by a steep flight of steps, the temple was specially constructed to enshrine the image of Rama that remained in the Ram Raja Temple. Lotus emblems and other symbols of religious significance provide the delicate exterior ornamentation. Within, the sanctum is chastely plain with high, vaulted walls emphasizing its deep sanctity. Find the hidden stairs to the roof for a view of the entire area.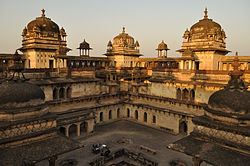 Fort ComplexThe fort complex is a great place to visit; hit this first to obtain an all-day ticket good for all the sights in Orchha. Divided into 3 parts, it consists of:
Jehangir Mahal: Built by Raja Bir Singh Ju Deo in the 17th century to commemorate the visit of Emperor Jehangir to Orchha. Its strong lines are counterbalanced by delicate chhatris and trellis work, the whole conveying an effect of extraordinary richness.
Rai Parveen Mahal: Poetess and musician, Rai Parveen was the beautiful paramour of Raja Indramani (1672- 76) and was sent to Delhi on the orders of the Emperor Akbar, who was captivated by her. She so impressed the Great Mughal with the purity of her love for Indramani that he sent her back to Orchha.
Raj Mahal: Situated to the right of the quadrangle, this palace was built in the 17th century by Madhukar Shah, the deeply religious predecessor of Bir Singh Ju Deo. The plain exteriors, crowned by chhatris, give way to interiors with exquisite murals, boldly colourful on a variety of religious themes. Get a good guide inside here to take you all over the complex, including locked rooms, for a tip.
Laxminarayan TempleA flagstone path links this temple with the Ram Raja Temple. The style is an interesting synthesis of fort and temple moulds. The interiors contain the most exquisite of Orchha's wall paintings. Covering the walls and ceiling of three halls, these murals are vibrant compositions and cover a variety of spiritual and secular subjects. They are in excellent state of preservation, with the colours retaining their vivid quality.
Phool BaghLaid out as a formal garden, this complex testifies to the refined aesthetic qualities of the Bundelas. A central row of fountains culminates in an eight pillared palace-pavilion. A subterranean structure below was the cool summer retreat of the Orchha kings. An ingenious system of water ventilation connects the underground palace with Chandan Katora, a bowl-like structure from whose fountains droplets of water filtered through to the roof, simulating rainfall.
Ram Raja Mandir(closed during the afternoon): This is the center around which the life of Orchha revolves. The presiding Deity here is Lord Ram. The idols were meant to be installed in the magnificent Chaturbhuj temple, but when the idols, once kept on the ground(where they are today), refused to move. So a makeshift temple was built around it and is known as Ram Raja temple. It has an excellent courtyard, tiled with marble and the temple in pink and yellow colors, gives a bright look. No photography.
Sunder MahalThis small palace, almost in ruins today is still a place of pilgrimage for Muslims. Dhurjban, son of Jhujhar, embraced Islam when he wed a Muslim girl at Delhi. He spent the latter part of his life in prayer and meditation and came to be revered as a saint.
Buy
A very small market starting from the main crossroads in front of the Ram Raja temple, coming towards the temple compound, is full of small shops selling souvenirs, handicrafts, beaded chains, gemstones, and other such items. If you are good at bargaining, you can enjoy the shopping here.
Do be aware of fake coins being sold by these market sellers. They will present you with a large number of coins, many of which are genuine but some of which are relatively good fakes of old East India Company coins.

Eat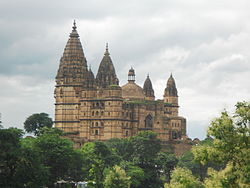 There are a number of small quaint street restaurants near the entrance to the palaces, serving inexpensive Indian, Asian and assorted "Western" cuisine.
Khajuraho Foo P

address: Main Road, near Blue Sky Restaurant

Good, cheap food prepared by an adorable Indian woman named Puja and served by her friendly, talkative husband, Nayek. They also offer cooking classes: you choose what you want to learn from the menu, they take you to the kitchen and show you how to prepare it, and then you get to eat the final product. Even better, you pay what you think the cooking lesson was worth (plus the cost of the meal).

Krishna Palace View Roof Top Restaurant

phone: +919893207798

address: between hotel Ganpati and Fort view guesthouse

Restaurant with a beautiful view of the palace. You can enjoy tasty Indian, Chinese and Continental food. The dishes are prepared with fresh market produce. The menu offers many choices at attractive prices. But this place is primarily a meeting place and you will be warmly welcomed by Ravi.
Drink
Orchha has a booze shop in the prominent market place. Don't expect big brands here.
If you stay at the pricier accommodations suggested here, you have an attached bar option. But otherwise there are no bars or private pubs.

Sleep
Budget
Gantapi Guesthouse

address: North end of town

Decent clean rooms, small garden with view of the palaces, hot water.

Temple View Guesthouse

phone: +91 7680-252658

address: middle of town

Clean rooms, courtyard. Some rooms have a separate hot water tap in the bathroom. Free Wi-Fi, free chai.
Mid-range
Amar MahalAmar Mahal has 46 rooms in three categories: Deluxe, Super Deluxe and Suite. Amar Mahal is on a small hill near the cenotaphs on the Betwa River. The hotel is built and decorated in the traditional Bundelkhand architectural style. The strategic location ensures panoramic views of the monuments and the surrounding hills and forests. Almost every room has a view of some important monument.

phone: +91 76802 52618

address: Orchha Bypass Road

Run by the MP state tourism department, overlooking the Bejwa River.

Betwa RetreatA resort on the banks of the Betwa River, it has host of options like regular rooms and Swiss tents.

Sheesh MahalBeautifully designed hotel situated in the palace.
Go next
Jhansi - You can get an auto rickshaw driver to take you to Jhansi for around ₹200, or tell them you want to share the rickshaw (meaning you wait for it to be filled with 8-13 more people) and pay ₹20 total. Rickshaws go to the bus stand, from where you need to take another rickshaw to the railway station.
Khajuraho - The only train to Khajuraho leaves Orchh train station at 7:25 am every day. It's a local train and makes many stops. The trip takes around 5 1/2 hours and is generally not very crowded; you can safely buy a ticket a half-hour before the train arrives and be assured of getting a seat Reaching the Orchha train station costs between ₹10-₹20 in a shared rickshaw which can be found near the bus station. A round trip to Khajuraho by taxi can be arranged at any of the travel agencies for around ₹2000.
Pranpur. - Located 60 km from Orchha. A good place to buy Chanderi silk saris directly from the weavers at affordable prices. Accommodation is provided at the Amraee Guest House, run by the village tourism committee. Weaving & craft workshops can be arranged on prior notice. Advance booking is required & can be made at +91 8527 141 626.