Orebić
Orebić
is a port town in
Dalmatia
.
Get in
By car
It is 67 km from the main coastal Split-Dubrovnik road (the scenic Adriatic Highway), 227 km from Split and 113 km from Dubrovnik. Alternative from Split is A1 motorway towards Ravče and Ploče (then it is 248 km from Split to Orebić). There is ferry service from
Ploče
to Trpanj (on Pelješac peninsula), which can be used to shorten car driving from Split (to 136, i.e. 157 km) and enjoy 50 minutes of sailing in beautiful scenery. For timetable and prices of ferry service visit
Jadrolinija
.
By bus
There are regular, scheduled bus services from Dubrovnik, Split and Zagreb. For timetable and prices visit
Central Bus Station Dubrovnik
,
Bus Station Split
or
Zagreb Bus Station
.
By boat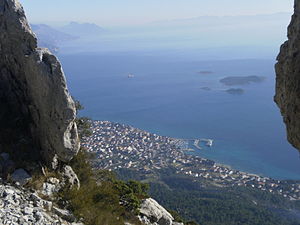 Jadrolinija's (Croatia's national ferry company) Rijeka - Dubrovnik service stops in nearby Korčula (this line also serves Split, Stari Grad (island Hvar) and Mljet). There are also high-speed ferry services to Korčula from Split (stops in Hvar) and Dubrovnik. From Korčula there is a short hop over to Orebić by car ferry, passenger ferry or taxi boat (latter driving from June to September). For timetable and prices for ferry service visit
Jadrolinija
and for high-speed services
Krilo
and
Gv-line
. Information about taxi boats one can get on the spot in ports. Usually they drive all day long. They take only passengers (some take bicycles too) and have acceptable prices (
12 kn
per person).
By air
The nearest airports are in Dubrovnik and Split. For more information visit
Dubrovnik Airport
or
Split Airport
Get around

The easiest way to navigate this small town is by foot. The older part of the town straddles the coastline and a very pleasant walk connects the main beach at Trstenica (on the Dubrovnik side of Orebić) to the main ferry terminal.
For a faster moving, the option is to hire bicycle or scooter in one of the tourist agencies.
There are three main daily connections to Korčula:
# Car ferry (also takes foot passengers), which leaves you at port Dominče, approximately 3-4 km from Korčula old town - this is more suited to motorists/cyclists.
# Passenger ferry, which leaves you directly at Korčula old town.
# Taxi boat (from June to September), which also leaves you in Korčula old town.
Prices for passengers are same in all three options (12 kn).
There is a local bus service throughout the peninsula with buses to Lovište and Trpanj, and services to Dubrovnik & Zagreb.

See
Franciscan monastery (great panoramic view) - you can drive or hike to the monastery. To get there, follow the Viganj/Loviste road out of Orebic (at the western side of the town) and at the Hotel Villa Julija, take the small road to the right - this is clearly sign-posted. The incline the entire length of this road is steep and careful driving is advised. However, the view from the monastery really is breathtaking. If you are going this far, you should enquire about eating at Panorama (read more in "Eat" section).
Karmen
Mount Eliah (Sveti Ilija) 961 m
Gornja Nakovana
Donja Nakovana with Nakovana cave
Old captains' houses
Drinking fountains
Maritime museum at promenade.
Do
Boat excursions. Beside trip to Korčula city (described in section "Get around"), there are numerous different options for boat excursions. Specifically, there are prearranged trips and, on the other side, there are arrangements in which one can hire boat for a half or full day trip or even for hour or two. These arrangements can include sailing around or visiting one or more islands or islets in Korčula archipelago (has 19 of them). Then they can include swimming in the crystal blue sea around islands or in Lumbarda, village on Korčula island with beautiful sandy beaches. If one chooses prearranged excursion, it can be organized without or with food (fish picnics), and if one chooses to arrange his trip by himself, there is option to enjoy meal with nice atmosphere in restaurant on Stupe island or in one of the restaurants in Lumbarda. For more information on islands and islets of Korčula archipelago visit Škoji For more information about excursions ask in tourist agencies or go to Lučica (Little harbor) and arrange your trip directly with taxi boat drivers.
Wind surfing in nearby Kučište (Perna) and Viganj
Wine tasting
Biking. For information about cycling possibilities around Orebić see Cycling paths section in Tourist routes Orebić
Hillwalking. Hillwalkers can tackle the majestic Mount Ilija and be rewarded with stunning panoramas from its peak. There are numerous marked paths starting in Orebić, Viganj and Kučište. For more information and map see Orebić - Hiking and mountain paths section at Tourist routes Orebić
Watersports
Sailing
Scuba diving. For information about diving in Orebić area read Diving section in Tourist routes Orebić . In Orebić there is Scuba diving center Adriatic . In Trstenik (25 km from Orebić) there is Diving center S 57. Sites have information about center, service, locations for diving and prices.
Buy
Regional wines, spirits and olive oil.

Eat
Amfora

PeticaVery nice fast food

PanoramaThis rustic konoba (restaurant) serves up traditional Dalmatian dishes including prsut (ham) and cheeses, large casseroles served "under the bell" (you will need to order these in advance as they need to be cooked for several hours in advance under the embers of a large open fire) and truffle dishes (the pasta dish is a real treat). The view (as the name of the restaurant suggests) is spectacular.
Drink
Famous Dingač and Postup (red) wine, Travarica (traditional brandy with herbs).
Meteor

Best

X2

Lučica

address: Franjo Tuđman shore

works only in season

Bubamara

Zona

Palomino

address: Franjo Tuđman shore
Sleep
Tourism is one of the town's most important industries and there is a plethora of accommodation available. Many locals rent out rooms (sobe) in their homes or full apartments. Most of this accommodation is within a short walking distance of the town's beaches and you will see signs outside accommodation advertising rooms or apartments. Do not be afraid to bargain! There are also many well-equipped camp sites in and around the town which also cater to camper vans. Orebic is also home to a number of hotels including the
Apartments Helena, A.Tina Ujevića 1, comfortable, 100 m from next beach.

phone: +385 20 714 555

address: Škvar 2, 20250 Orebić

Villa Antonio is an imposing guesthouse located in Postup (famous for its red wine) a 5-minute drive from Orebic. Villa Antonio has exceptional views across the Peljesac Channel to the island of Korcula, as well as stunning views of Mount Ilija. Perched among rows of vines, it also features a large swimming pool and a full evening buffet dinner.

phone: +385 915329638

address: Keršina 7

Renovated, old stone house, two apartments, one for up to four persons and one for two persons.

phone: +385 20 714 488

address: Šetalište Kneza Domagoja 8
Go next
Day trips to Korčula (15 min), Hvar, Mljet, Dubrovnik (1.5-2 hr), Split (3 hr), Narona/Vid, Mostar or Sarajevo. If you want to find out what Napoleon searched for, or what were the words of Jacques Cousteau when he dived in these waters, you have to come and check it out.