Oregon
Oregon
is a state in the
Pacific Northwest
region of the
United States
. It features rugged coastlines, dense forests, fun cities, mountains, canyons, steppes, and desert in the southeastern part of the state.
Regions
Oregon's regional makeup is largely defined by its impressive natural features; most importantly its mountain ranges which not only provide convenient dividing lines, but which even create a distinct climate in each of the state's regions. Travelers who cover several regions during their stay will find the differences between regions so stark that they can gain a wide variety of experiences.
Oregon is primarily in the Pacific Time Zone (UTC−8 standard time, UTC−7 daylight time). However, most of Malheur County, which has stronger economic ties to southern Idaho than to Portland, is in the Mountain Time Zone (UTC−7 standard, UTC−6 daylight).
Cities
Salem — the state's capital and third-largest city, home to Willamette University, located in the middle of the Willamette Valley, one of the finest agricultural regions.
— home of the annual Oregon Shakespeare Festival and Southern Oregon University
Astoria — a historic fishing town at the mouth of the Columbia River, boasting many shipwrecks in the area, site of The Goonies
— high desert gateway with scenic vistas to several Cascade peaks
Corvallis — home to Oregon State University on the western side of the Willamette Valley
— home to the University of Oregon, the state's second largest city is known for being very socially and environmentally conscious
Hood River — nestled in the Columbia Gorge and subject to strong winds, the town is a windsurfer's haven
— centrally located on the Oregon Coast, with an aquarium and marine center, attracting those curious about the coast and sea
Portland — the state's largest city and cultural capital is one of the country's most livable urban centers and has many distinct neighborhoods. It offers a wide range of educational opportunities at Lewis & Clark College, Reed College, University of Portland, Portland State University (PSU), Oregon Health Sciences University (medical, nursing and dental school & teaching hospital), and Portland Community College (the state's largest community college).
Other destinations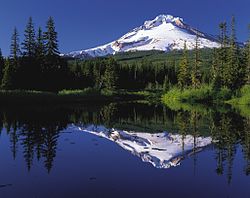 — deepest lake in the world above sea level, Oregon's only national park
— 12 park sites located on a 40-mile stretch of the Pacific coast located at the western end of the Lewis & Clark National Historic Trail
Mount Bachelor — volcano that offers skiing and snowboarding (November through May)
— A marble cave complex that has been a tourist attraction since the late 1800s.
— as the harbinger of America's westward expansion, the Oregon Trail was the pathway to the Pacific for fur traders, gold seekers, missionaries and others
Painted Hills — part of John Day Fossil Beds National Monument, 75 miles east of Bend, approximately 3132 acres, one of the most photographed areas in Oregon. Colors change as the sun moves in the sky, making an extended visit quite worthwhile. Brilliant yellow wildflowers bloom in rivers of color down the "valleys" of the hillsides in late April/early May.
— offering numerous outdoor recreation activities including hiking, sailing, and camping at Waldo Lake.
Wallowa Lake — one of Oregon's finest lakes. Beautiful scenery, camping, boating, fishing, hiking, eating, and lodging in the quiet town of Joseph.
Understand
In the mid-19th century, tens of thousands of settlers embarked on a months-long journey across plains, deserts, and mountains to reach the fertile farming land of the Willamette Valley at the end of the Oregon Trail. Traveling by foot with covered wagons, they braved heat, dusty conditions, disease, exhaustion, and starvation. As a modern-day traveler to Oregon, you will have a much easier time, taking only a few hours from most areas of the United States by plane, and in a few days at most by car. But once you set foot in Oregon, you'll start to understand what led the original explorers and settlers to endure such hardship to get there.
History
Humans have inhabited present-day Oregon since about 13,000 years ago, and by the time of European exploration in the 1500s there were many established Native American tribes. The earliest explorers came by sea to the west coast of North America in search of the Northwest Passage, and later by land, but they largely ignored many areas of present-day Oregon.
Although numerous sea expeditions explored the coast of Oregon, it wasn't until 1792 when American captain Robert Gray first entered what would become known as the Columbia River, followed soon afterward by British captain George Vancouver. By land, American explorers Meriwether Lewis and William Clark led an expedition across the Louisiana Purchase to the mouth of the Columbia, arriving at the Pacific Coast in 1805. An expedition financed by John Jacob Astor later established a fort at what is now Astoria.
From 1818 to 1846, the Oregon Country (which also included present-day Washington state and British Columbia) was jointly occupied by the US and the United Kingdom. At that time, most settlers were involved in fur trading. A group of early American settlers eventually established a provisional government in 1843 at Champoeg. As more American settlers followed the Oregon Trail and settled in the Oregon Country, a boundary dispute with the United Kingdom was settled in the Oregon Treaty of 1846, which drew the boundary line at the 49th parallel, the present-day boundary between the United States and Canada.
The Oregon Territory was organized in 1848, and Oregon became a state on February 14, 1859.
In the 1880s, the transcontinental railroads greatly helped bring Oregon's wheat and lumber to markets in the east, as well as further population growth in its cities. Industrial production began in the 1930s with the construction of the Bonneville Dam in the Columbia River Gorge.
Climate
The Cascade Range forms a dividing line between two climate zones in Oregon. Moisture from the Pacific Ocean meets a barrier at the Cascade Range, resulting in abundant rainfall in western Oregon during the fall, winter, and spring, and milder temperatures overall. East of the Cascades, however, the climate is semi-arid and much drier, with a wider range of temperatures during the year. Snow falls abundantly in the Cascade mountains during the winter.
Culture
Today, Oregon is a study in contrast and diversity. Oregon was one of the first states to give citizens the power to pass legislation via initiative and referendum. Ballot measures in the state run the gamut from very conservative to very liberal, displaying a wide variety of opinions. The Cascade mountain range forms both a geographical and cultural dividing line between west and east. West of the Cascades in the Willamette Valley, progressive opinions such as environmentalism prevail, while in eastern Oregon political thought tends to be rather conservative.
Oregon, however, has a reputation for innovation. Besides being the first state to allow initiative and referendum, it was the first state to establish a beverage container deposit law (also known as a bottle bill), the first to legalize physician-assisted suicide, one of the first to legalize medical marijuana. A measure to legalize recreational use of marijuana in Oregon was approved on November 4, 2014.
The name of the state is invariably pronounced "OR-uh-gun" by its residents. If you pronounce it "or-ee-
GONE
," most residents will reflexively correct you, as they are unable to abide this particular
faux pas
. Also, the Willamette River, the main river in Western Oregon that runs north from Eugene through Salem to Portland, is pronounced "wil-LAM-it" (damn it!), with the accent on the second syllable.
Holidays
Oregon observes all the
federal holidays
, except Columbus Day, and adds Election Day (always on a Tuesday, from November 2nd to 8th). However, there may not be an election on an odd-numbered year, and local and preliminary ("primary") elections throughout the year are
not
holidays. Also, some cities and towns that have a large population of federal workers or military personnel might observe Columbus Day anyway.
Get in

By plane
The vast majority of air travel into Oregon is done through (
PDX
), located on the north side of the city along the Columbia River. The airport has won several awards for traveler satisfaction and offers relatively quick ingress and egress due to its moderate size and lack of hub services. Quick access to ground transportation of all types is readily available. National services are provided by all major United States airlines, with direct flights available from most western airports. International service is limited with direct flights available from Vancouver, Amsterdam, and Tokyo plus seasonal flights from some resort cities in Mexico.
Flights into Oregon's other commercial airports is available from several neighboring states, but can be costly in comparison to flights into Portland. While several links are direct, many itineraries will involve a connection through Portland. Mahlon Sweet Field (EUG) is the second largest commercial airport in the state and serves the Eugene–Springfield area. Rogue Valley International–Medford Airport (MFR) in Medford is the primary access point for Southern Oregon, while Roberts Field (RDM) in the Bend–Redmond area serves the same role for Central and much of Eastern Oregon. For destinations in the far eastern portion of the state, it's usually better to fly to Boise Airport (BOI) in Idaho. Several other Oregon cities have airports capable of handling commercial traffic, including Coos Bay, Klamath Falls, Newport, Pendleton, and Salem. Service is sometimes provided by regional airlines to these destinations, but frequencies and availability are changed frequently due to the low traffic demand for these services.
Nearly all significant cities throughout the state contain a municipal airfield for general aviation, or are within a short distance of such a field. In addition several small fields exist at premier destinations such as Sunriver, allowing general aviation pilots the ability to directly fly into their chosen location. The climate of the Oregon Coast and Willamette Valley regions can lead to rapidly changeable visibility and weather, while winter weather in mountainous areas and throughout Eastern Oregon can be severe, so while there ample times suitable for VFR flight, lack of IFR capabilities may lead to scheduling problems due to unpredictable weather patterns. Several air taxi and aviation rental services are available for those without their own aircraft who wish to fly into these smaller airports.

By train

Amtrak offers several ways to enter and travel throughout Oregon by train:
The Coast Starlight, regarded by many as America's most scenic train ride, runs between Los Angeles and Seattle, with the same stops as the Cascades between Eugene and Seattle except Oregon City and Tukwila. Additional stops in Chemult & Klamath Falls before crossing into California (southbound) or arriving into Eugene (northbound).
The Empire Builder runs between Chicago and Spokane, Washington, where it then splits, with half of the train continuing to Seattle, and the other half to Portland.
The Amtrak Cascades is a special service that operates between Vancouver, British Columbia and Eugene using special high-speed Talgo rolling stock. Stops include Portland, Oregon City, Salem, Albany and Eugene.

For more information, see Amtrak's website, Wikivoyage's article "Rail travel in the United States," or the Wikipedia pages on each of these train services.

By car
Oregon has numerous roads into the state from its neighbors:

By bus

Greyhound runs several buses into Oregon:
BoltBus connects Seattle and Bellingham, Washington, and Vancouver, British Columbia with Portland, Albany, and Eugene. BoltBus is usually cheaper to ride than Greyhound or Amtrak.

Get around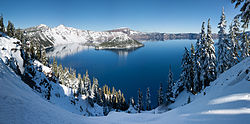 The Oregon Department of Transportation's
TripCheck
website provides up-to-date info on available transportation services in Oregon, whether it's intercity buses, trains, or local public transit. Use this handy resource to find your way around the state car-free.
Amtrak provides Thruway service to almost any destination in Oregon that is served by an intercity bus. Many trips involving a bus can be booked with Amtrak, even if your itinerary does not include a train ride. Similarly, you can book most bus trips through Greyhound, even if Greyhound doesn't operate any of the buses you ride.
By train
Amtrak
offers several ways to enter and travel throughout Oregon by train:
The Cascades connects, twice daily between Portland, Oregon City, Salem, Albany and Eugene. Additional service along this route is provided by the Cascades Point bus.
The Coast Starlight, regarded by many as America's most scenic train ride, runs between Los Angeles and Seattle, with the same stops as the Cascades between Eugene and Seattle except Oregon City and Tukwila. Additional stops in Chemult & Klamath Falls before crossing into California (southbound) or arriving into Eugene (northbound).
The Empire Builder runs between Chicago and Spokane, Washington, where it then splits, with half of the train continuing to Seattle, and the other half to Portland. The train runs parallel along the Columbia River in Washington side of river with stops in Vancouver, Wa; Bingen (across river from Hood River) and Wishram (a few miles upstream from The Dalles in the Washington side.
For more information, see Amtrak's website, Wikivoyage's article "
Rail travel in the United States
," or the Wikipedia pages on each of these train services.
By car
Road travel within Oregon is facilitated by a network of highways criss-crossing the state. Oregon does not have many freeways, with only Interstates 5 and 84 covering any significant distances beyond urban areas. With I-5 to the west and I-84 hugging the northern edge of the state, the majority of the rest of the state is connected by a mix of U.S. and Oregon Routes. While the network of these routes offer direct connections between most locations in the state, the state's geography does create some choke-points in mountainous areas, and inclement weather can delay or prevent travel through the many mountain passes. Almost without exception, both U.S. and Oregon routes in rural areas are two-lane highways with occasional passing lanes added to relieve buildups over long stretches. A few popular egress routes from the larger cities have been developed into divided highways for short distances, but this is far from the norm. Rural highways, particularly outside of the Willamette Valley, are typically not lit and have fewer reflectors and other driver's aids than most other states equip their roads with. More commonly traveled routes are being improved over time, and Oregon utilizes Safety Corridors over certain sections of its highways to promote safer driving and reduce accidents.
During winter months, Oregon's mountain highways can become snow-bound. Chains or other traction devices are required through many mountain passes during the winter, and certain passes are closed altogether. The Oregon Department of Transportation maintains various ways to update travelers on weather and construction conditions throughout the state, one of which is their
TripCheck website
. It is highly advisable that when traveling through rural Oregon to maintain an emergency kit including cold weather survival gear as several highways include long stretches between services and can be sparsely traveled at times.
Driving in Oregon offers numerous opportunities for sightseeing and a large number of highways are naturally scenic routes to travel. A wide variety of different landscapes can be found throughout the state, and roadside pullouts are provided along most for scenic viewpoints and interpretive kiosks. Full service rest areas are only found along the Interstates, but a few limited service rest areas are available on U.S. Routes.
Gasoline and electric car charging
Oregon is one of two states (
New Jersey
being the other) without self-service gas stations. Generally, only an attendant can pump gas for you. The only exception, besides in Native American reservations, is in rural counties (mostly east of the Cascades). As of January 2018, gas stations in 15 of those counties may legally allow motorists to pump their own gas at any time, while in three other counties, stations may allow overnight self-service between 6pm and 6am. Tipping your attendant is appreciated, but optional. Even without self-service, gas prices in Oregon are comparable to neighboring Washington, and about 15 percent cheaper than in California.
Gas stations are located in most towns, but many stations, especially in smaller towns, will close overnight rather than staff the station 24/7. For that reason, if an nighttime road trip will take you into Oregon from the east or the south (as opposed to the north via Portland), you may want to top off your tank before crossing the border.
Charging stations for electric vehicles are in several places in the Portland and Eugene areas and along the I-5 corridor, with further expansion of this network underway. It is possible to drive your electric vehicle from Portland all the way up to Government Camp on Mt. Hood. In and around the Portland area, many public facilities, such as libraries, have EV charging stations. Retail shopping centers are also installing chargers.
Speed limits and DUI enforcement
West of the Cascades, speed limits on freeways are typically 65 miles per hour outside of urban areas, while other highways are limited to 55 miles per hour. Beginning March 1, 2016, Interstate 84 east of The Dalles and Interstate 82 now have speed limits of 70 miles per hour, and many of the rural highways east of the Cascades now have speed limits of up to 65 mph.
Oregon has a reputation for strict speed limit enforcement
, especially in comparison to some other western states. Fines begin at $110 (2014) for exceeding the speed limit by 1 to 10 MPH and increase
very
sharply from there. Fines are doubled in school zones, designated safety corridors and construction zones. This is simply not a good jurisdiction in which to be a leadfoot.
DUI checkpoints have been held contrary to the state constitution and thus they are not performed in Oregon. Of course, this
absolutely should not
be considered an endorsement to drive intoxicated. All persons found driving over the legal limit of consumption will be arrested and charged with a crime. As in all of the United States, the legal blood alcohol content limit is 0.08% (0.02% for those under 21 years of age). If one is not legally intoxicated, one can still be cited under Oregon laws regarding driving while impaired. While Oregon is a state in good spirits with its spirits, please do not drive while intoxicated or under the influence of drugs, prescription or otherwise.
By bus
BoltBusServes Portland, Albany, and Eugene. If you're traveling to other places, you can often save money by traveling as far as you can with BoltBus and combining it with a bus or train ticket going the rest of the way. Transfers are easy in all three cities, but are not coordinated. If saving money matters more than a short layover, it's worth considering.

phone: +1 541-389-7469

Travels between Portland and Bend via Sandy, Welches, Government Camp, Warm Springs, Madras, Terrebonne, and Redmond airport. Buses may make some listed stops only by reservation.

phone: +1 503-243-2361

Greyhound travels along the interstates. On I-5, they serve Portland, Woodburn, Salem, Corvallis, Eugene, Roseburg, Grants Pass, and Medford. Along I-84, they stop in Portland, Hood River, The Dalles, Stanfield (near Hermiston), Pendleton, La Grande, Baker City, and Ontario.
Pacific Crest Bus Lines runs from Eugene to Bend, and from Eugene to Coos Bay.
Northwest Connector provides info on interconnected local public transit along the northwestern Oregon coast from Astoria to Yachats, and from the coast to the inland destinations of Corvallis/Albany, Salem, Portland and Longview/Kelso
The Oregon Department of Transportation partners with other carriers to run
Oregon POINT
(or "
P
ublic
O
regon
In
tercity
T
ransit") bus routes throughout the state. They operate the following routes:
phone: +1 541-484-4100

address: (office) 235 Cap St, Eugene

Operates the Amtrak (Cascades) Thruway route between Portland, Oregon City, Woodburn, Salem, Albany and Eugene. Buses stop at both the University of Oregon and the Amtrak station in Eugene. They only make southbound pick up stops and northbound drop off stops in Oregon City. They don't provide service just between Portland and Oregon City as that can only be done by TriMet. Tickets are available at the Amtrak ticket counters at the Portland Union Station or through independent agents, and are not sold by drivers.

phone: +1 541-382-4193

address: PO Box 7881, Bend

Travels along US Highway 20 between Bend, Burns, Ontario, and communities in between. Travelers connect to Greyhound in Ontario.

phone: +1 541-484-4100

address: (office) 235 Cap St, Eugene

Runs between Portland and Astoria via Cannon Beach. Connections to Amtrak, TriMet, and Greyhound in Portland. Tickets are available at the Amtrak ticket counters at Portland Union Station or through independent agents, and are not sold by drivers.

phone: +1 541-382-4193

address: PO Box 7881, Bend

Travels along US Highway 97 between Redmond Airport, Bend, Sunriver, La Pine, and the Chemult Amtrak Station.

phone: +1 541-883-2609

address: (office & depot) 445 S Springs St, Klamath Falls

Serves Klamath Falls, Medford, Ashland, Grants Pass, Crescent City, Brookings, and intermediate communities. Also stops at the airport in Medford. Connections to Amtrak in Klamath Falls, and to Greyhound in Medford or Grants Pass.
By bicycle
The Oregon Department of Transportation produces maps and guides for biking the
Willamette Valley
, the
Columbia Gorge
, and the
Oregon Coast
. These maps, as well as a
statewide map
, are found at
this page
. Many Oregon State Parks have separate "Hiker-Biker" campsites available for tour bikers hauling their own gear at $5 a night, especially - but by no means exclusively - on the coast; see the
Oregon State Parks
website for more details.
Oregon is the only state in the United States to have designated
Scenic Bikeways
, all of which are spectacular. The length and ease of these routes range from a short 24-mile hop on the Metolius River to a 178-mile loop tour of Eastern Oregon. These routes are generally routed along low-traffic roads (and separated paths whenever possible) and take into consideration food and lodging opportunities.
The Oregon Coast is a premier destination for cycling, although traffic, stretches with narrow shoulders, heavy winds and rains, and windy roads make it somewhat dangerous. These factors plus stark and frequent elevation changes make a border-to-border trek a ride for experienced cyclists. Nevertheless, many people cycle the entire Oregon Coast each year, largely with no more problems than a set of sore thighs. In the summer months take Highway 101 north to south starting in Astoria through Lincoln City and onto Brookings to get breathtaking views of the Pacific Ocean. The prevailing winds will be at your back all summer long. For the seasoned cyclist, head north in winter months as the winds are out of the SW at that time of year.
By foot
The
Pacific Crest National Scenic Trail
(which runs from Canada to Mexico) passes through Oregon along the Cascade Mountains. With almost no civilization along its route and very few highway crossings (four in the northern 150 miles of the trail), it is exceptional for experiencing nature while avoiding civilization.
The
Oregon Coast Trail
crosses the entire state from
Washington
to
California
, a distance of about 400 miles.
The
Oregon Desert Trail
winds 800 miles through
Eastern Oregon
's remote high desert from
Bend
to the
Idaho
border. (Status unclear)
By thumb
Along with Oklahoma, Texas and Missouri, Oregon is one of the few U.S. states that allow foot traffic on all toll-free Interstate highways (except within the Portland metro area). This makes
hitchhiking
relatively easy.
See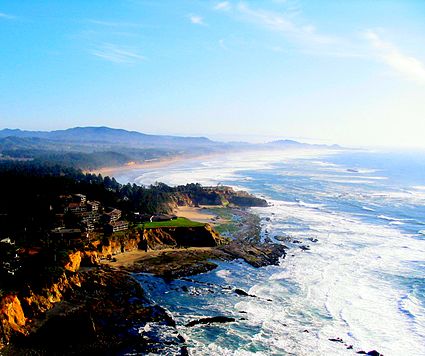 Majestic mountains: The soaring snow-covered peaks of the Cascade Range, the lush covered mounts of the Coast Range, and the rugged ranges of Eastern Oregon all provide beautiful backdrops to outdoor activities throughout the state, and hikers and drivers both can discover incredible sights as they travel the valleys and passes through the ranges.
Lush forests: Nearly every region of Oregon is home to large tracts of State and National Forest land, though each region boasts a unique mix of tree species and other flora. Several areas of protected old growth forest remain in the state.
Wildlife: Due to the large amount of habitat remaining in the state, a large number of wildlife species are able to be spotted. This includes hundreds of species of birds, both migratory and resident, that can be spotted in city parks, along beaches, and in wildlife refuges. For more exotic animals, the Oregon Zoo is home to world-class selection of animals.
Performing arts: Portland is home to vibrant theater and music scenes, catering to a variety of tastes throughout the city's neighborhoods. Additionally, several major performing arts events are held in other locations around the state from jazz festivals on the beach to the world-renowned Shakespeare festival in Ashland.
Sports: Portland hosts the state's three professional major league teams, the National Basketball Association's Portland Trail Blazers, Major League Soccer's Portland Timbers, and the National Women's Soccer League's Portland Thorns, while its minor league hockey team also draws fervent support. Corvallis, Eugene, and Portland all offer NCAA Division I sports at their respective university campuses. Professional baseball is played by the short-season class A Northwest League in Eugene, Hillsboro, and Keizer.
Rivers and wetlands: With mountainous terrain and plentiful rain and snow, several rivers network across the state, from mountain streams fed by snow-melt, through raging rapids, over waterfalls and down into placid lakes and low-lying wetlands.
Coastal beaches and rocks: The state's beaches are all public, allowing unfettered access to the shore with beautiful views of the storm-beaten coastal rock formations, free-standing rocks out to sea, and out across the Pacific to see the sunset.
Gardens and parks: Portland
Do
Take to the slopes: Mt. Hood offers year-round snow sports and some of the most extensive night-skiing facilities in the country, so there is never a bad time to take to the slopes. Arrayed on the mountain (as well as other mountains in the state) are ample opportunities for downhill and cross-country skiing, snowboarding, and snow-shoeing, as well as motorized fun on snowmobiles.
Go whitewater rafting: The Rogue River in Southern Oregon has amazing rapids and several services are available for all skill levels. Echo Trips offers trips for four days on the Class III rapids. Other rivers in Southern and Eastern Oregon offer a variety of rafting experiences as well.
Go camping: Oregon is dotted with campsites, catering to different types of camping experiences. Several are on the grounds of numerous state parks, and the most popular sites can be booked up well in advance (especially those offering more services) so it is best to book ahead. Camping offers a great way to experience the unique natural feel of each region.
Drive a dune buggy: The Oregon Dunes National Recreation Area between Florence and Coos Bay offers areas for ATV and dune buggy activities, a fast-paced way to experience one of the more unique features of the Oregon Coast. Several other places offer the chance to ride an off-road vehicle throughout the state.
Walk the beach: Since all of Oregon's beaches are public, you can walk the entire coast if so inclined. The regular storms of the Pacific Ocean deposit treasure along the Oregon shore, rewarding beach-combers with all nature of man-made and natural finds.
Rock climbing: Smith Rock is internationally recognized as a rock-climber's destination, but Oregon's terrain has several other rock-climbing locations to find.
Play at a casino: Oregon has nine Native American casinos, including Chinook Winds, Kah-Nee-Ta, Kla-Mo-Ya, and Spirit Mountain. Most contain lodging and restaurants as well.
Bike riding: The Spring Water Trail and downtown Portland are both scenic bike rides. Take advantage of the state's spectacular Scenic Bikeways.
Relax in the hot springs: Bagby Hot Springs and Breitenbush Resort are natural hot springs where you can soak.
Buy
Unlike most US states, Oregon has no sales tax. There is no tax included in posted prices and no tax is added at the till. This is worth bearing in mind if you're planning on making any large purchases during an interstate trip. Many large chain stores are located in Portland along the Columbia River. These stores attract shoppers from neighboring Washington, which has some of the nation's higher sales taxes.
Portland has several neighborhoods with unique shops, as well as a Saturday Market for local arts and crafts as well as food and music. Powell's Books is the largest new and used bookstore in the state, but there are many smaller book sellers throughout Oregon. For souvenirs, the Made in Oregon chain of shops carries a variety of products from around Oregon in locations in several shopping centers as well as the Portland International Airport. The Oregon Coast is sprinkled with antique shops and purveyors of beach finds. In April, a gigantic garage sale is held in Lincoln City with over a hundred sellers participating.

Eat
Four star dining in hiking boots and jeans? This is perfectly acceptable (as are suits and tuxedos) at Timberline Lodge's Cascade Dining Room which offers seasonal northwest cuisine year round. Excellent breakfast, lunch and dinner selections. Dinner reservations are helpful most evenings, but a necessity at holidays and nice summer weekends.
Visit one of 30 microbreweries within Portland city limits
Smoked salmon is a typically Oregonian dish that has been eaten here since pre-Columbian times
Food carts have become a popular alternative to restaurants in Oregon cities
Oregon is known for its berries, especially cranberries and marionberries (first bred in Oregon). The Oregon grape is the state flower but, while edible, it is not commonly eaten.
Hazelnuts (aka filberts)
Drink
From the coastal hamlets to the valley cities to the remote towns of the high desert, Oregonians drink, and proudly. Because of the growing wine and microbrewery industries in the state which produce drink of world-class quality, having a tipple and touring beverage facilities is a popular pastime for Oregon residents and tourists alike. It is occasionally joked that one cannot throw a cat in the city of
Portland
without hitting a bar, while most other towns of any appreciable size have at least two places in which one can imbibe. Yes, the drinking culture here is strong, and if you like to pickle your giblets then you'll be in heaven.
Oregon is an "Alcoholic Beverage Control State" and as such requires all distilled spirits to be sold by state-approved outlets. Because the liquor stores purchase their wares from the state at an inflated and heavily-taxed cost, liquor by the bottle or by the shot can run your booze bill up pretty quickly. Fortunately, Oregon has no shot size regulation (such as, say,
Utah
has) and many bars - especially in the Portland area - pour their drinks quite liberally; in fact, a literal three fingers of whiskey is not uncommon if you know the barkeep.
There are no "blue laws" concerning time of alcohol sales other than a daily 2:30-7AM restriction, so if you like "kegs and eggs" for your Sunday breakfast, Oregon's your kind of place. Also, Oregon's alcohol laws are unitary within the state and are wholly overseen by the Oregon Liquor Control Commission (OLCC), so there's no need to worry about dry towns or dry counties.
Finally, bartenders in Oregon seem to be a bit more strict about checking ID than those in many other states. This likely due to the aforementioned OLCC, which is known to be nothing short of draconian when it comes to the enforcement of laws regarding the furnishing of alcohol to minors by service workers and punishment under the same. If you look under 30 (or even 40!), hand them your ID card or passport before you order because they
will
ask for it. There is also a total indoor smoking ban in all places but cigar and hookah bars.
Beer
Oregon has a large number of regionally- and nationally-known craft microbreweries, many of which distribute outside the state. Most are happy to host guests for tastings, and many are accompanied by restaurants and gift shops.
Wine
Oregon has become renowned as an outstanding wine producing region in its own right, with a range of temperate climates that allow the production of vintages significantly different from vineyards and wineries in neighboring California. The Willamette Valley, just south of Portland, is particularly well known for its distinguished Pinot Noirs, and is well-suited to grow other Burgundian and Alsacian varietals: Gamay Noir, Pinot Meunier, Chardonnay, Pinot Gris, Pinot Blanc, Riesling and Gewürztraminer among others. A diverse arrangement of climates, though, fosters a range of other grapes throughout the state.
Oregon boasts more than 400 wineries in the state. Some of the larger, more well-known wineries and vineyards are:
Willamette Valley Vineyards, Turner (southeast of Salem)
Rex Hill, Newberg (southwest of Portland)
Valley View Vineyards, Jacksonville (southwest of Medford)
King Estate, Eugene (southwest of the city proper)
Erath Winery, Dundee (southwest of Portland)
Due to strict policing for DUI's and meandering country roads, it is strongly suggested to hire a tour guide when visiting local wineries and participating in wine tasting.
Liquor
Liquor in Oregon is sold in specifically-licensed stores (though supermarkets may still sell wine and beer).
There are several well-known distilleries:
Hood River Distillery, Hood River, specializing in traditional strong liquors such as gin, vodka, rum, and whiskey. (Their Pendleton blended whiskey is strongly recommended)
Clear Creek Distillery, Portland, specializing in liquors distilled from regional fruit produce.
Rogue Brewery has a fledgling - and tasty - distilling operation producing specialty liquors.
Sleep
The
Oregon State Parks
are among the best in the United States, being very well maintained and in beautiful locations. Accommodations range from hiker-biker tent sites to standard car camping/RV lots to cabins and yurts. While some parks have an allotment of "first-come, first serve" camping spots, booking ahead is a necessity during the summer months.
Stay safe
Crime
Oregonians are known for being exceptionally kind and welcoming people; accordingly, violent crime in Oregon is quite low and visitors are not likely to have any harm come to them during their stay.
Property crime is infrequent, but does occur. In urban areas and rural alike, mind your valuable items as you would anywhere else. Car prowling is a pervasive problem in the Willamette Valley cities (Portland, Eugene, and Salem) and forest trailheads; pay special attention in these areas.
If you are in need of emergency assistance, dial
911
on your phone.
Drugs
Recreational use of
marijuana
is legal in Oregon. Adults 21 years and older can legally carry one ounce of marijuana on their person and purchase it from licensed medical marijuana dispensaries. However, driving under the influence of marijuana remains illegal; you cannot carry marijuana across state lines (even to neighboring Washington and California, where recreational marijuana is also legal); and you cannot consume it in public places. And it's still a federal crime to keep or smoke marijuana, despite what Oregon's laws say; do not leave cannabis products out in the open on federal grounds.
As for "hard drugs," you're better off avoiding them. Due to the state's awful methamphetamine wave of the 1980s - 2000s, there is very little tolerance in this area and a number of tough laws passed in response to the epidemic will all but ensure that you will be involved with the legal system for a long time to come and at great expense. One such law in effect in Oregon goes beyond federal law,
requiring a prescription
for any medication containing
pseudoephedrine
(e.g. Sudafed). This also means that one must prove that they have a prescription to be in possession of such medications, so if one is coming from out-of-state, it is a good idea to leave it at home.
Dealing is, as one might expect, not tolerated as well and offenders can expect unpleasant ramifications in the form of a felony conviction; this is especially true within 1,000 feet of a school.
Psychoactive mushrooms grow naturally here and abundantly, but, of course, possession is illegal.
Natural hazards
Natural hazards are also few, but include mountaineering fatalities (Mt. Hood in particular).
Tsunamis
on the coast are very rare, but have occurred; make note of the
"Evacuation Route"
signs. For information on the state's hazard assessment, visit the
NOAA Center for Tsunami Research site
. Sudden
snowstorms
in the
Cascade Mountains
from October to May occur and could lead to increased
avalanche
danger. The usual perils of
desert
travel in the Southeastern part of the state could be eminent if you are unprepared, so always follow
desert survival guidelines
; and rattlesnakes, bears and other
wildlife
(particularly east of the Cascade range).
Travel hazards
If you venture out of the Willamette Valley during your stay, be sure that your automobile is well fueled and in suitable condition: while
Portland
is modern and well-populated,
Eastern Oregon
includes some of the most sparsely populated areas in the United States.
Harney County
in the Southeast region of the state, for example, is slightly smaller than
Massachusetts
but is the home to only about 7,000 people. Breaking down out there will, in best case scenarios, make for a very long and annoying day; at worst, the consequences can be tragic. In rural areas, be aware that many seemingly passable roads are truly impassable for large portions of fall, winter and spring. Apparent routes or shortcuts across mountainous areas and deserts should be validated with locals before attempting - deep snow has captured the vehicle of many a tourist or day tripper who ventured into unknown territory and pushed when they should have exercised better judgment.
This also applies to routes between the Oregon coast (US Hwy 101) and the I-5 freeway. Always plan in advance, with one alternative in case of closure. In no case should this be left to chance or your GPS. There are many potentially dangerous roads through the Coastal Mountain Ranges, especially in severe weather and for those traveling with a RV or trailer.
Finally, as the subject of the vast emptiness of Oregon has been broached, remember to always have an adequate map (Benchmark Maps makes an exceptionally good one), especially if traveling into the wilderness on foot: each year many hikers go
missing
and, sadly, some never return. Know where you are going, and make sure someone else does too.
Oregon State Police: +1 503-378-3720
Oregon State University offers a Saferide Program throughout the week.
Respect
Oregonians are
fanatically proud
of the natural beauty of their state; littering or otherwise causing harm to the scenic beauty - including wildlife - found here is bound to draw attention to you that you probably do not want, up to and including that special type which only an officer of the law can give.
That being said, keep in mind that while Portland and the rest of the Willamette Valley is very cosmopolitan and culturally similar to San Francisco and Seattle, Eastern Oregon and Southern Oregon are more akin to Idaho and Nevada; that is to say, quite conservative. Contrary to popular belief, not all Oregonians are liberal, a fact which will become abundantly clear to you on a trip to a place such as
Burns
,
La Grande
, or
Prineville
.
State issues in general tend to be divided along Willamette / non-Willamette lines (that is, large cities within the valley such as Eugene and Portland / smaller cities along the coast, around the mountains, and in the high desert), and some resentment between these groups may be uncovered. The State of Jefferson, a region of southern Oregon and northern California marked by a period of attempted secession during the first half of the 20th century, retains a very independent mindset: Jefferson Public Radio and the State of Jefferson Chamber of Commerce are two indicators of a retained degree of autonomy from this period.
Connect
Oregon has four telephone area codes. The northwestern corner of the state, including Portland and Salem, uses 503 and the overlay 971. The rest of the state, from the Corvallis/Albany area south and from the Cascades east, uses 541 and the overlay 458. Ten-digit dialing is mandatory statewide—all calls, even local calls dialed on landline phones, must be dialed using the area code (503-xxx-xxxx).
Although it's rare now, especially so in the Portland/Salem area, you might see an old sign with a seven-digit phone number, without the area code. You still must dial the area code if you want to call that number. You can very safely assume the area code is 503 if you see it in northwestern Oregon, or 541 if you're elsewhere.

Go next