Oregon Dunes National Recreation Area
Oregon Dunes National Recreation Area
is in
Oregon
of
United States
.
The
Oregon Dunes National Recreation Area
(or
NRA
) is on the
Oregon Coast
, stretching about 40 miles north from the Coos River in
North Bend
, to the Siuslaw River, in
Florence
. The NRA is part of
Siuslaw National Forest
and is administered by the United States Forest Service. The dunes adjoin Jessie M. Honeyman Memorial State Park.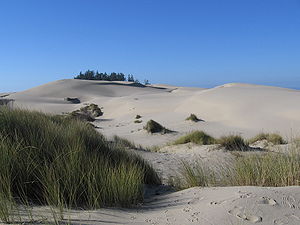 Understand
History
In 1963, Congressman Robert B. Duncan introduced a bill to establish a National Park at the Oregon Dunes. It passed the Senate Interior Committee unanimously. Senator Wayne Morse opposed provisions of the bill that would have increased environmental protections by restricting property uses.
Author Frank Herbert was inspired (in part) to write his science fiction novel Dune based on his research about the dunes of this area.

Landscape
The Oregon Dunes are a unique area of windswept sand that is the result of millions of years of wind, sun, and rain erosion on the Oregon Coast. These are the largest expanse of coastal sand dunes in North America. Some dunes tower up to 150 meters above sea level, providing many recreational opportunities.

Flora and fauna
Climate
See
South Jetty Area South Jetty area provides day use access to the beach and dunes, with separate areas for OHV use and non motorized use.
Siltcoos Area Along the Siltcoos River are traditional campgrounds and easy trails along the river and to the beach. OHV users will find developed and dispersed camping opportunities.
Oregon Dunes Day Use Miles from OHV recreation areas, the Day Use Area provides exceptional opportunities to explore the dynamic dunes.
Tahkenitch Area Within easy access of Highway 101 traditional campgrounds provide lake access for boaters and dune access for hikers only.
Umpqua Dunes Area The most impressive dunes are found and easily viewed from the access road. This area is managed primarily for OHV users; however the beach is closed to all but foot traffic. Eel Creek, separate from the OHV areas and just west of Highway 101, is a popular trailhead and campground adjacent to the area's largest and most expansive dunes.
Spinreel to Horsfall Area Predominantly used by OHVers, this is the Dunes largest and most diverse riding area. South of the access road, areas are open only to horse back riding and hiking. At the road's end beach viewing and access are available.

Do
off-road vehicle use,
photography,
fishing,
canoeing and kayaking,
horseback riding, and
The Carter Dunes Trail and Oregon Dunes Day Use provide disabled access for forest visitors.
Sleep
Lodging
Camping
The Siuslaw National Forest has close to 40 developed campgrounds. Campsites typically include a table, a fire grate, and a tent or trailer space. Electric hookups and showers are not generally available, although most campgrounds have water and vault or flush toilets.
Most overnight sites require a user fee. You may camp a maximum of 14 days out of every 30 in the forest. While the Forest Service administers all campground facilities, private businesses provide daily maintenance on most sites.

Backcountry
"Dispersed camping" is the term used for camping anywhere in the National Forest outside of a developed campground. Dispersed camping usually means no toilet facilities or treated water, no fire grates, and no picnic tables or other amenities are provided.
There are extra responsibilities and skills that are necessary for dispersed camping. By applying Leave No Trace practices, you will ensure a safe, clean and positive experience for your family and the environment.
The ODNRA offers two types of dispersed camping experiences with their own rules and regulations.

Backpacking
Dispersed camping is generally allowed anywhere except where posted closed, where overnight parking is prohibited, or within 200 feet of developed road, trail or facility such as campgrounds, picnic areas or trailheads.

OHV camping
In areas open to motorized use, camping is only allowed in designated campsites. Some areas of the Oregon Dunes NRA are open to motorized use, and there are designated sites for sand camping.

Stay safe
Follow desert survival guidelines. Be sure to take plenty of water (at least one gallon per person, per day), sunscreen and wear light clothing. Let someone know where you are going and when you expect to return.