Orenburg
Orenburg
(
Russian
: Оренб'ург, Uh-rehn-BOORK) is the capital of
Orenburg Oblast
.
Understand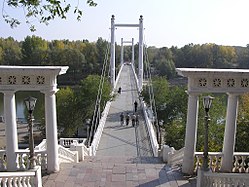 Orenburg
is a German name, not unusual since it was established in 1743 when Kurland's politicians played significant role in the Russian Empire. The city stands for
Eastern town-fort
. Somewhere around there at the foot of the Ural mountains is geographical border between Europe and Asia. Every citizen will point you the sign at the bridge across the Ural river landmarking this division. Orenburg has a sizable Turkic population which gives to the city a bit of southern colourite.
Get in
See
The remnants of the old fort and its gate constructed in 1743 should be seen first.
Museums
Museum of city's history. The gothic building with tower and clock.
Museum of regional studies.
Museum of Rostropovich family.
Museum-flat of the first cosmanaut Yuri Gagarin and his family.
Museum "Memory House".
Temples
St. Nikolay Cathedral.
Mosque "Karavan Sarai". Built in 1836-42 by the project of Alexander Brullov.
Orthodox Church of Sergiy of Radonezh.
Other
National village - collection of traditional houses in styles of local peoples: Russian, Tatar, German, Kazakh, Bashkir, Ukrainian,Chuvash, Armenian and Belorussian.
Central exposition hall of the Union of Artists.
Zauralnaya roscha. (Ural woods)- the forest-park in the city limits.
Buy
Orenburg is famous for its shawls, known as Orenburg shawls/scarves or wedding ring shawls.
Mall Armada at 1, Shalykskoye shosse.
Eat
X.O. Restaurant

address: 29Б Salmyshskaya st

Fusion: European, Mexican and Russian food
For desert try Chak-chak - Bashkir and Tatar sweets.
Fast food
McDonalds

address: 5/1 Tereshkovoy st. and 6/1 Rodimtseva st.
Drink
Local beer and kvas Gofman'
Bars
Piramida

phone: +7 3532 60-20-90

address: 10 Gaya st.

Charly

phone: +7 3532 75-32-02

address: 118, Pobedy st.
Sleep