Orlando International Airport
Orlando International Airport
(
MCO
) is the primary airport serving the Orlando metro area. It is the second-busiest airport in the state of Florida, and the largest airport serving Central Florida.
The Orlando area is the most popular travel destination in the United States, with over 50 million visitors every year. As a result, Orlando International Airport serves a large number of destinations nationwide, including almost every large and medium-sized city east of the Mississippi River and several major hubs in the Western United States. International flights are limited, unless flying to Canada or the U.K. International connections are made by flying through an airline's hub or by connecting (or driving about 3½ hours) to Miami International Airport—which ranks second in the U.S. by international passenger traffic with its extensive connections within the Americas and to Europe.

Understand
The airport is southeast of downtown but is conveniently located close to the region's attractions.
The airfield was established in 1942 as Orlando Army Airfield #2, a supplement to operations at Orlando Army Air Base (originally Orlando Municipal Airport, now Orlando Executive Airport). It was renamed Pinecastle Army Airfield a year later. After the end of World War II, it was transferred to the city of Orlando, but with the advent of the Korean War, the Air Force retook possession in 1951 and named it Pinecastle Air Force Base. In 1959, the base was renamed
McCoy Air Force Base
in honor of Colonel Michael N. W. McCoy, the commander of the base's B-47 bomber fleet, who was killed in a crash the year prior.
In 1962, with passenger flights to Orlando exceeding what Orlando Herndon Airport (now Orlando Executive) could handle (both in passenger volume and aircraft size), the Air Force agreed to share the McCoy airfield (and its longer runways) with the city of Orlando.
Orlando–McCoy Jetport
opened in 1964, its terminal a converted missile barn. With the ORL airport code assigned to Orlando Herndon, the new Jetport was given the code
MCO
, for McCoy. The opening of
Walt Disney World
in 1971 brought enormously increased traffic, and the civil facilities were greatly expanded in response.
With the end of the Vietnam War, McCoy AFB was among dozens slated for closure. The airfield was transferred back to the city in 1975, and in 1976 the Orlando–McCoy Jetport became
Orlando International Airport
. The U.S. Navy took over some of the military facilities for a Naval Training Center, which remained active until 1999. Today, the only military presence remaining on the grounds of the old base is an Armed Forces Reserve Center, a Florida Army National Guard armory, and a Navy Exchange retail store serving the area's large number of retired military personnel.
Orlando International's massive main terminal opened in 1981, with the original Jetport terminal going through several subsequent tenants before being demolished in 2006.
Flights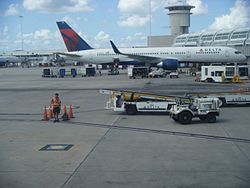 Orlando International Airport is a focus city (or minor hub) for Frontier Airlines (serving about 10-12 cities), JetBlue Airways (20-25 cities), & Southwest Airlines (40-45 cities), all of which fly numerous routes to/from Orlando. MCO regularly sees Boeing 747s from Virgin, British Airways, & Lufthansa; however, and despite being one of the first prepared to handle it, there has yet to be an A380 seen on routes to/from MCO.
Departures
Orlando has a clever hub-and-spoke layout that's quite easy to navigate. One large building houses all of the landside functions (ticketing, baggage claim, etc.). Signage divides it into
Terminal A
and
Terminal B
, with the dozens of airlines spread evenly between them. Broadly speaking, the larger mainline carriers — American, Delta, and United — are on the B-Side with a few others, while most low-cost and international carriers are on the A-Side. In any case, check signs to find your airline's ticketing and gates. All ticketing is on
Level 3
, but major U.S. airlines also have check-in on
Parking Level R-1
.
In between the terminals are two separate security checkpoints, depending on which gate you're going to. One leads to gates 1–59, the other to gates 70–129. Security lines can become extremely long (1 hr), especially during the summer tourist season and near holidays. Combined with long check-in lines, it is advisable to arrive 2-3 hours before your scheduled departure.
Arrivals
Baggage claim for most airlines is on
Level 2
, except for the airlines, Emirates and Virgin whose baggage claim is on
Level 1
.
If you are arriving via an international flight, and are a member of CBP's
Global Entry
program, take note that the kiosks are different than at every other airport. Orlando is the pilot location for the new facial recognition-based re-entry kiosks. Instead of scanning your passport and taking fingerprints, you'll simply line your face up to the camera on the kiosk and press the button to take a photo. It will then print out the receipt with your information like normal, but with your picture also on it.
Ground transportation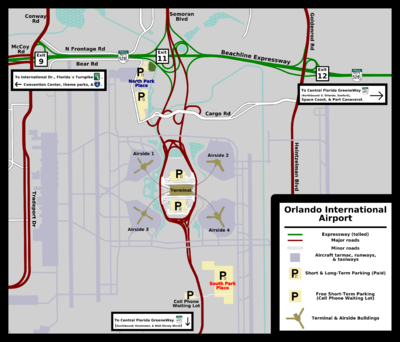 Level 1
is the Ground Transportation level, where rental car offices are located inside and public buses, airport shuttles, and taxis are accessed outside.
By car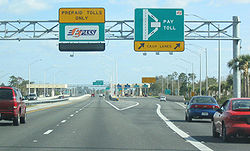 Orlando International Airport is sandwiched between two tolled expressways (motorways), with easy access to several major roads crossing the Orlando metro area. The airport is conveniently located within the Orlando metro area and without traffic congestion, it should take no more than 30 minutes to reach most of Orlando and the Kissimmee/Disney World area. Cities & towns on the northern side of the Orlando metro are, such as
Sanford
, should take no longer than 45 minutes to reach (again,
without
traffic congestion). The cities and beaches of the
Space Coast
,
Daytona Beach
, and
Polk County
are 45-90 minutes from the airport. Further away,
Tampa
,
St. Petersburg
,
Ocala
,
Gainesville
,
Vero Beach
, &
Fort Pierce
are 1½-2 hours away.
The main airport terminal and parking structures are surrounded by a circular drive, which has numerous off-ramps (off both the left & right) leading to the various parking structures and to connecting roads. This can be confusing/disorienting for some drivers, especially foreign drivers leaving the airport in rental vehicles and unfamiliar with the area, road system, and the vehicle they are driving. Be especially alert to signage and it is better to circle the terminal than swerve across multiple lanes of traffic and risk having an accident.
The
Beachline Expressway
(also
State Road 528
) runs along the northern edge of the airport and runs west to Interstate 4 (the primary north-south artery through the Orlando metropolitan area) and runs east to the beaches of the
Space Coast
, which includes towns such as
Cocoa Beach
,
Titusville
, &
Melbourne
.
The
Central Florida GreeneWay
(also
State Road 417
) forms a half-loop around the eastern side of the Orlando metro area, beginning at Interstate 4 near
Kissimmee
/
Walt Disney World
and running north to Interstate 4 near
Sanford
. It passes a couple miles south of the airport and is reached via Boggy Creek Rd. State Road 417 is the fastest way to reach Kissimmee, Walt Disney World, and Polk County (via I-4). If using S.R. 417 to travel north to eastern suburbs of Orlando or to Sanford or Daytona Beach (via I-4), take the Beachline Expressway east to reach the GreeneWay.
At the airport, you can drop off departing passengers on
Level 3
, and pick up arriving passengers on the baggage claim level,
Level 2
.
Parking
There are large parking garages flanking the north and south sides of the terminal building, signed as
"A Garage"
and
"B Garage"
corresponding to the neighboring terminal. Rates are $19/day. To access the main terminal from the "A Garage" or "B Garage", take the elevator to the lowest level, the
Pedestrian Tunnel
, walk through the tunnel (or ride the moving sidewalk), then take the long escalators to Levels 2 or 3 or use the elevators to access all levels of the main terminal building.
While most people search for parking spaces on the lower levels of the A or B Garage, continue up to Level 4 to access the
Terminal Top
parking garage (Levels 4-10), which permits both short & long-term parking. The benefit of driving up to these levels is that the Terminal Top parking structure is located directly above the main terminal building and the elevators in this parking structure travel directly down to ticketing & baggage claim areas of the main terminal building.
C Garage
is located 1 mile south of the airport, and is slightly cheaper than A and B Garage at $17/day. A tram connects the garage to the terminal.
Cheaper still are the
North
and
South Park Place economy lots
, at $10/day. (However, if you're parking for no more than 1 hour, the garages are a better deal.) Shuttles connect to the terminal every 10 minutes.
By rental car
Orlando is the "rental car capital of the world" and, as can be expected, there are many
car rental agencies
offering a large number and wide range of vehicles for rental. These agencies have desks on the first level of the main terminal, on both A and B sides. Additionally, there are numerous car rental agencies located off-site which provide free airport transfers from their location and may offer lower prices (See
OIA website
).
Beware:
Several gas stations near the airport prey on visitors topping off the tanks of rental cars by charging extraordinarily high prices ($2-3/gallon above local prices)! The practice has made national news and local ordinances require all stations to conspicuously display their prices on road-side displays. Nonetheless, there are still many unsuspecting visitors who are shocked to pull up to a gas pump with regular unleaded gas for $6.50/gallon, when stations 2-3 miles away are charging just $3.50!
By bus
Public transportation in the Orlando area is provided by
Lynx
(+1 407-841-5969) bus system. Lynx buses can be found on the Ground Transportation Level (Level 1) of the Main Terminal's "A" side at Commercial Lane spaces A38-A41. Fares are $2/ride with free transfers within 90 minutes. Day passes are $4.50 and a 7-day pass costs $16. Discounted fares for Youth/Elderly requires riders to present a Lynx-issued ID, available only by applying at the Central Station Terminal with a 5-7 day turnaround and therefore not viable for short-term visitors. Routes (known as
links
) from the airport are:
By shuttle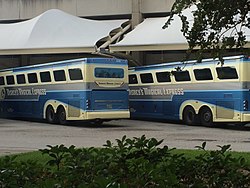 Almost every medium to high priced hotel in the city offers
airport transfers
. Additionally, there are several
shuttle services
options that run from the airport to various points, including Kissimmee, theme parks, University of Central Florida, and the cruise port at
Port Canaveral
. Approximate rates for shuttle vans range from $18-26 depending on your destination (see
OIA website
for details on local transport). You may wish to contact your hotel or cruise line (if leaving from Port Canaveral) to inquire about discounts on certain shuttles or possibly free airport transfers.
phone: +1 407-939-6244

Complimentary shuttle and luggage delivery service available only for guests staying at a Walt Disney World Resort hotel, operated by Mears Transportation. Advance reservations are required.

phone: +1 407-423-5566

Provides shuttle service from Orlando International to many hotels in and around the region, including those in the Disney area that are not served by Magical Express.

InterPlex Transportation - OrlandoProvides limousine and car services from Orlando International Airport.
Out-of-town shuttles
provide service to destinations within about 1-2 hours' drive. These shuttles are prohibited from serving Orange, Seminole, and northern Osceola counties. A full, up-to-date list of these may be found on the
OIA website
.
By taxi
Taxi cabs/vans
may carry up to 9 passengers/luggage and may be found on the Ground Transportation Level (Level 1) of both the "A" and "B" sides of the Main Terminal. Rates are determined by a taximeter, regardless of the number of passengers, and flat fares are prohibited. Approximate taxi fares from airport to popular destinations may be found in the
OIA website
.
Mears Transportation Groupdominates taxi service in Orlando and operates different brands (Yellow Cab Company, Checker Cab Company, and City Cab Company) with identical rates.
Taxi Cab companies at the airport include:
Ace Metro/Luxury Cab

phone: +1 407 855-1111

Diamond Cab Company

phone: +1 407 523-3333

Quick Cab

phone: +1 407 447-1444

Star Taxi

phone: +1 407 857-9999

Town & Country Transport

phone: +1 407 828-3035

Yellow/City Cab

phone: +1 407 422-2222
Ride-hailing services, like Uber and Lyft, may be hailed anywhere in Orlando for drop off at MCO. However, only the high-end ride-hailing services such as Select XL and Uber Black can pick up passengers at MCO at the Express Pickup Tunnel on Level 1 next to the rental car counters, which probably translates to a rate comparable to or higher than the regular taxi services at MCO.
Get around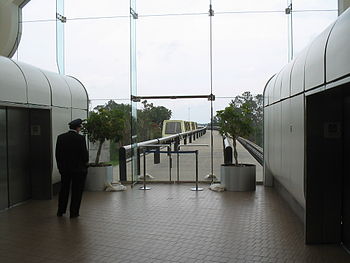 Orlando International is structured into two components, landside and airside. There is a central landside terminal (one building divided into Terminals "A" and "B"), containing airline counters, baggage claim, rental agencies, numerous shops, and a hotel. This central terminal is connected via trams to four airside terminals, known as Airside 1-4, with the airplane gates. There are plenty of shops and restaurants in both the central terminal and the airsides.
Main terminal
The main terminal consists of one large, rectangular structure which has been divided (by signage, not physically) roughly into thirds across the shorter side into two "terminals"—Terminal A & Terminal B—separated by a central concourse with shops, a food court, and two atriums on the ends where security checkpoints and connections to the airside trams are located.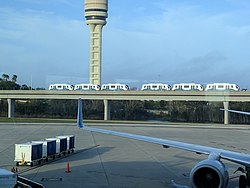 The four Airside terminals are connected to the main landside terminal by automated tram systems called the Automated People Mover (APM).
Wait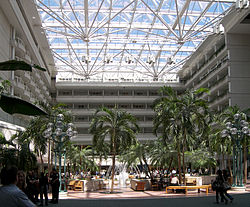 Lounges
phone: +1 407-825-4747

phone: +1 407-825-7853
Spas
Aircraft spotting
Aircraft spotting is permitted, however spotters must first visit the Public Affairs office (located on the 3rd level of the Main Terminal to the left of the security checkpoint for gates 60-129) to complete a "use of facilities" form and present a valid photo ID. Level 9 of the terminal top parking garage provides panoramic views of most of the airport as well as great views of downtown Orlando.
Eat and drink

If you're departing from the airport and have plenty of time, you may want to grab a meal before going through security. It's risky if you're on a tight schedule, but the landside main terminal has by far the widest variety of restaurants. Take a peek at the security lines; if they're long, better get in line and then see if you have time to eat airside.
If you're flying into the airport, the options in the landside main terminal are the most convenient, because you can pick up your luggage on level 2, then return to level 3 to eat.
The options in each airside terminal are much more limited, and vary widely among them.
As long as you're happy with American chain restaurants, you'll find the selection at Orlando to be pretty good. If you want food that's a little more inspired, the list will be a lot shorter. The hotel restaurants Hemisphere and McCoy's are your best bets in the main terminal. While not as gourmet, each of the Airsides has at least one unique restaurant that may tickle your fancy.

Main terminal
All of the restaurants in the landside main terminal are on the mall-like Level 3, where security and the ticket agents are. There's a good-sized food court right smack in the middle of the level featuring the usual American mall fare: Chick-fil-A, Firehouse Subs, McDonald's, Moe's Southwest Grill, Nathan's Hot Dogs, Panda Express, Sbarro's, and Starbucks, along with Auntie Anne's, Carvel and Cinnabon for sweets.
If you have more time, there are a couple of options for a more substantial meal:
The Hyatt Regency hotel also has two full-service restaurants, located within the hotel on the east side of the landside main terminal (to Airside 2 & 4, Gates 60-129):

Airside 1 (Gates 1-29)
Airside 2 (Gates 100-129)
Airside 3 (Gates 30-59)
Airside 4 (Gates 60-99)
Buy

Just in case you couldn't find that perfect souvenir before your last day in Florida, Orlando International has you covered. Level 3 of the main (landside) terminal is essentially a small shopping mall, complete with food court. Most notably, there's a Universal Orlando gift shop, and not one but two Disney shops. The other retailers are about what you'd find in just about any mall back home. One shop you might not have at home is Del Sol, where the stock in trade is apparel (mainly T-shirts, but also flip-flops and sunglasses) that changes color in sunlight; the effect is fun to see even if you don't buy anything.
The airside terminals vary greatly in their retail offerings. The newer ones, 2 and 4 (gates 60–129), have a wide variety of shops that go well beyond the usual books, magazines, and trinkets. The older ones, 1 and 3 (gates 1-59), have much more limited shopping options.
Airside Terminals 1 and 4, the only terminals with customs facilities, have duty-free shops.

Connect

MCO offers free WiFi throughout the airport. If your device runs out of juice, there are charging stations located in each wing of the airside terminals. If you don't have a device at all, you can also make use of Internet kiosks available in both the landside and airside terminals. Cellular and PCS wireless service is available from all the major providers.

Sleep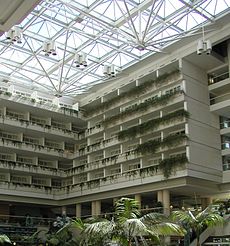 Hyatt Regency Orlando International Airport

phone: +1 407-825-1234

address: 9300 Jeff Fuqua Blvd.

The hotel is inside the main (landside) terminal's East Hall (to Airside 2 & 4, Gates 60-129), between the A-Side and the B-Side. The hotel and its restaurants are outside the secured area of the airport and so may be accessed by both travelers and non-travelers.
Nearby
Kennedy Space Center Visitor's Complex