Orvieto
Orvieto
is a city in
Umbria
. Designed to be impregnable, it was founded by the Etruscans on the top of a steep hill made of tufa, a volcanic ash stone.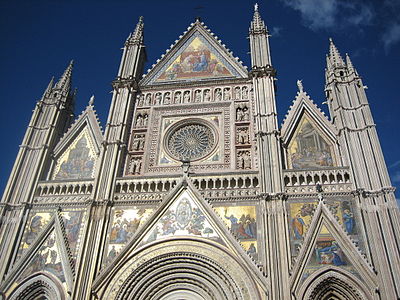 Get in
By car
Orvieto is on the A1 autostrada that runs from
Milan
to
Rome
via
Florence
. After exiting the autostrada, a steep road winds its way up to the town. The approach to the town is one of the most glorious things about visiting Orvieto. Free parking is available at the railway station (take the funicular railway up to town) and on Via Roma if you eat at a restaurant in the centro storico (ask for a voucher at the restaurant).
By bus
The bus station is at Piazza Cahen on the Eastern edge of the town. Public buses, taxis, or a quick walk will get you into the town itself. Frequent buses run to and from
Rome
(2 hrs),
Viterbo
,
Bolsena
,
Perugia
(1 hr), and
Todi
(2 hrs). Bus A connects Piazza Cahen to the Piazza del Duomo and Bus B to the Piazza della Repubblica.
By train
The Orvieto train station is at the base of the hill at Orvieto Scalo and there are several daily trains to
Florence
,
Chiusi
, and
Rome
. The station is small and it is easy to find a taxi or a public bus up to the town. The funicular terminus is just outside the station if you want the spectacular ride up!
Get around
A funicular railway runs from the railway station to Piazza Cahen and is an easy and spectacular way of getting into town. The town itself is small and walking the entire length of the town is easy. Frequent public buses run through the town and taxis are also available.
Useful bus routes:
Bus 1: Railway Station to Piazza della Repubblica.
Bus A: Piazza Cahen to Piazza del Duomo.
Bus B: Piazza Cahen to Piazza della Repubblica.
Bicycles are available for rent at
Testa Renato
on the Via Montmarte and at
Ciclo e Trekking Natura e Avventura
on via Montenibbio near the station.
See
"Luca Signorelli and Orvieto"
"When Luca Signorelli was given the contract for the frescoes at the Orvieto Duomo, he added a stipulation that he should be given all the wine (from Orvieto) that he could drink! Whether it was the wine or his talent, his Last Judgment at the cathedral is a masterpiece. Credited with being among the first to introduce anatomically correct nudes, this series is considered to have provided the inspiration for the more famous
Last Judgment
of Michelangelo in the Sistine Chapel."
Tourist informationIs available from the tourist office at the Piazza del Duomo (M-F 8:15-1:50, 4-7;Sat 10-1, 4-7; Sun and holidays 10-12, 4-6).

Duomo The wonderful Duomo of Orvieto is the main 'must-see' sight in this town. Constructed in the 13th and 14th centuries, the black and white striped building is in mixed Romanesque and Gothic styles. The setting, on the Orvieto hill and visible from miles away in the Umbrian countryside, doesn't hurt either. But, impressive as the cathedral is, the piece de resistance is inside, the frescoes of Luca Signorelli on the theme of the Last Judgment inside the Capella di San Brizio.
Pozzo di San Patrizio
Pozzo della Cava
Medieval Quarter
Palazzo Buzi
San Giacomo Maggiore
Madonna della Cava
Musei Archeologici Claudio Faina e Civico
Museo dell'Opera del Duomo and Museo Emilio Greco
Museo Archeologico
Underground Orvieto
Piazza del Popolo and Corso Cavour
Palazzo del Popolo
Museo delle Ceramiche Medioevale
San Giovanni
San Giovenale
Sant'Agostino
Sant'Andrea
Porta Maggiore
San Lorenzo de Arari
San Francesco
The citadel
Tempio del Belvedere (Etruscan temple)
The walled city in general is also lovely to walk around.
To see: Piazza del Popolo, Saint Patrick's well, La Cava well (etruscan), Corso Cavour (with its shop and restaurants), the Medieval quarter, Saint Giovenale, Saint Giovanni and Saint Francesco churches, Albornoz rock and the surrounding promenade of the downtown.
Do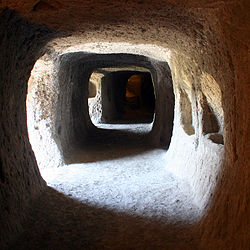 phone: +39 0763-342-373

address: Via della Cava, 28

address: Piazza Duomo, 23
Buy

Orvieto has long been and still is a center of artisanal pottery. You will find many shops near the Duomo, often with competitive prices. Also, the town is filled with several enotecas that feature Orvieto Classico — the white wine named after the city. You can get a bottle of good Classico for €3.

Eat
The gelato in piazza del Duomo is the best.
Budget
Pizzeria Charlie's
- Corso Cavour. Some of the best pizza you will eat in all of Italy. A varied menu, wines, on tap beers, etc. Open for dinner at 7PM. Pizza prices range from 5-7 euros. Delicious.
Pasqueletti's
- Gelateria, (Next to Duomo, and on the corner of Corso Cavour and Via Duomo) fresh gelato, open from mid day until 12:30PM. 2-3.5 euro for a cone/cup. They will let you put up to three flavors on one order. (It's a chain-there is also another Pasqueletti's on Via Corso Cavour near to Via Duomo, a much smaller store though.)
Mid-range
L'Asino d'Oro

address: Vicolo del Popolo

Orvieto's sole chef inspired restaurant with a menu that changes daily but stresses the boar and truffles that the area is famous for. The chef, Lucio Sforza, does the rounds and the setting is quiet with most tables outside in the patio. Closed in winter.

Maurizio

phone: +39 0763-341114

address: Via Duomo

Umbrian food. Typical great dishes, great wines at reasonable prices.

Ristorante dell'Ancora

address: Via di Piazza del Popolo 5-11

The owner is local and his name is Carlo, his wife silvna owns a shop in the town as well. Tiramisu is exceptionally delicious. Eat on the outside candle lit terrace surrounded by lush green vines for a more romantic experience
Splurge
Etrusca

address: Via Lorenzo Maitani 10

Traditional food in a fifteenth century building.

address: Corso Cavour, 231
Drink
Orvieto Classico Amabile white wine. There is a little shop with yellow awnings that sells meats and cheeses and wines on Via Duomo that has a nice array of Orvieto wines. An old married couple, Vera and Giovanni, work there. They will be happy to assist you in picking out the perfect "vino", depending upon what food you will be drinking it with.
address: Piazza Duomo, 2

A nice place to have a glass of wine and traditional processed meats and cheeses from the Umbrian region. But what makes this place really interesting is the opportunity to visit the cellars cut into tufo rock and dating back to the 13th Century. The walls (and bottles!) are covered by a white mold.

Blu BarLocal hangout, amicable bartenders, and wi-fi internet access.

Caffe Corso

address: On the main street, Via Corso Cavour

Free Wi-fi access, nice little place to sit and get on the internet, very friendly staff, quick snacks and drinks. Open late, usually till midnight.
Sleep
Orvieto gets inundated with tourists every day. So the best time to enjoy it is before the tourists arrive, which means you have to stay there. The Piazza del Duomo (cathedral square) worth visiting when there is no one else about.
Mid-range
phone: +39 0763 341887, +39 0763 393849

address: Vicolo di Maurizio

18 rooms in an ideal location.
Splurge
phone: +39 0763-616727

address: Localita' San Faustino, 24

In Umbria, just a few kilometers from Orvieto among the charming hills, Griffin's Resort is an exclusive, quaint hotel with a gourmet restaurant.

phone: +39 0763-342011

address: Via Lorenzo Maitani, 5

Arguably Orvieto's top hotel, in an ideal location for enjoying the town before the crowds arrive.
Apartments
phone: +39 0763-341821
address: via Angelo da Orvieto. 12
This is 250m from Duomo.
Agriturismo (Holiday Farms)
Go next