Osaka (prefecture)
Osaka Prefecture
(大阪府
Ōsaka-fu
) is in the
Kansai
region of
Japan
.
Cities
- the city that gives the prefecture its name
- known for the Nintoku-ryō Tumulus, a giant ancient tomb
- North eastern suburban city
- Northwestern suburban city
- Northeastern suburban city; headquarters of Panasonic
- Suburban city that lies in the north end of Osaka basin
- Northern suburban city whose part of it comprises a part of the large "new town" of Senri
- Northeastern suburban city in Osaka Prefecture
- Northern suburban city whose part of it comprises a part of the large "new town" of Senri
Other destinations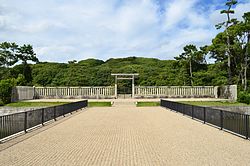 Get in
See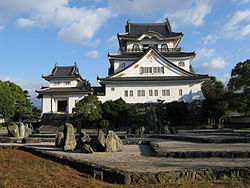 Enter Osaka Castle, a reconstruction of Toyotomi Hideyoshi's castle (Osaka)
Pay homage at the Nintoku Tombs, the largest burial mounds in the nation (Sakai and the southern part of the prefecture). There are a huge number of them, and 45 have been listed as a world heritage site by the name Mozu-Furuichi Kofun Group: Mounded Tombs of Ancient Japan
Marvel at the Tower of the Sun in Expo Park (Suita)
Escape the city with a stroll to Minoh Falls (Minoh)
Enjoy the exhibits at the National Art Museum (Osaka)
Learn more about one of the inventors of the tea ceremony, Sen no Rikyu in his hometown and visit Nanshuji Temple where he studied (Sakai)
Wander the historic area in Tondabayashi
Visit the largest Yayoi culture museum and Yayoi village in the country (Izumi)
Stare in awe at the tiger shark and other fish at the Kaiyukan Aquarium (Osaka)
Learn
There are a number of Japanese language schools in and around Osaka. Included among these are Japanese language programs offered by the YMCA and the YWCA.
Osaka has many universities, although its schools generally have less of an international reputation than those in Tokyo. Note that universities in Kyoto and Kobe are also close to Osaka.
Kansai Foreign Language University (関西外国語大学 Kansai Gaikokugo Daigaku), better known as Kansai Gaidai, is located in Hirakata City, east of Osaka City and has exchange programs with a number of universities overseas.
Kansai University (関西大学 Kansai Daigaku) has its main campuses in Suita City and Takatsuki City, in northern Osaka Prefecture.
Osaka University (大阪大学 Osaka Daigaku) is the city's most prestigious university, dating back to the formation of the national university system in the late 1800s. It has two campuses in Suita and Toyonaka cities, north of Umeda.
Kinki University (近畿大学 Kinki Daigaku) also being called `Kindai` is the biggest University at Kinki area. Located at Higashi Osaka-shi, North-east of Osaka.
Eat
Takoyaki (Octopus balls) is a popular food in the Kansai area. The most famous specialty of Osaka.
Okonomiyaki
Ikayaki
Kitsune Udon
Osaka Sushi