Osh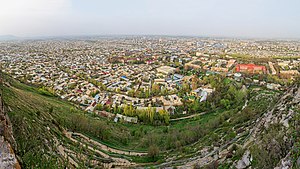 Osh
is a city in the
Ferghana Valley
of
Kyrgyzstan
.
Understand
Osh (
Kyrgyz
: Ош) is the second largest city in Kyrgyzstan. It's in the south of the country and often referred to as the "capital of the south". Osh is a lively place, with the largest and most crowded outdoor market in all of Central Asia, now called the Great Silk Road Bazar. The city is at least 3,000 years old and has served as the administrative center of Osh Province since 1939. The city has an ethnically mixed population of about 255,800, comprising 46% Uzbeks and only 43% Kyrgyz and other smaller ethnic groups. On the whole it is much more Islamic than other parts of Kyrgyzstan
Get in
By plane
Getting there/away: A taxi to the city centre costs around 250-400 som. A Yandex.Taxi is about 170 som. Marshrutka 107 takes 25 min to Jayma Bazaar, it then continues towards the centre parallel to Prospektesi Lenina.
The following airlines operate at the airport:
By bus or marshrutka
From China
There are two weekly sleeper buses (Monday and Friday) from
Kashgar
in China leaving at 10:00 (Beijing time) and the trip takes about 18 hr. The price is ¥470 and the buses depart from Kashgar international bus station. As the road through Irkeshtam is at high altitude, remember to take warm clothes to the bus even during summer. Sit on the left for better views.
By shared taxi
From Tajikistan
Get around

Taxis are cheap, a ride from the city to the airport is about 300 som.

See
The city has several monuments, including one to the southern Kyrgyz "queen" Kurmanjan Datka and one of the few remaining statues of Vladimir Lenin. A Russian Orthodox church, reopened after the demise of the Soviet Union, the largest mosque in the country (beside the bazaar), and the 16th-century Rabat Abdul Khan Mosque can be found here.
Sulayman MountainA mountain looming over the city full of ancient sites of worship, some still in use, dating back several millennia. It is considered the most complete example of a Central Asian sacred mountain, and accordingly has been inscribed as a UNESCO World Heritage Site. It's also just a good place to have a hike and take in the views. A cave in the mountain is the site of a museum containing a collection of archaeological, geological and historical finds and information about local flora and fauna.

Lenin StatueOne of the last Lenin statues remaining in Central Asia.

North of the bazaar there is a park with carnival games and amusements for children
Buy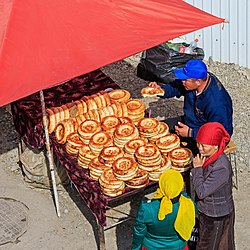 The BazarOne of the largest market/bazar in Central Asia with plenty of different things for sale. If you are planning to buy souvenirs, do that here. And do not forget to negotiate. It is open daily, most dynamic on Sundays, partly closed on Mondays.
Eat
Nirvana RestaurantShort taxi ride outside of city center; European and local cuisine; good shashlyk, steak, chicken and beef burritos. Indoor and outdoor dining areas, with toys for kiddies. Good service, clean. They brew their own beer, the vats are visible from the dining room in a large area next door.

The bazaar has a range of cheap local food

Kafe "Zhyz-Byz"

phone: +996 777 557 939

address: 226 Kurmanjan-Datka St., Osh

Very good range of local food. Two mains with drinks, around 450 som. Menu in English. Pleasant decor.
Drink
Alcohol is perhaps more elusive in Osh than in the capital, but there are nonetheless a few good bars in the city. The national beer is "Arpa", and really quite good, even by international standards. 80 som for a pint is fairly standard.
Chu-TalA large open-air (but sheltered for bad weather) 'beer cafe' and restaurant with a nice atmosphere and a good selection of drinks. Beers cost 70-100 som for a pint, food from 100-400. Traditional 'tabchans' and western seating available. Menu is only in Russian but there are pictures so ordering is painless.
Sleep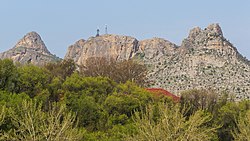 Bayana Guest House

phone: +996 555 434 360

address: Prospekt Lenina 286

Cost of twin room (not per person) with private facilities - 1,400 som, including breakfast served in a lovely garden (August 2018). With TV, fridge & A/C. Plus terrace. In the centre on Prospekt Lenina.

phone: +996772345546

address: Kurmanjan-Datka street 262/5

5-minute walk from bazaar on Kurmanjan-Datka street 262/5 (difficult to see this; directly across from 3-story Yurt) in a predominantly business and university district of the city (great location). It has one 4-bed dorm. WiFi, self-service kitchen, laundry service are available. Western toilet is kept clean. Shower has a water heater, though you have to wait around half an hour till it gets hot. Owner Meri is helpful and lovely, and though she has hearing disability you can easily discuss by writing or Speech-to-Text software. Call ahead.

Osh Guesthouse

address: 3rd entrance, apt. 48

Nice and well established but a little shabby, split across a house and nearby flat. There are three 4-bed dorms, a double room and two kitchens. Only three shared bathrooms so you might have to wait a while to get your morning shower. Laundry service (for 70 som/kg), free Wi-Fi, English and German are spoken. Many rooms have issues with cockroaches and mold, unfortunately. Alcohol and pork are banned, even storing it.

phone: +996 3222 7 56 14

address: 1, Bayalinov

A big former Soviet hotel with partly renovated rooms, but also budget options in old-fashioned twin rooms (from €19 per room). The staff speak English and there is a nice pool and bar. Wi-Fi is available in the rooms. Check the latest offers online.

Stari Gorad HotelNo dorm. Clean place, only private bathrooms, kitchen available. A nice woman runs the place. She speaks English.

phone: + 996 (3222) 21548

address: Say Boyu street #5

10 rooms, but also a sheltered camping area where the long distance cyclists like to stay. Her you can hear interesting stories. English speaking staff.
Go next