Oshawa
Oshawa
is a city of 160,000 people (2016) in southern
Ontario
, 50 km east of
Toronto
.
Understand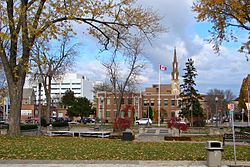 The name Oshawa originates from the Ojibwa term aazhaway, meaning "the crossing place" or just "(a)cross".
While Oshawa is rapidly becoming merely the eastern edge of Toronto's sprawling surrounding urban area, it was long best known for
manufacturing
motorcars
. Col. Sam McLaughlin established the McLaughlin Motor Car Company Limited in 1907 as the successor to his father's McLaughlin Carriage Company. He became director and vice president of General Motors Corporation in 1916; the Oshawa factory became General Motors Canada in 1918. The last Oshawa-built Chevrolet Impala, Cadillac XTS, Chevrolet Silverado and GMC Sierra vehicles will hit the road in 2019, ending a 112-year history which inspired Oshawa's former mottos "The City that Motovates Canada" and "The City in Motion".
Today, Oshawa is an education and health sciences hub. The city is home to three post-secondary institutions (Durham College, Trent University Durham and University of Ontario Institute of Technology) and to Lakeridge Health Oshawa, Lakeridge Health and Education Research Network (LHEARN Centre) and the Oshawa Clinic, the largest, multi-specialty medical group practice in Canada.
Get in
By car
Oshawa is on Highway 401, exits 415 through 418. All interchanges exit to Bloor Street in the city's south end. Highway 2 (King Street) is the main street of downtown Oshawa.
By train
By rail, Oshawa is served by
VIA rail
's Toronto-Kingston-Montréal and Toronto-Kingston-Ottawa corridor services.
GO Transit
, the
Toronto-area commuter train/bus operator
, provides all-day half-hourly train service to/from Toronto, plus various long-distance bus routes. Fares vary by distance; Oshawa to downtown Toronto (one-way) via GO Transit is $11.20 (cash, as of 2019), half-fare for seniors, plus ~10% discount for
Presto card
users.
The two transit hubs in Oshawa are:
address: 915 Bloor St W

Intercity (Via Rail) and commuter (GO) station with ticket counter, public washrooms, waiting room.

address: 47 Bond St W

There is no ticket counter at the terminal. There are ticket vending machines for GO Transit buses. Greyhound buses stop at the terminal but Greyhound tickets must be purhased online.
By bus
Intercity express bus service in the Montréal-Toronto corridor stops in
Whitby
, an Oshawa suburb, at the Whitby GO commuter rail station. Express bus service from Greater Toronto Area to Oshawa are provided by GO Transit. Greyhound Canada runs services from Toronto, Port Hope, Cobourg and Belleville, and from Peterborough and Ottawa. Can-Ar offers daily service from Lindsay and Toronto.
By plane
Get around
See
Do
phone: +1 905-655-6338

address: 571 Raglan Rd E, L1H 7K4

From their website: Over 50 years ago the Lintons' started growing tomatoes for a canning company and gradually added more and more vegetables and fruit and a farm market stand where they now sell a wide variety of vegetables and fruit, homegrown frozen meat, cheese, honey, jams, preserves, fall decorations (etc.)
Buy
address: 419 King St W at Stevenson Road

The largest mall in Durham region. Theres a Durham Region Transit's bus terminal outside of the mall's south-east entrance, with regular bus services to Oshawa GO Station, Whitby GO Station, and the campuses of Durham College.
Eat
Drink
phone: +1 905-404-2464

address: 104 King St. E

Pub, fireplace lounge and pool hall; live music on weekends.

phone: +1 905-240-1979

address: 21 Celina Street

Pub food and drink.
Sleep
phone: +1 915-888-3800

address: 63 King St E

Free Wifi, free parking, breakfast included, non-smoking hotel, suites, fitness centre.

Paddington Place Bed & Breakfast

phone: +1 905-404-5448

address: 413 Paddington Cres

On a mature stretch of protected greenbelt space with lovely wooded trails and meandering creek. Air-conditioned and smoke-free.

phone: +1-800-525-4055

address: 940 Champlain Ave

Free WiFi, free breakfast buffet, onsite parking, pet friendly, pool - indoor, fitness centre.
Connect
Learn
Oshawa is home to two post-secondary institutions, the University of Ontario Institute of Technology and Durham College. They share a campus on the northern side of Oshawa.
University of Ontario Institute of TechnologyThe newest university in Ontario. It offers unique programs that are not commonly found in other schools, such as their "Game Development and Entrepreneurship", "Networking and IT Security" and "Automotive Engineering" programs.