Oslo/Inner East
Inner East
is a part of
Oslo
, comprising the triangle east of Akerselva, south and west of the third ring road and north of the railway. Here you will find an international environment, many different cultures, less expensive food and drinks and a more bohemian atmosphere than in
Oslo/Sentrum
.
Understand
This part of Oslo consists of many neighborhoods. The neighborhoods' settlements vary greatly from one another. Along the fjord there is the high-rise buildings of Barcode and ruins from the first settlement in Oslo in the Old Town, Gamlebyen. From the Old Town, the green hill leads up to the Ekeberg plains. To the north, you find the neighborhoods of Grønland, Tøyen, Kampen, Grünerløkka and Torshov with remains of urban brick buildings, dating back to the 19th century. These were originally typical working class neighborhoods. Low wooden houses in white and other colors can be found in the neighbourhoods of Vålerenga and Rodeløkka. It is recommended to go for a walk on the park walkways along the east bank of the Akerselva river. There are many remains of Oslo's early industrial history.
The neighborhood of Grünerløkka is well known for its vibrant nightlife. Otherwise, there are mostly residential areas. The area is characterized by its many different cultures and religious diversity with origins from all over the world. There are many mosques and Lutheran churches as well as two Buddhist temples, a Roman Catholic and an Eastern Orthodox church.

Get in
Like with Sentrum, it's easy to get in from outside Oslo. The central railway station just across Aker river from the Grønland district and the central bus station actually is in Grønland. Arriving by plane to either of Oslo's airports, you can take bus or train to get here.
Many parts of the Inner East interesting to visitors are accessible by foot from Sentrum or the Inner North.
All eastbound subway lines stop at the stations of Grønland and Tøyen, the lines 1, 2, 3, 4 at Ensjø and line 5 at Carl Berners plass and Sinsen stations.
To get further northeast, take subway line 4 or 5 or a northbound local train.
Tram lines 11, 12 and 13 go to Grünerløkka and destinations on the east bank of Aker. Take tram 17 to go to further east to places like Carl Berner.
Southeastern Inner Oslo (e.g. Gamlebyen) can be reached by trams 18 and 19. The tram lines continue to Oslo/South.
See
KampenThe Kampen neighbourhood is an area with many traditional wooden houses.

BarcodeBarcode defines a new waterfront in the Bjørvika area. The plan for the new structures was adopted in 2003, and as of 2015 nine buildings are finished, and two are under construction. Three more are planned. While the buildings contribute to a spectacular waterfront, viewed from the seaside, they also block much of the sea-view from the other side, and therefore their contribution to the concept of "Fjordbyen", the initiative of the Oslo City Council to make the entire waterfront from Frognerstranda (west), to Bekkelaget (south-east) available for public recreation, is disputed. The buildings are mostly inhabited by actors in the financial and consulting business (PWC, KLP, Deloitte, etc.), while the MAD building holds private apartments. The neighborhood is famous from 2019 TV series Beforeigners.

phone: +47 23 49 35 00

address: Tøyengata 53

Features paintings by the Norwegian painter Edward Munch. Some of Edvard Munchs more famous pictures may be shown in the National Gallery, so don't complain that "The Scream" is not on display! Included in the Oslo Pass. Munch also produced huge paintings (more than 200 square metres in total) for the grandiose walls of the University of Oslo Aula. Munch's paintings for the Aula are key works within monumental painting and includes iconic paintings The Sun, History and Alma Mater. The Aula is not generally open to the public.

phone: +47 22 46 80 20

address: Trondheimsveien 2, bygg T

Popsenteret (Center of Popular Music) is a museum and location for various events and rolling exhibitions, interactions, etc., within the cultural realm of pop music.

Rodeløkka wooden houses

address: Langegata

Traditional Norwegian wood architecture, not found downtown anymore.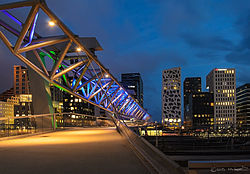 address: Dronning Eufemias Gate

Contemporary 200m-long pedestrian bridge across the tracks of Oslo central station, connecting Grønland, where the Barcode high rises are, and Bjørvika, where the Opera House is. Awarded 1st price (Certificate of Excellence) in ECCS, European Award for Steel Bridges, in 2012. Popular spot for photo shoots, day and night.
Do
phone: +47 93 85 17 81

address: Birkelunden

Antiques and second hand market every Sunday noon until 7PM at Birkelunden park at Grünerløkka.

EkebergmarkedetFlea market and one of Northern Europe's largest swapmeet/markets for vintage car and bike parts. Takes place early May and mid. September at the north-west part of Ekeberg Park. Arranged by Norsk Veteranvogn Klubb (http://veteranvogn.no)
Sports facilities
phone: +47 23 24 78 00

address: Innspurten 16 A

Don't miss a home game there, Norway's most elusive football fans.

address: Sørengkaia 69

Fjord pool with seawater from the Oslofjord. Swimming pool, childrens pool, beach and a large recreational area. Crowdy on sunny summer days. If it's not tempting to swim, take a stroll anyway along the scenic waterfront where there are outdoor areas and new cafes and restaurants.

phone: +47 23 48 20 30

address: Helgesens gate 90

Norway's most popular public pool. All-year: two indoor swimming pools, diving board, waterslide, in the summer: two outdoor pools.
Parks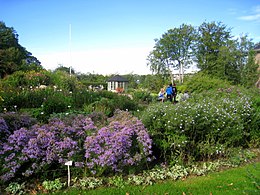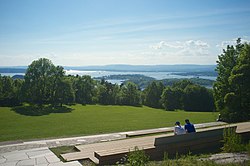 phone: +47 228 55050

The University botanical gardens is located just south of Tøyen park next door to Munch Museum. A wonderful and relaxing area. Free entrance, opening hours 1 Apr-30 Sep: Sa-Su 10AM-8PM, M-F 7AM-8PM, 1 Oct-31 Mar: Sa-Su 10AM-5PM, M-F 7AM-5PM.

MiddelalderparkenRuins of medieval old town of Oslo, such as church ruins and ruins of the former Royal Estate. Location of the annual rock music festival Øyafestivalen.

BirkelundenA cool park in eastern Oslo, the uppermost park in Grünerløkka neighborhood, a so-called Greenwich village look-alike area. On Sundays, there is a second-hand market. The name refers to the birch threes there. The park covers one block.

Olaf Ryes plassA small square park in eastern Oslo, Grünerløkka neighborhood, a so-called Greenwich village look-alike area. The park covers exactly one block in Grünerløkka's grid.

Sofienbergparken(The largest of the parks in Grünerløkka) A lot of activities all day long and especially on weekends; ball-playing, picnics, public barbecues, especially nice area for children.

EkebergparkenAt the steep, green hill east of city centre (tram 18 or 19 to Ekebergparken, bus 34 or 74 to Brannfjellveien) is even a sculpture park, with works by Norwegian and international artists such as Salvador Dalí, Lynn Chadwick, Richard Hudson and Per Ung among others. This point is assumed to be the background for 'Scream', Edvard Munch's famous picture. Alongside the idyllic forest paths you can see sculptures, but also find remnants of cultural history from different eras of Norwegian history or enjoy the incredible views over the capital. Small climbing park for children.
Buy
Shopping malls
Speciality stores
address: Schweigaards gt 56

Black Metal Shop and museum situated in Schweigaards gate in the same building in which Helvete was located in the early 1990s.
Eat
Budget
phone: +47 22 17 20 86

address: Grønlandsleiret

The friendliest Sikh in the world dishes out cheap, tasty Indian food from the microwave or stove. No real tandoor.

address: Schweigaards gate 50

Great tasting sushi meals from as little as 79kr. Also have small daily specials for 59kr (fried rice, fried noodles, etc.)

Tandoori Curry Corner

address: Grønlandsleiret 22

The neighbouring restaurant of the Punjab Tandoori is even cheaper, but the helpings are smaller and packs less of a punch.

L'Oasis Mazze

phone: +47 22 37 31 66

address: Trondheimsveien 14

Bedouin-style restaurant run by Palestinians. Falafels, tagine, etc. Good for lunch or dinner. Friendly staff and low prices.

address: Sannergata 28

The restaurant offers good sushi for a nice price. Featuring about 10 seats, the place could be considered more a take-away than a restaurant.

phone: +47 22 37 69 54

address: Thorvald Meyers gate 23

has some excellent Turkish dishes. Burgers, pizza and breakfast are also available from NOK49 and upwards. A cosy place with occasional unexpected classical music played early in the day.

Carl Berner-kjelleren

address: Trondheimsv 113

Beer hall with cheap and varied food, including classic Norwegian everyday dishes.
Mid-range
Oslo Ladegård

address: Gamlebyen

Fighting it out with Villa Paradiso and Pizza da Mimmo to provide the city's best Italian pizza.

Smia

phone: +47 22 19 59 20

address: Opplandgata 12, just by Vålerenga kirke

Atmospheric restaurant in an old wooden house area with tons of charm.

phone: +47 22 19 77 08

address: Bøgata 21

Lovely neighbourhood joint with brilliant food and occasional free concerts.

phone: +47 24 10 19 99

address: Grønlandsleiret 15

One of the best known and largest places in east Oslo. Restaurant, beer Hall, nightclub and roof terrace. With classic Norwegian food.

phone: +47 22 35 79 44

address: Søndre gate 6

French bistro at the south part of Grünerløkka with relaxed atmosphere and good food.

phone: +47 22 35 40 60

address: Olaf Ryes plass 8

Excellent Italian pizza at Grünerløkka. Children friendly.

phone: +47 22 37 16 09

address: Thorvald Meyers gate 36

Cal-mex joint offering huge meals, but reports say quality has faded. A new branch near the crossing of Hegdehaugsveien/Sporveisgata in Homansbyen (tram 11-19 to Rosenborg) does little to redeem this.

address: Seilduksgata 15

American Diner, slightly more genuine than Empire Diner, Manhattan, at least the illusion is rock solid; Like any other Jan Vardøen venue, The Nighthawk delivers atmosphere and quality. Excellent burgers, steaks, sandwiches, pancakes, etc.

phone: +47 22 01 90 50

address: Kongsveien 21

Serving traditional Norwegian dishes, near the entrance to the sculpture park.
Splurge
address: Ekeberg

An architectural monument, this place offers gourmet dining and Oslo's best views. Hugely popular but the service can disappoint.

phone: +47 22 17 99 69

address: Schweigaards gate 15B

This New Nordic Cuisine restaurant serving organic, local food jumped straight to two stars in Michelin's Guide Rouge at the earliest opportunity after opening, the first Nordic restaurant to do so. They have now advanced to three stars. World class restaurant.

phone: +47 22 93 34 50 (Barcode), +47 23 62 40 10 (Sky)

address: Dronning Eufemias gate 28

All-Asian gourmet offering south of downtown, at the waterfront. The best East-Asian restaurant in Northern Europe (competing it out with dinner), with prices to match. There are two restaurants: Barcode, and Sky. Sky is on the thirteenth floor, and is more of a bar/lounge; while Barcode is the main restaurant.
Drink
Lincoln Gastro Pub

phone: +47 22 37 71 00

address: Vogts gate 43

A pleasant English football pub with outdoor seating and smokehouse in the backyard. Also serves food.

Zen Spiseri og Cafebar

phone: +47 22 38 30 38

address: Vogts gate

A mysteriously stylish interior for a dive bar, dishing out some of Oslo's cheaper beer. Laid-back, relaxing atmosphere, usually draws a somewhat older crowd. Small menu with passable food.

Bar Boca

address: Thorvald Meyers Gate 30

The teeny-weeny Bar Boca is the place to go in Oslo if you fancy an innovative and memorable cocktail. Owner Jan Vardøen has become something of a local legend for his mixing skills and his intimate little bar has become a destination for those serious about their drink. This warm cosy bar, with its low-key 1950s décor, may be matchbox sized, with just five tables, but it's the drinks that rule here and they won't let you down.

address: Thorvald Meyers Gate 32

Another of Jan Vardøens successful cocktail bars, Easter Island style. Let Voo-Doo-Mary-Lou knock you out surrounded by bamboo, blowfish and Thor Heyerdahl, after a long day at the Kontiki-museum. Cool and cozy atmosphere.

Cafe Stolen

address: Helgesens gate 32

Indian cuisine and cheap beer in an informal setting. No name on the door, just a chair hanging from above the door (hence the name 'the chair').

phone: +47 22 35 63 00

address: Olaf Ryes Plass 11

Bar with indoor and outdoor seating. Concert hall indoors in a former cinema.

Grünerløkka BrygghusGrünerløkka Brygghus has 10+ of their own beers on tap, with some others. They also serve food.

Oslo Ocean Bar

address: Trondheimsveien 20

a neighborhood bar customers, mostly returning, at every time of the day (from 08:00). The staff is great! The service is impeccable despite the low prices and the very unpretentious surroundings (and clientele).

address: Trondheimsveien 2

Microbrewery located in the basement of the former larger Schous brewery;13 beers on tap; about half are house-made.

address: Trondheimsveien 5

A short walk from the Anker hostel, this place has become quite fashionable. Lovely outdoor seating, great (but a tad expensive) food and a marvellous dining room.

Stargate

phone: +47 22170215

address: Grønland 2A

Meeting place just east of Akerselva river.

Andy's Pub

phone: +47 22176703

address: Grønlandsleiret 17

English style pub. Football matches on big screen.

address: Grønlandsleiret 15

Cocktail bar with history dating back to 1965. Orginal interior.

Ruinen Bar & Café

phone: +47 22 57 02 55

address: St. Halvads plass 2

Have a cooling drink or play billiard. Occasionally concerts.

St. Halvards Pub & BistroA typical neighborhood pub with a simple menu and occasionally live music in Oslo's Old Town.

No. 53

address: Schweigaards gate 53

Café, pub and cocktail bar, live music.

phone: +47 938 94 409

address: Vålerenggata 5

Beautiful Vålerenga is like a village in the city. In this neighborhood, everyone supports the same football team, Vålerenga FK, the best soccer club in Oslo. The pub is the venue for the most eager supporters and the home arena is close to this neighborhood.
Sleep
Be aware that the accommodations are on the outskirts of the area. For more central accommodation nearby, see the sleep sections of the Oslo/Sentrum or the Oslo/Inner North article.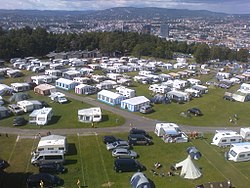 Budget
phone: +47 22 19 85 68

address: Ekebergveien 65

Open 1 Jun–1 Sep. The closest campsite to central Oslo. Beautiful view of the city. No cabins. Owned by the Norwegian Automobile Federation. Mini-golf and horse rental. Fully equipped sanitary facilities: showers with hot and cold water, toilets, kitchen, launderette.

phone: +47 24 07 40 03

address: Kjølberggata 29

This has a range of room options, from one bed in a 6-person dorm, to hotel style rooms.
Mid-range
phone: +47-2326-3000

address: Nydalesveien 33

Choose from funky "Chilli" or more staid "Urban" rooms

phone: +47 23 40 02 00

address: Vitaminveien 23

One of the newest hotels in the city of Oslo, Conference facilities and gym. Also offers disabled-friendly rooms 10 minutes travel by metro to the Oslo S central train station, 6 minutes by tram to Grünerløkka.

phone: +47 22 92 22 11

address: Innspurten 7

On the outskirts of the inner city, but still very central.
Connect
Go next