Oslo/Inner North
Inner North
is the sector of
Oslo
between Ring 1 and Ring 3 and between Highway 168 in the west and Akerselva in the East. This is an area of fine parks, the University campus and the Aker river with Oslo's industrial past as well as landmark buildings, many hotels and restaurants within walking from Karl Johan street. The lowest part of the area is regarded as part of Oslo downtown.
Get in
The southern points of interest here are within walking distance from downtown.
Subway lines 4 and 5, as well as trams 17 and 18 bring you to the western part of this district.
Bus 37 provides access to places in the middle of this district such as Vår Frelseres gravlund and St. Hanshaugen park.
Buses 34 and 54 go to places along the west bank of the Aker river. It's also possible to walk in from Grünerløkka.
Trams 11, 12, 13, and 17 pass Haussmanskvartalerne on their way between Sentrum and Oslo's Inner East.
See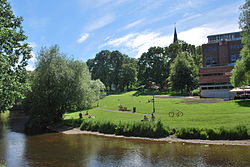 Aker riverAkerselva is Oslo's main river as it flows from Maridalen lake to the fjord near the Central station. Previously Oslo's industrial heartland, now the river and its shores is converted into a green corridor almost the entire length from Grünerløkka to Maridalen. Bicycle and pedestrian paths along. Several small waterfalls. Industrial facilities remain as memories of Oslo's manufacturing origins.

Aamot bridgeOne of the earliest chain hangers in Europe and the earliest in Norway, leading from the river side park, across the river to the park by the neighborhood of Grünerløkka.

address: Arne Garborgs plass 4

The main building of Oslo public library is centrally located next to Trinity church and Ministry offices. The library was established in 1785 based on an endowment of 7000 books from Carl Deichman. The current main building is in a monumental neoclassical style, views are partly obstructed by the ministry "Y-building". The building was affected by the 2011 bomb and was closed for 2 months for repairs. There are some 20 branches throughout the city.
DogA - The Norwegian Centre for Design and Architecture

phone: +47 23292870

address: Hausmanns gate 16

A thriving design and architecture centre providing areas for large and small exhibitions, conferences and meetings, activities for children, as well as a bookshop and café.

Kunstnernes hus

address: Wergelandsveien

This 1931 building includes gallery and cafe. A prominent example of functionalism in Norway at the transition from neoclassicism.

Vår Frelsers Cemetery

address: Ullevålsveien and Akersveien

Graves of Edvard Munch and Henrik Ibsen, and a large number of reputed Norwegians. Several statues, including one by Gustav Vigeland. Gamle Aker Church (the oldest building in Oslo) stands in the northern corner of the graveyard. The graveyard is pretty park and within easy walk the very centre at Karl Johans gate/Akersgata.

Damstredet/FredensborgThe steep Damstredet with traditional wooden houses. Towering on the hill above are the iconic Westye Egeberg blocks.

St.Hanshaugen parkA delightful public park on the highest hill in central Oslo. Great view of the city and surroundings. 1000 meters easy walk from Karl Johan street along Akersgata-Ullevålsveien past Vår Frelsers Gravlund (cemetery). The park has also given name to this popular neighborhood and to the larger administrative district (borough) that includes major parts of central Oslo.

StensparkenThis charming park begins at Fagerborg church (neogothic, granite) and stretches for some 500 meters to a fine panoramapoint in the northern end. There is a café on the top. Stensparken is a good choice if nearby St. Hanshaugen park is too crowdy. Just west of the park there is a line of stately town houses.

Tramway MuseumDisplays the history of Oslo's trams, buses and metro. Among other things, a wooden tram from the Holmenkollen line and a trolleybus are exhibited.

Hjula weaving mill

address: Sagveien 23

This industrial complex is perhaps an unusual attraction, but the striking buildings at the waterfall in Akerselva (Aker river) are one interesting legacy of Oslo's manufacturing past. It was the first water powered weaving mill in Norway, and during the late 1800s the largest textile company in Norway. The factory operated for more than 100 years.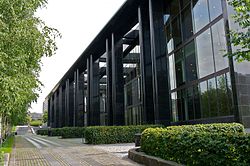 Blindern Campus - University of OsloBlindern Campus is home to functionalist landmarks from 1920-1930s. The new (1999) library building at Blindern is an imposing building in black polished stone and glass, it stands out as a landmark among the pre-war buildings.
Churches
address: Akersveien 1

the first Norwegian Roman Catholic cathedral (from 1856) which was built after the Protestant Reformation. The cathedral has church services and masses in Norwegian and several other languages, including English, Spanish and Polish.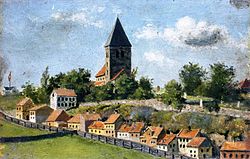 address: Akersbakken

This modest, sturdy, Romanesque church is the oldest existing building in Oslo. Built around 1100. It is one of the few Norwegian churches built in traditional basilica shape (three parallel naves). The building sits on a small hill in the northern corner of Vår Frelsers graveyard. Old Aker church has its own grave yard built on terraces at the edge of the hill, the grave yard is a pretty park with fine panorama.

address: Akersgata 60

The largest church in Oslo. A monumental building in neo-Gothic style, constructed in red brick. The nave is octagonal with a Greek cross superimposed. The church is centrally located next to the Ministry offices and Oslo public library.

Sagene Church

address: Dannevigveien 17

Beautiful and monumental church with several towers and spiers. Consecrated in 1891.

St. Edmund's ChurchSt. Edmund's Church belongs to the Church of England. It's a small neogothic building in red and yellow brick beneath the Hammersborg hill near the Swedish and Catholic churches as well as ministry buildings.

address: Hammersborg torg 8

The Margareta Church in Oslo belongs the Lutheran Church of Sweden. The building sits on the small Hammersborg hilltop next to Deichmanske (public library), Trinity Church, St Olavs catholic church. Ministry buildings are next door across street. St. Edmund's Church (anglican) is nearby down the hill.
Synagogues
address: Bergstien 13

The present building was erected 1920. Afterwards, except during World War II, it has been the most important gathering place for the Jewish community in Norway.
Do
phone: +47 22 02 65 65

address: Sognsveien 75 A

This is one of the largest sports arenas in Norway. It is home ground for the Norwegian national team in soccer and there the Norwegian cup final is played. There are shops inside the stands. Sometimes there are concerts and other events there. Then there is the least crowding on the metro from east to west, opposite afterwards.

phone: +47 23 46 20 00

address: Louises gate 1

is one of the best known sports facilities in Oslo. Houses the annual athletics ExxonMobil Bislett Games.
Learn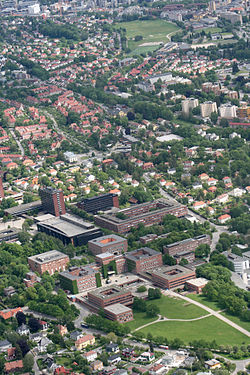 phone: +47 22 85 66 66

address: Blindern

The University of Oslo is Norway's largest and most important university.

Subjects: Education, Esthetic Studies and Musicology, Health and Medicine, History, Philosophy, and Culture Studies, Information Technology and Informatics, Language and Literature, Economics, Leadership and Administration, Mathematics, Natural Science, and Technology, Media Studies, Religion and Theology, Social Sciences and Psychology. (This in addition to the law school in Sentrum). Just a few of the classes are taught in English.
Buy
phone: +47 22 20 14 41

address: Møllergata 1

The best selection of vinyl LPs in Oslo! Pop/Rock, Indie, Soul, Metal/Hardrock, Jazz, Punk, Garagerock, Hip-hop, Blues, Country, Electronica and Reggae. Also a fine seletion of CDs in most genres.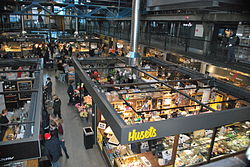 address: Maridalsveien 17

Huge selection of exclusive international and traditional Norwegian food in this new indoor market, and serving of food and drinks.

phone: +47 22209966

address: Ullevålsveien 11

One of Oslo's oldest and most traditional baby stores. It is famous for its celebrity shoppers like the Princess of Norway Märtha Louise and the Crown Princess Mette-Marit.

BogstadveienGood for non-chain stores, focus on clothes and accessories.
Eat
Budget
Valkyrien Take Away

address: Bogstadveien 71B

Their burgers are famous. Limited seating, but there is a very small park close to it where you can enjoy your food.

Hai Cafe

address: Calmeyers gate

Good fried or fresh spring rolls, tasty duck breast hoi sin sauce with pac choi. In general tasty and cheap.

address: Torggata

Inventive name for a pizza joint, the best in the area.

Dalat Kafe

address: Osterhaus gate

Vietnamese. Simple interior but very popular among people who appreciate authentic Vietnamese food. Dishes and beverages at affordable prices.

Marino

address: Torggata 29

Generally accepted as the best kebab in the area, but steadily contested by Mediterran and Lille Amir.

address: Bernt Ankers gate

The first of the Vietnamese bargain offerings are still going strong. Although the food in Vietnam is known to be tastier, you'll need a plane ticket to Hanoi to get it this cheap! (at least it feels like that when you're used to Norwegian food prices).

Tay Do Cafe

address: Torggata 16

Vietnamese. Try the 'Dagens' (daily special) for only about 80kr, or some of their other Vietnamese offerings.

Mitsu

address: Møllergata east

Japanese/Asian. Probably the best budget sushi in town, as well as baguettes (from NOK30) and a few hot dishes. Not the most cosy place to eat, but a great place for a cheap lunch or dinner.

address: Hegdehaugsveien 2, also other locations

Voted Oslo's best for kebabs many times, not the cheapest place, but good value for money. However if you want authentic kebabs try Torggata or the beginning of Trondheimsveien.

Tasty Thai

address: Pilestredet 70

Oslo's best budget Thai offering.

University of Oslo Student Canteen (Fredrikke)

address: Blindern

Student canteen food at student prices. Several canteens dish up filling food at budget prices, the main canteen in the Fredrikke building has edible meals at under 50kr. There's also several other student canteens, although they are closed during the summer. One branch in the city centre is at St. Olavs plass.
Vegetarian
phone: +47 22 20 20 40

address: Fredensborgveien 29

Vegetarian restaurant, with exciting and tasty dishes from around the world. Take-away-service.

address: Hausmanns gate 16

Genuine vegetarian food in unique architectural space, overlooking the Aker River.
Mid-range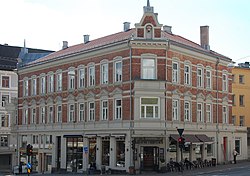 address: Torggata 16

address: Mariboes gate

The most upmarket offering in Oslo's Bermuda Triangle of cheap eating, Arakataka manages to pull off decent Nordic, French and Mediterranean cuisine at decent prices. Small dishes; it takes three dishes or more to get saturated.

Elvebredden

address: Hausmanns gate 16

Inside the Design and Architecture centre, Elvebredden has some fantastic lunch offerings and stunning, but fairly upmarket, main dishes in the evening.

address: Underhaugsveien 2

East-Asian and sushi.

phone: +47 22 696904

address: Parkveien 12

traditional restaurant with a restaurant menu based on the traditional Norwegian cuisine. Widely used as a meeting place and a drinking den .

address: Waldemar Thranes gate 8

Dark drinking den with traditional, inexpensive and fattening Norwegian food.Featured in Jo Nesbø's novels.

phone: +47 970 61 021

address: Thereses gate 45

Fish or meat barbecue from charcoal grill.
Indian food
address: Maridalsveien 4

Looks scruffy from the outside, but don't let that fool you. A fantastic Indian restaurant with all the trimmings.

phone: +47 22 60 81 04

address: Pilestredet 63

Popular, authentic Indian restaurant
Splurge
phone: +47 22696904

address: Parkveien 12

Restaurant and traditional venue for cultural personalities. The menu is inspired by the Norwegian and European cuisine. There is a rich selection of beer and wine.
Drink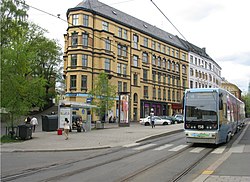 Teddy's Soft Bar

address: Brugata 3A

Established in 1958, this is the only bar in Oslo that's protected by cultural authorities, due to its true 1950s setting with original interior. This is where the rockabilly cats and kittens hang out and low-key rock and film stars lurk in the corners. Teddy's brought milk shakes to Norway, but sadly they've stopped serving those. They do serve beer, wine, spirits, soft drinks and various coffee drinks. And you can have lunch or late breakfast (omelets, eggs & bacon, sandwiches) or dinner (nice burgers, soups). Music provided by an original Wurlitzer jukebox with mostly '50s and '60s hits.

Robinet

address: Mariboes gate 7b

A little gem of a bar that serves some of the best drinks in town. It's not much more than a hole in the wall, so don't expect to get a seat. The bartenders (who are often a bit moody, so no music requests!) play everything from free jazz to krautrock to gangsta-rap on the sound system.

Crowbar

address: Torggata 32

Crowbar has 20 beers on tap, 5 of them made by them.

address: corner of Torggata and Hausmanns gate.

Conveniently close to Anker Hostel, Cafe Sara pours beer and dishes up tasty Turkish and Mexican dishes for not too much money. Great outdoor seating. Very nice pub with a great atmosphere and well known for its cheap but great food and large selection of craft beers.

address: Hausmannsgate 29

Nice rock bar with a cosy and great backyard which it shares with Cafe Sara. The club has a stage, where local and foreign acts appear. At the weekends the club transforms into a rock disco, where you can dance to great rock music. The bar dishes up with great cocktails and unlimited amounts of beer, both on tap and bottles.

address: St. Olavs plass.

Lovely cafe serving beer, wine, drinks and small dishes in a fabulous former pharmacy. (Tekehtopa spelled backwards, apotheket, means "the pharmacy" in Norwegian.) One of the prettiest cafes around! Adjoined by Bar Babylon, an industrial-style club with wonderful back yard seating.

address: Brenneriveien 9

Be sure to check their event calendar, every week they have concerts with a variety of international and Norwegian bands and/or DJs. Each Sunday there is a free jazz/blues/soul concert. Walk up the river from the centre and you'll find it. Old factory style houses with lots of graffiti.
Music clubs
Rockefeller/John Dee and Sentrum Scene

address: Mariboes gate / Arbeidersamfunnets plass

Some of Oslo's best stages for music. Rockefeller houses three stages while Sentrum Scene houses a forth and larger stage. Mostly consert stages but they also show the odd football match or cinema. Both Norwegian and international artists.

address: Møllergata 32

Rock pub with most of Oslo's hipsters lurking in the corners. Not too expensive, and quite an extensive choice of beers on tap.
Sleep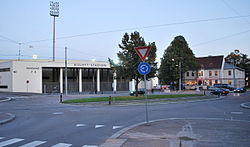 Hostel
phone: +47 22 99 72 00

address: Storgata 53H

290 beds. Very centrally located, 5 minutes walk to the central station or Grünerløkka.
Hotels
Connect
Deichmanske Bibliotek (Library)Free wifi and 30 minutes of free use of computer terminals at all locations. City of Oslo Public Library.

Litteraturhuset

address: Wergelandsveien 29

Free wifi with purchase.
Internett access
As for the whole of Oslo
Go next