Oslo/North
North Oslo
comprises the part of
Oslo
north of the third ring road and the eastbound railway. This district is home to a couple of fine museums and most importantly the wide forested hills,
Nordmarka
, with countless lakes, fine paths (summer), ski trails, ski slopes (winter) and excellent panoramas. The big ski jumps, birth place of modern competitive skiing, are impressive constructions and offers fine panoramas. This part of Oslo offers unique recreational areas for both the city of Oslo's own population and for the many visitors. Hiking and cross-country skiing in the forests so close to the busy city has made this capital so rare.
The
residential areas
within northern Oslo are different and vary from the single-family detached homes in the hills up to Holmenkollen in the west to modern apartment blocks and terraced houses in the suburban areas of the Groruddalen valley further east.
Get in
Coming in to Oslo from the north (for instance along the E6) by car, you will first end up here. As opposed to central parts of the city, it may be a good idea to get around by car. Nevertheless, a network buses and subways means you can get in to most places of interest with public transportation too.
To get to northwestern Oslo, take subway 1 or 2. The former brings you to Holmenkollen.
To get due north, take subway 5 to Songsvann, tram 11 or 12 to Kjelsås (or local trains even further in that direction).
Northeastern suburbs, all the way to Vestli district at the city border, are served by subway lines 4 and 5. A little further south goes a local train line, and still further south, subway 2 serves suburbs like Furuset.
See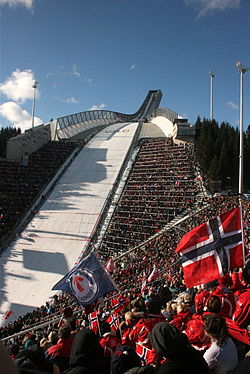 HolmenkollenThe ski jump located on the west side of Oslo, which was rebuilt for the World Ski Championships in 2011. It first opened in 1892 and has been re-built many times since then. It had more than 1 million visitors every year, and was one of the biggest tourist attractions in Norway. There is also the oldest ski museum in the world, opened in 1923. Walking and mountain bike riding are popular activities here during the summer.

Holmenkollen Chapelbuilt with inspiration from the stave churches and benefits from dragestil wood carvings. The chapel used by the Royal Family at Christmas time and Holmenkollen ski festival.

Emanuel Vigeland MuseumAmong Oslos best hidden secrets. Gustav Vigeland's not so well-known younger brother erected the building as a museum for his art in 1926, but later decided it should serve as a mausoleum, with his urn placed above the door. The main attraction in this museum with no windows is the 800 square meters fresco "Vita", (Italian for "life"), showing the human life from conception till death, but other examples of his art are also on display. Included in the Oslo Pass.

Norwegian Museum of Science and Technology & The Norwegian Telecommunications Museum

address: Kjelsåsveien 143

A fun and very interactive place for both children and adults. Contrary to information in the common tourist brochures this building.

Nordmarka (Oslo forest)

address: North of Oslo + eastern (Lillomarka), northern and western suburbs

Oslo is surrounded by wide and partly dense forests, generally known as Marka, of which Nordmarka is the largest and most accessible section (in addition to Nordmarka there similar areas east, south and west of the city). There are lots of roads and trails criss-crossing these wide forests, but no cars, only skiers, hikers and bicycles. So it is essentially the largest park in town. There are countless lakes, many rivers and small waterfalls too. Small summits that rise above the city offers excellent panoramas. Entry points everywhere, usually 10-15 min from the centre. Access by bus, metro, tram, car or bicycle. There is a fine network of high quality foot paths (roads) suitable even for wheelchairs and baby strollers, as well as many "nature trails" for hikers and skiers only. Roads closest to the city have street lights. In winter used for cross-country skiing, also a small ski resort (alpine skiing). The Moose (elg), mainland Norway's largest animal, roam the forest and occasionally strolls into town. Note: the Oslo forest is drinking water supply for 1 million people. Restrictions on camping, barbecue and swimming.

SognsvannSognsvann lake is one of the most popular places in Marka (Oslo forest), nice meadows and easy path around lake, paths continue through the forest - metro line 5 to Sognsvann station. Surprisingly this lake is the geographical mid point of Oslo.
Do
Buy
Shopping malls
phone: +47 22 78 99 70

address: Stovner Senter 3

One of the largest shopping centers in City of Oslo, located in the northeastern tip.

address: Bergensveien 2-4

Shopping center, located centrally in the Grorud district.

Vindern torvet

address: Slemdalsveien 72

Shopping center along the Holmenkollen line.
Eat
Budget
IKEA Furuset

address: Strømsveien 303

Shop for furniture and eat cheaply!
Mid-range
phone: +47 22028018

address: Sognsveien 77c

Serves nice food for a fair price/quality ratio. All kinds of dishes available, you do need to go to the bar to order
Splurge
phone: +47 22924040

address: Holmenkollveien 200

-is a dragestil complex consisting of patisserie Seterstua and restaurant Finstua as well as banqueting facilities. Wonderful views over the entire city. The food is based on Norwegian cuisine traditions, but is expensive.
Drink
phone: +47 22 25 16 85

address: Bergensveien 8

Neighborhood bar with football on both large screen and flat screen. Occasionally jazz concerts. Sushi dining, or as a take away.
Sleep
Budget
phone: +47 22 51 08 00

address: Ankerveien 117

Bogstad has cabins and tent space. Close v tothe campsite there is a mini-mart Kiwi (used by the locals), a petrol station Statoil with heat-up fast food options, and a fast food restaurant Jafs! which does pizzas, kebabs and burgers ("Hamburger meny" take-away, 100g burger & French fries & salad & drink, kr 95).

phone: +47 22 22 29 65

address: Haraldsheimveien 4

The biggest HI hostel in Oslo. Not too far from the action (but it is hard to find), walking distance to the lively neighbourhoods of Torshov and Grünerløkka. Located in a very quiet area of Oslo, this is a place you'd go to sleep, not to party. The breakfast is outstanding for a hostel and is vegan-friendly, although with reduced choice. It is advisable to reconfirm your booking before you come and inform at what time you are going to arrive although the reception is open 24 hours.

phone: +47 21 02 36 00

address: Myrerskogveien 54

Open June 1 - August 19. 7.5 km from the center.
Mid-range
Splurge
phone: +47 21 51 10 00

address: Lysebuveien 12

Historic hotel in the forest, located over the city and close to the Holmenkollen ski facilities and hiking areas. Used for conferences, celebrations, honeymoons and weddings. Traditional Norwegian building style in timber.
Connect
Go next