Oslo/Sentrum
Sentrum
, literally Center, is the core of
Oslo
inside the first ring road, plus the area around the Royal Palace and Tjuvholmen island. This is the area around Oslo's main street, Karl Johan street, and the Akershus fortress overlooking the harbour and the great Oslo fjord. The Sentrum area is home to many key sights, national institutions, and an array of hotels and restaurants. Sentrum is the starting point for most visitors.
Inner East
and
inner North
also have some downtown functions within a short walk from Karl Johan street or from the Central station.
Understand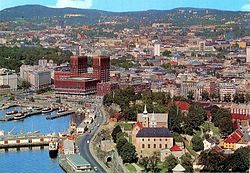 The Sentrum area is home to key national institutions such as the Parliament, the Royal Palace, the Supreme court and most government ministries. The original buildings of University of Oslo occupy a prominent position. The main theater, opera and national museums of art are in the centre. Shopping, eating and drinking dominate main streets. Only about 1000 people live in the centre, including the royal family.
Karl Johans gate, or just "Karl Johan", is the main street and the central axis around which Sentrum is organized. Karl Johan is mostly pedestrian or closed to regular traffic for security. The upper (west) part of Karl Johan is dominated by the Parliament building (Stortinget) and the Royal Palace facing each other across a long wide, partly green space on the south/west side of Karl Johan. The lower (east) end Karl Johan begins at the Central station and passes Oslo cathedral.
Torggata (street) including Youngstorget square is a friendly pedestrian area with small shops and cafes. Torggata connects to the bridge across the river to Grünerløkka area (Oslo east). Akersgata and some other streets around ministry buildings are also pedestrian.
Get in
Sentrum, or downtown, is easy to get to.
The cruise ports in Oslo are on four different Sentrum piers, from west to east: Filipstad (330 m (LOA), 8,5 m draft), west of Aker Bryyge; Søndre Akershuskai (345 m (LOA), 10,3 m draft), the main pier by Akershus Fortress; Vippetangkaia (249 m (LOA), 7,3 m draft), south of Akershus Fortress; Revierkaia (294 m (LOA), 8,3 m draft), south of the Opera House. Annually, about 200,000 cruise passengers visit Oslo from these piers.
You can get in by car too, but there are tolls on all main roads to the city. Parking is limited and costly. The fine network of public transport in the centre means that a car is of limited use for most visitors.
The district is directly connected by public transport from all other parts of the city, for instance all subway lines pass through downtown. All local trains between east and west of the city pass also through (mostly underneath) downtown.





Get around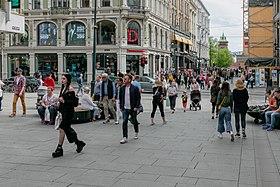 On foot or by bicycle
The easiest way to move around Downtown Oslo is
on foot
. There are rental
bicycles
at several points, a quick way to get around.
Strolling the city centre
allows you to experience the expected as well as the unexpected. Places to stroll are the main street Karl Johan upwards towards the Royal Palace by the park Studenterlunden and Kvadraturen, the part of the city that was founded by King Christian IV. In Kvadraturen and the Akeshus Fortress you find some of the oldest preserved buildings in Oslo.
The harbor side of the fortress and the Oslo City Hall is a car-free area. Here you can stroll, watch the boats – some even take passengers – or buy fresh shrimps directly from the fishing boats.
Aker Brygge is a pedestrian area where there are numerous restaurants and stores along the quayside.
There are also
guided city strolls available
if necessary.
Sight seeing by bus or railless train
If you want a quick summary of the main sights in the city center, there are also
double-decker buses
for longer trips and
railless trains
in Sentrum. However, this offer is not cheap, you may save money by using this Wikivoyage guide. Hop On - Hop Off. Guiding in English and several other languages. Starts at Karl Johans gate by Nationaltheateret.
Inner Oslofjord by boat
By car
The Oslo city center may seem unavailable by car and parking in the few outdoor parking areas or in a parking garage is expensive. Public transport is recommended, instead of getting around by car.
By public transport
See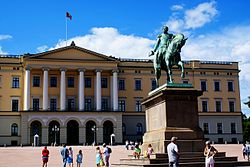 Royal PalaceThe Palace is the residence and offices of the king, Norway's head of state. Council of State meetings are held there every Friday. Building of the Palace began in 1824 and completed in 1849. The Palace sits on a small mount at the end of Oslo main street, Karl Johans gate, named after the king at the time. It was built outside the city in neoclassical style. Tours inside the palace are arranged in summertime, starting in June 21. The tickets for the tour must be bought in advance from a post office. If there are vacant spots in a tour, they sell the remaining tickets at the Palace to people waiting in line who don't already have tickets. Don't count on getting tickets on the spot unless you are quite ahead in the line since a lot of people buy them at the post offices. There are about 2 tours in English on weekdays.
Opera HouseNorway's first entry into the top league of modern architecture. Awarded the 2008 prize for best cultural building at the World Architecture Festival in Barcelona, and the prestigious Mies van der Rohe award for best European contemporary architecture in 2009, its appearance is stunning. Shaped as a glacier or a ship, the amazing building seems to float by the inlet Bjørvika, giving a stunning impression. Climb the building on the marble slopes (summer only) for a unique Oslo view. The main highway, which used to pass just between the Opera and Oslo Central Station, is now moved to a sub-sea tunnel under Bjørvika.

address: Karl Johans gate/Stortorvet

Oslo's cathedral is none too impressive, but has been refurbished. It was erected in 1697, and expanded in the 19th century using different coloured brick (still visible). After the terrorist attacks on Oslo in July 2011, the square Stortorget, in front of Oslo Cathedral, became the centre for afterthought and compassion. The square was fully covered by roses, greetings and mourning messages for weeks. Affiliated with the Church of Norway, the national Lutheran church.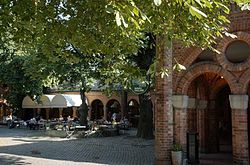 Kirkeristen

address: By Oslo Cathedral

The small, old bazaar surrounding the church is now used by artisans and craftsmen, and holds a couple of small cafes and restaurants. This building was constructed around 1850 in neo-romantic style on the site of an older butchers' bazaar.

City HallA monumental functionalist building in red brick. Opinions are divided if this is a pretty building, but it is certainly imposing. The austere facade has a surprising number of fine details. Open to the public, with a spectacular main hall featuring huge murals with typical Nordic social democratic themes. Other rooms are also decorated with a variety of art. There are also some displays of historical artefacts in the side rooms upstairs. This is where the Nobel Peace Prize is presented every year. Although there is no public lift, disadvantaged visitors only have to ask and they can use the staff lift. On one of the towers there is a glockenspiel playing melodies at every hour, the huge instrument is about 20,000 kg and stands 66 m above ground. The building was opened in 1950 after 32 years of planning and construction.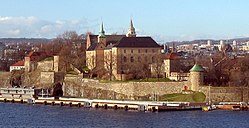 Akershus Castle and FortressA medieval castle and fortress built in 1299, located close to the city centre. There are several excellent viewpoints to the Oslofjord and surrounding areas. The stone walls create an exciting atmosphere, and you are free to roam around in tight passages and staircases. There are two museums here, both related to Norwegian military history (see museums below).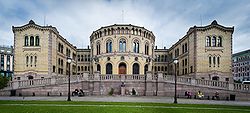 StortingetIt has free guided tours in English and Norwegian lasting about 45 minutes, which assemble outside the back door of the Parliament (on Akersgata). There is a limit of 30 people per tour, so be there at least 10 minutes prior to the start of a tour.

University of OsloThe original campus and buildings of the university, completed around 1850. The buildings houses only the Faculty of Law; the rest of the university is situated at Blindern. There are occasional concerts in the magnificent Universitetets Aula, housing 11 of Edvard Munch's pictures covering more than 200 m² of wall. The room is only occasionally open for to public, but is one of the most magnificent rooms in all of Norway. Along with a number of other key buildings around Karl Johan, these old university buildings were erected in what was then the young capital of Norway. These downtown buildings are surrounded by a pleasant park - the University garden. The Faculty of Law also used to serve as the venue for the awarding of the Nobel Peace Prize from 1947 to 1989.

Government Building ComplexRegjeringskvartalet is a group of buildings housing several of the offices of the executive branch (ministries) as well as the Supreme Court. The area does not display a consistent style but instead reflects 200 years of development. The prime minister's building and the Y-building are functionalist or brutalist architecture. The Y-building has a particular layout and the facade is decorated by Picasso's drawings carved directly into the concrete. Pablo Picasso also decorated the stair well in the prime minister's building. The Royal Ministry of Finance occupies an imposing art noveau (jugendstil) building in red granite. The bomb 22 July 2011 caused considerable damage to several buildings (leaving 2000 offices unusable) and 8 civil servants lost their lives in the explosion. Some buildings have been repaired, others are demolished and some are still in the process of reconstruction. The area is open to pedestrians. A partly shattered newspaper panel with the original pages dated July 22 still stands. The July 22 Centre is the middle of the area.
Art galleries
Parks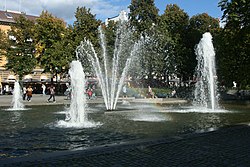 SlottsparkenSurrounds the Royal Palace (see above) at the top of Karl Johan street. Oslo's most central park is a pleasant grass covered area with majestic old trees. When you are in the park, don't miss the Princess Ingrid Alexandra's Sculpture Park area, which contains sculptures made by children from all over Norway. Wide walkways crisscross the park. The Royal Guards have a small barrack in the park.

University garden

address: Karl Johans gate

Pleasant park surrounding university buildings on Karl Johan street, completed around 1850.

Studenterlundenthe park in the heart of Oslo, between the parliament and the National Theatre. Fountains in the summer, ice rink in the winter, outdoor seating and a variety of statues of famous Norwegians including Henrik Ibsen, Ludvig Holberg and Bjørnstjerne Bjørnson.
At Akershus Castle
Museums
address: The Akershus Fortress

Describes Norwegian military history and provides an insight into the development from the Middle Ages to the first years after World War II.

address: The Akershus Fortress

Describes the resistance against the Nazi German occupation of Norway during World War II.
Do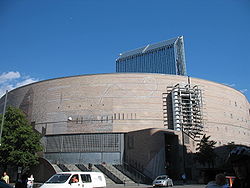 address: Munkedamsveien 14

One of the main venues for classical and contemporary music in Oslo. The concert hall is home of the Oslo Philharmonic Orchestra, a world-class symphony orchestra. The building is modern with a modest exterior.

phone: +47 815 11 211

address: Sonja Henies Plass 2

The place for great concerts, rallies and indoor sports events.
Theatres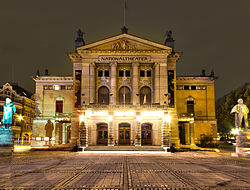 Cinemas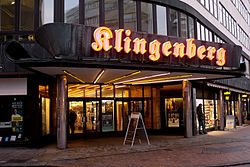 Foreign language movies are not dubbed, exept movies for children. They are performed in the original language (such as English) with Norwegian subtitles. Tickets may be purchased at the cinema or pre-booked online. To pre-book, remember to choose the date and the cinema from "alle kinoer" on the website in Norwegian only. Dating in Norway: day first, then month. For example, 03.07. means July 3rd. 24-hour system: 17:30 means 5:30 PM.
Olav V's gate 4 cinema center
Stortingsgata 28 cinema center
Ruseløkkveien 14 cinema center (Age limit 18 years at Vika kino only)
Buy
Shopping malls
Please note that most stores and department stores are closed on Sundays.
AkersgataA few exclusive shops like Louis Vuitton, gold smith David-Andersen, Follestad, Corso Como, Ting. The most exclusive shopping-centre in Oslo.
ByportenA shopping centre appended to the Sentralstasjon, with a selection of Norwegian chain stores. Handy for last-minute shopping or filling up supplies on arrival, but mind the opening times, much shorter than the station's.
address: Karl Johans gate 23 B

High-end fashion shopping in the middle of Karl Johans gate.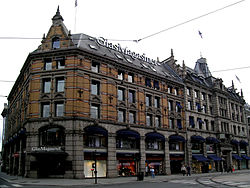 Speciality stores
address: Byporten shopping centre, House of Oslo shopping centre and Grensen 8

Swedish chain that showcases high quality quirky design. Worth checking out for quality gifts to bring back home.

address: Østbanehallen, Jerbanetorget 1

Souvenirs.

Living LargeA store for tall and large men, sizes range from 3X to 9X with decent formal and informal clothes.

address: Fridtjof Nansens Plass 9

Greatest selection in the city of original Norwegian knitted wool sweaters.

Fisketorget: The Oslo Fish Market

phone: +47 940 80 932

address: Rådhusbrygge 4

Fish market of fresh fish and shellfish that has an aquarium, seafood restaurant and sushi and oyster bar.

address: Tullins gate 5 0166 Oslo

Traditional Norwegian sweaters.

address: Storgata 7 + Lofsrudveien 6

Stores for Norway's largest brand of outdoor wear.

Tursenteret, Den Norske Turistforening

address: Storgata 3

Equipment shop and good advices for hikers and cross country skiers, tour maps, booking of tourist cabins.

phone: +47 958 42 611

address: Storgata 32

Largest selection of beer in the city, Norwegian craft beer from all over Norway in particular.

phone: +47 22 20 73 50

address: Hammersborggata 18

An old-school record store with vinyl, CDs and some band merchandise for those into alternative music like punk, noise and all kinds of genres with names ending with "core". Also a record label and a distributor.
Eat
Budget
Mid-range
Splurge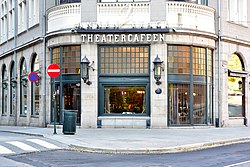 Fish
Traditional
Drink
address: Schweigaards gate 4

Classy place that is not expensive at all. Also has live music and DJs with 70 kr cover charge.

address: Stortingsgata 8

Shows most football matches on LCD TVs.

phone: +47-22416266

address: Arbeidergata 2

The best place to watch football (soccer) and sports in general, and to have a cheapish beer. Official Vålerenga supporter pub.

address: Rådhusgata 28

A nice Irish pub a little off Karl Johans gate, does a good fish and chips (and a few rounds of Guinness with which to wash it down). In Norway: Good fish? Always! Good chips? Never! Except maybe here.

address: Klingenberggata 4

Whisky bar with wide selection. over 500 whiskies and several fantastic rums and over 60 beers on bottle.

address: Youngstorget 6

Intimate and lively pub and restaurant which serves unpretentious, good food. They have an outstanding collection of akevitt (akvavit), the Scandinavian potato spirit that you should check out, though you won't necessary love it unconditionally.

phone: +47-22863000

address: Karl Johansgate 45

Dealing mainly with, as the name suggests, rock nostalgia from the 1950s, this should be familiar. Pricey.

address: Fridtjof Nansen Plass 8

German, Bavarian style beer bar with the party atmosphere of afterski and octoberfest.

Hell's Kitchen

address: Møllergata 23, Youngstorget corner of Møllergata

Pizza and music, lots of beer and cocktails. Brilliant place that once was the heyday of hipness, a reputation it has to leave to its own basement (The Villa) and Revolver, just down the street. Still a good corner to drop into.

phone: +47 23 89 86 86

address: Karl Johans gate 39

Oslo's largest selections of specialty beers, hearty, simple cooking.

address: Karl Johans gate 10

English style pub and piano bar in the main street.

phone: +47 948 796 36

address: Klingenberggata 5

Irish pub combined with a nightclub that offers live music, big screen sports and a dance floor.

address: Karl Johans gate 17

Big and well known Scottish style pub in the main street. Live music.

phone: +47 4725 8445

address: Rådhusgata 28

Pub with large selection of whisky.
Microbreweries
address: Stortingsgt. 20

Gastro pub & restaurant with its own microbrewery in the middle of the room.
Clubs and live music
Rock music
address: Pløens gate 4

Rock/indie music club with local rock stars, frequent concerts with up-and-coming Oslo acts, not too expensive beer and a great back garden for smoking. One of the better places to pick up indie-chicks in Oslo.

address: Grensen 1

Rock'n'roll bar and stage in historical surroundings.

address: Karl Johans Gate 45, entrance Universitetsgaten

Sandwiched between a theatre and Hard Rock Cafe this gem is easily overlooked. One of the best (and longest lasting) rock/punk/metal/indie pubs in Norway.
Gay
Elsker

address: Kristian IVs gate 9

Ett Glass

address: Karl Johans Gate 33B

address: C. J. Hamros plass 5

The largest gay and lesbian venue in Oslo.

So

address: Arbeidergata 2

Mostly aimed at girls. Nice cosy bar which gets packed Saturday night.
Sleep
For more accommodations in the most central Oslo, see also the sleep sections of the Oslo/Inner North or the Oslo/West article.
The categories refer to normal prices. Budget: normal prices from under 850 kr, mid range: 850-1500 kr and splurge: over 1500 kr a night.
Budget
Hostels
phone: +47 24 00 55 00

address: Øvre Slottsgate 2

Perminalen offers slightly higher standards at slightly higher prices. OK cafe with good, old Norwegian homely grub at nice prices.

phone: +47 22 33 55 80

address: Tollbugata 8

phone: +47 47 23 10 08 00

address: Konges gate 7
Hotels
Mid-range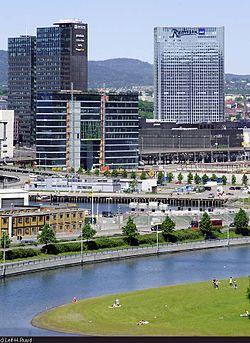 Splurge
Stay healthy
Connect
address: Møllergata 3

Free use of computer terminal for 30 minutes for people 26 and under, although age is rarely checked.

address: Inside the train station Oslo S On the third floor (one level up in the main hall)

The most complete Internet cafe - business center with full spectra of services and personnel on site.

Oslo S Train StationOn the first and second floor, there are several automated stand alone computers setup for basic internet surfing, as well as an Internet cafe in the bus terminal next to the central station.

Internet cafe

Oslo City Shopping CenterInternet kiosks.

ByråkratFree wifi with purchase.
Internet access
Go next