Oslo/West
Western Oslo
comprises
Oslo
west of Ring 1, southwest of Highway 168 (Sørkedalsveien) and south of Ring 3. In addition the article contains the western suburbs of Oslo that are administratively part of
Akershus
county.
Western Oslo includes some of Oslo's top attractions, notably the Viking ships museum in Bygdøy and Vigeland sculptures in the Frogner park.
Get in
The easternmost part of this district (Majorstuen, Frogner) is a 2-3 km stroll from downtown. Otherwise you can take either of the subway lines, or tram 12 or 19.
To go further west, take subway number 3 (districts more inland, as far as Kolsås), local trains going west (places along the coast) or tram 13.
Bus 30 goes to destinations at the Bygdøy peninsula, alternatively you can take the ferry .





See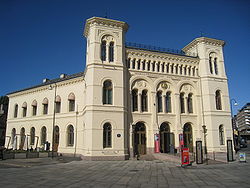 Nobel Peace CentreIncludes some confronting exhibitions and an exhibit for every winner of the Nobel Peace Prize. Included in the Oslo Pass.

Henrik Ibsen MuseumThis museum is a treat. Included in the Oslo Pass.

address: Strandpromenaden 2

Astrup Fearnley Museet is a private collection of contemporary art, founded in 1993. The museum was relocated to Tjuvholmen, Aker Brygge in 2012. The building - designed by Renzo Piano - is spectacular in itself, and the museum offers a small green oasis with a beach, very welcome in the concrete surroundings of Aker Brygge. The museum offers temporary exhibitions, and is an established and central institution in Norwegian contemporary art. Closed on Mondays.
Bygdøy
phone: +47 95 28 61 55, +47 91 70 23 61

address: Oscarshallveien 805

Oscarshall is a royal summer Palace from the mid-19th century, now open to the public. A small palace filled with 19th century Norwegian art and surrounded by a magnificent park. Guided tours.
Longer out at the peninsula of Bygdøy
, you will find two groups of museums within walking distance of each other:
In the first group, around 800 metres inland: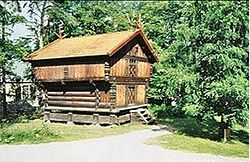 The Norwegian Museum of Cultural History

phone: +47 22 12 37 00

address: Museumsveien 10

A large open air museum featuring typical buildings from various periods in Norwegian history. This includes a city building that shows living conditions from the 1850s to the 1980s. Included in the Oslo Pass.

phone: +47 22 85 19 00

address: Huk aveny 35

In addition to two 1100-year-old Viking ships (apparently the best preserved in the world), it also contains various other Viking artefacts and a Viking burial chamber, complete with ancient skeletons. Included in the Oslo Pass.
In the second group, on the outer part of Bygdøy peninsula:
phone: +47 22 12 37 00

address: Bygdøynesveien 37

Houses a huge collection of ships and boats and records the impact of Norway's seafarers on their own country and the world. Included in the Oslo Pass.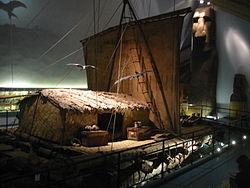 phone: +47 23 08 67 67

address: Bygdøynesveien 36

Displays Thor Heyerdahl's balsa raft Kon-Tiki, and Ra II, as well as some other artefacts from Easter Island. Included in the Oslo Pass.

phone: +47 23 28 29 50

address: Bygdøynesveien 39

Features the vessel Fram, the worlds first ice breaker and the last polar expedition ship made of wood, and presents a history of polar exploration (with a strong Norwegian focus!). Included in the Oslo Pass.

phone: +47 22 84 21 00

address: Huk Aveny 56

is also located at Bygdøy, in the former residence of the Norwegian World War 2 collaborator and nationalist leader, Vidkun Quisling. The Center houses exhibitions and provides research on Holocaust and the plight of religious minorities. Included in the Oslo Pass.
Frogner
phone: +47 23 49 37 00

address: Nobels gate 32

Situated to the south of the Frognerparken and Halvdan Svartes gate. The museum manages the sculptural works of Gustav Vigeland and offers a permanent exhibition of Gustav Vigelands sculptural works, as well as rolling exhibitions of various spatial art-forms (sculpture, installations and video-art). The museum was designed by Lorentz Ree and built in the 1920s. The striking building in red brick is one of the finest examples of Norwegian neoclassic architecture. The complex also included a studio for the artist. The urn of the artist is kept in the tower.

phone: +47 23 28 41 70

address: Frognerveien 67

Museum with exhibitions showing the city's cultural and commercial development.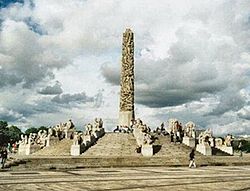 Frogner and Vigeland parkFrogner park including Vigeland Sculpture Park is a large green area about 10 minutes by subway from the city center. In addition to being a nice green recreational area, it is also decorated with hundreds of sculptures by the Norwegian artist Gustav Vigeland. There is a wonderfully relaxed atmosphere here, although the sculptures are a little depressing. If your children want to climb the statues, nobody will even bother to look twice at you. There is also a cafeteria, and two museums, the City Museum of Oslo and the Vigeland Museum. If you fancy an outdoor swim, Frognerbadet is situated next to the Frognerpark with 3 pools, several diving towers and a water slide.

address: Henrik Ibsens gate 110

Monumental building from 1913 with frescos by Vigeland. The Library holds copies of all published material in Norway. Fine retreat on a rainy day. Cafe and bar within.
Do
Huk beachBeach, partly sandy, popular on warm summer days
Buy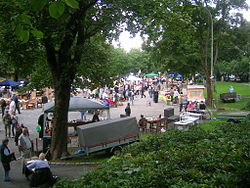 Bogstadveien-Hegdehaugsveien is the main shopping street and runs between the Royal Palace and Majorstuen (junction and metro station). Independent stores as well as chains such as Zara are located on this street. The small tram runs in the street. The area is locally known simply as "Bogstadveien" even if the lower part is Hegdehaugsveien.
High-end shopping is also located in Frogner area (Bygdøy alle and Frognerveien) and at Aker Brygge just off Karl Johan.
Shopping malls
Aker BryggeA seaside shopping and nightlife centre with high prices, but lots of glam and fun.
Eat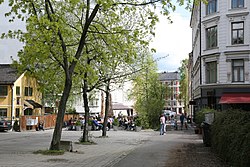 Budget
Mid-range
Splurge
Fish
Drink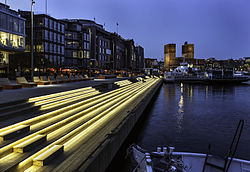 address: Holmens Gate 3 (Aker Brygge)

A popular pub with fair selection of Norwegian and foreign beers. In addition to enjoying good beer it's possible to play darts and get a slice of pizza. Every Monday an international beer course is held here by Ølakademiet.

phone: +47 22 46 99 29

address: Majorstuveien 34

The pub for real beer connoisseurs and beer lovers, many types of specialty beer on tap.

address: Solligata 2

In addition to the gourmet restaurant (see above) the palace also includes a separate bar with nice drinks and concerts every Monday, plus the 3-story outdoor seating area "Skaugum" with lots of concert during summer.

address: Frognerveien 2

Spanish cava and tapas bar, fairly cheap and enjoyable.

address: Bogstadveien 6

the first microbrewery in Scandinavia, over 35 beers on tap.

address: Bogstadveien 50

Official Arsenal supporter pub in Norway.

phone: +47 22 55 40 00

address: Henrik Ibsensgate 100

Sollihagen: This outdoor terrace has heat lamps and a South European party atmosphere. Nox: Exclusive indoor nightclub where you can book a table throughout the night. Age limit 20 on Thursday/Friday and 23 on Saturday.
Sleep
Budget
address: Parkveien 25

Centrally located, next to the Royal Palace and Slottsparken. Three types of room to meet all budgets. They don't serve breakfast but have agreement with near cafe.

phone: +47 67 51 80 40

address: Michelets vei 55, Stabekk

HI hostel. Outside the city border, extra fee needed if you have Oslo Transport card. Open May–August. In a picturesque neighbourhood close to the sea.
Mid-range
Splurge
address: Parkveien 78

50 rooms, small but good value. Restaurant with Japanese food.

phone: +47 24 00 40 00

address: Landgangen 1

Located directly at the water front of the Oslo Fjord in the middle of the business and contemporary art district of Oslo. The hotel is surrounded by many nice (and pricey) restaurants.
Connect
Go next