Osnabrück
Osnabrück
is a city in
Lower Saxony
.
Understand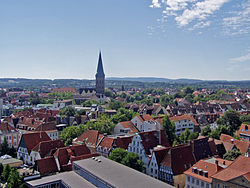 Osnabrück is a typical mid-sized Lower Saxon city. It is home to around 165,000 people and surveys have proved them to be the most satisfied citizens in Germany. Osnabrück has seen its share of history and war. It was one of the two cities (together with
Münster
) where negotiations to end the
Thirty Years War
took place and the peace treaty (The "Westphalian peace" as it is often known) was signed. Later over two thirds of the city was then destroyed in World War II.
Get in
By plane
Münster Osnabrück International Airport
(
FMO
) is the closest option. The majority of the flights are scheduled and public charters to holiday destinations arround the Mediterranean, as well as some domestic flights within Germany.
The shuttle bus X150 brings you to central Osnabrück in about 30 minutes for €9,50.
Many travelers choose to use other nearby airports for budget airlines and international connections. These include: Bremen for Ryanair, Dortmund for easyJet and Wizz Air, Düsseldorf and Cologne or Hannover for Eurowings. Consider the cost of ground transportation from these airports as train tickets can cost upwards of €70 if not pre-booked.

By train
Osnabrück is well connected as it is a railway junction. Trains on the Amsterdam-Berlin route meet here with trains on the Hamburg-Cologne route. Deutsche Bahn operates most trains and connections for around Europe and Germany. The Dutch Nederlandse Spoorwegen (NS) sells discounted tickets to/from places like Amsterdam. Osnabrück is about 3 hours by express train from Amsterdam, Hamburg, Berlin and Cologne.
Other railways operate many of the local services but are always included in the DB search engine and tickets.

By car
Osnabrück is also an Autobahn junction:
A1 from Bremen to Cologne
A30 from Amsterdam and Hannover
A33 from Bielefeld

By bus
Intercity buses have exploded unto the scene since the market was deregulated in 2012/13 and now a few lines connect Osnabrück to domestic and international destinations. The main bus station ZOB Osnabrück is located next to the train station.

By boat
The Mittellandkanal has a tangent running directly into Osnabrück (from Kilometer 30,4). There are no public boat services.

Get around
The city is most easily navigated by city/regional
bus
. The Stadwerke Osnabrück operates standard
daytime
as well as
NachtBus (night)
service on Friday and Saturday. They have an online
trip planner
as well as digital signs at many bus stops to inform you of the current predicted wait time.
Fare information is posted inside all bus shelters and most bus operators speak some English. Tickets are bought from the bus operator of from vending machines on the Neumarkt. Bus operators are obliged to give change if you over-pay in cash.
Many Osnabrückers choose to ride a
bicycle
as transportation since the compact size and good infrastructure make it easy to get around. While utilizing the red-colored cycling lanes in Osnabrück one should exert caution. These lanes are often narrow, at street level, and/or shared with the city buses and taxis. Dangerous conditions lead to at least one bicyclist death a year in Osnabrück. Please use your best judgement and walk your bike on the sidewalk if you feel uncomfortable. Additionally there are many places where bicycles (and all cars) are forbidden in the city center. If you are riding on a street where there are no cars, be sure to double check that bicycles are not forbidden, because the police will stop you.
See
Osnabrück, like most other larger cities in Germany, suffered extensive destruction during World War II, about two thirds of the historical city center were in ruins. Most destroyed buildings were not reconstructed, so there is limited historical architecture to visit.
Churches
St. Peter's Cathedral

address: Große Domsfreiheit

Charlemagne founded the diocese of Osnabrück. Today's late-romanesque cathedral was erected from 1218 to 1277 and consecrated 1277. The shape is dominated by the two Western spires, which were built with 400 years in between. The triumph cross in the church was manufactured in the 12th century and is the largest cross in Lower Saxony.
Profane Buildings
Osnabrück Castle(now University) and its gardens.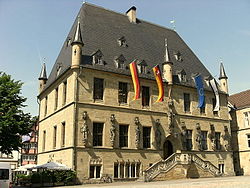 RathausThe Osnabrücker Rathaus (city hall) played a key role in the end of the 30 years war. In celebration with the authorities in nearby Münster, a peace treaty was signed.

Heger Tormonument of Osnabrück soldiers who died at Waterloo and the neighbour old city are remnants of an earlier manifestation of Osnabrück.
Museums
Osnabrück has several museums and a Culture Card / City Card for museum lovers.
address: Lotter Straße 2

A museum dedicated to the Osnabrück native, Felix Nussbaum, a Jewish painter who was executed at Auschwitz during the World War 2. The extension of the building was designed by Daniel Libeskind (of Berlin Jewish Museum fame).
Do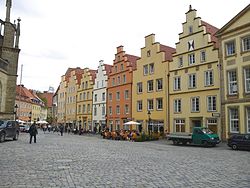 Talk to the locals.
Sit in a street cafe.
Learn
Among other (technical) schools Osnabück is home to a university. The university has several campuses dispersed throughout the city.

Work
R&R Ice Cream , Eduard Pestel Straße - English Friendly.

Buy
The favorite shopping area is the pedestrian zone Grosse Straße (Big Street) in the city centre starting at the Neumarkt.

Eat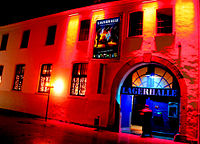 Osnabrück offers an array of foreign cuisine in addition to the "typical German food".
Budget
The best place to get a quick bite is at a Döner (Turkish Kebab) stand or restaurant. There are several local operations offering this type of food throughout the city.
phone: +49 541 580 26 87

address: Lotter Str. 19,

Very good home cooking at reasonable prices.

Lagerhalle Kneipe

address: Rolandsmauer 26

Pub inside the Lagerhalle Cultural Center. Pizza, pasta and salads.

phone: +49 5 41 750 99 750

address: Heger Str. 4/5

The pub of a retired American soccer player who spent the majority of his career at German Second Division club VfL Osnabrück. Sandwiches (baguette) and salads (Greek, Scandinavian and Potato salad)

Mc Döner

phone: +49 541 3502968

address: Johannisstraße 51

Kebab
Mid-range
There are many "Gasthäuser" and "Lokale," the local old school sit-down German food places.
Hausbrauerei Rampendahl

address: Hasestraße 35

Traditional German dishes and craft beer. Offers a buffet menu at a reasonable price.
Splurge
phone: +49 541 331150

address: Krahnstraße 1

The gourmet restaurant La Vie is very luxurious, if you have the money it's worth the visit.
Drink
You will never have to look far to find a drink. There are many youth and student oriented bars and clubs as well as bars and clubs for the more sophisticated. On a nice summer evening you will find many people congregate in the Schlossgarten (Palace Graden) to drink together.
Grüner Jaegeran original beerhall serving the local Osnabrücker Pils.

Cafe Orientserves a variety of German beers and offers Shishas (hookah/water-pipes) in a warm den-type environment.

Cubana Cocktailbar & Restaurant

phone: +49 6151 39 11 999

address: Donnersbergring 20

serves Caribbean style, on the premise of being a cocktail bar/salsa club.

AlandoIf you like pop music, go to the Alando, which is near the central train station. There may be drunk and misbehaving people, though.

Kleine FreiheitBehind the train station is the best alternative club. 21+.

Hyde ParkIf you like metal better, the Hyde Park is for you. Every Thursday and Friday, there is rock and metal night. For Goths: visit Hyde Park on the second or fifth Friday each.

address: Meller Str. 16

Alternative/Student-Bar with vintage interior and rock music. Mainly students and locals, not to pricey. Smoking and in the summer some places outside.
Sleep
Budget
phone: +49 541 6009606

address: Moeserstraße 19

Free WiFi, small breakfast, rooftop terrace, laundry, sauna.
Mid-range
Hotel Advena Hohenzollern

address: Theodor-Heuss-Platz, Neustadt, Innenstadt

Westermann
Splurge
phone: +49 541 60960

address: 1, Natruper-Tor-Wall
Stay safe
Osnabrück is quite safe. There are break-ins and sometimes drunks getting lagered up, as well as rowdy, trouble making kids. Overall there are still very few violent crimes.
Still, the Neumarkt and the Rosenplatz should be avoided at night.

Cope
In some parts of Osnabrück, locals resent the British military bases in town and are reluctant to speak English unless you have made an attempt in German. In others, people may automatically recognise that you aren't German and may thus begin a conversation in English. Since British left Osnabrück in 2008 this may be diminishing.

Go next
Kalkriese
Nearby Kalkriese is an
archeological site
that is widely considered one of the most likely candidates for the site of the 9 CE battle in which three Roman legions led by Varus perished to Germanic warriors led by Armininus