Osoyoos
Osoyoos
(IPA: /ɒˈsɔɪjuːs/) (Pronounced "O-sue-use"), a town in the southern
Okanagan
valley of
British Columbia
. The town has about 5100 permanent residents (2016).
Understand
Osoyoos is also a popular summer holiday destination and has gained an enviable reputation as the community of choice for retirees who wish to escape harsher Canadian winters. All in all, it's a true "lifestyle community", where people go to enjoy the good life.
The Osoyoos region's semi-arid climate produces very hot, dry days, and may have Canada's hottest weather a few times each year. The chief industries of Osoyoos are fruit production, viticulture (wine making), and tourism.
Most travellers will arrive by automobile and try to schedule their holidays to coincide with the Spring and Fall Wine Festivals.
Osoyoos is just north of the Canada-US border, and the border crossing is the busiest in British Columbia outside of the
Lower Mainland
.
History
The Osoyoos area has long been home to the Okanagan people (who speak the Syilx language), an Interior Salish people who still live in the valley, from the head waters of the Okanagan Lake, downstream to near the Okanagan river's confluence with the Columbia River in present-day Washington, though the traditional territory once encompassed the entire Columbia River. Like many places in the
British Columbia
Interior, the Osoyoos area was named by the Okanagan people. Osoyoos (
O-sue-use
) or (
Sou-yoos
) in the Syilx language describes a "narrow" waterway or where land almost meets, which refers to the cinched waistline of the 19 km long Osoyoos Lake (5 km of which is in the
USA
). The Okanagan people are thought to have first lived in the area around 3500 to 4000 years ago.
There are indications that non-native travellers may have been here in the 1500s, and also that Spanish conquistadors came here searching for Eldorado: they got as far as Kelowna before they and most of their horses died during a severe winter. It was not until the early 1800s that trappers and traders arrived, followed by gold miners and then ranchers. A fairly young place, in terms of settlers, who found the area too hot and dry in the summer. The first commercial orchard was planted in 1890, and when the South Okanagan irrigation canal was built in 1919, the town of Osoyoos began to grow and was thus incorporated in 1946.
Landscape
The Okanagan Basin area around Osoyoos is an area of notable ecological significance. Habitat types include wetland/riparian, grassland/shrub-steppe, coniferous forest, and rugged terrain. This wide assortment of habitats supports extensive biological diversity. Nearly half the bird species in Canada are found here along with many plants that exist nowhere else in North America, or in some cases the world.
Climate
The climate is desert-like with summers that are generally hot and very dry (just over 300 mm (12") of annual precipitation), resulting in one of the Provinces longest growing seasons, and the warmest summer daytime average temperature in Canada (27.9°C). Normally, daily temperatures in July and August average near 30°C (86°F), with overnight lows of around 14°C (57°F). September and October are usually warm and pleasant. Winters are short but can be somewhat cold with average lows around -5°C (24°F) in January. Spring arrives early with the return of warm and pleasant weather in April. Current weather conditions and historical climate data can be found online at
Environment Canada
.
Get in
Osoyoos
is in the south central interior of British Columbia, approximately 400 km east of Vancouver at the junction of Highways 97 and 3 near the border of Washington State.
By car
By plane
There is a small airport in Osoyoos, with a single paved 2,800 foot long runway running 12/30.
The closest major airport is in Kelowna BC 150 km to the north car rental available
Vancouver
, 400 km to the west-southwest. There is also a regional airport in
Penticton
, which serves domestic flights; Canada Customs services are available upon request.
By bus
Get around
There is no public transport, though the town is small enough that getting around on foot or bike is suitable. As with most destinations in the
Okanagan
, getting around by car is the best way to see all the sights.
Bike rental:
Double O Bikes, 8905 Main St, +1 250 495-3312.
Scooter rental:
Scooters Osoyoos, 5702 Main St, +1 250 495-3575.
Lakeshore Scooter Rentals Ltd, 6015 Lakeshore Drive, +1 250 495-4243.
See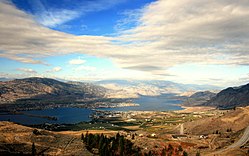 The viewpoint on Anarchist Mountain. Due to the close proximity to the US border, Highway 3 east had to be built straight up and over this mountain rather than going around. Gaining hundreds of meters of elevation in a very short stretch of road, the viewpoint at the top affords great views west to town, and south into the US.

address: 19 Park Place

Don't forget to visit the Osoyoos museum, the "Best Small Town Museum in B.C." The museum features one of the finest displays from the archives of the B.C. Provincial Police. There are Indian artifacts, the first Canada Custom's House in the early 1800s, an 1879 log building, and the only liquor distilling apparatus to be found in a B.C. museum. Also of interest are artifacts from the local pioneers, miners, ranchers and farmers that struggled to reclaim this desert. It is open from the May long weekend until Labour Day Weekend.

phone: +1 250 495-6842

address: 11611 - 115th St

Multiple trains running on over a kilometre of HO scale track. Unintuitively, the theme here is of European towns and villages. There is a gift shop on site.

address: 9202 - Hwy 97

This ecological interpretive centre provides guided and self-guided tours along a 1.5 km boardwalk through the desert, teaching the local flora and fauna of this unique area. $6 adult, $15 family.

phone: +1 250 495-7901

address: 1000 Rancher Creek Rd

Another source of insight into the desert flora and fauna, this one from the perspective of the natives. Self-guided and guided cultural tours on over 2 km of trails. Desert animals available for viewing including a live rattlesnake show. $12 adults, $8 children (ages 5–17), $36 families.

address: 1400 Rancher Creek Rd

The first Native-owned winery in North America, and the second in the world. Often has special events such as a traditional salmon barbeque matched with not-so-traditional wines. Daily tastings.

Haynes Point Provincial ParkSurrounded by warm water and sandy beaches, Haynes Point sits on a pencil of land jutting into Osoyoos Lake at the southwest end of the town. The water is reported to be the warmest in Canada making it excellent for swimming, boating and fishing. Lakeside campsites and privacy make this a popular camping area. Reservations are necessary during the summer months.
Do
Osoyoos LakeOsoyoos Lake is the warmest fresh water lake in Canada and provides for great summer time activities. Bring your boat or just sit on the beach and enjoy the day.

Pioneer WalkwayOne of the many spots in Osoyoos where you are greeted by visitors and locals alike. The walkway is located along the lakeshore, and in the middle of the Motel district. Admire the plants and enjoy the scenery.

Lakeview Carriage Co

phone: +1 250-498-9624

Horse drawn carriage ride through town

Desert Country Wine ToursIf you don't have a car this may be the best way to see the over 30 south Okanagan wineries. Prices vary depending on length of the tour: $40–$80.

phone: +1-800-481-6665

brings together an ideal desert climate and picturesque Okanagan surroundings. Perched high above the Town of Osoyoos, vistas of mountains, lake, desert and valley on two full eighteen hole championship layouts offer all golfers a unique golfing experience.

Sonora Dunes Golf Course

phone: +1 250-495-GOLF

Offers a one-of-a-kind nine hole desert links course. The breathtaking views of the lake, vineyards and surrounding mountains ensure golfers will enjoy this unique experience.

Lake Osoyoos Sailing ClubFeel the power of wing during a three hour introduction to the sport of sailing. The program is offered by the Lake Osoyoos Sailing School and generally runs during July and August of each year.
Events
Annual Cherry Fiesta don't forget about the Osoyoos cherry fiesta which is held every year on July 1, Canada Day. Many events are planned throughout the day, including a pancake breakfast, parade, the Cherry Spitting competition, and at night we have the Fireworks display. Don't miss out on all the festivities and excitement!
Buy
The
Osoyoos Art Gallery
is open year round. Local artists and craftsmen exhibit and sell their work May through September. Individual and group exhibitions run Oct through April. The gallery is staffed entirely by the efforts of generous volunteers and is managed by the Osoyoos Arts Gallery Committee. The gallery is wheelchair accessible and hosts over 7000 visitors annually.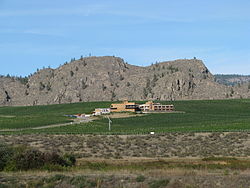 Wineries - Vineyards
Antelope Ridge Winery

phone: +1 250 498-6966

address: 32057 Road 13

phone: +1 250 498-0666

address: 4190 Black Sage Road

Burrowing Owl Winery

address: 100 Burrowing Owl Road

Carraige House Vineyards

address: 32764 Black Sage Road

Gehringer Brothers Winery

address: Road 8, Okanagan Valley

Gersighel Wineberg

address: 29690 Hwy 97, Okanagan Valley

Hester Creek Estate Winery

phone: +1 250 498-4435

address: 13163-326 Ave, Okanagan Valley

Inniskillin Okanagan Vineyards

address: Road 11 West, Okanagan Valley

Jackson Triggs Winery

address: Hwy 97, Oliver, Okanagan Valley

address: 3628 Highway 3 East

address: 1400 Rancher Creek Road

Road 13 Vineyards

address: 13140 316A Avenue Okanagan Valley

phone: +1 250 498-3276

address: 4444 Golden Mile Rd. Oliver

phone: +1 250 498-0310

address: Road 9, 32032 87th Street, Okanagan Valley

address: 32830 Tinhorn Creek Road
Orchards - Farm Markets
Black Sage Orchards

address: 8772 316 Avenue

Chris Jentsch Fruit Company

address: 341448 97 Street

Covert Farms, Seacrest Road

address: Okanagan Valley

Ferreira Orchards

address: 34664 71 Street, Oliver, Okanagan Valley

Fritzville Fruit and Veggie Market

address: 34032 Hwy 97, Oliver

Gemini Fruit Company

address: 9736 326 Avenue, Oliver, Okanagan Valley

Heart Berry Farm

address: Hwy 97 North, Oliver, Okanagan Valley

Herb Garden Fruit Market

address: Hwy 97

Karow Farms

address: 8932 314 Street, Oliver, Okanagan Valley

Llloyd Park Farm

address: 9554 326 Street, Oliver, Okanagan Valley

Nature's Produce

address: 38063 97th Street, Oliver, Okanagan Valley

Oliver Fruit House

address: 32651 87th Street, Oliver, Okanagan Valley

Peach Hill Fruit Market

address: Hwy. 97 North

Sagebrush Nursery

address: 38206 93 Street, Oliver, Okanagan Valley
Eat
Ambrosia

address: 6910 Main St

Get cozy at Ambrosia - the perfect diner style restaurant to sample both Western and East Indian Cuisine.
Bombay Grill Restaurant

address: 5506 Main St

Featuring Indian Cuisine for lunch and dinner buffets.

Breeze Bar & Grill

phone: +1 250 495-3274

Great food, great cocktails and the best patio downtown.

O' Delights Bakery

address: 8323 Main St

Come by O'Delights Bakery for a wide variety of fresh baked goods, smoothies, specialty coffees and daily chef specials. Start the day with their made to order breakfast, starting at 7:30AM M-F and 8AM Sat. Catering services are also available.

Campo Marina Italian Restaurant

phone: +1 250 495-7650

Voted the most popular restaurant in the South Okanagan, the atmosphere will make you feel like you are in Italy, with fine dining, freshly made bread and fine wine.

Diamond Steak and Seafood House

phone: +1 250 495-6223

Fantastic souvlaki, kalamari, and other Greek specialties as well as steak and seafood. Extensive wine selection.

Golden Chopsticks

address: 8527 Main St

Serving authentic Chinese and Japanese food. Your choice of five kinds of tea with every meal.

Lotus Buffet Chinese Restaurant

address: 8311 78th Avenue

Good Chinese food for lunch or dinner.

Kismet Cafe

address: 103-8309 Main St

Great coffees and expressos, breakfast and lunch with the newspaper.just like home.

Sol Grill Room and Lounge

phone: +1 250 495-6884

Watch the sun set and take in the beautiful view of Osoyoos Lake while enjoying superb cuisine served with elegance and grace. Extensive wine selection.

Wildfire Grill

phone: +1 250 495-2215

The menu provides an innovative culinary experience featuring globally inspired cuisine using indigenous ingredients of the region.
The Sonora Room at the Burrowing Owl Winery. The perfect marriage of food, wine and ambiance is often an elusive quest. But now, British Columbia's south Okanagan region is home to the ultimate epicurean experience, offered at the Sonora Room at Burrowing Owl Estate Winery's new fine dining restaurant.

Passatempo Restaurant

phone: +1 250 495-8007

At Spirit Ridge. A bistro-style restaurant situated amidst vineyards and orchards overlooking Lake Osoyoos. Enjoy their focus on regional products, fresh ingredients and friendly service.

Smitty's Restaurant

address: 8906 Main St

A family friendly place for your dining needs from full breakfasts to dinners.

Dolci Deli and Catering

phone: +1 250 495-6807

address: Main street

European deli café with excellent fresh sandwiches on in-house baked bread. Licensed with a private backyard patio. Organic espresso bar and gourmet deli meats/cheeses for takeout.

Osoyoos Golf and Country Club

phone: +1 250 495-3355

Three dining areas, extensive decks and patios overlooking a beautiful panorama of orchards and lake below. Casual and warm hospitality are the norm with "clubhouse" fare and daily features.
Drink
Bibo Wine Bar

address: 8316 Main St

Inventive salads & sandwiches for lunch; tapes, entress and fondues for dinner. The largest selection of BC wines in town.

Promenade Wine Bar

phone: +1 250 495-5400

At Walnut Beach Resort. Offers mouth-watering tapas and meals that can be enjoyed with friends and family in-suite, in-doors or alfresco on the balcony.
Sleep
Go next