Ostrava
Ostrava
is a city in the borderland of Moravia and Silesia in the
Czech Republic
. With a population of nearly 300,000, it is the third largest city in the Czech Republic and the centre of the second largest urban agglomeration after Prague.
Understand
Ostrava had been a predominantly industrial city since the 18th century, when the discovery of extensive coal deposits in the area led to an industrial boom. Ostrava quickly grew from a small provincial town of around one thousand inhabitants to one of the largest cities in the region.
As a major steel manufacturing centre, Ostrava suffered heavy destruction during the Second World War, and holds the sad distinction of being one of the most polluted cities of the European Union. Many parts have been redeveloped though, and several formerly industrial areas have become cultural centres and tourist attractions.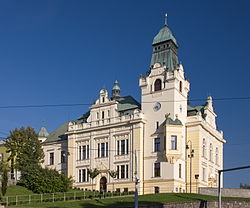 Get in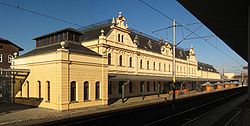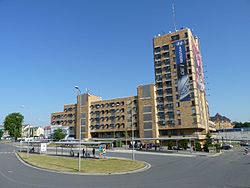 By train
3½ hr, Czech Railway's IC/EC every two hours (494Kč regular fare sold at train station before - but usually there is some discount offer, 229Kč companions in a group of 2 or more people, 150-300Kč if bought online or in advance at trainstation).
3 hr, Czech Railway's SC Pendolino every one or two hours (prices as above plus 100–200Kč compulsory reservation fee, around 300Kč altogether if bought online)
3½ hr, RegioJet several times a day. Tickets are generally sold online and start at 230Kč.
Brno: 2½ hr, hourly fast trains
Olomouc: 1 hr, IC/EC trains and SC Pendolino (compulsory reservation) every two hours. Some fast trains (rychlík) from Olomouc to Ostrava go longer way through Jeseníky mountains for more than 3 hours.
Warszawa: 4½ hr, three ECs a day
Moreover there are direct connections from
Vienna
,
Bratislava
,
Žilina
,
Krakow
,
Budapest
and
Moscow
. All of them are best bought
online
.
There are two main stations,
Ostrava hl.n
in the north and
Ostrava-Svinov
at the far western end of the city. Fast and international trains stops at both of them. None of the stations are within walking distance from the historic city centre. However a few trains also calls at , located next to the old town.
By bus
The main bus station in Ostrava is .
Student Agency
offers five buses a day from Brno, the journey time is 2¾ hours.
By plane
Leoš Janáček Airport OstravaRegular services to Prague (Czech Airlines, 3-4 times daily) and Dubai (Smartwings) Ryanair also has flights to Bergamo and London-Luton. Hourly buses from the airport to Ostrava city center through main bus station, a 40-minute ride, depart between 07:15 and 22:15, tickets can be bought from drivers (35 Kč). There is also a train to the Ostrava main railway station.
Many passengers instead choose Katowice Pyrzowice Airport (
KTW
). This airport is northeast of Ostrava, and can be reached by A1/D1 motorway in about an hour. The airport has direct connections with over 30 destinations across Europe and Asia.
Tiger Express operates a shuttle bus service from Katowice Airport operates six times a day with a timetable harmonized with the airport's air traffic. Tickets prices begin from €9 one way. The journey takes 90 minutes and free Wi-Fi and luggage transport is included in this price.

Get around
By tram and bus
Tram and bus travel in Ostrava is inexpensive. A 15-minute ticket costs 15Kč, a 60-minute ticket 24Kč and a 24-hour ticket is 75Kč (Mar 2012) . Transport is available 24 hours a day, however there is a reduced service between midnight and 04:00. See
a city line map
and
online timetable
.
See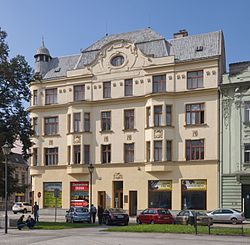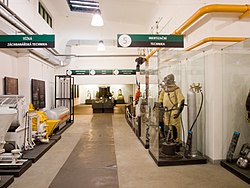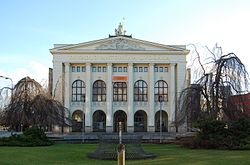 Do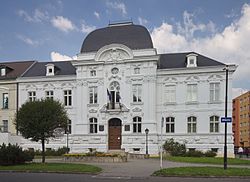 Buy
Ostrava is the shopping centre of the region. You can find small specialised shops, hypermarkets and shopping galleries. Souvenirs are sold in branch offices of the Ostrava City Information Centre.
Forum Nova Karolina, a large and modern shopping mall close to the city centre with many stores from international chains, a hypermarket, specialty stores and a food court.
Laso, a shopping centre containing many smaller shops just off the main city square.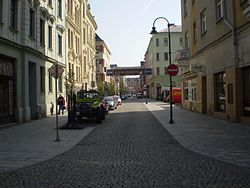 Eat
In such a big city the number of restaurants is naturally enormous, ranging from the very famous restaurants to the less expensive trattorie or pizzerie. Whether you are looking to enjoy classical Czech food, regional specialities or international cuisine, Ostrava probably has what you are looking for. A visit to the region would not be complete without a pint of the local beer, "Ostravar", which has been brewed in the city since 1897. The main street for wining, dining and having a great time is Stodolní Street, in the heart of the city. It boasts over 60 bars and restaurants in an area covering just a few blocks.
The secret sweet treats of Ostrava are the
katowicke rurki
, named after the nearby city of
Katowice
in
Poland
- although they are arguably a version of a similar treat popular in the entirety Poland, and not peculiar to Katowice at all. The
katowicke rurki
consist of a sweet wafer rolled into a tube, and then filled with
pařížská šlehačka
, both using a specially-designed machine.
Pařížská šlehačka
, in turn, is a filling vaguely resembling chocolate-flavoured whipped cream, although quite often having nothing to do with either cream or chocolate when it comes to its ingredients, and obviously having no obvious connection to the city of
Paris
after which it is ostensibly named.
Katowicke rurki
are usually made by specialized confissers in possession of one of the unique machines, who often have been operating their specialized businesses for decades. One of those is
hidden in the Hornicka street
.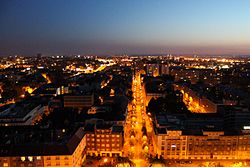 Drink
Ostrava is home to the famous
Stodolní street
, the biggest strip of bars and pubs in the country. Drinks are generally cheaper than in Prague and atmosphere is more local.
phone: +420 595 542 060

address: Porážková 22

Friendly pub at the end of Stodolní street, near the train station.
Sleep
The city offers a wide variety of accommodation covering all kinds of travel budget and level of service.
Stay safe
While Ostrava remains a quiet and pleasant city, locals will let you know that many areas have sadly gained an unfortunate reputation for widespread drug consumption. Always be on the lookout for junkies.