Oswego
Oswego
(pop 18,142) is a small city in
Central New York
on the southeastern shore of Lake Ontario at the mouth of the Oswego River.
Understand
Established in 1722 as a British trading post, Oswego had a long military history and a series of fortifications as Fort Oswego (1727-1756), Fort George (1755-1756) and Fort Ontario (1755-1778, 1792-1814 and 1839-1940). Before the American Revolution (1776-1783), Oswego was British and its arch-nemesis
Cataraqui
(1673-1758), directly across Lake Ontario, was French. In the War of 1812, Oswego and
Sackets Harbor
were on the front line against British forces stationed in
Canada
. The city's military history ends with the 2nd Brigade Combat Team, 1st Infantry Division (United States) relocated away from the region during World War II; Fort Ontario then housed approximately 982 wartime Jewish refugees (August 1944-February 1946) before being turned over to New York State post-war. It has been listed on the National Register of Historic Places since 1970.
Get in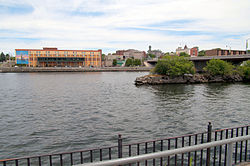 Intercity rail, bus and air connections are available at
Syracuse
.
;By car:
New York State Route 481 runs north from Interstate 81 in Syracuse via Fulton
New York State Route 104 runs east from Rochester (New York)
;By bus:
phone: +1 315-442-3400

address: Transit Center, W. 1st Street at W. Bridge Street

Regional bus service, Oswego-Syracuse and Oswego-Fulton-Mexico.
;By boat:
The 23.7 mile (38 km) Oswego Canal, built in 1828, connects the Erie Canal at Three Rivers (near Liverpool) to Lake Ontario at Oswego. The canal has a depth of 14 ft (4.2 m), with seven locks spanning the 118 ft (36 m) change in elevation.

phone: +1 315 342-0436

address: 3 Basin St
Get around
address: W 1st St & W Bridge St

Local and regional CENTRO bus.
See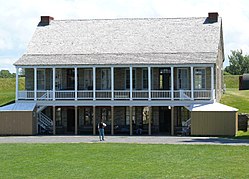 Fort Ontario State Historic Site

phone: +1 315 343-4711

address: 1 E Fourth St

Fort Ontario is built on the ruins of three earlier fortifications dating to the French and Indian War, Revolutionary War, and War of 1812.

address: 2 E 7th St

The War Relocation Authority established the Fort Ontario Emergency Refugee Shelter, the first and only in the United States, housing primarily Europeans of Jewish descent.

phone: +1 315 342-0480

address: 1 E 1st St

Marine history museum on former grain elevator site at canal terminus. Exhibits, galleries and a fleet of historic vessels the length of Oswego's West First Street Pier. Treasure Chest souvenir shop. Historic vessels open mid-May - Sep 30, weather permitting.

phone: +1 315 343-1342

address: 135 E 3rd St

Victorian (1867) lawyer's home with Oswego County Historical Society archival collections and exhibits documenting the history of Oswego County.

SUNY OswegoFounded 1861 as Oswego Normal School, a teachers' college. Now offers a variety of liberal arts degree programs. Former students include comedian Jerry Seinfeld, NBC weatherman Al Roker and ESPN anchors Steve Levy and Linda Cohn.

Oswego Harbor West Pierhead LightAn active aid to navigation, built in 1934 at the mouth of the Oswego River to replace an earlier light constructed in 1880. Listed on the National Register of Historic Places in the United States of America, owned by the City of Oswego and operated by the United States Coast Guard.
Do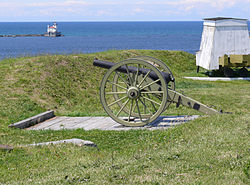 Events
phone: +1 315 343-6858

address: Oswego Harbor Festivals Inc, 41 Lake St

Annual festival with live music and entertainment, fireworks, arts and crafts, programming and activities for children and families

address: Washington Square Park

Live music, arts and crafts vendors and demonstrations, pumpkin carving lessons, ghost stories, scarecrow building and pumpkin carving contests, a mini farmer's market, and a wide variety of hearty foods.

PaddleFestAnnual benefit event: Kayak the Oswego River from Indian Point (in Fulton, ) or Minetto's Riverview Park (on NY Route 48, ) through four canal locks to H. Lee White Maritime Museum's Boating Center on the West First Street pier in Oswego.
Buy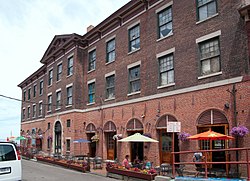 phone: +1 315 343-7681

address: West First St between Bridge and Oneida St

Wide variety of vendors, live entertainment each week beginning at 6PM. A second location operates Saturdays in Fulton.
Eat
phone: +1 315 207-1550

address: 150 Water St

Salads, soups and sandwiches.
Drink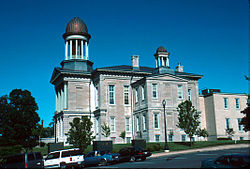 phone: +1 315 343-1209

address: 104 W Bridge St

Sports bar with food ($6-10), bottled and draft beer.

phone: +1 315 207-1550

address: Water St

Bar, often with live music

phone: +1 315 343-2865

address: 1 Mitchell St
Sleep
Connect
phone: +1 315 341-5867

address: 120 E 2nd St

Internet, computers, Wi-Fi, fax, scan, copy, reading room, community room.
Go next