Otaru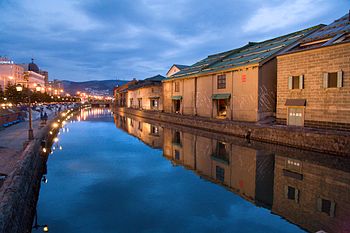 Otaru
(
小樽
) is a port city in
Hokkaido
,
Japan
. The city is near
Sapporo
and it is a tourist destination for its food, its historical buildings and its shops.
Understand
Approximately 30 km to the west of
Sapporo
, Otaru is a port city with a canal and well-preserved architectures of early modern Japan in the Meiji era. Most of the attractions are found in the city center surrounding the Otaru port.
Otaru's original name in the local Ainu language was "Otarunai" or "Ota-or-nai", meaning "river flowing through sand". The area's recorded history goes back to the 16th century, when an explorer from the Honshu island reported settlement. Otaru's early modern history as a port city started in 1871, when Japan's Meiji government opened a colonization office in Sapporo. Rapid development followed with expanding trades, especially after a railway was built in 1880 between Otaru and Sapporo, as the first railway in Hokkaido. Once busy with exporting coal and trades with
Russia
, today's Otaru has a thriving tourism industry.
Winter in Otaru is less severe than in most other cities in Hokkaido; the yearly average temperature is 8.6 degrees Celsius.
Get in
By train
Otaru is a major station on the
JR Hakodate Line
from
Sapporo
, with very frequent train runs. At a cost of ¥620, there are at least five trains per hour; the fastest service, the
Airport Rapid
, reaches Otaru in 30 minutes. The complete journey on the Airport Rapid from New Chitose Airport to Otaru takes 70 minutes.
By car
Otaru is 25 minutes away from Sapporo by car.
By ferry
Otaru is one of Hokkaido's key ferry ports, and the closest to Sapporo.
Shin-Nihonkai Ferry
(+81 6-6348-1120) operates a daily service between Otaru and
Niigata
(18 hours, ¥6,200+) and between Otaru and
Maizuru
near
Kyoto
(20 hours, ¥9,600+). Both services are overnight, and private cabins are available for a higher fare (the base fare buys sleeping space on the floor).
Get around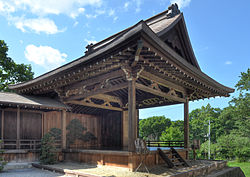 On foot
Many of its historical buildings, restaurants and shops are within easy walking distance so walking is a very easy (and cheap) means of getting around. A suggested walking itinerary begins from the Otaru Music Box Museum at one end of Sakaimachihondori Street, follow the street until it crosses a small canal, walk up the street until the Museum of the Money, and then follow the canal down and then keep following the canal when it turns left and widens up.
See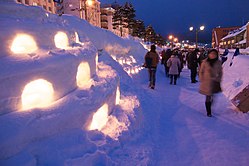 phone: +81 134 32-4111

address: 色内1丁目

The canal was completed in 1923. The canal has been developed as a walkway. It is lit at night by gas lamps and walkway lights. Located 10 minutes walk from Otaru Station.

phone: +81 134 22-1108

address: 1-2-3 Irifune

A museum that contains exhibits about the development of music boxes, a collection of several notable music boxes, as well as an extensive store that carries many different types. For a fee, customers can build their own music boxes. The museum is also part of a larger complex of buildings in the surrounding area, which include a stuffed animal collection as well as an antiques museum.

Steam ClockOutside of the music box museum, the steam clock was a gift from Vancouver to Otaru. Powered entirely by steam, the clock plays a chime every 15 minutes, and features the main steam whistle on the hour.

Otaru Snow Light FestivalCalled "Yuki Akari no Michi", this Winter festival features paths illuminated with lanterns made of ice. The most scenic view is from the Otaru canal. You can also view many ice lanterns clustered along the abandoned railway a few blocks away from the canal. The festival runs in the first-second week of February.
Do
Create your own music box at the Music Box museum.
Buy
Music boxes
. You'll find these in Hakodate and Sapporo as well, but shops dedicated to music boxes are especially prevalent here. The two museums selling music boxes are well worth a look, particularly for the hand-cranked variety which emit tunes using a piece of cardboard with holes punched in it.
Antiques
. If you walk from central station straight towards the canal district, you'll see a karaoke centre called Thriller Karaoke with a bat gargoyle above the sign. Turn right until you see an eatery called Kongetsudo on the left hand side. Across the road are two antique dealers, one male and one female, on the second storey of a small building that sell mainly kimono. This place is worth a visit as you can pick authentic kimonos quite cheap here. Just remember that you may have to haggle up to 50% off the price of a kimono with the male dealer if you are a foreigner.
Glassware
. Otaru is famous among Japanese for its glassware. You can buy all types of articles made of class, from useful cups, bottles and plates, to tiny decorative fishes.
phone: +81 134 33-1993

address: 堺町7−26

Otaru hand-made crystal is one of the most famous in Japan.
Eat
Otaru is the best town in Hokkaido for sushi, and it ranks high on the national scale too. Sushi restaurants near Kitaichi are expensive, but if you walk to the canal you can find cheaper but good sushi.
Kitaichi HallLocated in an old warehouse, this restaurant resembles a grand hall fully decorated in wood and offers local meals (but no sushi) at a reasonable price.

Kaiten sushiThis kaiten sushi place is very popular but worth the long queues.
Stay safe

Like most of Hokkaido, the footpaths of Otaru tend to accumulate a lot of ice in the winter. Try to wear shoes with corrugated soles that will grip the ice. Alternatively you can buy metal-studded wraparound bands to put on your shoes from roadside shops for about ¥1700.

Drink
phone: +81 134 21-2323

address: 港町5−4

Decorated with medieval props, this beer hall sells their own beer.
Sleep
Otarunai Backpackers' Hostel MorinoKi

phone: +81 134 23-2175

address: Aioi 4-15

Top notch hostel, with a laid back owner and interesting decoration — but you're gonna have to be OK with dogs to stay here.

phone: +81 134 21-5489

address: 稲穂3丁目9-1

You get a free bowl of ramen at night in the downstairs buffet room from the guy with the glasses, who is an all-round customer service legend. There is a LAN cable sort of hidden next to the phone in the rooms that you can use to get free internet. Lovely, clean and extremely well-serviced rooms.

phone: +81 134-61-1279

address: 緑2丁目15−17

A cozy hostel that opened April 2011, run by a great couple who can speak English. Very friendly, laid-back atmosphere. Separate male and female room, but it's not strict. 18900¥ for a week.
Go next