Otsu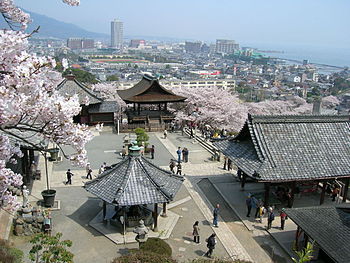 Ōtsu
(大津) is the capital of
Shiga prefecture
.
Enryaku-ji, a Tendai monastery located on Mount Hiei overlooking
Kyoto
, is the headquarters of the Tendai sect and one of the most significant monasteries in Japanese history. It is part of the
UNESCO
World Heritage Site "Historic Monuments of Ancient Kyoto (Kyoto, Uji and Otsu Cities)".
Get in
By plane
The closest major airports to Ōtsu are Kansai Airport and Itami Airport in
Osaka
.
From
Kansai Airport
, take the JR
Haruka
Limited Express to
Kyoto
and change to a local train to Ōtsu (approx. 1 hr 45 min, ¥3130 for unreserved seats).
From
Itami Airport
, take an airport limousine bus to to Shin-Osaka (25 min, ¥500) then take a JR train to Ōtsu (35 min, ¥840). Alternatively, take a bus to Kyoto (1 hr, ¥1310) then a JR train to Ōtsu (10 min, ¥200).
You can change elsewhere for the Keihan trams (see below).
By train
The
JR Biwako Line
runs from Osaka and Kyoto to Ōtsu station.
A convenient alternative to travel around the area is on the two Keihan tram lines: the
Keishin Line
and the
Ishiyama-Sakamoto Line
. Both lines converge at Biwako-Hamaōtsu (びわ湖浜大津), close to Lake Biwa. You can change between the JR and Keihan lines at three stations: Yamashina, Zeze and Ishiyama. Yamashina is just one stop from Kyoto Station on the JR.
By subway
Kyoto's
Tōzai Line
subway conveniently runs through to the Keihan Keishin Line from stations in central Kyoto. This is also a convenient option if connecting from the Keihan Main Line at Sanjō station.
Get around
By train
Travelling around Otsu by train is quite convenient. The Keihan Ishiyama Sakamoto Line connects each end of the city, so no matter where you are, there will likely be a station nearby.

See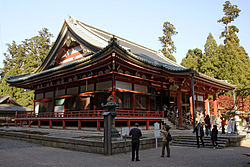 Enryakuji TempleThe head temple of Tendai Buddhism and a World Heritage Site located atop Mount Hiei.

Gichu-ji TempleThe burial place of famed haiku poet Matsuo Bashō, of Narrow Road to the Deep North fame. The temple is 300 m away from JR Zeze Station (膳所駅), one stop from Otsu on the JR Tokaido Line.

Ishiyama-deraThis temple was founded in 749 and the hondō (main hall) is the oldest building in Shiga Prefecture built 850 years ago. Inside the hondo, in the room on the right, is the "Genji Room" where it is believed Murasaki Shikibu wrote her famous book "Tale of Genji", considered to be the world's first novel. The temple precincts are quite large, with a 750 year old pagoda and Muyū-en Garden (無憂園) among other things. The pathway leading to the temple is lined with cherry trees, making it especially beautiful in the spring and autumn. For those traveling on the Saigoku 33 Kannon Temple Pilgrimage, Ishiyama-dera is number 13.

Hiyoshi Taisha
Eat
KanekichiLocal Omi beef specialist.

phone: +81 77-534-2901

address: 14-17 Karahashicho Otsu-shi, Shiga Pref. 520-0851

Local Omi beef specialist.

phone: +81 77-524-2222

address: 23-51 Otani Otsu, Shiga Pref. 520-0062

Unagi restaurant
Sleep
Go next