Ottawa Valley
The upper
Ottawa Valley
is a region in
Eastern Ontario
,
Canada
.
Renfrew County
forms the heart of the Ottawa Valley as delineated by the cultural region (which may not coincide with the geological terrain).
Regions
Generally speaking, closer to the Ottawa River the terrain becomes flatter with thus more farmland. This is also where the greatest concentration of people reside in the region. Although not synonymous, the Ottawa Valley is closely associated with Renfrew County as the towns most closely associated with the valley (Arnprior, Renfrew and Pembroke) are all located there, on or near the river.
Across the river is the Quebec region of
Outaouais
(Ottawa in French). We treat that in a separate article but parts of it, especially the historically English-speaking towns near the river such as Aylmer (now part of
Gatineau
) are very similar to places on the Ontario side of the river.
Towns and villages
— the local ski resort
— Canada's first and oldest Polish settlement
Other destinations
While there is not a substantially-sized park within Renfrew County, Algonquin Park borders much of the region to the west. The Ottawa Valley itself is largely cottage country (forming a sort of transition area between cottage owners from Ottawa and Toronto.)
Understand
The region was first settled, as was most of North America, by First Nations people. Very few Native Americans still reside in this region, though there is a presence near Golden Lake, including a pow wow once a year.
As with many early attempts to penetrate the continent's interior, the rivers served as the main route by which to do this and the Ottawa River was no exception. Later the river served as the conduit for the lumber trade, which made millionaires out of men in the region. The ties to the river are less strong these days, but still live on in some folklore, most notably Joseph Montferrand or Joe Muffaraw (depending on which side of the river you are on) a local lumberjack comparable to and predating Paul Bunyan.
Renfrew is considered by some to be the birthplace of the NHL, though there is little in the town to show for it.

Talk
There is a discernible accent in the Ottawa Valley though those that understand English will have little trouble understanding or being understood. There are some French speakers in the area as well, but even into the Quebec region on the other side of the Ottawa River, English will be easily understood.

Get in
Despite the region's one-time strong link to the railway and the river, the only viable way to visit the region is by motor vehicle. Highway 60 from the west and highway 17 (the
Trans-Canada Highway
) from the northwest and southeast form the main routes in the region. Bus service is possible to some areas, but there will often be only one bus per day.
Get around
Access to a motor vehicle is almost a necessity when travelling through the region, especially for areas off the beaten track. Greyhound services the major towns but at infrequent times. Some people take advantage of the relatively calm rivers to arrange multi day river journeys, but these also require some transport to the start and end points.

See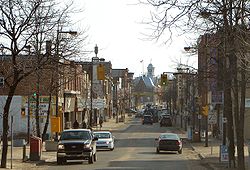 The urban areas serve primarily as local centres and have very few actual sites. These towns usually have a local museum, and in Renfrew and Arnprior the river offers a pleasant locale for a walk or picnic.
For a more authentic experience head for the rural areas. Balaclava, not far from Renfrew, often makes the list for most picturesque villages in Ontario. Eganville is another village on the Bonnechere River (as is Renfrew) and has a nice setting. Nearby and also on the Bonnechere River are the Bonnechere Caves, a series of caves carved out of the limestone by the moving water. These are privately owned and there is an entrance fee involved.
Wilno has strong ties to Polish culture, and those interested can find numerous Polish sites nearby. Foymount is the settlement in Ontario at the highest elevation. On County Road #9 north of Kelly's Corner stands a small piece of virgin forest.
Itineraries
There are no set itineraries for the region, as points of note are often tied to scenery as opposed to "must-see" sites. One of the best ways to see the region is to explore the back roads. If you are driving between two points, check your map or inquire locally if there is a back way to go. Also be aware that some areas around Mount St. Patrick have uranium deposits and these areas are off limits and sometimes patrolled.
Do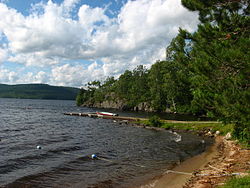 Whitewater Rafting on the Ottawa River is popular. Despite being a region associated with nature, there are not many parks and thus access to nature seems restricted to cottage owners. However, if you can find a boat launch, then you should be able to access most bodies of water. Furthermore, most islands in lakes are public property and thus camping on them is fine except where otherwise noted.
Skiing is a popular activity in Calabogie. There are often talks of reopening the ski hill in Dacre, but it remains closed at present.
Snowmobiling is another popular seasonal activity, and the region is served by an extensive network of trails.
Hunting wildlife is a popular pastime among locals and visitors who flock to the area every fall season.
Arts: The region is not home to a thriving arts scene, but most small towns have a series of theatre productions throughout the year.
Eat
Food is limited to what is standard in rural Canada. Every town will have a greasy spoon, a Chinese takeout place, a fancier restaurant, a pizza place, and one or two fast food places.
If you ask around among locals you may be able to find some less common meats, which often come from hunting. Be aware that it is also possible to buy illegal meat in this way, which is could result in some legal action. In summertime, look for church picnics or barbecues. The town of Wilno is known for its Polish fare.

Drink
Local taverns abound throughout the region, many of which amount to little more than watering holes, although several of these are where you'll be able to see some of the local culture of the region. Bars known for hosting live country and rock music are:
Finnegan's in Renfrew
The Lasso in Pembroke
Wilno Tavern
Stay safe
There are no specific safety precautions which should be taken. There is wildlife throughout the region, many of which are "scary" apex predators such as wolves and bears, but these animals have been vilified in the media, and in actuality account for very few attacks on humans (note this is the local black bear, not the more dangerous brown bear which is being referred to.) Other than that exercise caution only for cold in winter, and annoyances like
poison ivy
and
biting insects
in summer.
Go next