Oudtshoorn
Oudtshoorn
is "the ostrich capital of the world", in
South Africa
's
Western Cape
, and world-known for its ostrich farms and the nearby Cango Caves.
Understand

The town was founded in 1847, but scarce local water supplies limited the town's growth. However, despite the lack of water, ostrich farming proved to be a prosperous local industry, leading to significant growth during two "feather booms". During the first boom, which lasted from 1865-1870, the value of ostrich feathers (per pound) nearly matched the value of diamonds. Overproduction led to falling prices, although a smaller boom occurred from 1900-1914.
Today the town's economy is primarily reliant on tourism and ostrich farming, with the largest ostrich population of any place in the world. The human population is about 60,000, making it the largest town in the Little Karoo region.

Get in
By plane
There is no airport in Oudtshoorn. The nearest airports are in
George
(very small, local flights only),
Port Elizabeth
(domestic flights only) and
Cape Town
(domestic and international flights).
By bus
The main bus companies serve Oudtshoorn on regular schedules.
There are minivans going to and from
George
and
Mossel Bay
.
By car
It's a scenic drive on the R62 from
Montagu
and the trip from
George
over the Outeniqua pass offers some spectacular views. Worth the drive!
See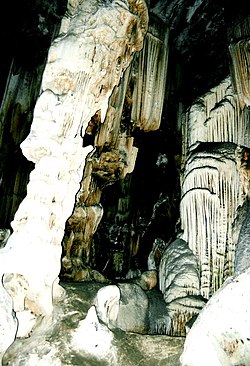 phone: +27 44 272-7410

The number one caves to visit in South Africa. From Oudtshoorn drive to the north. You will be there after approximately 15 minutes.
Do
Ostrich farms
The "feather barons" made Oudtshoorn the "ostrich capital of the world", and today tourists can visit some ostrich farms in town. In most cases these are show farms, set up specifically for visitors, and most offer the same experience - an hour-long tour that explains everything about ostrich farming, from incubation through ostrich products, a visit to see the animals including a chance to feed ostriches and ride an ostrich (subject to weight limits), and finally a trip to the gift shop to purchase ostrich souvenirs. Don't expect the same experience as you would get seeing wild ostriches roaming the savannah - ostrich farms are most definitely farms, and the animals are domestic animals raised for human consumption, so they are not treated with the same respect as their wild brethren. Nonetheless, if you can get past any moral qualms the farms are interesting places that are worth a visit. Many farms offer discounts to guests of hotels that they have partnerships with, so be sure to ask at your hotel before visiting a farm.
phone: +27 44 272 4623

A smaller, privately owned farm.

phone: +27 44 272-7115

The largest farm in the area, tours also offer the option of an ostrich meal afterwards for an additional charge.

phone: +27 44 272-7311

Offers a similar experience as at Highgate, but smaller.
Other activities
phone: +27 44 279-1727

Gaming Machines, Casino Style Pub & Grub.

phone: +27 44 272 0000

This private game lodge is situated on a large open expanse and offers bush safaris, meerkat safaris, and the opportunity to feed or ride elephants. Animals on the property include hippos, elephants, giraffes, eland, zebra, buffalo, rhino, springbok and others. Note that these are not truly wild animals - the property is managed as essentially a giant ranch rather than a nature preserve - but the animals have plenty of room to roam, making it a far better experience than any zoo. No fee is charged for entry, which makes this lodge a particularly nice place to have lunch or enjoy a drink. Nature activities are all charged on a per-person basis. Tented and lodge accommodations are available for those looking for a more extensive wildlife experience.

phone: +27 44 272-5593

Reptiles and wild cats are bred for conservation and where it is possible you can enter the enclosures and interact with the animals.

phone: +27 84 772 9678

Meerkat Adventures offers the chance to spend time close (several meters) to a family of wild meerkats. Devey Glinister, a passionate and eccentric local who might best be described as the Crocodile Dundee of meerkats, has spent years habituating wild meerkats to the presence of humans, and now leads groups out before dawn to watch these animals awake from their dens and go about their morning routines. Time spent with the meerkats is entirely dependent on the animals - if the meerkats are feeling lazy the encounter can last for a few hours, but if they feel like foraging they might disappear into the brush after only ten or fifteen minutes. Devey meets participants near the main highway and then leads them onto a private ranch where coffee and tea are provided, as well as background on meerkat behavior, before everyone is handed a folding chair and led on a short hike to the meerkat den. Tour sizes are limited and usually fill up in advance so reservations are necessary. Children must be older than ten to join tours.

Rock ClimbingOudtshoorn has some of the best quality limestome rock climbing in the world.
Events
Eat
As this is the ostrich capital, this is the place to taste everything one can get out of this species. Most of the ostrich (show) farms offer a restaurant or braai facilities.

Drink
phone: +27 44 279-1727

address: Corner High & Hope Street

Reveals to her guests an era of affluence and opulence. The hotel was built at the beginning of the 20th century by a wealthy Ostrich Baron. Lush drapes, high ceilings, ornate fireplaces and original ostrich plume showcases recreate an era of gracious elegance. Ascending the majestic staircase to the sweeping reception rooms and vast veranda, one imagines the lavish entertaining that took place in celebration of the flourishing ostrich feather industry. The hotel is ideally equipped to host weddings and other special functions.

phone: +27 44 272-7308

address: Schoemanshoek

An à la carte restaurant, specializing in ostrich & venison dishes.
Sleep
Go next