Ouro Preto
Ouro Preto
, in the state of
Minas Gerais
, is one of
Brazil
's best-preserved colonial towns and a
UNESCO world heritage site
. Among other historical and colonial cities of Minas Gerais (
Tiradentes
,
São João del Rei
,
Mariana
and
Diamantina
), Ouro Preto is one of the most popular travel destinations in Brazil.
Understand
Ouro Preto, meaning "black gold", was founded in 1698 and quickly became the epicenter of a new gold rush, as the central place where gold was brought to be measured and sold. In 1720 the state capital transferred here from nearby
Mariana
, and by 1750 Ouro Preto's population had swelled to over 110,000, making it one of the largest cities in the Americas; at the time it had twice as many inhabitants as
New York City
and five times more than
Rio de Janeiro
. The city's success inspired the naming of many other cities and neighborhoods, including the founding of the American city of Brazil,
Indiana
.
As a result of the gold trade, the town, then known as Vila Rica, took a significant place in Brazilian history, being the site of the
Inconfidência Mineira
, the first attempted uprising in the cause of independence from Portuguese colonial rule. The revolt was led by Brazilian cultural hero Tiradentes in 1789 after he realized how much of the region's gold was going straight onto boats bound for Portugal. The revolt failed however, and after Tiradentes was tried and executed, he was dismembered and various body parts were displayed along the road between Ouro Preto and
Rio de Janeiro
to discourage his followers. His head was placed in what is now known as Praça Tiradentes, at the very center of town.
In 1822, Brazil finally gained its independence, and the following year Ouro Preto was given the title of "Imperial City" by Brazil's first emperor, Dom Pedro I. In 1839, South America's first pharmacy school was established here, and in 1876, Dom Pedro II founded the
School of Minas
, which was originally focused on mining and metallurgy but which has now become one of the country's premier engineering schools.
By the end of the 19th century, the gold had run out, growth had slowed to a halt. The population plummeted when the capital was moved to the newly founded
Belo Horizonte
in 1897. Lack of new construction provided for the preservation of the colonial architecture, and Ouro Preto was forgotten in time until Dictator Getúlio Vargas began having some sites restored in the 1950s. Since then it has gradually become more of a tourist destination as one of the best-preserved colonial cities in Brazil. It is particularly noted for its churches, which are special not only for their architecture but also for the carved sculptures by
Aleijadinho
, one of Brazil's most celebrated artists. Ouro Preto was the first Brazilian location to be declared a
UNESCO world heritage site
in 1980.
Climate
Get in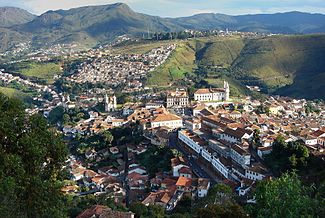 Ouro Preto is about 100 km from
Belo Horizonte
, 400 km from
Rio de Janeiro
, and 680 km from
São Paulo
.
By plane
The nearest convenient airports are those of
Belo Horizonte
, especially that of
Confins
. From there, you must get to Ouro Preto by car or bus.
By car
By bus
Buses arrive at the
rodoviária
on the northwestern edge of town. It is an easy downhill walk into the historic center.
Get around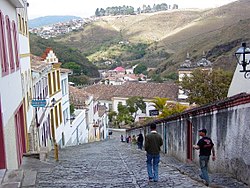 On foot
The town's small size and steep hills make walking the most convenient way of getting around the city center. Bring some good shoes and be prepared to huff and puff a bit, as the streets are cobbled and you will spend the day walking up and down steep hills. Travellers with impaired mobility may have a hard time getting around.
By bus
City buses run to neighborhoods outside of the city center, as well as to neighboring towns like
Mariana
.
See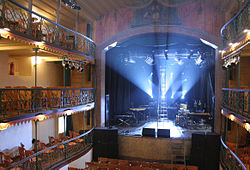 Before diving into Ouro Preto's history, the traveller must be aware that filming or taking picture inside museums and churches is not allowed.
phone: +55 31 8835-7260

Shared by the municipalities of Ouro Preto and Mariana is a park which contains very diverse flora and fauna with many hiking opportunities. The centerpiece of the park, Itacolomi Peak, is a pair of rocks, one huge and one much smaller, which can be seen from hilltops around town. Itacolomi means "the Rock and the Boy" in Tupi. For experienced hikers, it is possible to take a difficult 12 km trek through the park to visit the village of Lavras Novas and its nearby waterfalls. Visitors to the park must be accompanied by a guide, which can be arranged in advance by telephone.
Casa Bandeirista da Fazenda São José do Manso - This preserved colonial ranchhouse was the first public building in the state.
Museu do Chá (Tea Museum)
Praça TiradentesThe definitive center of the town. On the north side of the square is the Escolas de Minas (School of Mines), with a museum of mineralogy. On the south side is the Museu da Inconfidência.
Teatro Municipal

address: Rua Brigadeiro Musqueira

The oldest functioning theater in South America opened in 1770 and still has occasional evening concerts.
Museums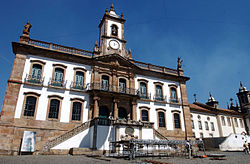 Casa dos Contos

phone: +55 31 3551-1444

address: Rua São José, 12

Once a home of the regional tax collector, this colonial baroque structure served as a jail for revolutionaries in the late 18th century.

Museu da Inconfidência

phone: +55 31 3551-1121

address: Praça Tiradentes, 139

This museum is dedicated to the memory of the Inconfidência Mineira, an unsuccessful 1789 revolt against Portuguese rule which was inspired by the American Revolution. The building, itself one of the best extant specimens of colonial baroque architecture, houses the remains of some the revolutionaries, a library and archives, as well as works by artists of the period, including works by Aleijadinho and Manuel da Costa Ataíde.

Museu de Mineralogia

phone: +55 31 3559-1597, +55 31 3559-3119

address: Praça Tiradentes, 20

This mineralogy museum has a quite varied collection of minerals from quartz to diamond to uranium, including many rare specimens. Children have free admission.

Casa Guignard

phone: +55 31 3551-5155

address: Rua Conde de Bobadela, 110

This museum has a collection of paintings by Alberto da Veiga Guignard, an influential painter who lived his last years in the town.

Museu de Arte Sacra

phone: +55 31 3551-4736

address: Praça Monsenhor Castilho Barbosa, no number

Museu do Oratório

phone: +55 31 3551-5369

address: Rua Brigadeiro Musqueira, no number

This charming museum has a large collection of over 300 elaborately decorated oratories, small portable prayer altars made for home or travel use.

Museu Aleijadinho

address: Rua Brigadeiro Musqueira, no number

Many important works by Aleijadinho are elsewhere in the city, but this small museum has a few gems, including a strikingly life-like bust of Saint Francis of Paola. R$3 (students half-price).
Churches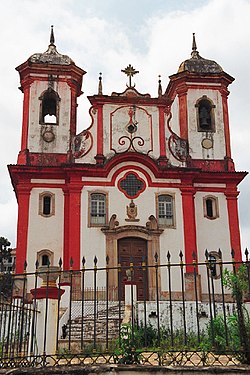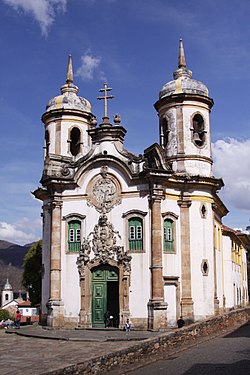 Capela do Padre Faria

address: Rua Padre Faria, no number

Built in 1710, this is one of the oldest buildings in the region.

Igreja do Bom Jesus do Matosinhos

address: Rua Alvarenga, no number - Cabeças

The beautiful entranceway was made by Aleijadinho, and many paintings inside are attributed to Manoel da Costa Ataíde.

Igreja da Nossa Senhora do Carmo

address: Rua Brigadeiro Musqueira, no number

This rococo-style church, built in 1766, holds the last works of Aleijadinho as well as the above-mentioned Oratory Museum.

Igreja de Nossa Senhora do Pilar

phone: +55 31 3551-4735

address: Praça Monsenhor Castilho Barbosa, no number

The oldest church in the city was designed by one of Aleijadinho's mentors and completed in 1731 to replace the original main church. Despite the rather stark outward appearance, the interior glistens with almost 1000 pounds (450 kg) of gold and almost 900 pounds (400 kg) of silver. The basement of the church holds the Museum of Sacred Art.

Igreja Nossa Senhora do Rosário

phone: +55 31 3551-4736

address: Largo do Rosário, no number

Built in 1785 with slave labor. Slaves were forbidden to worship at any other church. The church has a unique shape, with a contour formed by three convergent ovals.

Igreja Santa Efigênia

address: Rua Santa Efigênia

This hilltop church, dedicated to an Ethiopian saint, was very popular with slaves and their descendants. It was supposedly built by Chico Rei and decorated with gold from the mine which bears his name. (See below)

Igreja de São Francisco de Assis

phone: +55 31 3551-3282

address: Largo de Coimbra, no number

This unique rococo-style church, built in 1776, is arguably Aleijadinho's greatest work.

Igreja São Francisco de Paula

address: Rua Padre Rolim, no number

Completed in the 1898, this church took a whopping 94 years to complete. Inside are Aleijadinho's sculpture of the saint after which it is named, as well as a life-size sculpture of the Last Supper.

Igreja de São José

address: Rua Teixeira Amaral, no number - Centro

This church, completed in 1811, was partially designed by Aleijadinho. It is being renovated.

Matriz de Nossa Senhora da Conceição

address: Rua Bernardo Vasconcelos/Praça Antônio Dias, no number

This 1727 church is famous for its 8 lavishly decorated altars. The cemetery here has the grave of Aleijadinho, and the sacristy houses a museum dedicated to him.
Mines
Chico Rei
Another of Ouro Preto's legendary characters is known as Chico Rei, or "King Chico". According to local lore, he was an African king captured and forced into slavery. He was brought to Ouro Preto and forced to work in a gold mine which now bears his name. The story goes that he secretly stashed small pieces of gold in his hair and eventually saved up enough to buy not only his freedom but also the mine itself. He then used the profits from the mine to purchase the freedom of all the slaves working the mine. He is also supposed to have used the mine's gold to both fund and decorate the
Igreja Santa Efigênia
, the church which became the most important for slaves and their descendants.
Mina Chico Rei

phone: +55 31 3552-2866

address: Rua Dom Silvério 108

One of the largest and most-visited gold mines in the area, this mine was named for the legendary Chico Rei (see the infobox). Guided tours.

Mina Fonte Meu Bem Querer

address: Rua Padre Faria

An interesting mine in which you can see petrified trees in the tunnel walls.

Mina da PassagemThis is the world´s largest mine open to the public. In order to reach the mining galleries a small trolley is used and it is held by a steel cable. You descend for 315 m and the total depth reaches 120 m. The visit to the mine is accompanied by a guide (who normally does not speak English, so make sure you have someone who can translate for you). Apart from the grandiosity of the excavation, there is also a beautiful underground lake. If you plan to take pictures be aware that you will need a tripod and a lower shutter speed. Otherwise your pictures will be either blurred or totally blacked out. R$17. Tours can be arranged through:
phone: +55 31 3557-5001

Passagem de Mariana, (on the road to Mariana).
Mina Velha

address: Rua Santa Rita 21

Opened in 1704, this is oldest mine in town. This mine was dug by slaves and shows the contrast between hand dug mines and industrially dug mines (such as Mina da Passagem). Look for the veins of mica and ocher visible in the tunnel walls. The walking space is very limited and in certain locations can be claustrophobic for those who do not enjoy enclosed spaces.
Do
Festivals
Carnaval - Ouro Preto is increasingly popular during Carnaval, especially with college students. Although the city loses some of its tranquil historic charm, the steep streets preclude the raucous loudspeaker trucks found in other cities like Salvador, and people generally just party in the streets. Be sure to reserve accommodations in advance if you plan to visit during this time.
Holy Week - Easter week brings lavish celebration to the streets around Matriz da N.S. da Conceicao, with intense floral decoration (Saturday night - you can help in the making of it) and interesting processions in the street.
Winter Festival - An art festival with workshops and cultural events organized by the Universidade Federal de Ouro Preto (Federal University of Ouro Preto).
Buy
phone: +55 31 3551-5915

address: Rua Conselheiro Quintiliano 848 - Lajes

Large selection of antique paintings, sculptures, furniture, and clocks.

Casa das Pedras / Grupiara Pedras

phone: +55 31 3551-1648

address: Praça Tiradentes 95 and 124

These two affiliated stores on the central square have a good selection of high-quality locally-produced jewelry made of gold, silver, and precious and semi-precious stones.
Soapstone market - On the way down the hill east of Praca Tiradentes is an open-air market with fascinating local creations in soapstone and wood. A great place to find a souvenir.
Eat
Café Geraes

phone: +55 31 3551-5097

address: Rua Conde de Bobadela 122 - Centro

Sandwiches and a la carte dishes. Occasional live music.

Casa do Ouvidor

phone: +55 31 3551-2141

address: Rua Conde de Bobadella 42

Specializing in Minas Gerais state's regional cuisine, such as tutu a mineira , frango com quiabo or ora pro nóbis. Major credit and debit cards accepted.

Consola's Pizzaria e Restaurante

phone: +55 31 3551-4175

address: Rua da Conceição 18 - Antônio Dias

Serving varied Brazilian fare as well as (Brazilian-style) pizza. W-Sa 4PM-midnight.

Chalet dos Caldos

phone: +55 31 3551-3992

address: Rua Carlos Thomaz 33 - Centro

Relaxed restaurant with a nice view of the city. Credit cards accepted. Tu-Su opens at 7PM.

Máximus Colonial

phone: +55 31 9914-1209

address: Rua Direita, 151 - Centro

An excellent budget restaurant which specializes in local food. Food is normally cooked in stone pans.

phone: +55 31 3552-5089

address: Rua São José 56 - Centro

Pizza and a variety of pastas, seafood, salads, and desserts served in an 18th-century house. Well-stocked wine cellar.
Drink
Booze Bar Café, Rua Direita 42, +55 31 3551-1482. Located just off the square, with live music.

Satelite

phone: +55 31 3551-4625, +55 31 3552-1941

address: Rua Cde Bobadela, 97

One of the most popular bars in Ouro Preto. Friendly staff and a variety of reasonably priced food.
Sleep
Budget
phone: +55 31 3551-4677

address: Rua Henri Gorceix, 198

About 150 m from the main square, with an amazing view from the city, the hostel is very clean and comfortable, with a nice atmosphere and social spaces.

phone: +55 31 3551-2944

address: Rua Padre José Marcus Penna, 68, /6745

About 150 m from the bus station. Nice city view. The hostel has its own kitchen where you can cook whenever you like. It also has a communal barbecue area to enjoy yourself and get together with others. Around R$ 30-35
Pension de Vera, rua Bernardo Vasconselos 86, . The owner is very welcoming, sometimes (especially during carnaval) she makes mineira food for everyone (everyone buy the food and help to cook). Single from RS20.
Student Houses, The city has a big university and is full of students houses, known as republicas. They often rent low-priced rooms to tourists.

phone: +55 31 3540-000

address: 44 Rua do Pilar

The hostel is small, clean, cozy and also good if you want to rest (down a side street away from main plaza).
Mid-range
Splurge
phone: +55 31 3551-4121

address: Rua São Miguel Arcanjo 270

4-star hotel with rooms decorated in 18th-century style even the staff dress the part. Telephone, TV with English channels, minibar, and broadband internet. Breakfast buffet and shuttle service to the historic center are provided free of charge. Major credit cards accepted.

phone: +55 31 3551-1488

address: Rua Senador Rocha Lagoa 164 - Centro

Designed by Oscar Niemeyer in the early 1940s, this hotel has suites and apartments with phone, TV, minibar, and air conditioning. Each room has a balcony with a decent view. Swimming pool and restaurant on premises. Parking available. Major credit cards are accepted. R$140-240.

phone: +55 31 3551-2244

address: Rua Dr. Alfredo Baeta 16- Centro

This 18th-century manor now rents suites furnished with replicas of furniture from the period. TV, phone, and on-site restaurant.
Connect
Raitai Lan House

phone: +55 31 3551-5151

address: Rua Paraná, 100

Gaming-centric internet café.
Go next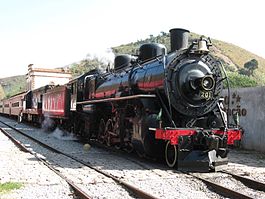 Mariana - The oldest city and first capital of the state, another charmingly well-preserved colonial baroque town is only 18km away.
Maria Fumaça - Construction of this railway, a part of the Trem do Vale began in 1883 when the gold was still flowing into the city, but by the time its run to the other terminus in Mariana was completed in 1914, the gold had run dry. Restored in 2006, the steam locomotive now provides a delightful way to take a daytrip to see Mariana's historic sights. Specially-designed panoramic passenger cars allow for beautiful views of the valley.