Outaouais
The
Outaouais
(prounounced
oo-tuh-WAY
) is a region of the province of
Quebec
north of Canada's capital, Ottawa.
Cities
— a largely residential, rural community, home to Gatineau Park
— home of the 42-m-high 42 Grandes Chutes waterfall
(Aylmer, Buckingham, Hull, Masson-Anger & Gatineau) — a municipality of 200,000 people with origins in the lumber industry that serves as a bedroom community for Ottawa
— a small community adjacent to the Kitigan Zibi First Nation Reserve
— best known for the Château Montebello, a resort which is the largest log structure ever built, and for Montebello Rockfest, Canada's largest annual rock festival
— birthplace the of hockey legend Guy Lafleur
— farming and cottage county
Other destinations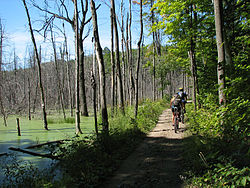 — the outdoor playground for Canada's national capital
— a rural community along the shore of the Ottawa River
Understand
Outaouais in French and Ottawa in English are both from the same Indian word. One wonders what it sounded like.

Talk

You will find in the Outaouais region a really bilingual population. You can easily get understood in French or English in most places, being so close to Ontario.

Get in
By car
If you come from
Montreal
, you are likely to take either Autoroute 50 (which bypasses Route 148 on the Québec side of the Ottawa river) or
Trans-Canada Highway
417 on the Ontario side.
By bus
Access by city bus from Ottawa:
A handful of OC Transpo (Ottawa city bus) routes terminate at government buildings in Hull. Most are rush hour only.
Access by intercity bus:
Terminus Voyageur de HullLimited service is provided from Hull to Montréal; additional intercity services (including hourly runs to Montréal) are available from Ottawa's station.
By plane
Get around
By car
: Driving in Gatineau and Ottawa is fairly simple. Finding a parking spot is not a big problem maybe except downtown Hull and even so... it is nothing compared to
Montreal
.
By bus
:
STO
- Société de Transport de l'Outaouais is the main city bus in Gatineau. All bus routes go through Ottawa.
Greyhound Canada
can get you to more remote areas like Maniwaki, Papineauville, etc.
By boat
: You can sail on the Ottawa and the Gatineau rivers and the Rideau canal.
By bike
: There are many
bike paths
in the region, especially in Gatineau.
See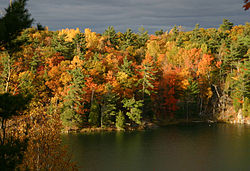 The fall colours when the leaves turn to bright yellow, red and orange and the hills seem to be on fire. The colours peak late October. Although they are spectacular throughout the park, one of the best views is from the base of the Eardley Escarpment at the Lusk Falls parking lot.

Champlain LookoutThis spot offers breathtaking views onto the Ottawa River valley from the Eardley Escarpment. The lookout is accessible by car and is a popular spot for watching sunsets.

KingsmereThe country estate of William Lyon Mackenzie King, the tenth Prime Minister of Canada. The estate allows the public to take a leisurely walk through gardens and "ruins" collected by King in a woodland setting. The cottages, including Kingswood and the primary residence, Moorside, have been restored and feature interactive exhibits about Mackenzie King's era.

Grands feux du casino - Fireworks at the Lac Leaky Casino.
Olympiques de Gatineau - The local hockey team, on the Ligue de Hockey Junior-Majeur du Québec.
Maison de la culture, Gatineau - Musicians, signers and humourists.
Do
Gatineau Park offers skiing (cross-country and downhill), hiking, canoeing, camping, rock-climbing, mountain biking, roller-blading, wildlife watching and leisurely strolls.
Ski at Mont Ste. Marie, Camp Fortune, Edelwisse, Mont Cascades, or Ski Vorlage
Bungee jump at the Great Canadian Bungee - highest bungee jump in the Americas
Golf
Mont Cascades water park
Camping, and beach tourism at the regions numerous lakes.
White water river trips. The Ottawa River and smaller nearby rivers Noire, Coulonge, and Dumoine.