Outback
The
Outback
is a name for the large regions covering most of the centre of
Australia
, including inland areas of
New South Wales
,
Queensland
,
South Australia
,
Western Australia
and the
Northern Territory
. It is a significantly large area, and in many of the states of Australia, it is formally designated in signs, where population decreases, and where communities are much smaller than those closer to the coast.
Regions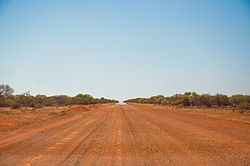 Northern Territory
Western Australia
South Australia
New South Wales
Queensland
Cities
Other destinations
Understand

The Outback is a term, like the bush which local inhabitants have used for a long time to describe - initially after European settlement – the unexplored regions, and since it has all been explored – the big area where settlements or occupied locations are spread across vast distances. Intensive agriculture on the coastal areas has animals per hectare (or acre), in the outback, it is hectares (or acres) per animal. The outback is often characterised as 'dry', but this is not always true: in the tropical north, the outback areas are wet as you can get anywhere on the planet.

Get in
The easiest way is to drive or join a tour. Most larger regional towns have airports, but lack car hire facilities, and the airports are often several kilometres out of town, so unless you intend to stay in one place the whole time, hiring a car in a major city and driving yourself out there is your best bet.
Another avenue to get to an outback destination is to fly in with an air charter company like
Kirkhope Aviation
There are many air charter companies that provide small group tours, usually 6 - 10 people. Small group air tours and charters flying to destinations throughout outback australia usually start from a major city Airport. Flying into remote locations is possible when travelling in a small airplane. Air Charter services provide tour guides and most always include accommodation, tours, camping, food and entertainment.
Get around
For the average person, in more remote parts of the Outback, the only way to get around is by car. Make sure you read up on staying safe. If you can afford a bit more, consider chartering a helicopter.
If you want to try your luck hitch-hiking, depending on remoteness, make sure you ask around at the local pub rather than standing by the roadside. Some roads receive less than a car a week, or even longer, and given the semi-arid to desert climate, you could dehydrate and die in a matter of hours.

See
The beauty of the wilderness
Itineraries
Eat
Most towns have small grocery stores with basic essentials. Almost every town has at least one pub.
In some places you can also try "bush tucker". Bush tucker doesn't always refer to traditional Aboriginal food. A certain bush tucker restaurant in
Alice Springs
serves camel and cat (both of which are feral pests in the area) alongside traditional bush foods such as kangaroo, emu and a large variety of bush fruits.
Drink
Lots and lots and lots of water.
Most towns have pubs, but alcohol is banned in many Aboriginal communities, especially in the Northern Territory.
When travelling, carry lots of water with you.

Sleep
Pubs often offer cheap accommodation.

Stay safe
There are towns in Outback Australia that are easily accessible on well trafficked sealed roads, with effective breakdown services. Towns like
Broken Hill
,
Alice Springs
and
Charleville
require only normal precautions, and you can easily drive or fly there. Even the Nullabor Plain is a drive that anyone can undertake once they are aware of the distances involved.
However, it is always important to plan your trip carefully. Many areas have very few inhabitants and very little water. You should observe standard safety precautions for desolate regions:
get good quality maps and plan your route
tell someone where you're going and when and where you should arrive; they should have instructions to raise the alarm if you do not appear soon after your intended arrival time;
carry at least 10 litres of water (in several small containers) per person per day, including an allowance for any days you may be delayed or broken down.
take food and any prescribed medication needed to last at least several days
take matches or a lighter, which can be used in an emergency to provide warmth and indicate your whereabouts
travel in a recently serviced, reliable, sturdy vehicle that has good ground clearance; and
have clothes that can protect against cold, as well as clothes suitable for extremely hot weather.
Keep in mind also that the Outback is
very large
, much larger than desert regions in most other western countries. You could easily end up twenty hours' drive away from emergency help, or isolated entirely in the case of rain.
In the event of an accident or mechanical problems,
do not leave your vehicle
, as it is easier to locate from the air than a person or people on foot. If you leave your vehicle you are likely to be the subject of a sad news story about the rescue services finding your car and not you. In any case, your vehicle is where you're storing your immense amounts of water.
You should also think about carrying a satellite phone or other means of contacting emergency services.
You should talk to the police in each town about your journey and the condition of the roads and your vehicle. Be careful - even locals die out there.
{{related|Driving in Australia]]}}