Oviedo (Spain)
Oviedo
or
Uviéu
(in Asturian language) is a cathedral city, capital of
Principality of Asturias
, in Northern
Spain
. It has an interesting old town with various monuments listed on the
UNESCO World Heritage List
.
Get in
===By plane===
Asturias Airport
(
OVD
) is 40 km north of Oviedo, close to Avilés. It has flights from Madrid, Barcelona, Sevilla and Palma de Mallorca but lacks international flights.
A direct ALSA bus runs between Oviedo bus station and the airport, hourly 06:00 to midnight, taking 45 mins; the fare is €8. A taxi costs €50 and takes 20 mins.
Other flight options are to use Santander which has budget flights (eg Ryanair from London Stansted), 3 hours away by bus, or fly into Madrid and reach Oviedo by bus or train.

By train
has both Renfe (Iberian gauge) and Feve (metric gauge) trains. Renfe mainline fast trains run to Oviedo from Alicante and Madrid via Segovia, Valladolid and Leon, with a few continuing north to Gijón. Renfe cercanias (metro) services run to Gijón and other nearby villages. The Feve narrow gauge railway, now owned by Renfe, runs to Gijón by a different route, and also along the slow scenic coastal route west to Avilés, Ribadeo and Ferrol, and east to Llanes, Santander, San Sebastian and Irun / Hendaye on the French border. The two systems are not integrated: ticket offices and machines at the main (southeast) entrance are only for Renfe, those at the back end via the footbridge are only for Feve. And, less than helpful, both systems have platforms numbered 1-4/5. The station is at the northwest end of Calle Uría leading to city centre. The main through-street Calle Pepe Cosmen goes through an underpass here, with ramps to the station. There's also a raised street access to another drop-off area, but the taxi stand is at the main entrance. No luggage store, use the bus station 300 m northeast. Lots of cafes nearby. The station can also be exited Feve-side by a narrow stairway and corridor out into Calle Monte Gamonal.
===By bus===
Oviedo Bus Station is a long low building on Calle de Pepe Cosmen at the north edge of the centre, 300 m northeast of the railway station. ALSA is the main operator, with buses inland to Madrid, Barcelona and Sevilla, west to Avilés and Asturias Airport, and east to Llanes, Santander, Bilbao and Irun. International buses seldom come here nowadays, change in Madrid. There are cafes, ticket offices and luggage lockers (staffed M-F 09:00-19:30), plus a Tourist Information Office (tel + 34 985117050).
===By car===
There is a convenient ring-road, with various exits into Oviedo. There are places to charge, but they are not near, check directions before getting into A6. Lugones will be your easy option to return. To Oviedo, freeway will take by car in less than 20min to Gijón or Avilés.
Distances to/from Oviedo: Madrid 450 km, Bilbao 305 km, A Coruna 325 km, Gijon 30 km

Get around

The best way to get around is by walking.
Most of the center of the city can only be visited that way, because little motor traffic is allowed. Where traffic is possible, be prepared for jams and narrow passes, as sometimes parking is permitted on both sides of the road.
The local Buses (Autobuses Urbanos de Oviedo, tel. +34 985222422) are fairly reliable, and on every bus stop there is a screen with the time for arrival of the next bus. Almost all local buses go down Calle Uria. The single fare is €1.20 (children under 4 free).
There are plenty of taxis, although they are not cheap. Minimum charge at non-peak hours is 4€. Although they can be found on taxi ranks and on the streets, you can contact one of two companies directly: Radio Taxi Ciudad de Oviedo (tel. +34 985250000) or Radio Taxi Principado (tel. +34 985252500); if you need to go from Oviedo to the airport. and from the airport to Oviedo, and you prefer taxi drivers who speak English; you can reserve it by email: contacta@taxioviedo.com, or by phone (+34 615980000). Final prices, taxes included in 2016 are 40€. If you prefer other companies, prices are from 53€

See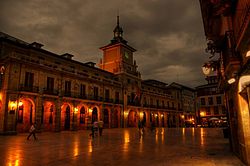 The old part of Oviedo is called the "Casco Antiguo". Wander along cobbled streets admiring its beautifully restored buildings and squares. Some of the most outstanding are the Velarde Palace (which hosts part of the Art Museum), the Town Hall, the plaza del Fontán, the Palace of Toreno and the Palace of Camposagrado.

address: Plaza Alfonso II El Casto

You walk in to a standard Gothic interior and wonder why you paid €7, but it opens out into an impressive series of spaces. It was built from 1388, with the tower added in 1528. There's a fine cloister, chapter house and Cámara Santa where religious relics are kept.

phone: +34 9852130619

address: Calle Santa Ana

Mostly medieval religious works but with some 19th & 20th C work.

Museum of the Church

phone: +34 985203117

Corrada del Obispo (open Mo-Sat, free on Thursday afternoons.
is a hill 3 km north of Oviedo, take the bus to (or park free at) the foot of Av. de los Monumentos. Along the lane uphill are two quaint little pre-Romanesque churches, San Miguel de Lillo and Santa Maria del Naranco. Continue to the crest of the ridge for views back over the city, and the Monumento al Sagrado Corazón de Jesús in the bosky valley beyond - pity about the ugly quarry on the far hillside.
The Tourist Information office is just next to plaza de la Constitución, just the other side of the archway under the Town Hall on the right (calle Cimadevilla, 4, open Mo-Sat, 10am-7pm, tel. +985213385, e-mail ofiturio@princast.es).
Do
Watch football (soccer) at Real Oviedo, who play in Segunda División, the second tier of Spanish football. Tickets are 15€. Their home ground is Estadio Carlos Tartiere, seating 30,500, 1 km west of city centre.
Festivals
There are plenty of
local festivities
, in which local food, folk groups and local costumes are the main attraction:
Fair of La Ascensión (variable date in May). It is a fair devoted to the countryside with an arts and crafts market, local produce and folk groups playing in the streets.
La Balesquida or Countryside Tuesday (first Tuesday of Whitsun). The main event is a procession that takes place in the square in front of the Cathedral, followed by the handing-out of bollu preñau (pronounced boyo preniau), or chorizo-filled bun.
La Hoguera de San Juan. The night of the 23rd of June (St. John), bonfires are lit all over the city and in the square of the Cathedral. There is also a fountain-decorating contest.
Fiestas de San Mateo are mostly a cultural affair with plays and concerts scheduled for the week leading up to St-Mathew's Day. America Day in Asturias takes place on the 19th of September in honour of the Asturian emigrants. A procession takes place through the main streets. On St. Mathew's day itself (21st of september) there is a hand-out of bollu preñau and wine, and at the end of the day fireworks in Parque de Invierno.
Buy
The
old-town
is full of small traditional shops. There is an open-air market in the main square on most days, which is worth a look. The traditional covered maket is close to the Plaza de la Constitución. Close to the covered market there are various shops that sell traditional foodstuff and cider.
There are also various large
shopping malls
in Oviedo. The shopping malls offer uninterrupted shopping hours, from 10am to about 9PM. Other shops and businesses in Spain tend to close from 2pm-5pm:
Intu Asturias (people knows it as Parque Principado), which is located just outside Oviedo. The D1 and H1 bus goes from El Cristo and Serrano St, respectively, and takes about 30 minutes to get there, with stops along the way. Once there, you have about 110 shops, with the flagship hypermarket Familia flanking one end, and an eclectic range of restaurants, 11-screen cinema, bowling alley, casino, children's amusements on the other end. Parque Principado is situated in a sprawling industrial estate, which also boasts stores such as MediaMarkt, AKI (a DIY superstore), Conforama for furniture and an IKEA.
There is another shopping mall called Los Prados which can be reached by bus no. 2,4,7 and 11. These buses can be caught from central Oviedo. This mall has Asturias' only IMAX theatre offering movies in 3D, as well as a traditional 14-screen cinema. The range of shops is not as impressive as that of El Parque Principado, however.
The main shopping malls in central Oviedo are Salesas and Modoo. Salesas hosts Spain's main department store El Corte Inglés, a huge supermarket Hipercor, as well as various fashion stores and a Burger King. Modoo (people knows it as Calatrava) features many stores like El Corte Inglés, Game, La Casa del Libro, Real Oviedo store... (For Real Oviedo see below)
There is a Corte Inglés situated in Uría St. This one is the biggest and the best of Oviedo.
Eat
There are many places to eat in the old-town, both indoors and in small secluded squares such as El Fontán or Gascona, to name just two. Down calle Gascona you will be able to get a huge set menu for around €10. The set menu (menú del día) may not be on the menu you are given, so you may have to ask.
Typical dishes of Oviedo are those common to all of Asturias. The Fabada Asturiana is a bean stew with a reputation all over Spain that is worth trying (maybe not in the evening!). A really well known Asturian dish is the Cachopo, this one is meat with ham and cheese all breaded. The Cachopo deserves a try. Fish and shellfish are of great quality. A local cheese, cabrales, also has an excellent reputation, especially if you like strong flavours. Less known are the gamoneu and afuega'l pitu cheeses. Asturias also has a tradition for rice pudding (arroz con leche).
There are many popular places to eat, the more known are: Tierra Astur (in Gascona there are two down the street there is a grill with local products and up the street there is the restaurant with every product said above. Also in the Fontán there are two: Casa Ramón with fish from the shores and Casa Amparo. Near the Cathedral there are many places to drink and eat tapas, like Plaza del Riego with restaurants of ham and El Reloj de Porlier with its great asturian and international food.

Drink
Cider
(sidra) is something that should not be missed. The cider you will find in Asturias is natural cider and has a reputation all over Spain. Drinking cider in Asturias is a ritual in itself: it is poured from on high in order to incorporate air into the cider as it falls from the bottle to the glass. When you get your glass of cider it will be naturally fizzy. You are meant to drink in one gulp what the waiter offers you, leaving a little in the base of the glass. You then pour what's left out of the glass and leave the glass on the table until the waiter offers you more. Be aware that cider pouring is a messy business and the floor will get very, very wet and sticky (which is why the floors of sidrerías are covered in sawdust).
In many other bars and restaurants there is cider available. Look out for signs saying "Sidrería" or "Chigre". The best place to find a number of Sidrerías by far is La Calle Gascona . There are also plenty of wine bars close to Gascona street, on Calle Jovellanos. Do not miss
El Patio de los Naranjos
with friendly staff, good wine and tapas.
In the past bars used to close very late, but now there is a time schedule:
Su-Th - bars close at 3:00am, discos close at 5:00am. Fri-Sat - bars close at 5:30am, discos close at 7:00am.
There are mainly 3 areas:
El Cristo. In this area you can find mostly bars and pubs, and some after hour. Mostly middle age people in their 30s and 40s.
El Rosal. It is where large numbers of youth go on Friday, Saturday, and Sunday afternoons and evenings (7pm to 3am). Once the teens have left, youngsters in their early 20s will take their place.
La calle Mon. The vast majority of people end their night in this narrow and noisy street. People here are usually in their 20s and 30s. Erasmus students can be regularly found in "El Escondite" and on Tuesdays in the "Asturiano", for the Erasmus quiz.
Sleep
phone: +34 986 96 65 70

address: Av Julián Clavería 14

Student accommodation but often with vacancies for visitors.
Hotel Carreño is a clean efficient business hotel on Calle Monte Gamonal behind the railway station.

phone: +34 985 11 43 75

address: Calle Ernesto Winter Blanco 6

Reliable budget chain.

Eurostars Hotel de la Reconquista

phone: +34 985 241 100

address: Calle Gil de Jaz 16

This is where the celebs stay, behind the imposing baroque façade. Yet standard rooms are only mid-price range.

phone: +34 985 96 47 77

address: Calle Policarpo Herrero

Mid-range hotel with modern rooms, congress room and other facilities.

phone: +34 98 5217792

address: Calle San Francisco 6

Business-type hotel, very central for city sights.
If travelling by car, you might prefer staying in agro-tourist accommodation or casas de aldea in some of the outlying villages.
Go next
Asturias is full of coastal and mountain villages all worth visiting and spending some time in (
Luanco
,
Cudillero
,
Villaviciosa
, ...). The other major towns in the area are
Gijón
, a lively coastal town, with a beach worth visiting, and
Avilés
The
Picos de Europa
National Park, on the other hand, is a great place for hiking and climbing.