Owase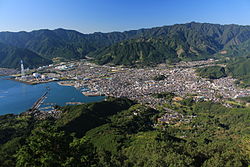 Owase
(,
Owase-shi
) is a city in the south of
Mie
,
Japan
.
As of 2008, the city has an estimated population of 21,002 and the density of 109 persons per km². The total area is 193.16 km².
Owase was formed from the merger of many small towns including Owase, Sugari, Mikisato, Kuki, and Osonemura. It was founded on June 20, 1954.
Get in
By car
Owase can be accessed by car via National Highway Route 42.
By train
From Nagoya there are three options.
Take a JR Rapid train (Nanki Wide View) to JR Owase Station. The train ride takes approximately 2 hours and 30 minutes and costs ¥5730.
Take a highway bus from Nagoya Meitetsu bus terminal to Owase. The one-way bus ride takes approximately 3 hours and costs ¥3000.
The slower local JR lines are cheaper at ¥3320, but this takes a grueling 4 hr and 45 min.
From Osaka, take a Kintetsu train to Matsusaka. At Matsusaka, take the JR to Owase.
From Shingu, take either the Nanki Express or the local JR train to Owase.
See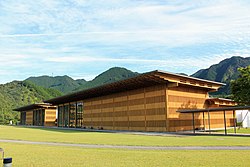 Some of the components of the UNESCO World Heritage site Sacred Sites and Pilgrimage Routes in the Kii Mountain Range are located here.

Magose TogeA popular hiking trail on the Kumano Kodo - Ise-ji Route. There is a hiking trail which leads to Mt. Tengura, overlooking Owase City.

phone: +81 597-25-2666

Constructed entirely from cypress wood (the tree of Owase), the Kumano Kodo Centre features exhibits on the origins and history of the Kumano Kodo pilgrimage route. A playground, also made entirely from cypress, is located nearby.

phone: +81 597-22-1124

A deep sea water onsen, which has healing properties, as well as sauna rooms.

Owase JinjaThis shrine is a historical monument in Owase. It's well known for an ancient, sacred tree which is aged over 1,000 years old. Also the venue for every year's Ya Ya Matsuri.

Kongō-jiBuilt during the Edo Era, the Kongō-ji has two fierce-looking deity statues guarding the entrance.

Mikisato BeachA beautiful white sandy beach, with clear turquoise waters.

SugariSugari is best accessed by a 20-minute ferry ride from Owase Port. It is an untouched, beautiful fishing village with friendly residents who would be more than happy to show visitors around. As of 2008, Sugari has a declining population of less than 200 people, with the majority aged above 60 years old.

KukiLike Sugari, Kuki is also a beautiful fishing town. If you are lucky, you will be able catch seagulls and comorant fishing at its best. Try the famed Kuki's tiger rolls, which come in two flavours - red bean or fresh cream.
Do
Itadaki MarketA monthly market featuring over 40 stalls where you can buy Owase's local produce such as fresh seafood, dried fish, sea salt, and jam. At the market, you'll also be able to enjoy special dance and taiko performances by the locals.
Festivals
Ya Ya MatsuriThe biggest festival in Owase is the Ya Ya Matsuri. In the evenings of the 2nd to the 4th, men parade around the streets, jostling each other and chanting "Ya Ya" while drinking sake before the "chosen" ones dive into the sea to purify themselves. The festival ends off with a day-long street parade on the 5th featuring dance performances and finally, an archery contest at Owase Jinja.

Owase Port MatsuriA summer festival showing an impressive fireworks display.

Hachiman Jinja MatsuriThis festival marks a tribute to the Hachiman Jinja, located near the Owase Port. It begins with a day-long parade before culminating at the shrine.
Eat
Kotobuki Shokudo

phone: +81 597-22-9117

This old restaurant has food that is great tasting and comes in huge portions. Recommended eats include the Giant Katsu Set, Giant Ebi Fry Set, Inoshishi (wild boar) Don and Champon (Nagasaki Noodles).

Moriba

phone: +81 597-23-3808

Moriba is well loved for its Tempura, Tebasaki (Chicken wings) and Miso Katsu.

Oni Gawara

phone: +81 597-22-8055

If you'd like to experience the freshness of Owase's sea produce, this is the place to go. The sashimi set meal comes in 3 sizes and is highly recommended for sashimi lovers.

Hao Hao Han Ten

phone: +81 597-23-2280

A Chinese restaurant offering refined Chinese food. Popular dishes include the ten shin han, mapo han, and the pirikara szechuan ramen.

Hei Wa EnFor a taste of authentic Chinese food, visit Hei Wa En. The owners come from Dahlian, China and serve traditional Chinese food.

Inaka

phone: +81 597-22-8868

Famous for its affordable lunch sets consisting of 8 small side dishes, typically usually sashimi, a stewed meat, vegetables, soup, and rice.

NakaoGet your fill of collagen filled tonkotsu ramen at this ramen house.

Yume Kodo Mother's Lunch Buffet

phone: +81 597-22-1124

Popular for its "all you can eat" country style buffet every Sunday. Run by an NPO, meals are prepared by 4 groups of volunteers (very friendly obasans), who take turns to cook every week. It's delicious country-style, home-cooked food that you won't be able to taste in typical Japanese restaurants. The buffet is so famous that some people travel from Nagoya or Osaka to eat it. Go early to prevent disappointment.
Go next