Owen Sound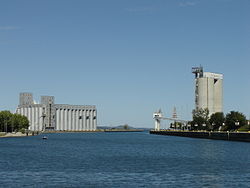 Owen Sound
is a city in
Grey County
. It has a population of approximately 21,000 people (2016).
Understand
History

The area around the upper Great Lakes was home to the Ojibwe people before European settlement. In 1815, William Fitzwilliam Owen surveyed the area and named the inlet after his older brother Admiral Edward Owen. A settlement called "Sydenham" was established in 1840 or 1841 by Charles Rankin in an area that had been inhabited by First Nations people. By 1846, the population was 150 and a sawmill and gristmill were operating.
A First Nations Band, led by Chief Newash, had a reserve in the area totalling about 11,000 acres (4 450 ha). In 1842 they established the village of Newash. In 1857, the government took over the reserve area and moved most of the inhabitants of Newash to Cape Crocker.
Over the years, Owen Sound was a major port best known for its taverns and brothel. The community acquired names as the Chicago of the North, Corkscrew City, and Little Liverpool because of its rowdy reputation. There was a tavern named "Bucket of Blood" on the corner of an intersection known as "Damnation Corners", because of taverns on all four corners, but this location was also only a block away from an intersection with four churches called "Salvation Corners".
Sydenham was renamed Owen Sound in 1851; by then, it was served by a direct road to Toronto, the Toronto-Sydenham Road, some of which tstil exists as a part of Highway 10. In 1873, the Grey and Bruce Railway from Weston arrived and allowed for shipping goods to and from the community.
One of the city's most famous sons was World War I flying ace William Avery "Billy" Bishop, born in Owen Sound He was Canada's leading pilot in the war. He flew with the Royal Flying Corps and Royal Air Force. In 1917 and 1918, Bishop was credited with downing 72 enemy aircraft. He was awarded the Victoria Cross, the Distinguished Service Order and the Military Cross. After the war, he was promoted to Air Marshall and worked as director of recruiting for the Royal Canadian Air Force. Bishop is also one of the few to have tangled with the Red Baron and survived, forcing the German pilot to retreat in a damaged aircraft. Bishop's boyhood home, one of the National Historic Sites of Canada, is a museum with artifacts from his life and of Canada's aviation history.
The town was also the home of NHL Hall-of-Fame goaltender Harry Lumley and the artist Tom Thomson. Surgeon Dr. Norman Bethune, an avowed communist and pioneer of public medicine who gained notoriety in his innovative medical work with the Chinese army during the Second Sino-Japanese War, is an alumnus of the Owen Sound Collegiate and Vocational Institute. Legendary hockey broadcaster Bill Hewitt was once sports director of the local AM radio station, CFOS. Tommy Holmes, another Victoria Cross winner, was also from Owen Sound, and the city's armoury bears his name.

Climate
Winters are cold and very snowy, while summers are warm and humid, but cooled by the lake waters (Georgian Bay and Lake Huron on either side) more than most other areas of southwestern Ontario. Precipitation is moderately high, as Owen Sound is in the direct line of the Great Lakes snowbelt, with an annual average of 1100 mm. Summer thunderstorms are a common occurrence.

Get in
There are two main highways that enter into Owen Sound's East Side; Highway 26, which leads (driving east) to Meaford, and Highway 6-10, which leads (driving south) to Chatsworth. At Chatsworth, Highway 6-10 splits, and Highway 10 leads into Markdale. Owen Sound is within three hours of
Toronto
,
Hamilton
,
London
,
Orillia
and
Barrie
. Nearby popular destinations include
Sauble Beach
,
Wasaga Beach
,
Village at Blue Mountain
&
Collingwood
,
Tobermory
, and
Horseshoe Valley
.
Get around
Owen Sound Transit
provides local bus service and specialized transportation for those unable to use the regular transit buses. All four routes provide ½ hour service from 6:30AM to 6PM. All transit buses are fully accessible and each bus has a kneeling feature which lowers the height of the bus for ease of entry as well as a ramp for loading and unloading a wheelchair. Motorized scooters are not allowed on the conventional transit buses. The fare is $3.00 for adults, $2.50 for students (July 2018).
There are numerous taxi companies in the city ($7 for travel on east side, $6 for west, $5 for downtown, generally).
Traffic is generally light and roads are well maintained if you choose to drive, with plenty of parking spots.
The downtown is a comfortable size to discover on foot, with most of the shopping clustered within several blocks of the center of town.
See
phone: +1 519-376-1932

address: 840 1st Ave W

A collection of works by Thompson nan the Group of Seven, and significant contemporary art by regional and Canadian artists. It's an excellent place to visit to understand and appreciate Canadian art and, by extension, the Canadian identity. All of the Gallery's exhibition spaces and facilities are accessible to wheelchair users and other visitors who cannot use stairs. For questions related to accessibility initiatives or to reserve interpreters, wheelchairs, or tours for guests with vision impairments, contact ttag@tomthomson.org.

Grey Roots Museum and Archives

phone: +1 519-376-3690

address: 102599, Grey County Rd 18

Museum featuring local historic events and issues. A multi-faceted attraction that preserves and promotes the cultural and heritage traditions of Grey County. Innovative and informative interpretive programs and demonstrations, rotating exhibits, a heritage village, archival resources and superior customer service create an exciting and educational visitor experience.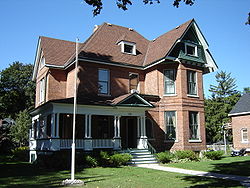 address: 948 3rd Avenue

West Museum dedicated to Billy Bishop, World War I aviation hero. Hours vary throughout the year so it would be wise to contact the museum ahead of time. There is a lift providing accessibility to the main floor of the house.
Harry Lumley Bayshore Community Centre, 1900 3rd Ave E. Community arena for hockey and other events. It's the home of the Owen Sound Attack of the Ontario Hockey League.
The Sherman Tank at the intersection of 10th Street East and 8th Avenue East. This vintage World War II tank sits outside the V.C. Tommy Holmes Armoury.
Do
Inglis FallsInglis Falls is a favourite tourist destination for many visitors. There is an extensive trail network of varying difficulty that can be enjoyed by all regardless of your fitness level. There are many vantage points offering great photos of the falls year round. The ice formations created in winter are particularly beautiful and the view of the Sydenham Valley in autumn also makes for an especially good time to visit. From May to October, there is a $3 parking fee but this is only from 10AM-5PM and can easily be avoided.
Buy
Owen Sound has many family-owned businesses in its downtown area (e.g. Fulfords, Buzzas, Nancy Lees). However, most of the large, commercial stores are on 16th Street East, including the Heritage Place Shopping Centre.
address: 114 8th St E

Since 1845. Open year and offers a wide variety of local products. This includes fresh produce, eggs, meat, fish, poultry, and baked goods, but also arts and crafts and more.
Eat
phone: +1 519-416-8226

address: 946 3rd Ave E, Building A

Mexican restaurant with vegetarian and gluten-free choices.

phone: +1 519-794-0330

address: 317239 6 & 10 Hwy

Home cooking, homemade pies, gluten-free menu available.

Norma Jean's Bistro

phone: +1 519-376-2232

address: 243 8th St E

phone: +1 519-371-2777

address: 994 2nd Ave E

Authentic Indian cuisine.
Drink
address: 967 3rd Avenue East

Large selection of wines, Scotch, whiskey, and draught beer. Pub food.
Sleep
Go next