Oxford
Oxford
is the oldest university city in the
United Kingdom
, some 50 miles (80 km) to the west of the capital
London
in its own county of
Oxfordshire
, on the rivers Thames and Cherwell. Together with
Cambridge
(the second oldest university city and Oxford's great rival), Oxford has long represented the English academic establishment and elite ("Oxbridge"), a haven of tradition and endeavour. Oxford's famous "Dreaming Spires" refer to the medieval churches and colleges that dominate the bustling modern town in all their Gothic splendour. Picturesque architecture and a vibrant modern life, driven by students, light industry and technology, all set in the rolling countryside of Oxfordshire, make this a great destination.
Understand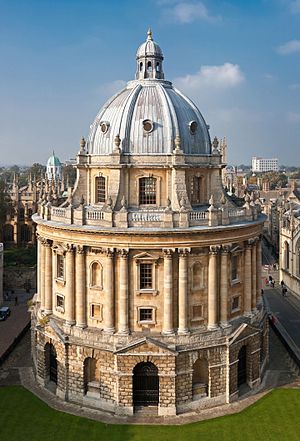 History
Oxford was first occupied in Saxon times, and was known as "Oxanforda". The settlement began with the foundations of St Frideswide's nunnery in the 8th century, and was first mentioned in written records in the
Anglo-Saxon Chronicle
for the year 912. By the 10th century Oxford had become an important military frontier town between the kingdoms of Mercia and Wessex and was on several occasions raided by the Danes.
The
University of Oxford
was founded in the 12th century and therefore constitutes the oldest English-speaking university. Oxford, like
Cambridge
, differs from many other universities in that there is no 'campus' as such, and no central university building. Instead, the university consists of approximately 40 colleges and associated buildings, such as the Exam Schools (on the High Street: closed to the public), the world-famous Bodleian Library (main buildings in Radcliffe Square, off the High Street: limited access to the public), and several world-class museums. Each college has its own individual character, some date from the 13th century, others are merely a few decades old. Many of the colleges are closed to the public, particularly during term times, but some are open at different times. For example: Christ Church (the college of "Brideshead" fame) is mostly open, and has the added bonus of having a (small) cathedral attached, where excellent music is performed at Evensong everyday; it also has an excellent
art gallery
. Some of Christ Church's buildings are used in films such as
Harry Potter
. Other colleges of note are Magdalen (pronounced 'maudlin'), which has a deer park, and those along the High Street, all of which have an impressive list of alumni. Shelley fans should visit University College. Former women-only colleges such as the pretty Somerville (Woodstock Rd) further to the north of the centre are interesting to get a feel for the range of colleges in Oxford.
During World War II, Oxford was spared from the German carpet bombing that levelled many other British cities, making it one of the best-preserved medieval cities in the United Kingdom. The city has a population of 150,000, and the metro area 244,000.
Orientation
One of the best online resources for planning a visit to Oxford is the
Virtual Tour of Oxford
, hosted by the university's chemistry department.
Central Oxford
Central Oxford is bound to the west and south by the River Thames, which in Oxford is known as the
Isis
, and to the east by the
Cherwell
, which confluents into the Isis at Boathouse Island, a centre for university rowing. The city centre is built around two intersecting thoroughfares which cross at Carfax:
the High Street — running east–west, this is the main road coming in from Headington and Cowley.
George Street — runs west from the centre and is known for the New Theatre and its restaurants
Running north–south is another road, essentially continuous, but with separate ancient names for its various stretches — St Aldates and St Giles, separated by Cornmarket (now a pedestrianised shopping boulevard).
Surrounding districts
Jericho is an affluent area just north of city centre. Jericho is home of the Oxford University Press and its museum. It also has plenty of nightlife, including pubs and cocktail bars.
Summertown is an affluent area north of central Oxford. Most of Summertown is directly on the Banbury Road, however there are shops and restaurants on the side roads such as the South Parade.
Kidlington is north of Summertown. It is apparently Britain's largest village. It has a small high street with a Tesco's and Co-operative supermarket, several pubs, resaurants and a large Sainsbury's supermarket.
Wolvercote is an affluent village to the north-west of Oxford. It has a church, three pubs (The Plough, The White Hart and Jacobs' Inn), a village store and a common for walking on.
Headington is to the east, perhaps most notable for one of Oxford Brookes University's main campuses. It has a small high street and Thornhill Park & Ride nearby. There is also a house with a large shark sculpture in the roof, located just off the high street, which may be of interest.
Botley and Osney are west of the train station. Much of the area is industrialized and therefore uninteresting to tourists. However the area has the city's Waitrose store and several retail parks such as Botley Retail Park and Seacourt Tower Park, along with Seacourt Park & Ride nearby.
Cowley has a plethora of restaurants, pubs and shops, many of which are independent. Cowley is to the south-east of the city. It is Oxford's most industrial area, home to Plant Oxford where cars have been made for over 100 years. While it's not particularly recommended for tourism, it has the Templars Square Shopping Centre (and nearby Templars Retail Park) and the Oxford Retail Park with a large 24-hour (on weekdays) Tesco supermarket.
Blackbird Leys is south of Cowley. It is a social housing (housing projects) area and is generally not recommended to tourists. However the Kassam Stadium, home to Oxford United F.C., and the Ozone Leisure Park nightlife complex opposite may justify a trip.
Get in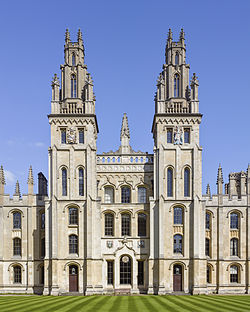 By road
Oxford is linked to
London
by the 50-mile (80-km) south-eastern stretch of the M40 motorway. The journey takes 50–90 min, depending on traffic, which can be heavy. The north-western continuation of the M40 conveniently links Oxford with England's second largest city,
Birmingham
, and the
West Midlands
.
Parking and access restrictions are very stringent in the narrow streets of central Oxford, policed by both wardens and cameras, with heavy fines applicable. The one-way traffic systems are circuitous and confusing, making it difficult to get around by car. Visitors driving to Oxford from the south have easy access to the temporary car park on Oxpens Road next to Ice Rink whilst the new Westgate Shopping Centre is built. An alternative is to use one of the five municipal Park and Ride services which are located in the city outskirts on all sides of Oxford (these are well signposted). Some offer free parking depending on the site and bus takes about 12 minutes to reach the city centre. However £2.80 is charged for the return bus trip to the city centre. Forget about using the Thornhill Park and Ride on weekdays, it is invariably full.
By train
Oxford station
is large and located immediately west of the city centre and south of Jericho. Fast First Great Western trains run to and from
London Paddington
every half an hour, the trip taking about an hour. Commonly, these trains call at
Reading
,
Slough
(for Windsor Castle), and
Didcot Parkway
, though not all trains call at each of these stations. Without a railcard, tickets to London cost £20 off peak and £40 at peak times, although you can buy tickets for about £4 if you book in advance online. There are also stopping services to London calling at a large number of stations, which run every hour and take about 90 min. First Great Western also runs approximately hourly trains on the Cotswold line to
Worcester
.
A service from Oxford to
London Marylebone
by Chiltern Railways calls at &
Bicester Village
. Journey time just over 1 hour.
Cross Country Trains run through Oxford, mostly running to/from
Manchester
and
Southampton
. These trains run approximately half-hourly in both directions until about 9PM. All of these trains stop at
Reading
going south, and
Leamington Spa
for Warwick and Warwick Castle, and
Birmingham
going north.
By bus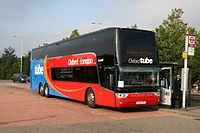 Gloucester GreenThis bus station offers buses to locations all over England and make it very convenient to get out of Oxford. Buses leave from here to London, Heathrow, Gatwick, Luton, Stansted and other national destinations. Most long distance buses do not take credit cards so make sure you have enough cash, but most services to London, Heathrow, and Cambridge also accept contactless card.
Frequent and comfortable coach services run from several convenient bus stops to Gloucester Green coach station in Oxford, normally starting at the
London Victoria
station, running westwards via Marble Arch, Notting Hill, Shepherd's Bush and Hillingdon, and then onwards to Oxford. Stops in Oxford include beside others Thornhill Park and Ride station, Headington, Brookes University, St Clements, High Street (Queens Lane) (which is best for daily visitors, as it is right in the middle of the majority of University Colleges) and finally Gloucester Green, which is also well situated. Bus services between London and Oxford include
Oxford Tube
run by Stagecoach,
X90
run by Oxford Bus Company, and the low-cost
Megabus.com
(which one must book in advance via the website or by phone. The service uses the infrastructure of the Oxford Tube). The Oxford Tube and X90 run very frequently and journey time is usually 100 min (longer during rush hours).
Prices for the Oxford Tube and X90 are £14 adult one way, £17 for an adult same day or next day return ticket, and £20 for an adult return that lets you return at any point within three months. They take slightly different routes in London, so the place that you want to go to/from may influence where you board the coach. If you wish to travel late at night, only the Oxford Tube runs 24 hours a day; the X90 doesn't run between 2:30AM and 6:30AM.
There are regular bus services between Oxford and London's Heathrow and Gatwick airports with
The Airline
, run by Oxford Bus Company.
There is also an
X5
bus between Oxford and Cambridge, taking approximately 3 hr 20 min, along with the 66 service to Swindon. There are also several coaches to other parts of the country that are run by National Express.
There is also the
Swanbrook 853
bus (actually a coach) that travels using the A40 from Gloucester to Oxford via Cheltenham, Andoversford, Northleach, Burford, Witney and Eynsham. The bus terminates in Oxford at Magdalen Street near the Martyr's Memorial and leaves Oxford in the large lay-by next to the Taylor Institute (near the Ashmolean Museum).
Local buses to Bicester, Blenheim Palace, and Banbury are run by
Stagecoach
, and depart from Magdalen Street, near Cornmarket. There are also bus services to Reading, Abingdon, and Didcot from St Aldate's, also in the city centre.
By plane
Oxford Airport
(
OXF
) at Kidlington is used mainly for private and charter aircraft and has only intermittently had scheduled airline flights; it is useful only if you fly your own plane, or are able to charter a small aircraft.
The nearest commercial airports are those around London, to the south-east, or Birmingham, to the north, with most foreign travellers preferring London.
Heathrow (LHR) is the closest major airport, followed by Gatwick (LGW) in terms of size and popularity. Road access from both Heathrow and Gatwick (fastest) is by M25 (heading north and west respectively) and then the M40 to Oxford's outskirts (follow the signs).
Oxford Bus Company runs several airport bus services called The Airline to Oxford Gloucester Green bus station (running in from Thornhill Park & Ride, then Headington and up the High St with several convenient stops: check web pages below). The Oxford Bus Company recommend allocating a minimum of an hour for between when the coach arrives and flight check-in:

between London Heathrow and OxfordTravels to Heathrow Terminal 5 and then Heathrow Central bus station. The route takes an average of 1 hour 20 minutes, but this can be increased due to traffic congestion. The Oxford Bus Company recommend stopping at the Heathrow Central bus station for Terminals 1, 2 and 3. For Terminal 4, there's a free shuttle bus from Terminal 5 that leaves from bus stand 7.

between London Gatwick and OxfordTravels to Gatwick South Terminal and then Gatwick North Terminal. The route takes an average of 2 hours and 30 minutes, but this can be increased due to traffic congestion.

National Express bus company runs airport bus services to Luton Airport (LTN) and to Stansted Airport (STN).
Birmingham Airport (BHX) has fewer destinations compared to the London airports (it still has quite a lot), but it is the closest to Oxford in terms of public transport travel time. Birmingham Airport has its own railway station called Birmingham International, which is connected to the airport terminal building via the free AirRail Link cable car shuttle, taking 1–2 min. From the railway station, trains depart to Oxford every hour between 6:14AM and 10:14PM and take about an hour. A non-advance, non-rail card single costs £25.50, a return £28.80 off-peak or £51 any time. You could do a lot cheaper by booking an advance ticket though (but be careful as tickets are valid only on the booked train, so if your flight is late and you miss the train, you will have to buy another ticket).

Get around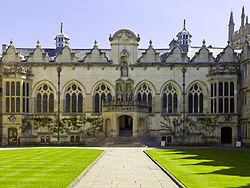 On foot
Oxford city centre is very compact and easily walkable. Many areas of the city centre are pedestrianised, and all major tourist sights are well signposted.
That the narrow streets of the city centre are pedestrian-friendly, difficult for cars and full of beautiful buildings that will draw your attention upwards (rather than onto a more horizontal plane) does not mean that the roads of the city are overspill pavements. You will find most cyclists quite forgiving on this point as they are used to it and are often themselves pedestrians tempted to do the same as long as you suppress the urge to pass comment on any near-misses actually arising from your standing in the middle of the road.
By bicycle
The preferred mode of transport for the university student is the bicycle and like
Amsterdam
,
Copenhagen
or
Beijing
, there are hundreds of them. Most trains into Oxford allow bicycles to be carried for free. Fortunately, there are cycle lanes on virtually every street near the centre, however you will sometimes be sharing the road with other motorists. Though the bus traffic can be daunting, the familiarity of cyclists to local drivers makes cycling safer than it seems at first. The best option is to follow the locals as they know what they are doing. It is illegal for cyclists to run red lights (although many do) and you must use lights at night, local police frequently set up checkpoints and there is a fine for cycling without lights. Bike parking is available everywhere, but make sure you get a strong lock as bike theft is common. Avoid cable locks as they are cut through frequently.
By car
Avoid driving in central Oxford. Traffic is heavy, the one-way system is very confusing, the streets are often very narrow with restrictions, and parking is
very
expensive. Use the park and ride system, or forget the car and come in by public transport. If you have a motorcycle or a scooter, things are a little easier.
By bus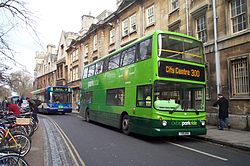 Local urban buses are mostly operated by the Oxford Bus Company and by Stagecoach. Fares are expensive and are charged by distance (starting at £1.10 single, £2 return (Oct 2018), pay the driver when boarding: cash or contactless; change is available), but if you plan on making more than two trips in one day, buy an all-day pass (£4.20, Oct 2018) to save money. The main hubs for local buses are the rail station and St Aldates.
Oxford Key
If you are in town a while, there is also a rechargeable smart-card known as the
Oxford Key
that gives discounted bus fares for a week, month, 13 weeks or a year. It can take several hours for the Key to be ready once recharged.
CityZone is the standard Key which allows travel only on Oxford Bus Company and Thames Travel buses, the radius covers as far north as most of Kidlington to as far south as Cowley, Kennington and Blackbird Leys.
SmartZone allows the same travel as CityZone but for Oxford Bus Company, Thames Travel and Stagecoach buses (which is very convenient, particularly in rush-hour).
CityZone Extra extends the CityZone radius to include as far north as Woodstock to as far south as Abingdon.
The Oxford Bus Company have two shops in the city where you can top-up or ask questions in-person, one at the top of Debenhams on the Magdalen St and the other on the High St.
Park and ride
Oxford Bus Company
operates several
park and ride services
for people visiting the city by car, because parking is difficult to find and expensive in the centre.
Buses operate from
Pear Tree
(north, near Wolvercote Roundabout), (south, in Donnington), (west, in Botley), (east, in Headington), and (north, in Oxford Parkway). The buses operate from 6AM to 11:30PM on weekdays and Saturdays. Return fares start at £2.80 per adult, and children travel free when accompanied. Parking charges apply at Pear Tree, Redbridge, and Seacourt.
By taxi
Oxford has Black Cabs (Hackney Carriage) which can be flagged down from the street or taken from taxi stands located around the city, and 'minicabs' which must be ordered by phone or app,
001
&
Royal Cars
are the most popular services. Black Cabs are quite pricey but are convenient for short hops if travelling in a big group. Minicabs are much cheaper for long-distance journeys; the fare should be agreed over the phone when booking or should be bargained with the driver for long distance, however within city the fare is set by meter within every taxi–never get in a minicab without agreeing the price.
Uber is not yet available in Oxford.
See
Visitors to Oxford should definitely visit at least one museum, visit at least one college and – if possible – hear one of the world-class college chapel choirs. A walking tour (see 'Do' below) is a good way of achieving this.
Landmarks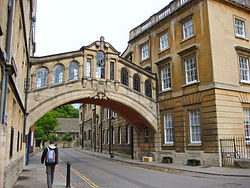 Bodleian LibraryThe main research library of the University of Oxford, the Bodleian is one of the oldest libraries in Europe (opened in 1602, based on the collection of Thomas Bodley), and in the UK is second in size only to London's British Library. The Bodleian now possesses numerous branches throughout the university; visiting bibliophiles will be most keen to peruse the central site, which includes Duke Humfrey's Library above the Divinity School, the Old Schools Quadrangle with its Great Gate and Tower, the Radcliffe Camera, Britain's first circular library, and the Clarendon Building.
Radcliffe Camera

address: Radcliffe Square

Built 1737–49, the round Camera functions as a reading room for Oxford students and so is not generally accessible. The grand exterior, however, is well worth viewing.
Colleges
Many Oxford colleges allow tourists to visit their grounds during certain hours and certain seasons, although some are closed to tourists at all times. Those that do open are generally closed to tourists during certain times of the year, especially University terms (approximately October/November, January/February and May/June), particularly in May/June, which is when examinations are taken. It is advisable to visit the college's website before visiting, or to enquire at Oxford's local tourist information office to be certain you are not disappointed.
Each college has a unique history and something interesting to offer in terms of striking architecture or historical notoriety.
Balliol
,
University
, and
Merton Colleges
each claim to be the 'oldest' in the university, with founding dates in the 13th century, although the exact year may be unclear or contested. They are fine examples of the collegiate Gothic architecture for which Oxford is renowned.
Exeter College
on Turl Street is an example of one of Oxford's smaller colleges. Built in 1314, it is also one of the oldest and in its front quad exemplifies collegiate architecture in Oxford. The Victorian neo-
Gothic
chapel is modelled on the Sainte Chapelle in
Paris
, and houses 'The Adoration of the Magi', the famous pre-Raphaelite tapestry by William Morris. The Fellows' Garden neighbours the Divinity School and the Bodleian Library and offers one of the best views in Oxford, over Radcliffe Square.
New College
on Holywell Street is interesting for being the only college to be built straddling the ancient city wall, which cuts through the center of the grounds.
The Queen's College
along High Street, founded in 1341, is renowned for its grand 18th-century Classical style architecture for which is unique among the ancient (medieval) colleges, which have otherwise each been rebuilt or expanded over the years in a largely Gothic or neo-Gothic style. Tourists are not admitted to this college.
All Souls
, also along High Street, is famous not only for its striking towers, but also in that it does not accept undergraduate members, but rather elects only two graduate fellows each year based upon their performance in what has been described as the 'hardest exam in the world'.
Finally, two colleges (some of the largest and most famous in Oxford) that have somewhat established themselves as tourist destinations are
Magdalen
and
Christ Church
. You're as likely to see a tourist inside as a student, but they do offer regular visiting hours, tourist facilities, meticulously manicured and beautiful grounds, and ticket booths for charging admission fees.
address: OX1 1DP

The college of Brideshead Revisited fame, Christ Church is an Early Modern period college founded in 1525 by Cardinal Wolsey as "Cardinal College". Noted for associations with Lewis Carroll (Alice in Wonderland) and was a location for the filming of the first Harry Potter film. Although not used for the actual filming, its Great Hall served as the inspiration for the design of the Great Hall of Hogwarts set in the Harry Potter film series. The Christ Church Meadows south of the college is a beautiful green space offering nice views of the spires and quiet corners to relax.

phone: +44 1865 276000

address: eastern end of High St

Founded in 1458 by William of Waynflete, Bishop of Winchester, Magdalen (pronounced Mawdlin) is frequently the first college seen by many visitors if coming into Oxford on the London Road, its high tower serving as a much-loved landmark. A must-see is the glorious deer park and the gothic chapel. Significant Magdalen alumni include C.S. Lewis, Oscar Wilde, Seamus Heaney and Edward Gibbon. Visitor gift shop and afternoon café. Maximum 20 people in a group.
Museums and galleries
Parks, gardens, open spaces
Many of Oxford University's colleges have parks and gardens to walk through that are open to the public.
University of Oxford Botanic Garden

phone: +44 1865 286690

address: Rose Lane and the High St

The oldest botanic garden in Great Britain and one of the oldest scientific gardens in the world.

Oxford University ParksLarge expanse of park along the Cherwell River with paths running from Marston to the City Centre.
Do
Walking tours, that last about two hours, from St Aldates, near the centre, are an excellent way of visiting some of the more famous colleges, such as Christ Church and Merton. Independent general and ghost tours also start nearby in Broad Street.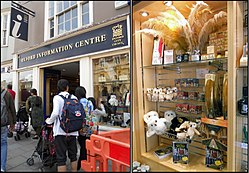 The only Oxford-based
Harry Potter
walking tour is offered by the
Oxford Tourist Information Centre
. Like all the non-Oxford-based Potter tours,
Duke Humfrey's Library
is
not
included (only Bodleian Library staff can lead visitors into this hallowed space). Harry Potter Places Book Two—OWLs:
Oxford Wizarding Locations
guides Potterites through the decision-making process required to enjoy
all
Oxford Harry Potter sites, including Duke Humfrey's Library.
Sport and recreation
phone: +44 1865 337500

address: Kassam Stadium, Grenoble Rd, OX4 4XP

The city's professional football team, who play at the Kassam Stadium which is 3 miles southeast of the city centre. They are in League One, the 3rd tier of English football, and won the League Cup in 1986.
University Boat Races (usually W-Sa of Week 7 of Hilary Term and W-Sa of Week 5 of Trinity term - check www.ox.ac.uk for term dates) Twice a year, the river is taken over by the inter-college boat races. The races are a great way to experience the Oxford obsession with rowing first-hand. The river is full of people and there is a great atmosphere of college spirit. Races take place south of the city centre on the Isis, between Donnington Bridge and Christ Church Meadows. The best places to watch are either the towpath along the side of the river, or at the bottom of the meadows - both accessible by foot from the centre (about 10-15 minutes). Word of warning however for those watching along the towpath, the towpath is likely to be swarming with marshals and bike riders while the crews are racing. The towpath does however offer the best vantage points, particularly for the bumps races where crews will often 'bump out' halfway along the course. Most college boathouses will also be serving food and drink throughout the week of racing. Races take place 11AM-6PM, with the better boats racing later in the day.
Punting. In the summer, punting is an ever-popular activity, involving propelling a wooden boat along the river with a pole. You can also hire someone to do the punting for you, although it is easy and fun to do it yourself. Bring a bottle of wine and good balance along for a more interesting trip (although it helps to have a sober crew member along!) Punt rental is available from several locations in Oxford.
phone: +44 1865 202643

address: Magdalen Bridge Boathouse, High St, OX1 4AU

phone: +44 1865 243421

address: Folly Bridge, Oxford, OX1 4LA

phone: +44 1865 552746

address: Bardwell Rd, OX2 6ST
In the summer, check out the nesting swifts (birds) at the Oxford Museum of Natural History. These elegant little birds have been nesting in ventilation flues in the tower of the University Museum for many years, providing a wonderful opportunity for scientists. Visitors to the museum between May and August can watch live pictures from three of the nests in the tower on a television monitor.
Stage and screen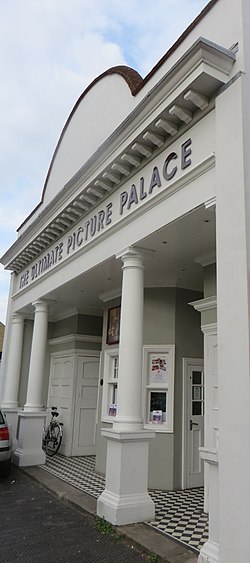 Oxford has five city-centre cinemas, screening mainstream (Odeon) and art films (Ultimate Picture Palace, Phoenix Picturehouse). The latter sometimes has showings at 11:30PM for night owls.
Oxford also hosts a number of London productions on tour, as well as playing host to a large number of student productions each year. Oxford has a lively student-drama scene. The following theatres put on amateur student productions during term-time, which are often very good value for money:
Concerts
phone: +44 1865 277299

address: Broad St, OX1 3AZ

Once voted the most uncomfortable concert hall in England, the Sheldonian never has a shortage of both professional and amateur classical music concerts, and though it is "uncomfortable", it cannot be denied that its baroque majesty is truly beautiful.
Learn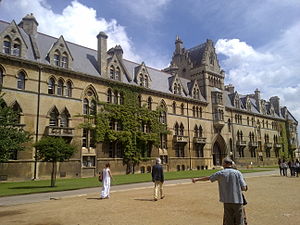 Most lectures are only open to members of the University of Oxford; however, a variety of
public talks and lectures
are organised throughout the year.
It is also possible for members of the public to attend residential summer schools within the university, such as with
Oxford Royale Academy
or
Lite Regal Education
. The university's Department of Continuing Education also runs a series of short courses on various subjects.
As well as the obvious world-famous university, those wishing to study in Oxford may wish to enter at
Oxford Brookes
, an entirely separate institution.
Buy
address: Market St, OX1 3DZ

High Street. Oxford has the oldest covered market in England. Unusual small shops, including a chocolate shop, cake shop, fine butchers, hat shop, florists, glassware, and charming cafes.

phone: +44 1865 251493

address: 52 Cornmarket St, OX1 3JE

Small shopping centre located on the southern Cornmarket with modern shops for clothes, electronics and food.

phone: +44 1865 725455

address: OX1 1TR

Westgate has mostly designer clothing shops such as Levis, Timberland, Hugo Boss and Cath Kidston. There is also a large John Lewis and yet another Blackwell's store.
A large number of shops in the city centre specialise in selling the ubiquitous Oxford University range of souvenirs. One is official, the others less so, but all do a roaring trade in T-shirts, sweaters, calendars and paraphernalia:
phone: +44 1865 247414

address: Oriel College, 106 High St, OX1 4BW

The official outlet for university souvenirs and gifts. (Bank Holidays and Sundays in June 11AM–4PM, Sundays in July and August 11AM–5PM.)
Larger stores selling apparel, electronics and furniture can be found in Oxford's retail parks at the Botley/Seacourt area:
Botley Retail Park

address: Botley Rd, OX2 0HA

Has a Currys/PC World, Argos, Pets at Home, Hobbycraft and other large stores.

Seacourt Tower Retail Park

address: OX2 0FB

Has a Sports Direct, Homebase, Dreams and Decathlon.
Books
Unsurprisingly for a university city, Oxford is noted for antiquarian, specialist and new books.
phone: +44 1865 792792

address: 48–51 Broad Street

Founded in 1879, Blackwell's main Oxford shop is a veritable tourist attraction in itself, the vast 10,000-square-foot Norrington Room excavated beneath Trinity College Gardens laying claim to being the largest space dedicated to book sales in Europe. Another 9 speciality branches of this Oxford institution dot the city.

Oxford University Press Bookshop

phone: +44 1865 242913

address: 116 High Street

Stocks a wide variety of books published by Oxford University Press.

phone: +44 1865 790212

address: William Baker House, Broad St

Situated in the grade II listed William Baker House is one of the largest branches of Britain's dominant bookshops. The bookshop houses many different works both academic and leisurely catering to many tastes and preferences. There is also a café making it perfect for meeting friends or taking a break.
Eat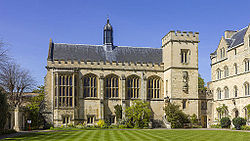 Budget
Mid-range
Café
phone: +44 1865 204463

address: 84 High Street, OX1 4BG

Lunch options include Waldorf salads, oak smoked salmon and varied sandwiches, but the real draw here is the afternoon tea. For £16.50 you get a couple of sandwiches, scones with jam and clotted cream, handmade chocolate truffles, tea or coffee and a glass of champagne. True extravagance!
American
Chinese, Japanese, Thai, Indochinese
Indian, Nepalese, Bangladeshi
Italian
Mexican
Other
Splurge
Drink
Coffee shops and cafés
Pubs and bars
Oxford has many old pubs, as well as newer nightclubs.
Traditional pubs & inns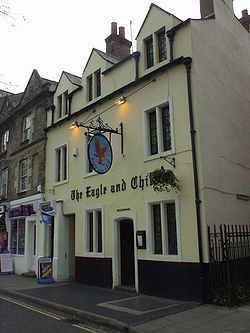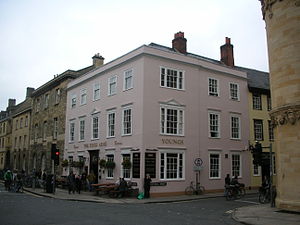 Oxford has a lot of traditional pubs and inns. While some are modern, many are hundreds of years old and are notable enough to have their own Wikipedia page.
Cocktail bars
Oxford has a few cocktail bars. Most are in the Jericho area or on the Cowley Road.
Gastropubs
Oxford has a few gastropubs, often with clean modernist decor and a large emphasis on food.
Other
Nightclubs
Certain weeknights are student-only at some clubs, so you should probably check before going.
Sleep
Oxford has a large number of B&Bs and guesthouses, located both centrally and in the suburbs. Check
the website of the Oxford Association of Hotels and Guesthouses
to get some ideas of available options.
Most hotels in the city centre are pretty expensive, and you pay almost London prices. Book in advance if you are travelling in summer: accommodation can be scarce during high season. The tourist information office in the city centre can help find available accommodation for a small fee.
Budget
For visitors of Oxford University, low cost residency may be available in
St Edmund Hall
.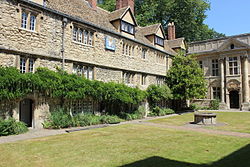 Travelodge
and
Premier Inn
have budget hotels on the outskirts of Oxford, although one will need to take a 20-minute (or more) bus ride to get to the centre.
Alternatives in the centre include:
Mid-range
Splurge
Stay safe
Although perceived to be a very affluent university city and is generally very safe, as with any city care should be taken with personal belongings and surroundings.
Street crime in the centre of the city, with the exception of bicycle theft, is low, though proper precautions as would be followed in any other city should be taken. Avoid getting caught up in drunken revelry or street fights, and, remember, traffic is on the left (so look both ways). Oxford has a lot of student cyclists, especially during term time (January, February, April, May, October, November), making hearing alone insufficient for checking whether a road is clear.
Though having seen improvement following local government investment, the suburb of Blackbird Leys on the southern outskirts of the city ranks amongst the 10% most deprived areas in the country, and has a higher rate of crime than one might expect in Oxford. Visitors are, however, unlikely to visit this area of the city other than on football matchdays.
Oxford has a relatively high rate of not only street performers but also beggars (though still a low number of the latter by international standards). Police advise not handing over money to those who expressly ask for it unless threatened.
Police stations
For emergencies dial
999
or
112
. For non-emergency situations use
101
.
101
is a charged call.
phone: +44 1865 841148

address: St Aldates, Oxford, OX1 1SZ

Parking is for disabled badge holders only and fines are hefty.

Police Station (Cowley)

address: Oxford Rd, OX4 2LE

address: Oxford Rd, Kidlington, OX5 2NX

Free parking available, closed on bank holidays.
LGBT scene
Oxford has a small gay scene and a gay area, which is accepting and friendly. The city's LGBT population is not as high places like Manchester, Brighton, London, Blackpool; but it is safe and comfortable feeling for gay visitors.
The Plush Lounge
, 27 Park End Street, is the most popular gay nightclub in the city, busy on Friday & Saturday nights.
Stay healthy
In a life-threatening medical emergency, dial
999
or
112
. For urgent, but not life-threatening emergency issues it is recommended to call
111
and ask for assistance.
Hospitals and clinics
Although there are many hospitals in clinics in Oxford, the following are most likely to be of use to the sickly traveller.
phone: +44 300 3047777

address: Headley Way, Headington, Oxford, OX3 9DU

The largest hospital in Oxford, used for most illnesses. Has an Accident & Emergency department for severe injuries.

phone: +44 300 3047777

address: Old Road, Headington, Oxford, OX3 7LE
Connect
Oxford itself has reasonably good mobile signal available.
Oxford's own public library has free internet available. It has moved to the Oxford Castle temporarily due to the construction of the new Westgate Shopping Centre.
phone: +44 1865 815509

address: 41 Castle Quarter, OX1 1AY
The hostels near the train station all provide the Internet to residents.
There are also internet cafes in the city. One to try is located above the baguette (sandwich) shop on the far south end of New Inn Hall Street (the little lane running perpendicular to George Street, right across from Gloucester Green bus station and immediately parallel to Cornmarket Street). They also offer international telephone calls, international fax, and printing.
La Baguette

address: New Inn Hall St, OX1 2DW

Sandwich shop with a whole internet cafe setup upstairs. Computers run Windows.
Go next
Map of places with Wikivoyage articles nearby