Oxford (Ohio)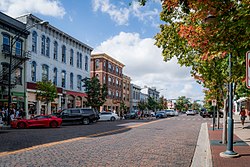 Oxford
is a small town in
Butler County
in
Southwest Ohio
. It is best known for being home to Miami University. Recognized as a
Public Ivy
, which describes state-funded public universities with academic programs akin to the Ivy League schools, Miami University has a body of more than 16,000 students in a town with a
summer
population just over 10,000. The City of Oxford's predecessor, College Township, was founded one year after Miami University was established in 1809. Miami was the second university in the United States west of the Appalachian Mountains (after Ohio University (1804) in
Athens
).
Get in
Oxford is 30 miles northwest of
Cincinnati
, 35 miles southwest of
Dayton
and about 5 miles east of the state boundary separating Ohio and
Indiana
.
By plane
By car
Oxford is probably one of the most difficult cities in Ohio to locate by car.
Oxford is most easily accessed:
Off of I-70 west of Dayton via the Eaton exit heading southbound on US-127 and then westbound on SR-73 or
Off of I-70 west of Dayton via the Eaton exit heading southbound on US-127 and then southbound on SR-732 or
Via I-275 (Cincinnati outbelt) using the Colerain exit and heading northbound on US-27
By bus
Barons Bus Lines provides transportation connecting Miami University with Indianapolis, Indiana and Cincinnati, Ohio. The fare is $10 one way and runs 365 days a year. Barons Bus Lines connect directly to Grey Hound buses that travel across the country, making travel to and from Oxford by bus relatively simple .
Get around
By foot
Oxford is a small town that can be easily traversed by foot. From the eastern edge of the Miami University campus to the western edge of Uptown Oxford, one could walk the distance in less than 30 minutes.
By bus
BCRTA
is the bus system in Oxford. Transportation can be provided around campus, to off-campus housing, and Uptown. There are also routes that travel to the regional branches of Miami University. Students, faculty, and staff may ride freely by displaying their University ID cards and all public passengers must pay $2 for fare. During fall, spring and winter terms the BCRTA buses run daily. Transit is greatly reduced during the summer months.
See
As in most U.S.
college towns
, much of the art and cultural amenities are provided by the university. In Oxford, these include:
phone: +1 513 529-1809

212 Roudebush Hall, campus is primarily comprised of red-brick Georgian style buildings and broad lawns. Founded in 1809, this Public Ivy university named in honor of the Miami Native American tribe, was established 100 years before the City of Miami, Florida. At one time it was the fourth largest university in the U.S., behind Harvard, Yale and Dartmouth, and became known as the "Yale of the Early West". Accordingly, Miami's Elliott and Stoddard Halls, near the center of the academic quad, were modelled after Yale's Connecticut Hall.
Freedom Summer '64 MemorialLocated on Miami's historical Western Campus, this memorial commemorates civil rights workers who trained here in 1964. Three of these workers were later found murdered in Mississippi.

address: 801 S Patterson Ave
William Holmes McGuffey Museum

phone: +1 513 529-8380

address: 401 E Spring St

Written by educator William H. McGuffey, the Eclectic McGuffey Reader was the primary material used to teach reading to five generations of Americans. A sculpture in his honor stands in front of McGuffey Hall near the northeast corner of Spring Street and Campus Avenue across from the Sigma Alpha Mu fraternity house.

Differdange Castle
Dewitt Log Homesteadlisted on the National Register of Historic Places
Lorenzo Langstroth Cottagea National Historic Landmark
Black Covered Bridge

address: State Route 732 at Corso Rd

A 206-foot span built in 1869 over Four Mile (Talawanda) Creek. This is the only covered bridge in Butler County that has remained in its original location (restored in 2000). Bicentennial marker and explanation on site.
Pugh's Mill Covered Bridge
Do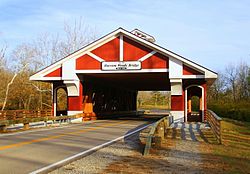 Hueston Woods State ParkThe park, operated by the Ohio Department of Natural Resources, is composed of almost 3,000 acres in Butler and Preble counties. Visitors enjoy a variety of outdoor activities, including hiking, fishing in and canoeing on Acton Lake, and golf.

phone: +1 513-523-2734

address: 6 North Beech St

A fun place to go and get artsy. Pick an already made piece to paint and let You're Fired! do the rest. Just make sure you leave yourself enough time to pick it up (about 7 days).

Oxford Farmer's Market

phone: +1 513-505-5238

address: Uptown

Local Goods

phone: +1 513-524-8506

address: 10 South College Ave

Located in the historic Oxford College for Women building, the OCAC is a home for community artists and arts organizations.
Oxford Memorial Park Pavilionon the northeast corner of High and Main Streets is the former home to the Oxford water tower (a bygone symbol of the town) and now provides an amphitheater for concerts and other performances.
Martin Luther King Jr. ParkIt has dancing water fountains that provide enjoyment for children (both by viewing and playing in them).
Sports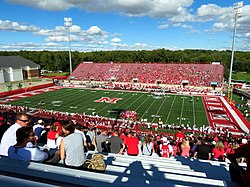 The Miami RedHawks compete in NCAA Division I college sports, mostly in the Mid-American Conference. Since the MAC does not sponsor men's ice hockey, that team instead plays in the National Collegiate Hockey Conference. Sports fans are also attracted by Miami's reputation as the
Cradle of Coaches
, having served as a rung in some of the most momentous coaching careers including: Earl Blaik, Paul Brown, Woody Hayes, Bill Arnsparger, George Little, Weeb Ewbank, Sid Gillman, Ara Parseghian, Bo Schembechler, John Pont, Bill Mallory, Jim Tressel, Joe Novak, Ron Zook, Dick Crum, Randy Walker, Terry Hoeppner, and Sean Payton.
Football - Yager Stadium, 30,012 capacity seating, the team that raised Super Bowl Champion Big Ben Roethlisberger!
Basketball - Millett Hall, 9,200-seat arena, names like Wally "World" Szczerbiak, five-time NBA champ Ron Harper (twice with Lakers and thrice with Bulls), Randy Ayers (of NCAA basketball coaching fame including the Ohio State Buckeyes) and Wayne Embry (of NBA management fame including the Cleveland Cavaliers) made their mark playing b-ball at Miami before the NBA, coaching and other achievements.
Baseball - McKie Field opened in 2002.
Hockey - ice arena opened in 2006-2007 and too many professional hockey alumni to name.
Visit the official site or the unofficial fan site .
Buy
phone: +1 513-523-2022

address: 9 E High St

Clothing & cosmetics.

phone: +1 513-523-8290

address: 11 S Main St

Greek gifts.

phone: +1 513-523-1388

address: 28 E High St

Distinctive gifts.

phone: +1 513-523-4880

address: 9 N Beech St

Bikes & service.

The Bird House Antiques

phone: +1 513-523-0121

address: 114 W High

Antiques.

Butterfield Farm Market

phone: +1 513-524-2676

address: 4000 Oxford Trenton Rd

Farm produce.

phone: +1 513-523-7111

address: 118 E High St

Miami clothing & gifts.

Follett's Miami Co-op Bookstore

phone: +1 513-523-4900

address: 110 E High St

Miami clothing & gifts.

Magnolia

phone: +1 513-524-3133

address: 313 S College St

Women's clothing.

phone: +1 513-523-7673

address: 119 E High St

Flowers & gifts.

Oxford Shoe

phone: +1 513-523-5142

address: 123 W High St

Shoe sales & service.

phone: +1 513-523-4345

address: 316 S College

Art & framing.

Walker's Footwear & Apparel

phone: +1 513-280-6320

address: 1 W High St #102

Footwear & apparel.

phone: +1 513-523-4345

address: 15 W High St

Incense & eclectic items.
Eat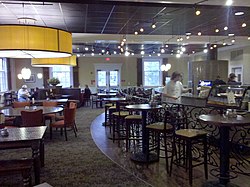 Uptown Oxford is a charming five block district with a variety of restaurants, including fine dining, pizza parlors, sub shops and college pubs.
phone: +1 513-523-2266

address: 119 E High St

Bagel sandwiches.

phone: +1 513-523-2266

address: 31 E High St

Pizza.

phone: +1 513-524-3114

address: 25 W High St

Mexican.

phone: +1 513-523-1338

address: 11 W High St

Deli.

phone: +1 513-524-9100

address: 308 S Campus Ave

Italian.

phone: +1 513-523-1020

address: 104 W High St

Chinese & Thai.

phone: +1 513-523-1234

address: 7 E Chestnut St

Pizza & subs.

Wild Bistro

phone: +1 513-523-5888

address: 37 E High St

Asian.

phone: +1 513-524-2000

address: 36 W High St

Calzones & crepes.

El Burrito Loco

phone: +1 513-523-6639

address: 102 S Locust St

Mexican.

Krishna

phone: +1 513-273-2900

address: 28 W High St

Indian.

Oxford Doughnut Shoppe

phone: +1 513-523-9911

address: 120 S Locust St

Doughnuts.

phone: +1 513-523-0770

address: 103 W Spring St

Breakfast & lunch.

phone: +1 513-523-2079

address: 17 E High St

Subs & burgers.

phone: +1 513-839-8021

address: 321 W Spring St

Ice cream.

Sushi Nara

phone: +1 513-523-1200

address: 22 N College St

Sushi, Japanese & bar.

phone: +1 513-280-6365

address: 24 E Park Pl

Chinese.

phone: +1 513-523-1123

address: 209 E Sycamore St

American & beer.
Drink
Oxford has typically provided at least 1 bar for every 1,000 students at Miami University. The nightlife is very active Thursday through Saturday night, when most of the bars remain open until 2AM. At most places, if there is live music, expect a cover charge. Because Oxford was once known for its St. Patrick's Day celebrations, Spring Break now always occurs the week of March 17th. However, St. Patty's proxy,
Green Beer Day
, occurs the Thursday before Spring Break.
Bars
phone: +1 513-523-1335

address: 36 E High St

If you are looking for a place to eat, a few drinks with friends, some amazing entertainment, or to let loose with some dancing, Brick Street is the place. There is something going on every night of the week: theme nights such as 90's Night, big-name bands, and local DJs.

phone: +1 513-523-8018

address: 21 E. High St

Historically a pub with frequently scheduled Poetry readings.

phone: +1 513 524-2437

address: 15 E High Street

German-style bar and restaurant (mostly American bar food) with a wide selection of German beers.

O'Pub

phone: +1 513 461-9032

address: 10 W Park Pl

Beer, wine, liquor, music.

phone: +1 513 529-2232

address: 15 E High St

Sports, darts, White Russians.

phone: +1 513 523-0066

address: 121 E High St

Munchies, liquor & beer.

phone: +1 513 524-2277

address: 17 N Poplar St

Sports bar.
Coffee & tea
address: 38 W High St

Has a very relaxed atmosphere, it's a hang out for many Miami students.

phone: +1 513 609-4000

address: 21 S. Lynn St

Coffee
Sleep
Budget
phone: +1 513 523-0000

address: 6 E Sycamore Street
Mid-range
The Hamiltonian

phone: +1 513 896-6200

1 Riverfront Plaza, in Hamilton, 15 minute drive southwest of Oxford.

Hueston Woods Resort and Conference Center

phone: +1 513 523-6381

address: 5201 Lodge Rd, College Corner

Lakefront resort in College Corner, just north of Oxford.
Marcum Conference Center is on the Miami University campus just north of East Quad.

phone: +1 513-524-2002

address: 75 S Main St
Bed & Breakfast
phone: +1 513 524-5827

address: 6194 Brown Rd
Connect
Read
The Miami StudentThe nation's oldest college newspaper which can be found throughout Oxford and on Miami's campus.

phone: +1 513 523-4139

address: 15 S Beech St

A local newspaper serving Northwestern Butler County.
Listen
Go next
Cincinnati - most destinations can be reached in one-half to one hour.
Dayton - about a 45-minute drive.