Ozark National Scenic Riverways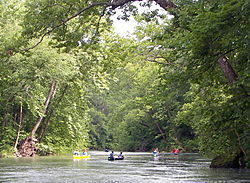 Ozark National Scenic Riverways
in
Southeast Missouri
was created by an Act of Congress in 1964 to protect the Current and Jacks Fork Rivers, and it was formally dedicated in 1971. The park's 80,000 acres (324 km²) are used for many forms of recreation and are home to abundant animal and plant species. Canoeing is the most popular activity, with some 1.3 million visitors coming to the area each year. Other activities include horseback riding, hunting, hiking, fishing, camping and sightseeing.
Understand
The park headquarters is in
Van Buren
, where a small museum and visitor center is open to the public.
History
Native Americans lived here thousands of years ago.
Landscape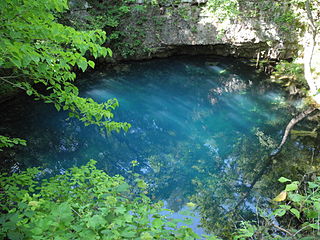 Ozark National Scenic Riverways has many 300 caves within its boundary.
Flora and fauna
The plant communities are diverse.
The vegetation is rich and diverse.
Wildflowers can be seen nearly year round at Ozark National Scenic Riverways.
Wild horses roam at several areas of the park.
In 2011, the Missouri Department of Conservation transported elk from Kentucky for reintroduction to the state of Missouri at Peck Ranch. Plans are for the elk to increase in population and range on park lands.
Get in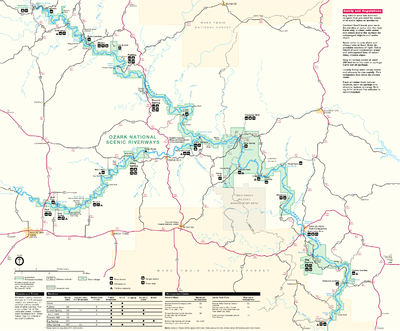 By plane
Springfield-Branson National Airport (SGF

) US Hwy 60 east Van Buren, Missouri or turn at Winona, Missouri on Highway 19 go north to Eminence 2.5 hours.

Lambert - Saint Louis International Airport (STL

) Interstate 44 southwest to Rolla, take Highway 19 South through Salem. 3 hours.

Memphis International Airport (MEM

) Interstate 55 north to Sikeston, Hwy 60 west to Van Buren, Missouri. 3 hours
By car
Fees and permits
There is no entrance fee charged to enter Ozark National Scenic Riverways. Fees for boat rental, lodging, and campsites will vary by provider. No permit is required to operate a boat on the river. A Missouri fishing license is required to fish.

See
Auto tours
Do
Backpacking
Ozark Trail is Missouri's longest trail at 225 miles. Ozark Trail enters the park from Peck Ranch at Stegall Mountain, travels through the park, passing Rocky Falls, Klepzig Mill, Indian Creek, Powder Mill, crosses Hwy 106, and goes up to the blufftop overlooks at Owl's Bend before it leaves the park into the Roger Pryor Backcountry.
Brushy Creek Trail is a 13-mile trail located partly in Roger Pryor Backcountry and parklands A spur trail rises from the remote Current River Natural Area to a commanding view of the upper Current River from the top of Bee Bluff, one of the highest bluffs in the park system.
Big Spring Trails are approximately 15 miles of trails into the backcountry around Z Highway. Trailhead parking is available near Big Spring Lodge. A spur trail connects the Big Spring Trails system with the Between the Rivers Section of the Ozark Trail in Wildhorse Hollow.
Hiking
Cave Spring Trail, 4.6 miles round trip. This secluded, little-known trail begins at Devil's Well and ends in Cave Spring on the Current River.
Pulltite Trail, 1.5 miles round trip. This interpretive trail begins at Pulltite Campground looping through the woods and along Current River.
Alley Overlook Trail, 1.5 miles round trip. This trail begins at Alley Spring branch travels up the ridge to an impressive overlook of Alley Spring Mill before returning to the spring below.
Blue Spring Trail, 1.8 miles round trip. This trail begins at Powder Mill Campground wandering mere feet from the Current River and ends at Blue Spring.
Big Spring Trails, Several miles of short trails named Big Spring Branch, Slough, Stone Ridge, and Chubb Hollow are around Big Spring historic district, above Big Spring, and along the Current River.
Boating
====Canoe rentals====
Jacks Fork River
Eminence, MO 65466
+1 573 226-3386
+1 573 226-3404
Eminence, Missouri 65466
+1 573 226-3478
Upper Current River (Montauk to Two Rivers)
Two Rivers Canoe Rental
Lower Current River (Two Rivers to Van Buren)
Fishing
The Current and Jacks Fork Rivers are popular with anglers.
Swimming
The river is great for swimming, but never swim alone or during high water. There are no life-guarded swimming areas. Diving is extremely dangerous because of unseen rocks and logs beneath the water's surface. Glass containers are prohibited on the river, on trails, within 50 feet of any stream or river bank, and in caves.
Bird watching
Horseback riding
The private
Cross County Trail Rides
in
Eminence
is one of the largest trailrides in the United States. Many horse trails are present along the Jacks Fork and Current Rivers.
Jerktail Loop, at Sutton, 3.5-mile loop,
Buy
Most authorized concessioners have gift shops.

Eat
address: Big Spring CCC District

Home cooked meals in the historic CCC era dining lodge. Seasonal.
Drink
Bringing alcohol is a privilege, not a right. You are required to regulate your alcohol consumption, and alcohol-related offenses may be punishable by eviction from the park. Once again: Glass containers are not permitted on or within 100 feet of the river.

Sleep
Lodging
Camping
Thirteen designated campgrounds are accessible by car and are
open year round
on a first-come, first-served basis.
Pulltite, Modern campground with fifteen campsites, available first-come/first-serve. Two campsites are accessible for disabled persons. Picnic tables, fire grates, drinking water, and flush toilets available April - October. Camping fees required Mar 15-Nov 15. $10 - Day
Primitive Camping on Gravel Bars
Primitive camping with campfires is allowed along the river on the numerous gravel bars. This is a popular option for both locals and those floating a portion of the river. The gravel bars have no developed facilities, but also have few or no snakes, insects or poison ivy.
Stay safe
Historic structures and mines are fenced off for your protection. Do not enter caves.
Do not climb up bluffs or get too close to cliff edges. Gravity can be dangerous.
Bring ample drinking water, or even better, a water purifier. Never drink untreated water from springs or rivers due to the potential presence of harmful organisms.
Poison ivy and snakes are present and protected in the park. Never reach or step where you cannot see.
Ticks and chiggers are hard to avoid anywhere in the Ozarks. Long pants and insect repellent (90%+ DEET) help. Light colored clothes make it easier to spot and remove insects.
Sturdy shoes and proper clothing are a must to ensure a safe and comfortable out-of-doors experience.
Choose campsites that allow an escape route as locally heavy rains can cause rivers and streams to rise rapidly.
Do not dive or jump into the river. Shallow water and submerged objects are hazardous. Swim only in clear, calm water and check below the surface for submerged objects.
If a lightning storm occurs, leave the river and find shelter immediately. Metal boats and water itself conduct electricity.
Prevent wildfires by exercising caution when building or extinguishing campfires. If possible, use a portable gas stove instead of starting a fire.
Go next