Písek
Písek
is a town in
South Bohemia
, known for the oldest stone bridge in the Czech Republic. Due to its nice small historic centre, Písek might be a good stop on a journey between Prague and South Bohemia (e.g.
Český Krumlov
).
Understand
The name "Písek" means "sand", because of gold prospecting on Otava river. In middle ages, Písek was one of the most populous and important royal cities in Bohemia. It was located on a trade route connecting Bohemia with southern Europe. However, during the centuries Písek lost its importance. Now it is with 30,000 inhabitants third largest city in South Bohemia Region.

Get in
By car, it takes around 1h20min from Prague. Half of the way is on D4 highway, which is planned to be elongated up to Písek. Buses from Prague (Na Knížecí station) go to Písek very often and it takes approximately the same time by bus as by car. There is no direct connection by train.

See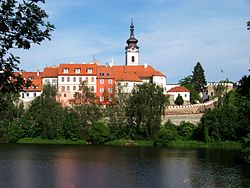 Historic centre
Písek Stone BridgeThe oldest bridge in the Czech Republic and one of the oldest bridges in central Europe (yes, older than the Charles Bridge in Prague) built in 13th century in gothic style with baroque statues.

Písek Castle and Prácheň museum

phone: +420 382 201 111

address: Velké náměstí 114/3

Local museum in the area of former castle.

Synagoguenot accesible

Marian Column

address: Alšovo nám.

Built in 1715

phone: +420 382 217 034

address: Podskalí 2537/4

Hydroelectric power station built in 1888.

Písek Town Walls

Church of the Nativity of the Blessed Virgin MaryMain church and also the highest building in Písek with gothic frescoes.

Church of Holy TrinitySmall late gothic church in areal of old Písek cemetery.
Outside the centre
Jewish cemetery

Jarník TowerLookout tower located in "Natural Park Písek Mountains", circa 3 km from the centre - follow red and after crossroad "U Vodáka" blue tourist path. Nice view of Písek and surrounding area.
Do
phone: +420 382 213 239

address: Ostrovní 2257/1
Buy
phone: +420 800 222 555

supermarket at Písek train station

phone: +420 382 270 010

address: Dvořákova 343

smaller supermarket in the centre.
Eat
phone: +420 604 333 444

Traditional Czech cuisine; summer terrace with view of Písek Stone Bridge.

phone: +420 382 213 484

address: Heydukova 98

Czech cuisine, good beer

phone: +420 382 224 697

address: Heydukova 172/10

Indian cuisine
Drink
phone: +420 773 000 654

address: třída Národní svobody 32/11

Favourite café in Písek, cozy atmosphere.
Sleep
Go next