Púchov
Púchov
is a small town in
Trenčín
region of
Slovakia
with population of 25,000 citizens. It is situated in the valley of the middle stream of the Váh river, on the north of Slovakia. It is an economically and culturally developed town with a beautiful natural setting. Although it is a small town, there are many activities to do, and many interesting places for tourists to visit.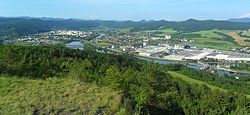 History
The first mentioned reference of Puchov was registered in 1243, when the King Belo IV gave out lists of owners of many different places on Slovak area. One of these men was called Puch. He established a small village and named it after himself. Púchov was probably established in 1100. First citizens started to live near the "Púchov Rock", but later they came down to the valley under the hill to find a better shelter because of many invasions of Hungarians. Until now, the Púchov Rock was considered as a most frequently resided place in the Slovak history. The notion "Culture of Púchov" is well known in history. From 15th to the second middle of 19th century, there was a family line of rulers called Marczibány. In the first half of 17th century, two brothers from Morava came to Púchov, taught people many trades, and established many workshops. Púchov became one of the most important trade centers in middle Europe. In 1649, King Ferdinand praised Púchov a right to established traditional fair. This tradition persists today. Every year, a three-day fair is organized on the Square of Freedom. At the end of the 18th century, a great house of Marczibány´s was built near the Váh River called "Župný Dom". Today, it is the center of Púchov culture and Púchov's library. From the beginning of 20th century, many factories were built here, for example Syderolit and Syenit for producing facing, Matador for producing tires, or Rolný- the first production of clothes in Slovakia. Today its name is Makyta. Púchov is a very economically and culturally developed town and it is still continuing to improve itself.

Get in
There is a new road connected with highway D1 from
Bratislava
leading to the town, or use the old road which takes much more time and is not so comfortable and new. You have to drive through many villages.
The train and bus station is connected and situated near Nosice which is part of Púchov, about half a kilometer from centrum. You do not have to walk into town because at the bus station busses run from there to different parts of the town. Although travelling by bus or by train is cheap, it is not so comfortable and fast as travelling by car, and it takes much more time.
Get around

Generally, Púchov is a walking town. When you want to get around, visit the Walking Zone situated in the center of the town. There is a beautiful fountain made by an academic artist which represents integrity and history of the town. It has many colour-changing lights around.
The Catholic and Evangelic churches are worthy of a visit. Each of them is situated on the opposite side of the Walking Zone.
Catholic church was built on the Square of Freedom in 13th century in Renaissance. Inside the church, there is a large beautiful Communion table with a large Cross behind. The interior of the church is decorated with many sculptures of saint people. The oldest one is sculpture of Pieta from the beginning of the 17th century. In the from of the church, there is standing a statue of saint Ján Nepomucký which was created in 1733.
Evangelic church was built in 1880 in new-gothic style. Inside is situated an altar created in 1643 which was originally placed in Marcybány´s Chapel which was destroyed through the World War I. Next to Evangelic church is built a Commemorative Rectory. It was built in 1904 and it represents two outstanding persons of Slovak history. From 1911 to 1925, one of the best Slovak poets Vladimír Roy was living there. The second person living there in the past was Ján Amos Komenský.
Next interesting historycal buiding is Župný dom situated on the riverbank of freedom. This barocco-classical dom was built in 18th century for Imrich Marcybány. Today is in Župný dom a little museum of Púchov culture, town´s library, and two representative and ceremonial halls.

See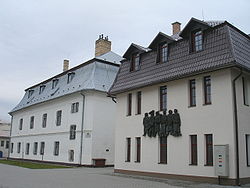 Visit the theatre in the Building of culture. There are played many interesting plays every month.
Events
Púchov has organized many interesting ceremonies and performances. Each of these celebrations is worthy of a visit and visitors will have unforgettable memories.
Púchov has four folklore clubs- Púchovček, Váh, Vaštek, and DĽH Lachovček. Every year in Jun, a folklore celebration called Folkloric Púchov is organized in open-air theatre in Lachovec Forest. Folklore clubs present traditional dance, song, music, and clothes. Traditional foods are served. Celebrations usually take a few days and each day, visitors can see folklore performances.
Every year in September on the square of freedom is Púchov´s Fair. This is a tradition since 1649 and there is sales of craftworks, clothes, and food. The celebration takes usually three days and it is accompanied with performances of folkloric clubs.
In April, there is organized traditional Ceremonie of burning Morena. She was a Pagan goddess, who had dark power and was very bad to people. People have burned Morena every year for many centuries to have a better and calm year.
In December, on the Square of Freedom, every year the Fair of Saint Nicolaus. People can buy traditional food, candies, craftworks, clothes, or accessories as gifts for friends or family. The culmination of the fair is the Suite of Saint Nicolaus, angels, and devils.
Do
If you want to relax, there are very good Baths in Nimnica. It is village which is about four kilometers from town. They are good if you have some health problems or if you just want to relax. You can have many kinds of bath, do many kinds of sport, have a massage, or visit the Salt cave. Baths of Nimnica are not expensive and they offer accommodation, free parking, breakfast, lunch, and dinner, nice service, and relaxation. The secret of these baths is the flow of water consists of many precious minerals. This water is very treatable and also drinkable.
Visit the Sport Center behind the Catholic church. In this huge building, you can do almost every kind of sport. It also has a small cafeteria inside.
If you like hiking, go somewhere around Púchov. The town is surrounded by beautiful nature and there are many marked paths for tourists. Every visitor is satisfied after visiting these places.
Buy

If you want to buy souvenirs, clothes, toys, accessories, or food, there are many possibilities in Púchov.
You can buy beautiful traditional Slovak accessories as souvenirs in a little shop called Slovenka, situated on Štefánikova street, next to the book store or Makyta shop. It is the best shop for buying souvenirs. If you want to buy clothes or acceessories, the best place is the new walking zone in center of Púchov. There are many good branded shops with nice services. If you want to buy toys for children, the best shop is at the beginning of the walking zone. There are many different toys for different age categories which are not too expensive. Also the shop Slovenka on štefánikova street is a good place to buy such things. There are many beautiful traditional Slovak toys. If you want to buy food or drinks, you can visit Kaufland, Billa, Supermarket, or Lidl. Kaufland and Supermarket are on Nimnická Street towards Nimnica village. Billa is situated in the walking zone in the center of the town. Lidl is at the end of road connected with highway D1.

Eat
In Puchov there are not so many restaurant, but pizzeria Valdagno, restaurant Čierny Havran, Penzion pod Lipou, or restaurant Koliba are worthy of visit.
Pizzeria Valdagno( is in the middle of the town near the Primary School of Art. There are served traditional Italian food as pizza and many kinds of pasta. Good service, good price, and delicious meal.

Čierny Havran is on the corner of the new walking zone. Visitors can have almost every kind of food from many parts of Europe. Although, service is good and meal is delicious, prices of meal are quite high.
The third very good restaurant is
Koliba
, located in Willi Hotel. Visitors may taste all the traditional Slovak food. Service is quite good, meal is delicious but prices are enormously high. Even for foreign visitors.
Penzion pod Lipou is in Dohňany- a village near Puchov. It is a penzion which contains also restaurant. There are served many kinds of meal but mostly traditional Slovak meal. Prices are good, very nice service, and food is delicious.
Drink
Bars
It is very difficult to say where to go to drink in Púchov because there are so many different pubs, bars, or night clubs.
xXx night club, located near swimming pool. There are many kinds of parties every weekend but from Monday to Friday the club is closed or there is often screening of films for free. You can just sit on your chosen seat, drink what you add, and watch film. xXx night club is one of the favorites in Púchov. Although the service is terrible and not so nice, the music and prices are good. But visitors usually have to pay before the entering and the price is from 50,- to 500,- Sk, depending which DJ hosts each party. If it is Slovak, visitors have to pay about 50,-Sk , and when it is American, they have to pay about 400-500,-Sk.
City Bar, located behind the xXx night club. Every weekend there is a party with free entry. Good DJ, usually quite good service, and also very good prices. But the age average of usual visitors in mostly from 13 to 16.
Javorník, in the walking zone. It is quite new, good service, good prices, and very nice interior. But if visitors come at 9PM-10PM, they will have no chance to sit down because it is usually full.
Coffee
There are a few cafeterias in Púchov but the best two are on new walking zone.
The first one is called
El Greco
. It is the newest caffeteria of Púchov. It is situated at the beginning of the Walking Zone near Evangelic church. There is nice service and good prices. It has beautiful interior and everybody is feeling there comfortable and good.
The second one is
Caffé West
in the middle of the Walking zone. Is has the same qualities as the previous El Greco Caffé.
Sleep
There are many choices of accommodation in Púchov, but the best two are Willi Hotel, and Penzión pod Lipou.
Willi Hotel is situated on the Street of 1st May. It offers 20 above standard rooms, 5 apartments, 20 double-bed rooms, 7 rooms for handicapped people, fitness center, center for rehabilitation, massage, solar center, and parking. Also there is restaurant Koliba serving traditional meals. This hotel is on a very high level, so expect enormous high prices.
Penzión pod Lipou is situated in village called Dohňany, four kilometers away from Púchov. It has comfortable a interior, good service, and good prices. It also runs a very good restaurant where visitors can get traditional meals or other delicious meals.
Stay safe
Medical emergency Hospital, situated under the Lachovec Hill on the Street Pod Lachovcom, dial 150.
Police, near Matador Business Center, dial 158.
Firemen, between next to Kaufland on Street Nimnicka, dial 155.