Paarl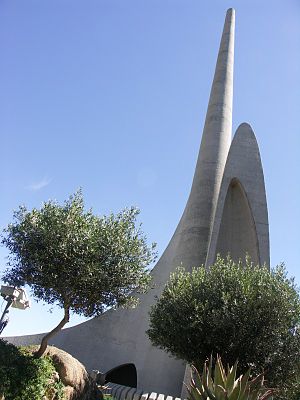 Paarl
is the third-oldest town in
South Africa
and located approximately 60km to the north-west of
Cape Town
. It is famous for having one of the world's largest rock outcrops.
Get in
By car
The easiest way to get there from Cape Town is by car is to follow the N1 North. Travel time is from 45 minutes up to an hour depending on traffic.
By train
Metrorail
runs trains from Cape Town, including the high-end
Boland Business Express
. Services are aimed mainly at commuters, with more trains in the morning and afternoon. Long distance
Shosholoza Meyl
trains between
Cape Town
and
Johannesburg
also calls here.
There are several railway stations in Paarl, but the main ones for tourists are:
Huguenot railway station

address: Distillery St

Main station in Paarl, where all express and intercity trains calls.

Paarl railway stationConfusingly, this is a much smaller station located in the southern suburbs. It's near to the Paarl monument but not much else. Also, note that not all trains calls here.
By bus
Long distance coach operator
Intercape
has connections to Paarl from several major cities in
South Africa
as well as one international service from
Harare
, in
Zimbabwe
. While intercity buses are relatively cheap, journey times can be grueling.
Get around

As with most of South Africa it is best to use a rented car.

See
phone: +27 21 872 3441

Unveiled in October 1975. The main 57-m column symbolises the Afrikaans language while the other columns, domes and walls represents the contribution of the European, indigenous African and Malay languages that have contributed to the development of Afrikaans. There is a restaurant at the monument and the elevated location of the monument provides good views over the Paarl Valley.

phone: +27 21 872-3441

address: 11 Pastorie Ave

Explores the origins of the Afrikaans language. Discover how Afrikaans' development was influenced by Dutch, Malay-Portuguese, French, German, English, Arabic and the indigenous Khoi and African languages. Focus is on experience with interactive exhibitions give the visitor a hands-on experience of Afrikaans, its history, its dialects and its people, including interesting place names and nicknames. This small museum is regarded as one of the leading institutions in South Africa for intangible heritage. In Oom Gideon se Winkel visitors can buy books, CDs, T-shirts with Afrikaans poems, and craft and delicacies from years gone by.

phone: +27 21 872 2651

address: 12 Pastorie Ave

Paarl Mountain Nature Reserve

phone: +27 21 872-3658

address: Jan Phillips Mountain Drive

Fynbos landscape and wild olives dominated by massive rounded granite rock formations.

The Paarl RockOne of the world's largest granite outcrops.

Die Vonds Snake Park

phone: +27 21 869-8309

address: 104 Main Street Wellington

Snakes, monitors, tortoises and other animals and birds.

F.S. Smit & Co.

phone: +27 21 863-1032

address: 10 Lyon Street

Traditional wine cast manufacture with showroom.

phone: +27 21 872-4396

address: 163 Main St

One of the oldest and most historic churches in South Africa.

The 12km long Paarl Main RoadThe longest main road in South Africa. It boasts a mix of Cape Dutch, Victorian, Edwardian and Art Deco architecture.

Paarl Bird Sanctuary

phone: +27 21 868-2074

address: Drommedaris Street

Home to Hartlaub's Gull, Greyheaded Gull, Cape Shoveller, African Black Duck, Cape Reed Warbler, African Rail, Little Bittern and other species.
Do
Wine related
Visit one of many wine estates
phone: +27 21 862-6190

Cheese and wine tasting Under the Tree

phone: +27 21 807-3007

address: Kohler street

Home of some of the best wines and brandies produced in South Africa

Laborie Estate

phone: +27 21 807-3390

address: Taillefret street

phone: +27 21 862-3104

address: Sonstraal Road, Daljosafat

Rhebokskloof

phone: +27 21 869-8386

Ruitersvlei

phone: +27 21 863-1517

address: Suid-Agter Paarl Road

phone: +27 21 863-3040

Offers cellar tours, wine tasting and olive tasting

phone: +27 21 868-2808

Offers 'vine to wine' tours, takes 1½ hours.
Adventure
Wineland Ballooning

phone: +27 21 863-3192

Go on a hot-air balloon over the Berg River Valley
Hiking
There are hiking trails in the area, ranging from short walk to multi-day trails.
Paarl Mountain Nature Reserve

phone: +27 21 872-3658

Trails run through the reserve, ranging from 2.4 km to 10 km.

Laborie Wine Hiking Trail

phone: +27 21 708-3390

See the cape flora and birdlife on the Laborie Estate.

Limietberg Trail

phone: +27 21 871-1536

A two-day trail of 36 km. Start at the foot of the Du Toitskloof, then to Bainskloof village and on to Tweede Tol.
Other
Le Bonheur Crocodile Farm

phone: +27 21 863-1142

address: Babilonstoren Road

A crocodile farm. Try a crocodile pie or buy crocodile leather articles

Valley Gun Club

phone: +27 83 325-4764

address: On the R312 towards Durbanville, just outside Paarl

The largest clay target shooting club in South Africa and host to the 2010 DTL Trap World Championships. Trap, skeet, trench and sporting.

Play championship golf at Paarl Golf Club

phone: +27 21 863-1140

Paarl Golf Club has a magnificent championship standard 27-hole golf course situated on Boschenmeer Golf Estate. It is a friendly club that welcomes visitors, including on competition days, and provides an outstanding golfing challenge on a well manicured course with good undulating greens. The Berg river flows alongside the course, and the backdrop of mountains is stunningly beautiful.

phone: +27828974301

address: KWV Building

Accommodation, restaurants, attractions and local business guide to everything Paarl.
Buy
phone: +27 21 863-0330

address: Seidelberg Wine Estate Suid-After Paarl Road Suider Paarl
WineFrom any of the wine estates. Do a number wine tasting trips first and find out what you really enjoy. Most estates will ship to your home address so you don't have to cart the bottles around while you travel.

phone: +27 21 863-2450

Fairview specializes in goat's milk cheeses

Ikhaya

phone: +27 21 872-5831

address: 185 Main Road

Arts, crafts and gifts.
Eat
There are restaurants are situated along the Main Road and most of the wine estates also have their own restaurants on site.
Budget
At Ease Cafe

phone: +27 21 872-2781

address: 191 Mainroad

Ovenbaked pizza and pasta, homemade pies.

Kostinrichting Coffee Shop

phone: +27 21 871-1353

address: 19 Pastorielaan

Light meals.
Mid-range
Taal Monument Restaurant

phone: +27 21 863-2800

A la carte and Sunday buffet.

Rhebokskloof

phone: +27 21 869-8386

Excellent food, excellent setting.

phone: +27 21 863-4805

address: 90a Main Street

Up market decor, art on walls for sale. Continental, gourmet food, choice of delicious starters, varied menu. Superb wine list. Olivier Jaeggi is a Swiss chef, who worked at the Bosmans of the Grand Roche.
Splurge
phone: +27 21 863-2727

address: Plantasie street

One of the top 10 restaurants in South Africa according to Wine Magazine. Superb winelist.

Laborie Restaurant

phone: +27 21 807-3095

address: Taillefer Street

Cape Provincial Cuisine and traditional foods.
Drink
Wine and brandy. Visit any of the wine estates that offer wine tasting. Also see the
Do section
Sleep
Budget
phone: +27 21 872-9898

address: 155 Main Road

Klein Waterkloof

phone: +27 21 869-8950

A smallholding among the vineyards with Cape Dutch cottage rooms.
Mid-range
phone: +27 21 872-9055

address: Upper Mill Street

On 8 hectares of ground, 4-star guesthouse, 7 well-appointed bedrooms, with stunning views from private balconies. TV, airconditioners, swimming pool. Inclusive of breakfast. Lunches and dinners can be arranged at our excellent family restaurant. Personal attention to make stay most memorable.

phone: +27 21 863-1652

Self-catering chalets and caravan park on the Berg River.

Best Western Goedemoed Manor House

phone: +27 21 863-1102

address: Cecilia Street

phone: +27 21 868-2808

address: Bo Dal road, Dal Josafat

Five thatched cottages surrounded by vineyards, fully equipped, swimming pool, 10 minutes out of town.

Mountain Rest

phone: +21 21 872-0451

At the foot of the Du Toitskloof mountain, bordering Hawequa Nature Reserve.
Splurge
Stay healthy
Hospitals
Paarl Hospital

phone: +27 21 872-1711

Paarl Medi-Clinic

phone: +27 21 807-8000
Go next
Paarl is in the center of the
Cape Winelands
, within proximity of the major town of
Stellenbosch
. It is also near
Cape Town
. You can reach all main attractions within 30 to 45 minutes (except the Cape of Good Hope and Cape Point).