Pacific Grove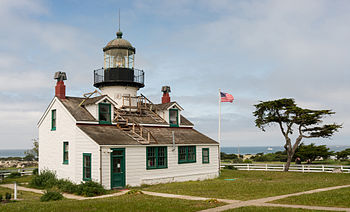 Pacific Grove
is in
Monterey County
in the
Central Coast
region of
California
. It is next to the Pacific Ocean on
Monterey Bay
just west of the city of
Monterey
. Popular for its quaint, small-town charm the town reputedly has more Victorian homes per capita than anywhere else in America. Pacific Grove is also the wintering-over spot for thousands of Monarch butterflies, from which its nickname, "Butterfly Town, U.S.A.," is derived.
Understand

The first European to land in Pacific Grove was Juan Rodrigues Cabrillo, in 1542. The first settlement in the area, however, was in 1855, when the Point Pinos Lighthouse began operation. It still stands and is the oldest continually operating lighthouse on the West Coast. Lighthouse Road, one of the two main streets in Pacific Grove, was constructed to bring supplies from Monterey to Point Pinos.
Many Chinese immigrants settled near the shore beginning in 1863, forming a "Chinatown." Most worked as fishermen out of the harbor in Monterey.
The bulk of Pacific Grove was initially a summer Methodist camp. Worshippers each had a plot of land on which they erected tents. Over time, they began erecting more permanent structures, and some relocated to the area. Most of the structures in Pacific Grove date to the Victorian era, and many are small, dollhouse-like homes. Until 1890, there was a fence around Pacific Grove, providing a visual border between this small religious community and its neighbors.

Get in
Access to Pacific Grove is via Monterey or Carmel. Take
Monterey-Salinas Transit
bus route 1, 1x or 2 from Monterey. Pacific Grove is a short, ten-minute taxi ride from Monterey Peninsula Airport (see
Monterey
).
Get around
Pacific Grove is a small town, and much of it can be seen on foot or by bicycle. Local buses from Monterey-Salinas Transit are a convenient way to travel to Monterey and elsewhere on the Peninsula, although all connections are via downtown Monterey.
phone: +1 831 372-1807

address: Beach at Lover's Point

Bicycle rental. Has locations on the beach in Pacific Grove, on Cannery Row and elsewhere along the recreation trail in Monterey, and on 17-Mile Drive in Pebble Beach.
See
Pacific Grove Museum of Natural History

phone: +1 831 648-5716

address: 165 Forest Ave

A museum dedicated to the natural history of the Monterey Bay area, with many exhibits geared toward children.

address: 250 Ridge Rd

One of the most popular resting spots for Monarch butterflies in the winter half of their migration pattern. Thousands settle there from October to March. They may look like dead leaves until you look closer. Bring binoculars.

address: 80 Asilomar Ave

The oldest continually operating lighthouse on the West Coast, having begun operating in 1855.
Do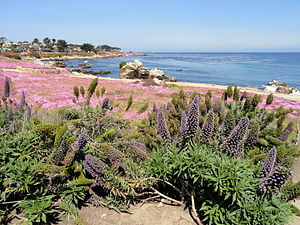 17-Mile DriveDrive or bicycle along this spectacular route. The northern end is in Pacific Grove and it runs though the gated community of Pebble Beach. The road winds through miles of breathtaking coastal views, with turnouts along the way at the most historical and picturesque sites, including the iconic Lone Cypress tree and the Pebble Beach golf course lodge. The entrance fee provides a map, as well as the rights to gawk at the lavish homes within the gated community. Motorcycles are not permitted.

Asilomar State BeachA one-mile strip of sand and rocky coves, this beach offers a 0.75-mile-long (1.2 km) walking trail, with tide pools that can be explored. Across the street, a boardwalk leads through the Asilomar Dunes, a restored area of sand dunes. Upwelling of frigid waters from the undersea Monterey Canyon makes this area far too cold for swimming, but it is popular with scuba divers and snorkelers due to the huge variety of marine life.

Ocean View Boulevard & Sunset DriveOcean View Boulevard and Sunset Drive run along the coastline, offering access to a spectacular landscape. The area is strewn with tide pools, and sea otters, seals and sea lions are often seen in the waters; whales may be sighted by those who are lucky. A bike path runs along much of the route making it an excellent place to bike or hike.
Eat
phone: +1 831 372-5325

address: 1188 Forest Ave

Fifi's is a cozy, uncomplicated French bistro with excellent food at reasonable prices.

address: 170 Forest Ave

Off of the main road through downtown Pacific Grove, Pepper's offers fantastic mexicali cuisine, especially their seafood dishes, and is one of the best spots to go to for lunch.

Holly's Lighthouse Cafe

phone: +1 831 372-7006

address: 602 Lighthouse Ave

Hands-down one of the best places for breakfast in the area.

phone: +1-831-324-4282

address: 110 Central Ave

Casual Italian eatery design with reclaimed wood giving it a homely feel. Decent portions, many small plates, house made pasta and desserts. Wine on tap and Italian apertif are a speciality. Make a reservation on the weekends!
Sleep
Go next
Monterey - Pacific Grove's neighbor to the east, Monterey was founded in 1770 and served as the capital of Alta California under both Spain and Mexico, was a bustling fishing port until the 1950s, and is now a major tourist destination. Attractions include a pier filled with seafood restaurants, a world-class aquarium, a harbor that is home to an enormous number of seabirds, sea lions, sea otters, seals, and other marine life, the historic Cannery Row, and opportunities for whale watching, kayaking, or other excursions into Monterey Bay.
Carmel - 6 miles (10 km) to the south, Carmel is a beautiful oceanside town that is home to the historic Mission San Carlos Borromeo de Carmelo, several large beaches, excellent restaurants and an abundance of upscale lodging. It borders the iconic Pebble Beach golf course and is the entry point to the 17-mile (25-km) drive and its dramatic ocean views.