Pacific Northwest
The Pacific Northwest of the
United States
is best known for its beautiful coastline, green interior, rainy weather, and spectacular mountains.
States
Home to volcanoes and numerous coastal islands to explore, as well as
Seattle
, the largest city in the Pacific Northwest.
Sometimes the neighboring areas of northern
California
, western
Idaho
,
Southeastern Alaska
, and the neighboring Canadian province of
British Columbia
are also considered part of the Pacific Northwest, also referred to as Cascadia.
Cities
Eugene – the second-largest city in Oregon, known for its natural beauty and its artistic, activist residents
– the capital of Washington state, on the shores of Puget Sound, and a breeding ground for local alternative culture
Portland – the largest city in Oregon, known for its scenic beauty and eco-friendly urban planning policies, with a proudly liberal outlook
– the capital of Oregon, in the fertile Willamette Valley between Portland and Eugene
Seattle – the largest city in Washington and the Pacific Northwest, and its cultural and economic influence extends far beyond its borders
– the economic and transportation hub of eastern Washington
Tacoma – Washington's third-largest city, in the shadow of Mt. Rainier, known for its dynamic art scene
Other destinations
— The deepest lake in North America, the clear blue water in this volcanic crater make it an attraction.
Mount Hood (height 11,239 feet/3425 metres) — The highest mountain in the state of Oregon and a major outdoor recreation site.
— site of the largest recorded volcanic eruption in US history.
Mount Rainier National Park — extremely photogenic volcanic mountain, rising from close to sea level to 14,410 feet (4392 m).
— jagged peaks, deep valleys, cascading waterfalls and over 300 glaciers form this park.
Olympic National Park — extremely diverse from the lush canopy of rain forests, to the sandy beaches and rugged, glacier-capped mountains. Olympic National Park is the only UNESCO World Heritage Site in the Pacific Northwest.
The and the Washington Coast are scenic, wild and interspersed with quaint towns and includes 100 km of wilderness coastline, the longest undeveloped coast in the contiguous United States.
Oregon Dunes National Recreation Area — formed by the ancient forces of wind, water and time, these dunes are like no others in the world. This is the largest expanse of coastal sand dunes in North America.
— in the rain shadow of the Olympic Mountains in Puget Sound, these islands are famous for abundant eagles and Orca whales and includes the San Juan Islands National Monument.
Understand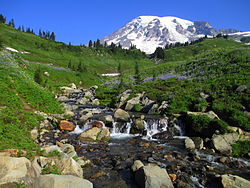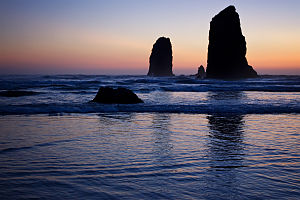 Culture
The mountains that divide the states also facilitate the cultural divisions within the region. Two thirds of the population lives west of the Cascades where progressive opinions such as environmentalism prevail, while in eastern sides political thought tends to be rather conservative.
Oregon was the first state to allow initiative and referendum, it was the first state to establish a beverage container deposit law (also known as a bottle bill), the first to legalize physician-assisted suicide, one of the first to legalize medical marijuana, and the first state to conduct all elections entirely by mail. Portland elected one of the first gay mayors for a city of its size. While Washington was the first state to legalize marijuana, Seattle was the first major U.S. city to have a female mayor and one of the first states to legalize gay marriage.
The Pacific Northwest has a reputation for innovation and is known for its airplane and computer product facilities. Some of the largest and most well-known corporations call the Northwest home, these include: Costco, Eddie Bauer, Expedia, Amazon, Nordstrom, Starbucks, Tully's Coffee, Boeing, Microsoft, Intel and Nike.
Climate
Most people associate the Pacific Northwest with a lush region that receives large amounts of rain during the winter months, with wonderful summer days. However the Northwest's climate is largely defined by its impressive natural features; most importantly its mountain ranges which not only provide convenient dividing lines, but which also create distinct climates in each of the state's regions from the Pacific Coast to the valley and, once over the mountains, a desert region—all within a few hours drive of each other. Travelers who cover multiple regions during their stay will find the differences between regions stark and remarkable in that by traveling throughout the area a great variety of climates will be experienced. Most of the glaciers in the lower 48 states are in the Pacific Northwest as is the largest rainforest and the Puget Sound which is the second largest estuary in the United States. There is more than enough to keep any outdoor enthusiast busy.
Talk
The Pacific Northwest accent is considered very similar to the General American standard accent (native to the Midwest), popularized in the 20th century by radio, TV and movies. People in the area generally have little to no problem understanding different accents of the English language. The Pacific Northwest attracts tourists from around the world, and it is common to hear many foreign languages being spoken in public in major tourist areas.
There are ethnically diverse neighborhoods in some of the larger cities where many languages are spoken, including large 'International Districts' in Portland and Seattle where many Asian languages are spoken.
Washington is the thirteenth most populated state for example, but by comparison has the fourth highest Asian population. Spanish is spoken by the majority in some smaller pockets in eastern Washington and Oregon. Seattle's 98118 zip code centered around the Columbia City neighborhood in South Seattle is considered the most ethnically diverse zip code in the country by the US Census bureau with 59 different languages regularly being spoken.
Chinook Jargon was a pidgin or trade language established among indigenous inhabitants of the region. After contact with Europeans, French, English, and Cree words entered the language, and "eventually Chinook became the lingua franca for as many as 250,000 people along the Pacific Slope from Alaska to Oregon." Chinook Jargon reached its height of usage in the 19th century though remained common in resource and wilderness areas, particularly but not exclusively by Native Americans and Canadian First Nations people, well into the 20th century. Chinook Jargon was still in use in Seattle until roughly the eve of World War II, making Seattle the last city where the language was widely used. Today its influence is felt mostly in place names and a handful of localized slang terms. Pronunciation of some of these terms is difficult and often separates the visitor from the local.
Some examples of common Chinook terms
Potlatch — in Chinook Jargon is a ceremony among certain tribes involving food and exchange of gifts, nowadays sometimes used to refer to a potluck dinner or sometimes the giving away of personal items to friends.
Tillicum — means "people/person", "family", and "people".
Tyee — leader, chief, boss. Also "Big Tyee" in the context of "boss" or well-known person
Get in
The most convenient "gateways" to the Pacific Northwest are Seattle and Portland. Both of these cities are well-connected to the rest of the world by plane, car and train, and are good starting points for trips to other areas of the Pacific Northwest.
By plane
The main airports in or around the Pacific Northwest are
Seattle-Tacoma International Airport
and
Portland International Airport.
Both airports offer flights to most cities in the USA and international flights to
East Asia
,
Mexico
and
Europe
. There other smaller airports sprinkled around the Northwest in
Bellingham
,
Tri-Cities
,
Spokane
,
Eugene
,
Boise
and
Medford
; but with fewer commercial flights to/from
Denver
,
Los Angeles
,
Minneapolis
,
San Francisco
,
Phoenix
and/or
Salt Lake City
. See the articles for Oregon & Washington under "By plane".
By train
Amtrak
offers three routes going into the Northwest from
Chicago
, Los Angeles and
Vancouver
BC:
By car
Interstate 5
runs north-south from the Canadian border through Seattle and Portland to California. From the east, there are two main options:
Interstate 82
, starts from its junction with Interstate I-84 (Exit 179) east of Hermiston, Oregon and winds its way through
Tri-Cities
and
Yakima
in the
Columbia River Plateau
region in the southeastern part of Washington. Ends at I-90 (Exit 110) east of
Ellensburg
.
By bus
By ferry
By seaplane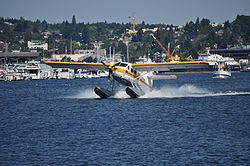 A quick and spectacular, though not cheap, way to travel. There are many American and Canadian companies offering sea plane travel into and around the Puget Sound area. Such as
Kenmore Air
and
Northwest Seaplanes
both based out of Seattle with regular scheduled flights and chartered flights within the region and into Canada. Many planes only offer between 6 to 8 seats and are small enough that the captain may ask for someone to sit in the front seat next to them. If you ask nicely they may be willing to take you on a scenic route or follow a pod of whales as opportunities and schedules allow.
By cruise ship
Cruise ships arrive in the area in both
Astoria
, Oregon and Seattle, Washington with continuing connections along the west coast including Canada and Alaska.
By boat
It is not coincidence that so many cities in this region are on the water. Early settlers found the thick regional forests too impenetrable to navigate by land so waterways became the Pacific Northwests early highway system.
However when arriving from Canada there are only a handful of ports including
Roche Harbor
,
Friday Harbor
,
Anacortes
and
Bellingham
that are official U.S. ports-of-entry and can process boaters through customs. The Cardinal Rule is
touch land at customs dock before any other stops
, fines for not doing so can be up to $5000. Besides a passport for everyone on board, you will need your boat's license number and User Fee Decal number.
Customs enforces USDA guidelines for what foods are acceptable to bring into the country and these guidelines are constantly changing so it is best to check in with them before arriving. Boaters are responsible for knowing the prohibited foods and can be fined for not declaring them.
By foot
The
Pacific Crest Trail
(PCT) is one of the original United States National Scenic Trails and it travels a total distance of 2,650 miles along the West coast of the United States, from
Mexico
to
Canada
. It passes through
California
,
Oregon
, and
Washington State
.
Get around
By car
Outside the main cities of Portland and Seattle, public transportation is scarce and is not of much use for extensive sightseeing, so renting or arriving by car is advisable. Although distances can be long, most roads are paved and well-maintained. Be aware of distances between gas stations and plan accordingly when traveling in rural areas.
By bus
Regional transit systems tend to be organized by county however they are often interconnected to cover larger areas and some are coordinated with Washington State Ferries and have many pickups at major airports. Not the fastest way to travel but efficient and cheap for the budget traveler. The following are buses serving major Pacific Northwest cities & towns contiguously in two northwestern states:
Greyhoundoffers service along the I-5 corridor between Vancouver, BC; Seattle; Portland and Sacramento and several cities/town along the I-5 corridor in between in three states. I-84 from Portland to Boise via Hood River, The Dalles, Stanfield, Pendleton and Ontario. I-90 from Seattle to Spokane via Ellensburg & Moses Lake. There are variations such as going from Portland to Spokane via Stanfield & Pasco along US-Hwy 395 and from Ellensburg to Stanfield via Yakima and Pasco along I-82.

Bolt Busoffers northwest bus service along the I-5 corridor, between Vancouver, BC; Bellingham; Seattle; Portland; Albany and Eugene, OR. Makes fewer stops than Greyhound Lines along the I-5 corridor between Bellingham and Eugene.

Northwestern Trailwaysgoes from Spokane to Boise and from Spokane to Seattle (along US Hwy 2) on two routes and a third route from Ellensburg up to Omak along US Hwy 97.
There are additional private bus companies and public county operated buses traveling to additional places not necessarily served by the above within just Oregon or Washington state. See "By bus" under "Getting Around" in the
Washington (State)
and
Oregon
articles and under "By Bus" in the article of a particular city or town (such as
Portland
and
Seattle
).
By train
Amtrak Cascades: Runs 4x daily between Seattle and Portland (via Tukwila, Tacoma, Olympia, Centralia & Kelso/Longview) and twice daily from Seattle to Vancouver BC (Edmonds, Everett, Stanwood, Mt Vernon & Bellingham); and from Portland to Eugene (Oregon City, Salem, Albany). Additional services between Eugene & Portland is offered by Cascades POINT bus and between Vancouver BC & Seattle by Amtrak Thruway bus.
Coast Starlight: Runs once daily service between Seattle, Portland & Los Angeles with the same stops as the Cascades from Seattle to Eugene, OR; except Oregon City and Tukwila. The train makes additional stops in Chemult and Klamath Falls, OR before crossing into California (southbound) or arriving into Eugene (northbound).
Empire Builder: Runs once daily from Seattle to Spokane (via Edmonds, Everett, Leavenworth, Wenatchee & Ephrata) on one branch and from Portland to Spokane on another (Vancouver WA; Bingen, Wishram & Pasco). In Spokane the two branches join to continue eastbound towards Chicago (or split going westbound).
By ferry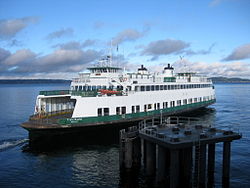 Washington State Ferries
is the largest system of ferries in the country and the key to navigating western Washington. They offer routes across Puget Sound to the
Kitsap Peninsula
and to Bainbridge, Vashon, Whidbey and the San Juan Islands as well as continuing service to Sidney BC.
Inland, the state also offers some free ferries across the Columbia River and there are also some county-run ferries to smaller destinations such as to
Anderson Island
and
Guemes Island
. Check specific regions for more detailed information.
By light rail
Portland and Seattle have light rail systems that can quickly deliver passengers from their respective airports to their downtown cores. However Portland's system is better developed and offers more options when traveling around that region.
Portland
Portland has two complimentary rail systems, which both tie in to the national rail system,
Amtrak
. The
MAX
is Portland's regional rail, while the
Portland Streetcar
serves central Portland.
TriMet's MAX (Metropolitan Area Express) Light Rail connects downtown Portland with Beaverton, Clackamas, Gresham, Hillsboro, North/Northeast Portland and the Portland International Airport on four color-coded lines.
The City of Portland owns and operates the Portland Streetcar, which connects NW Portland, the Pearl District, Portland City Center, PSU, South Waterfront, the Rose Quarter, the Lloyd District, the Convention Center and OMSI, on named routes.
More about Portland Transit
Seattle
Link Light Rail
operates between the University of Washington through
Capitol Hill
to Westlake Center in
downtown Seattle
and
Sea-Tac Airport
, running through
South Seattle
and
Tukwila
. Construction is underway to extend the Link Light Rail north from the University of Washington to Northgate and is expected to
begin service in 2021
. There's also a shorter and separate segment of the
Link Light Rail
connecting the
Tacoma Dome Station
(Tacoma's Greyhound Station) and downtown Tacoma.
By bike
Portland and Seattle are considered some of the most bike-friendly cities in the United States with extensive bike lanes and infrastructure developed for bicyclists including bike racks on buses and designated spaces on light rail. However even rural areas in both states are popular with bicyclists including Oregon's winding coastline.
See
Natural scenery
A chain of volcanoes defines the spine of the Pacific Northwest, including the iconic snow-packed
Mount Rainier
, which towers over western Washington and is symbolic of the natural beauty of the area. The PNW includes both the Olympic Mountains on the epic Olympic Peninsula and Cascade Mountains that extend from Washington into Oregon and even down into northern California.
Mount Hood
is Oregon's most recognizable volcanic mountain and can easily be seen across both states. Between Mount Rainier and Mount Hood is the infamous
Mount St. Helens
. Further south, a volcano is missing in the Cascades. In Southern Oregon,
Crater Lake
is all that remains from the massive volcanic explosion of Mount Mazama 7700 years ago.
The Pacific Northwest is a very diverse region including rugged coastlines, unique sand dunes, sparkling streams, huge rivers, wide deserts, and picturesque forested islands, as well as the dramatic mountains. The Columbia Gorge Scenic drive and its waterfalls follows along the mighty Columbia River, which is the natural boundary between Oregon & Washington.
Puget Sound
is a large, complex waterway created by the most recent glacial cycle, which ended 14,000 years ago.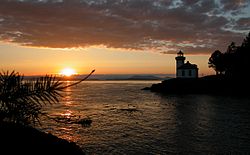 Historical attractions
Unlike many areas of the country, the prehistory of the region is rich and evident. Areas such as
Suquamish
still actively practice Native American traditions and Northwest Native American art is a common theme even in contemporary urban public artworks. The city of Seattle is named after Chief Seattle and many other natural and manufactured features bear the names of the areas first peoples which are often difficult for outsiders to pronounce.
Areas such as
Ebey's Landing National Historical Reserve
have kept large areas preserved much as they were when the first European settlers came to the area while the
Lewis and Clark National Monument
along the Lewis & Clark National Historic Trail has preserved that area for future explorers.
Monuments and architecture
Most of the area's architecture can, of course, be seen in urban areas such as Seattle's Smith Tower, which, although now dwarfed by Seattle's modern skyscrapers, stood for years as the tallest building west of the Mississippi. But interesting architecture can be seen even across rural areas such as the eleven historic lighthouses scattered along the Oregon coast. Michael Graves' the Portland Building in downtown Portland in on the National Register of Historic Places for its primacy in the history of Postmodernism. Frank Gehry's EMP/SFM building is a contemporary architectural highlight in Seattle.
Museums and galleries
There are many world-renowned museums around the region and although most of the well known one's such as the Seattle and Portland Art Museums tend to be in the larger cities, many quality museums can be found scattered across the area and are often a rewarding and enriching break when exploring. Even small towns will sometimes offer their own regional art and historical museums that offer glimpses of local art, history and culture.
Do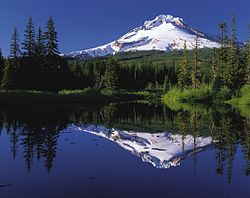 The Pacific Northwest is an outdoorsy place that offers an intimidating variety of places to experience nature. Although known for its national parks, there are hundreds of state and regional parks offering a wide variety of recreation from rock climbing to sea kayaking. The Washington State Parks and Recreation Commission alone has the largest state-managed mooring system in the United States offering 40 marine parks in Puget Sound that together provide more than 8,500 feet of public moorage space as well as campgrounds and vacation rentals ranging from the primitive and isolated to the comfy and well equipped.
BeachcombingHugely popular along the Pacific Coast, however due to its size and vast expanses between towns it is easy to find your own isolated patch to explore. Be warned that sea shells and driftwood are considered part of the natural environment and should not be removed. Be gentle with sea creatures and keep a wide distance away from nesting birds, seals and other shore animals and always put back anything removed from the shoreline.

BoatingThe Pacific Northwest is one of the most popular places for cruising on small craft in America. Breath taking views of the snow capped mountain ranges mingle with thick forests and clear bays and streams to create a humbling cacophony of natural sights for area boaters. Carved by ancient glaciers, areas like Puget Sounds offer intricate and complex waterways with endless opportunities for exploration while the many harbor towns built on protective bays cater to boaters and provide an wide array of services, restaurants and shops. Harbor Seals, Otters, Sea Lions, Bald Eagles and Blue Herons are common sites while the occasional viewing of an Orca or Grey Whale is not out of the question.

FishingPopular throughout the Pacific Northwest from trout fly fishing in isolated mountain streams to digging up shell fish along the coast.

Hiking and wilderness backpackingVery popular throughout this region, especially in the Cascade and Olympic mountains. The Pacific Crest Trail is a 2,650-mile border-to-border trail that traverses Oregon, Washington, and the length of California. Other opportunities for hiking/backpacking can be found nearly everywhere, from coastal trails to paths through old-growth temperate rainforest, and from high desert openness to high altitude vistas.

Mountain bikingOpportunities for mountain biking can be found in nearly every corner of the Pacific Northwest. From relaxing rides through wine country to extreme mountain trails designed specifically for the sport, mountain bikers in the Pacific Northwest respect the landscape by staying on trails clearly marked for bikes.

Rock ClimbingThe North Cascades are particularly noted for offering some of the most rugged alpine climbing in the lower 48, but popular areas can be found across the region for all skill levels, including Smith Rock in central Oregon.

Sea kayakingSea kayaking began as a sport in the Pacific Northwest. The region offers thousands of miles of convoluted shoreline to explore, including the San Juan Islands and the Cascadia Marine Trail on Puget Sound, which is a National Recreation Trail and designated one of only 16 National Millennium Trails by the White House. Suitable for day or multi-day trips, the Cascadia Marine Trail has over 50 campsites accessible via public and private launch sites or shoreline trailheads. The National Parks Service named the Kitsap Peninsula Water Trails as 'Trail of the Month' for December 2012. PDF copies of the water trails map are available HERE

Scuba divingThe cold waters of Pacific Northwest takes a bit more gear and training than other locations with warmer water, but the rewards are incredible. The area contains some of the best diving in the world and many dive sites are completely covered with colorful sea creatures that defy description. It is not surprising to discover that the famous underwater explorer Jacques Cousteau named Puget Sound as his second favorite diving area in the world.

SkiingThe Pacific Northwest has many snow ski resorts close to urban areas including Mount Hood near Portland with skiing year round and the largest night ski area in America; Mount Bachelor ski area near Bend, Oregon; or Washington State's Mount Baker where it is possible to ski the glacier in July. Most areas feature opportunities for both alpine and nordic skiing, as well as snowboarding.

SurfingSurfing is popular along areas of the coast and seasonally in the Admiralty Inlet. Some of the areas best beaches are so isolated that surfers created another Northwest tradition: strapping surf boards to a backpacks to get the board and surfer to where the waves are. The Clean Water Classic is the largest Pro/Am surfing competition in the Pacific Northwest and takes place annually in Westport, Washington.

Whale watchingThe spring and fall provide good opportunities to watch the Grey Whale migration. Orca whales can frequently be seen in the San Juan Islands and other parts of Puget Sound. Many professional tours are available or check online for recent updates from various whale watching groups.

Whitewater sportsMany rivers, particularly the Snake River, offer whitewater sporting opportunities.
LGBT tourism
The lesbian, gay, bisexual and transgender (LGBT) community in the Pacific Northwest is strong and cohesive, and offers a wide range of resources for community members and visitors. Seattle and Portland have a some of the highest percentage of gay, lesbian or bisexual residents among large cities in the U.S. Washington state is one of only a few states that legalized gay marriage by a popular vote.
Eat
The Pacific Northwest is a foodie's dream come true. Talented chefs and entrepreneurs have taken advantage the Northwest's incredible seafood, abundant locally-sourced produce, award-winning wines, and well-developed beer brewing tradition to establish a regional cuisine that trumps just about any other area in America. From the hundreds of food carts creatively competing for a niche market in Portland, where experimentation is expected, to top of the line restaurants squirreled away in almost every neighborhood, Pacific Northwesterners have high expectations from their food.
The Pacific Northwest is best known for its salmon, but a large variety of other seafood is available in the area. Oftentimes seafood comes in short bursts with seasonal migrations and is only available for short amounts of time, so watch closely for seasonal specials in restaurants and markets.
Shellfish are the prized resources of the
Puget Sound
, as the cool, clean waters provide some of the finest shellfish habitat in the world. Washington State is the nation's leading producer of farmed bivalve shellfish (clams, mussels and oysters) but other specialties like Geoducks are sometimes available for the more adventurous.
The Dungeness Crab is a popular seafood prized for its sweet and tender flesh and high ratio of meat. Its common name comes from the port of
Dungeness
, Washington where the first commercial harvesting of the crab was done. The Dungeness Crab is a commercially important crab in the state of Washington's territorial waters and was the first shellfish harvested commercially in the area, but other crab species are also common.
The area's mild climate, rich soil, and abundant water resources have created a bountiful climate for the many varieties of fresh produce available across the region. Farmers' markets are common in both urban and rural areas and are a great way to experience local culture as well as experience local foods.
Apples are one of Washington State's biggest exports, with over 100 million boxes of apples picked every year and shipped around the globe. A wide variety of other crops are also grown in abundance every year, from wheat and potatoes to nuts and vegetables, making fresh local produce abundant.
Drink
Few, if any, American regions can challenge the Pacific Northwest's love of coffee. According to a group of industry market researchers, there were an amazing 1,640 coffee shops in the Puget Sound region in 2011, ranking it the most popular coffee region in the country but coffee is popular all across the northwest. It is not surprising that such coffee giants such as Starbucks have exported the Pacific Northwest's coffee culture around the globe.
Microbreweries and beer in general are a Northwest specialty, and the area has many to offer for beer enthusiasts. In 2012 Oregon had 18.3 craft breweries per 500,000 people making it second only to Vermont in the number of micro breweries per capita. The larger brewers, like Redhook and Pyramid, distribute their products regionally or nationally like their coffee cousins, while other brews can only be found in local stores or bars (some notable brewers don't even bottle their product). Ask your servers for local beer recommendations and search out regional microbrews in stores. Hops are the key ingredient in beer making and Washington State's fertile Yakima Valley is by far the biggest exporter of hops in the US giving area brewers another edge in making the best beers.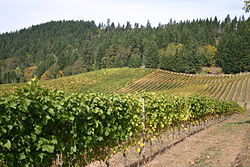 Eastern Oregon and Washington are known for their wines.
Walla Walla
alone boasts over 100 wineries – including some of the area and nation's best cellars – with tasting rooms downtown, this area is popular for winery tours. But don't expect the stodginess of elitist wine areas elsewhere; the
Willamette Valley
in Oregon and the
Columbia River Plateau
in Washington have many affordable and welcoming communities with small town roots.
Stay safe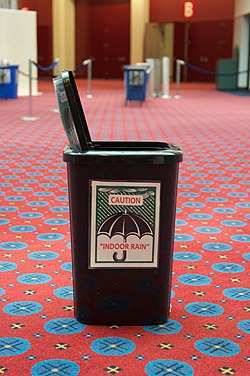 The good news is that the Pacific Northwest does not have any regular catastrophic events to worry about on an annual basis. Tornadoes are very rare and hurricanes are non-existent. There is a fair amount of rain, but rarely intense storms. However the area is not immune to major disasters.
Animal safety
Though many of the animals in the area are used to seeing humans, the wildlife is nonetheless wild and should not be fed or disturbed. Stay at least 100 m away from bears and 25 m from all other potentially
aggressive animals
! Check trail head postings at parks for recent activity and be aware of rules keeping a distance from Orca whales and other marine animals while boating. Regulations for orcas, also known as killer whales, require that boaters stay 200 yards away and keep clear of the whales' path. These U.S. regulations apply to all vessels (with some exceptions) in all waters.
Don't disturb resting seal pups; keep children and dogs away and report to the local stranding hotline. Seal pups 'haul out' to get much needed rest when they are young and are often alone for many hours. They are extremely vulnerable at this time and should be left alone. Only about 50% of Pacific Northwest seal pups make it through their first year, so please help to protect their health.
Avalanches
In the Cascade Mountains (which divide the states into halves) there can be
significant
snow accumulations during the late fall and winter months. This poses a danger for avalanches whenever these areas experience warm periods, regardless of how brief they may be. Mountain passes are sometimes closed for avalanche control and may affect travel plans, especially along I-90 from
Yakima
to
Seattle
. Check the
Washington State Department of Transportation
website for information regarding Avalanche control. If going into the mountains during the winter and early spring, refer to the
Northwest Weather and Avalanche Center
website for information regarding the current avalanche dangers throughout the Cascade region of the state.
Deserts
During the summer months, the temperatures east of the Cascades often
exceeds 100 degrees Fahrenheit
. If you are to be outside for long periods of time, be sure to drink plenty of
water
and limit the intake of alcohol and caffeine to prevent
dehydration
and
heat stroke
. Should you plan to venture off into the surrounding landscape,
follow desert survival guidelines
. Make sure you KNOW where you are going, tell someone where your destination will be, and take an ample water supply with you.
Earthquakes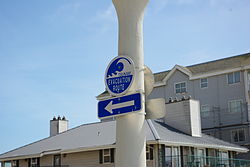 Being on the Pacific Rim means that
earthquakes
and even tsunamis are a possibility no matter how remote the chances are, it's best to be aware and prepared. Areas along the coast have tsunami evacuation routes well marked.
Tsunami
Any earthquake should be considered a potential precursor to a tsunami, which is a large amount of water moving toward the coastline. One of the first signs that a tsunami may be imminent is what appears to be a very low tide, or substantial withdrawal of water from both the mouth of rivers and the ocean itself.
Move uphill and away from the coast without delay if there is a major earthquake or signs of a tsunami.
A tsunami is like water being disturbed in a tub: it sloshes back and forth until it calms. In some cases, the second inundation may be greater or higher than the first, so avoid the temptation to explore after the water recedes. Local officials should be able to provide guidance as to when it's safe to return.
Landslides
During the winter months, the western side of both states often receive significant rainfall which soften the grounds to such a point that landslides sometimes occur. Be especially alert when driving. Embankments along roadsides are particularly susceptible to landslides. Watch the road for collapsed pavement, mud, fallen rocks, and other indications of possible landslides or debris flows.
If you encounter a landslide,
leave the area immediately
if it is safe to do so and call the local fire, police or public works department.
Volcanoes
There are several large
volcanoes
in the region, such as
Mount St. Helens
, which, in 1980, let loose the largest volcanic eruption in US history. However, the probability of a volcanic eruption in the Cascades is very low, and events usually comes with weeks, if not months, of warning. Simply using common sense and heeding any warnings should be more than enough to keep any traveler safe. Cities such as
Puyallup
and Orting near Mount Rainier have Volcano Evacuation Route signs that should be followed in case of an emergency.
Volcanic eruptions come with several dangers. Lahars are a type of volcanic mudslide associated with a volcanic event.
Crime
Much like any area in the United States, the Pacific Northwest is generally very safe, and the chance of you running into any criminal trouble is unlikely. Certain areas of larger cities can become seedy after dark and it is therefore advised that one avoid being out alone very late at night. Use sensible precautions and don't leave any valuables unattended or in plain sight in your car, especially at trail heads or other areas where you might be leaving your car for some time.
Drugs
Penalties for using illegal drugs can be severe, especially in Oregon due to the state's methamphetamine wave of the 1980s - 2000s. There is very little tolerance in this area and a number of tough laws were passed in response. Under no circumstances should you transport marijuana or other drugs that are illegal under federal law across state lines, as doing so is drug trafficking and could subject you to a lengthy prison term or deportation.
However use of the most widely available drug; marijuana, is somewhat more lax, as both Oregon and Washington have decriminalized possession, and Washington has legalized its use outright. In Oregon, possession of a user-quantity (1 oz or less) is a civil violation and can be punished by a fine of $500–$1,000. In Washington, adults 21 years or older may legally possess up to "one ounce of useable marijuana", 16 ounces of marijuana-infused product in solid form, 72 ounces of marijuana-infused product in liquid form or "any combination" of all three. But this does not give permission for people to simply smoke in public, and restrictions while driving under the influence of marijuana are very similar to those for alcohol in both states. Medical marijuana is legal in both states and shops are prolific. However, a doctor's prescription is needed to buy from dispensaries.
Cope
Some Consulates and Embassies can be found in the area and tend to be focused around Seattle and Portland with a few notable exceptions. The embassy for Belgium as well as consulates for Canada, Japan, New Zealand, South Korea and Taiwan can all be found in Seattle. While honorary consulates for Germany and Denmark can be found in nearby
Mercer Island
and an honorary consulate for the Netherlands can be found in
Bellevue
.
Honorary consulates for Belgium, Denmark, Germany, Japan, Mexico and Netherlands can be found in Portland Oregon while an honorary consulate for Czech Republic can be found in nearby
Lake Oswego
.
Go next